Plug & Play connectors for mobile machinery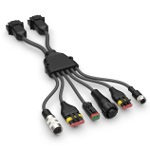 binder USA recently announced new Plug & Play connectors compatible with Deutsch DT, AMP Superseal, and AMP CPC series connectors (in combination with connectors from the binder portfolio) as part of its Plug & Play product selection. Mobile machinery used in agriculture and construction requires a high level of customization. A complex network of sensors, actuators, controls, and other components must connect to moving equipment such as tractors, harvesters, excavators, and cranes. These ready-to-connect and pre-assembled connectors allow machine engineers the flexibility to combine products from multiple manufacturers for the best overall solution.
Learn more.
---
Do-it-yourself high-performance aluminum cold plates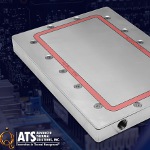 New high-performance aluminum cold plates from Advanced Thermal Solutions (ATS) let engineers safely drill holes in a mounting pattern that matches the specific connection points of hot devices that need cooling, providing lots of customization options. ATS says its cold plates have been demonstrated to provide more than 30% better thermal performance than other commercially available cold plates.
Learn more.
---
What is 3D-MID? Molded parts with integrated electronics from HARTING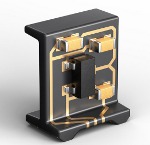 3D-MID (three-dimensional mechatronic integrated devices) technology combines electronic and mechanical functionalities into a single 3D component. It gives engineers the power and freedom to shrink components, optimize space, and provide higher overall functional density -- while offering the same or more capabilities as in larger devices. HARTING's tagline for the tech is, "Like a PCB, but 3D."
Read the full article.
---
Real-World Sensor Applications: Aircraft control-column torque measurement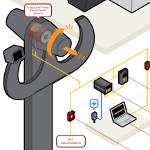 Flight controls require extreme auditing prior to in-flight use. FUTEK's MBA500 Torque and Thrust Biaxial Sensor provides quality-assurance engineers with the appropriate tools to monitor the torque applied to an aircraft's control column (yoke).
See how engineers design this test setup.
---
High-current chokes for automotive and industrial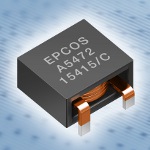 TDK Corporation presents the B82559A*A033 series of new shielded EPCOS ERU33 high-current chokes for through-hole mounting. Designed for very high saturation currents from 32 to 83 A at 100 C, the six new types cover a range of inductance values from 3.2 to 10 microhenry. Typical automotive applications are buck-boost chokes for DC-DC converters (e.g., for 48-V on-board power supplies or differential mode chokes in the input filter of onboard chargers) or as storage and output chokes in high-current supplies and PoL supplies for industrial electronics.
Learn more.
---
Choose from 75 filter fan models: Seifert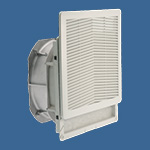 Seifert manufactures 75 different UL-listed filter fan models that are designed to operate in extreme environments. Grill slides for easy filter maintenance. Features include: 7 to 754 CFM models, UL Type 12, A/C and D/C models and integrated air filters.
Learn more. Seifert has a lot to offer.
---
Machine vision: Check part orientation and more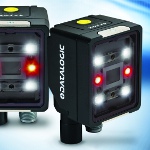 Automation-Direct has entered the industrial vision market with the addition of the Datalogic Smart Vision sensor. This sensor is an intelligent self-contained system that can capture an object's image as it passes by and make decisions based on the details of that image. Built around a powerful multiprocessor platform featuring embedded artificial intelligence tech, the Smart-VS sensor is highly advanced but remains simple to configure. Applications include part orientation for pick-and-place systems, verifying proper application of tamper-proof seals, and checking solder connections in circuit board production.
Learn more.
---
Ultra-compact IEC appliance inlet saves valuable interior space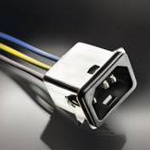 SCHURTER continues to meet today's increasing demand for smaller electronic equipment with the launch of its 5121 filtered appliance inlet. The compact filter series features an IEC C14 inlet with capacitors and a fully encased steel housing that reliably shields high-frequency interference conducted through cables or radiated interference. Targeted for applications with shallow installation depth, the new 5121 filter series is available in both standard and medical M80 versions, making it well suited for lab, industrial, medical, telecom, audio/video, and office equipment.
Learn more and get the specs.
---
Optimize space with mini-FAKRA cables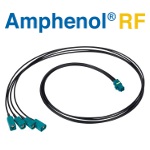 Amphenol RF has expanded their AUTOMATE Type A mini-FAKRA breakout cable line with additional connector configurations and cable types. The cable assemblies combine industry-standard FAKRA connectors with next-gen mini-FAKRA. This combination allows for a compact solution at the compute module -- an industry-standard sealed solution at the connected device with a max frequency of 3 GHz for automotive and industrial applications such as compute modules, camera systems, and warehouse robotics. This assembly creates a waterproof seal at the connected device for added versatility.
Learn more.
---
ScanCobot: Easy entry into 3D metrology automation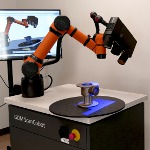 The GOM ScanCobot is a mobile measuring station with a collaborative robot, a motorized rotation table, and powerful software that is smart enough to figure out the optimal positions to scan to get the most comprehensive profile possible on a part. The system provides cleaner, more accurate data than manual scans. Exact Metrology has the ScanCobot technology at their Milwaukee area office. Learn about its impressive capabilities.
Read the full article.
---
How do autonomous vehicles see at night?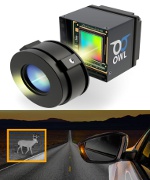 Owl Autonomous Imaging is offering a new whitepaper that explains how the Owl Thermal Ranger uses convolutional neural networks (CNNs) to accurately and reliably locate and classify pedestrians and animals in the dark from their own thermal signatures using just one infrared camera. This whitepaper covers the history of convolutional neural networks, how the technology works (AI/machine training), why Owl thinks the CNN approach is the best solution to address current pedestrian safety concerns, and how auto manufacturers can implement it. Very interesting.
Get the Owl AI whitepaper.
---
Anti-surge resistors handle surges up to 10 KV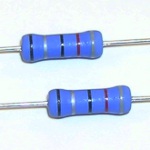 High-voltage applications such as HVAC controls, appliance and white goods controls, metering, automation, medical devices, digital storage, and surge-protection devices typically require resistors with high working voltage that may be challenging to find. If the applications are low current or low energy, film resistors are an ideal technology. The ASR/ASRM series from Stackpole offers high working voltages, high pulse voltage handling, and well-defined pulse behavior. For applications with high-voltage surge and low-energy requirements, the ASR/ASRM is a viable replacement for carbon composition resistors, providing improved electrical and environmental stability, better tolerance and TCR, with better long-term availability.
Learn more.
---
All about slip rings: How they work and their uses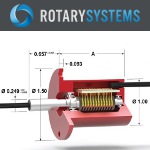 Rotary Systems has put together a really nice basic primer on slip rings -- electrical collectors that carry a current from a stationary wire into a rotating device. Common uses are for power, proximity switches, strain gauges, video, and Ethernet signal transmission. This introduction also covers how to specify, assembly types, and interface requirements. Rotary Systems also manufactures rotary unions for fluid applications.
Read the overview.
---
What's new in ABAQUS 2023?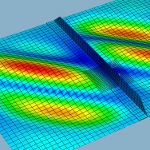 The Abaqus Unified FEA product suite offers powerful and complete solutions for both routine and sophisticated engineering problems. Best-in-class companies are taking advantage of these complete solutions for realistic simulation to consolidate their processes and tools, reduce costs and inefficiencies, and gain a competitive advantage. From new techniques in analysis, modeling, and visualization to special features for structural mechanics and linear dynamics, learn what's new in Abaqus 2023.
Learn more.
---
EMI/RFI gasketing on-demand webinar: Specialty Silicone Products elastomer solutions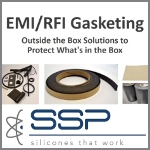 Join Dominic Testo, business development manager for Specialty Silicone Products, for this on-demand, in-depth presentation called "EMI/RFI Gasketing: Outside-the-Box Solutions to Protect What's in the Box." Learn about new ways to overcome the restraints caused by outdated compression molding processes; new materials to overcome galvanic corrosion issues; new softer, compliant materials used for shielding; and a whole lot more.
View the video.
---
Electronic metadevices break barriers to ultra-fast communications
Until now, the ability to make electronic devices faster has come down to a simple principle: scaling down transistors and other components. This approach, however, is reaching its limit, as the benefits of shrinking are counterbalanced by detrimental effects like resistance and decreased output power.
Elison Matioli of the Power and Wide-band-gap Electronics Research Lab (POWERlab) in Ecole Polytechnique Fédérale de Lausanne's (EPFL) School of Engineering (Switzerland) explains that further miniaturization is therefore not a viable solution to better electronics performance. "New papers come out describing smaller and smaller devices, but in the case of materials made from gallium nitride, the best devices in terms of frequency were already published a few years back," he says. "After that, there is really nothing better, because as device size is reduced, we face fundamental limitations. This is true regardless of the material used."
In response to this challenge, Matioli and PhD student Mohammad Samizadeh Nikoo came up with a new approach to electronics that could overcome these limitations and enable a new class of terahertz devices. Instead of shrinking their device, they rearranged it, notably by etching patterned contacts called metastructures at sub-wavelength distances onto a semiconductor made of gallium nitride and indium gallium nitride. These metastructures allow the electrical fields inside the device to be controlled, yielding extraordinary properties that do not occur in nature.
Crucially, the device can operate at electromagnetic frequencies in the terahertz range (between 0.3 to 30 THz) -- significantly faster than the gigahertz waves used in today's electronics. They can therefore carry much greater quantities of information for a given signal or period, giving them great potential for applications in 6G communications and beyond.
"We found that manipulating radiofrequency fields at microscopic scales can significantly boost the performance of electronic devices, without relying on aggressive downscaling," explains Nikoo, who is the first author of an article on the breakthrough recently published in the journal Nature.
Record high frequencies, record low resistance
Because terahertz frequencies are too fast for current electronics to manage and too slow for optics applications, this range is often referred to as the "terahertz gap." Using sub-wavelength metastructures to modulate terahertz waves is a technique that comes from the world of optics. However, the POWERlab's method allows for an unprecedented degree of electronic control, unlike the optics approach of shining an external beam of light onto an existing pattern.
"In our electronics-based approach, the ability to control induced radiofrequencies comes from the combination of the sub-wavelength patterned contacts, plus the control of the electronic channel with applied voltage. This means that we can change the collective effect inside the metadevice by inducing electrons (or not)," says Matioli.
While the most advanced devices on the market today can achieve frequencies up to 2 THz, the POWERlab's metadevices can reach 20 THz. Similarly, today's devices operating near the terahertz range tend to break down at voltages below 2 V, while the metadevices can support over 20 V. This enables the transmission and modulation of terahertz signals with much greater power and frequency than is currently possible.
Integrated solutions
As Nikoo explains, modulating terahertz waves is crucial for the future of telecommunications, as the increasing data requirements of technologies like autonomous vehicles and 6G mobile communications are fast reaching the limits of today's devices. The electronic metadevices developed in the POWERlab could form the basis for integrated terahertz electronics by producing compact, high-frequency chips that can already be used with smartphones, for example.
"This new technology could change the future of ultra-high-speed communications, as it is compatible with existing processes in semiconductor manufacturing. We have demonstrated data transmission of up to 100 gigabits per second at terahertz frequencies, which is already 10 times higher than what we have today with 5G," Nikoo says.
To fully realize the potential of the approach, Matioli says the next step is to develop other electronics components ready for integration into terahertz circuits.
"Integrated terahertz electronics are the next frontier for a connected future, but our electronic metadevices are just one component. We need to develop other integrated terahertz components to fully realize the potential of this technology. That is our vision and goal."
Source: Ecole Polytechnique Fédérale de Lausanne
Published February 2023
Rate this article