New high-performance metals for 3D printing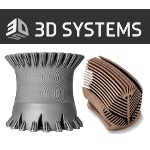 3D Systems has added two new materials to its materials portfolio. Certified HX is a high-performance nickel alloy that contains a higher percentage of molybdenum (up to 9.5%) vs. other nickel alloys, which enhances strength and resistance to corrosion, creep deformation, cracking, and oxidation in hot-zone environments. Certified CuCr2.4 is a high-strength, corrosion-resistant copper alloy that is significantly stronger than pure copper and easier to process. Both materials are certified for use with the company's DMP Flex 350 and DMP Factory 350 3D printers. Applications include industrial gas turbines, consumer goods, aerospace and defense, and automotive.
Learn more.
---
Build your own mini synchronous drive systems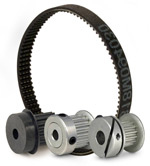 With the Miniature Synchronous Drive System from Stock Drive Products/ Sterling Instrument (SDP/SI), you can put your own 1-, 2-, or 3-mm design together in a snap. The tiny timing belts and pulleys are engineered and manufactured to give high accuracy and smooth, dependable operation in 3D printers, moving security cameras, med devices, robotic surgical equipment, self-service machines, and more. Advantages include no-slip synchronization, accurate positioning, high torque transmission with low backlash, quiet operation, and long belt life.
Learn more.
---
The best high-speed rotary bearing in THK history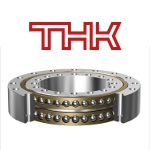 THK has developed its best-performing, high-speed rotary bearing ever: the High-Speed, Double-Row Angular Contact Ring BWH. This rotary bearing has balls aligned inside a cage between the inner and outer rings and is part of the THK Rotary Series, along with the cross-roller ring. The main features of this product are its ability to receive loads in all directions as well as its high rigidity and rotational accuracy, which are equal to that of cross-roller rings. By adopting a new structure to change the rolling elements from rollers to balls, this product achieves the greatest high-speed performance ever offered by THK.
Learn more.
---
Corrosion-resistant stainless steel shock absorbers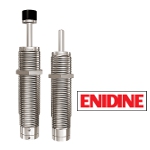 Corrosion Resistance Series (CRS) Stainless Steel Shock Absorbers from Enidine are adjustable and non-adjustable small bore units that provide an eco-friendly solution for various harsh-environment, industrial, food-grade, and medical washdown applications. Accessories in stainless steel and food-grade hydraulic fluid are available for this broad range of products upon request.
Learn more.
---
Couplings solve misalignments more precisely with targeted center designs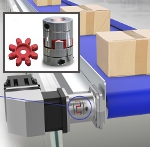 ALS Couplings from Miki Pulley feature a simplistic, three-piece construction and are available in three different types for more precisely handling parallel, angular, or axial misalignment applications. The key feature of this coupling design is its center element. Each of the three models has a center member that has a unique and durable material and shape. Also called a "spider," the center is designed to address and resolve the type of misalignment targeted, thereby reducing reaction loads resulting from the misalignment. Ideal for unidirectional continuous movement or rapid bidirectional motion.
Learn more.
---
Feel the difference: 2-shot injection molded knobs sample pack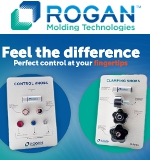 In 1979, Rogan was the first knob company to mold a knob utilizing the 2-shot injection molding process, which uses a single plastic molding machine specially made to inject two materials sequentially or one on top of the other. If you've ever used a plastic toothbrush with a colorful rubber grip, it was likely 2-shot injection molded. Create a competitive advantage for your products. You can add markings, custom colors or graphics, and even glow-in-the-dark materials. Request a sample of control knobs or clamping knobs -- or both.
Request a sample pack from Rogan, and feel the difference.
---
ClampDisk micro fastener is new alternative for automotive and consumer electronics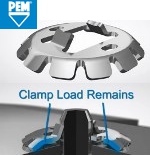 Designed as a unique alternative in assemblies for the automotive and consumer electronics markets, the ClampDisk Press-on Fastener is a new offering from PennEngineering that delivers a fast, simple way to achieve sheet-to-sheet clamped fastening while replacing the use of standard screws, nuts, and adhesives. The most common challenges that can be eliminated or reduced by using ClampDisk include over installation, cross threading, stripped screw heads, broken screws, and damaged product. This fastener can be removed easily with a sharp-edged tool.
Learn more and see how ClampDisk works.
---
Simplify your designs with slewing ring bearings
According to Kaydon Bearings, "A slewing ring bearing has rolling elements designed to create a reactive moment within the bearing's dimensions envelope to oppose applied (overturning) moment load," so you can use one bearing instead of two, reducing the height requirements, and even improve performance. Slewing ring bearings can also simplify a drive system by utilizing gear teeth on the inner or outer race. Learn all about slewing ring bearings in this informative article.
Read the Kaydon whitepaper.
---
DENSO reduces component sim time by 80% using Simcenter 3D and NX integrated process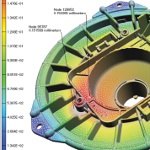 DENSO Corp., the second-largest automotive parts and systems provider in terms of sales in the world, is developing its "NX CAD and Simcenter 3D integrated process" from Siemens that allows analysts to understand the simulation processes, which are repeatable for certain types of components. The DENSO team captures modeling and process best practices and packages these up into simulation templates that are leveraged by designers using NX. This process has led to increased quality, because design problems are identified earlier and can be corrected before the project advances. DENSO estimates the average time for analysis was reduced up to 80% using this integrated process.
Read the Siemens case study.
---
5 new manufacturing options from Xometry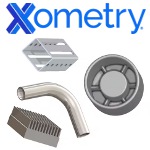 Get the parts you need made fast and at a great price. Xometry has added five new manufacturing options to their quoting engine: Die Casting, Metal Extrusion, Metal Stamping, Laser Tube Cutting, and Tube Bending. Experts will manually quote these options and work closely with you to ensure the best outcome and success. Get your quote today, and get started on your next metal production order.
Learn more.
---
Low-friction lightweight thermoplastic composite bearing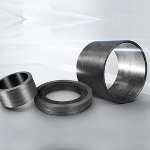 Trelleborg Sealing Solutions recently launched its latest lightweight thermoplastic composite bearing, the HiMod Advanced Composite Bearing Plus, which is an enhanced dual-layer bearing with a modified PEEK layer that reduces friction and increases wear performance for use in bearing, wear ring, and bushing applications. These bearings will not seize or gall. Manufactured using Trelleborg's patented Automated Fiber Placement (AFP) technology, a thin, low-friction liner is bonded to the inner diameters and can be added to the outer diameters of the bearing to create a high-quality solution for use in a wide range of industries.
Learn more.
---
Newly developed overhung load adaptors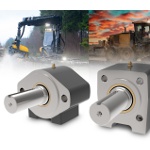 When fluid power and power transmission products are discontinued, finding replacements can be challenging. Zero-Max now fills this Overhung Load Adaptor void with its new 212k and 412k OHLA models for 2-bolt SAE A mount and 4-bolt non-SAE mount applications requiring a 1-1/4" output shaft. For both new and replacement applications, these new OHLA models provide overhung radial and axial load support to protect hydraulic motors and pumps from heavy application loads, extend the lifetime of the motor or pump, and alleviate the cost of downtime both from maintenance costs and loss of production.
Learn more.
---
MW Components: 20+ brands of mechanical components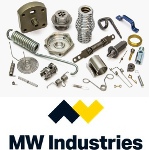 MW Industries, the Charlotte-based precision component manufacturer, has brought together more than 20 of its businesses under a single umbrella: MW Components. Engineers can use MW OnDemand to source more than 1 million parts from well-known brands such as Ideal Fasteners, Century Spring, Accurate Screw Machine, RAF Electronic Hardware, Servometer, and Maudlin. Simplify sourcing by shopping tens of thousands of stock spring designs along with fasteners, shims, electrical contacts, metal stampings, tubing products, bellows, and more -- all at once.
See what MW Components can offer you today.
---
Magnetic couplings 'mechanically isolate' shafts and motor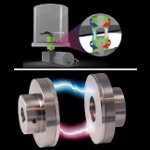 Magnetic couplings from Miki Pulley are ideal for machine designs involving food, pharma-ceutical, and laboratory applications requiring clean, non-contact connection between motor and shafts. The mechanically isolated magnetic coupling transmits torque through the air. This occurs through both input and output hubs of the coupling, which contain powerful rare-earth magnets. These magnets create a magnetic field that transmits torque through plastic, glass, aluminum, and other minimally ferrous materials without physical engagement. There is no dust, debris, or mechanical wear using this coupling compared to conventional couplings. It can also act as a torque limiter in an over-load event.
Learn more.
---
Can you run water through an air valve?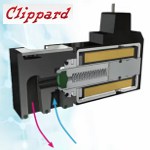 Can you run water through an air valve? Should you do it? And if you're going to do it, what do you need to know? Mike Kettering, product manager for Electronic Valves at Clippard, answers another Pneumatics 101 question. Also check out Clippard's vast range of Electronic Valves, Air Pilot Valves, Control Valves, Directional Control Valves, Isolation Valves, Proportional Valves, and more.
Read this informative Clippard blog.
---
Cybersteels: MIT researchers set their focus on computationally designed high-performance metals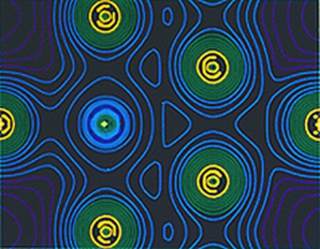 An MIT team is working toward creating better cybersteels, or steels designed with computing technology. Key to the work is the incorporation of fundamental atomic-level data about steel. This image shows the electronic charge distribution at grain boundaries within a steel. [Credit: Image courtesy of QuesTek Innovations]
By Elizabeth A. Thomson, Materials Research Laboratory, MIT
With a grant from the Office of Naval Research, MIT researchers aim to design novel high-performance steels, with potential applications including printed aircraft components and ship hulls.
What do the Apple watch and the Raptor engine of the SpaceX Starship have in common?
Answer: Both are made, in part, from advanced materials developed over only a few years -- as opposed to the usual decades -- with the help of computers in a field pioneered at MIT. Now eight MIT professors -- including one of the inventors of the field, known as computational materials design -- aim to make the field even more powerful, thanks to a five-year $7.2 million grant from the Office of Naval Research.
The work is part of the next phase of the Materials Genome Initiative (MGI) announced by President Barack Obama in 2011. The MGI is developing "a fundamental database of the parameters that direct the assembly of the structures of materials," much like the Human Genome Project "is a database that directs the assembly of the structures of life," says Gregory B. Olson, the Thermo-Calc Professor of the Practice in the MIT Department of Materials Science and Engineering (DMSE). The particular fundamental database structure for materials is known as "CALPHAD," invented at MIT in the 1950s, with its commercialization pioneered by the Thermo-Calc company that supports Olson's professorship.
The goal is to use the MGI database to discover, manufacture, and deploy advanced materials twice as fast and at a fraction of the cost compared to traditional methods, according to the MGI website.
The MIT researchers will focus their efforts on steel, "because it's still the material [the world has] studied the longest, so we have the deepest fundamental understanding of its properties," says Olson, project principal investigator. Those fundamental properties are key to a growing steel database that governs everything from chemical compositions to the sequence of process temperatures to design new high-performance steels.
In January, some 60 researchers met at MIT in a two-day conference designed to share progress to date and future initiatives on such cybersteels, or steels that are fully computationally designed. The meeting was sponsored by the multi-institutional "CHiMaD" Center for Hierarchical Materials Design, MIT's Steel Research Group (SRG), QuesTek Innovations, and MIT's Materials Research Laboratory. Olson co-founded SRG, QuesTek, and CHiMaD, and remains affiliated with all three, as well as the MRL.
From printable steels to advanced ship hulls
Cybersteels can have a variety of applications, including steels manufactured by 3D printing that are changing how naval aircraft components are made. Olson's materials design company, QuesTek, has already used computational design technology to take cybersteels to flight qualification in naval aviation components. The Office of Naval Research is also interested in developing non-magnetic steels for ship hulls. "The detection of submarines is based on magnetism, so if you can take away the magnetism, you have a new stealth capability," says Olson, who led computational materials design in 1985 with the late MIT professor Morris Cohen.
In 1985, Olson remembers, nobody knew whether computers could enable the design of new materials. Eventually, however, he and colleagues showed that they could, culminating in President Obama's announcement of the MGI.
The research
The MIT cybersteels project will include work on everything from expanding our knowledge of molten steels -- to be led by Antoine Allanore, DMSE professor of metallurgy -- to the economic modeling of the new steels -- to be led by Elsa A. Olivetti, the Esther and Harold E. Edgerton Career Development Professor in DMSE.
Another major area of study involves the boundaries between the microscopic grains that make up a steel. While the bulk thermodynamics of steel are well established, Olson says, "We need to make progress on the thermodynamics of interfaces" -- the grain boundaries. Experimental work to this end will be conducted by C. Cem Tasan, the Thomas B. King Associate Professor of Metallurgy in DMSE, and James M. LeBeau, an associate professor of DMSE. Theoretical work on grain boundaries will be covered by Christopher A. Schuh, the Danae and Vasilis Salapatas Professor of Metallurgy in DMSE, and Jeffrey C. Grossman, the Morton and Claire Goulder and Family Professor in Environmental Systems and head of the Department of Materials Science and Engineering.
Olson, together with Professor David M. Parks of the Department of Mechanical Engineering, will work on incorporating simulations of steel toughening mechanisms early in the design process. Historically, simulations have been used in the late stages of design.
Olson is excited about the future. "We have [already] succeeded beyond what I had hoped this technology would be. It's amazing to see it taking off."
Published February 2023
Rate this article