Designing electric actuators into food processing equipment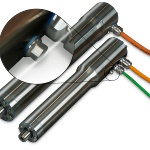 Stay one step ahead of regulators and food manufacturers -- who are requiring cleaner, safer machine designs from their OEM machine builders -- by using these five tips from Tolomatic for designing electric actuators into food processing equipment. Machine designers can meet manufacturer expectations and comply with food-safety standards by applying these key best practices.
Read the full Tolomatic article.
---
Universal Robots debuts world's first cobot spot welder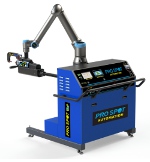 Universal Robots -- the maker of the most widely used collaborative robot arm in the manufacturing industry -- and its development partners will show off a host of exciting new cobot-related technologies at the Automate show in Detroit May 22-25, including the world's first cobot spot welder, designed and manufactured by Pro Spot International. Palletizers, case packers, process automation cells, and more will also be demonstrated. Lots of neat new tech here.
Read the full article.
---
New Elite Robots cobot handles 20-kg payload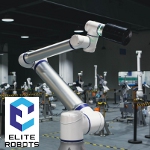 Elite Robots will unveil the CS620, its new 20-kg payload model, at the EASTEC trade show, May 16-18 in West Springfield, MA. This unit is part of the company's next-gen CS series and stands out for its remarkable ease of use, safety, and expandability. The CS series is based on an advanced software infrastructure, with an intuitive and modular graphical user interface that supports the Python scripting language and self-developed plug-ins, offering a high level of customization for programmers. See what else sets Elite Robots cobots apart with over 10,000 units deployed worldwide.
Learn more.
---
New ROEQ cart system for automated mobile robot supports up to 287 lb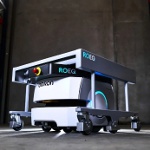 For customers looking to automate tasks such as quickly moving smaller, lighter cargo between work stations or shelves -- even in narrow spaces where larger carts are challenged -- ROEQ's new TMC130 top module and cart system for the OMRON LD-90x is an ideal solution. The new system will make its debut at Automate 2023. This type of cart tech is popular in automotive manufacturing but is gaining traction quickly in many other industries.
Read the full article.
---
Part finishing: New smart cobot solution sands, grinds, and more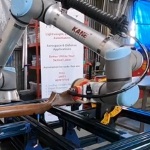 Kane Robotics has launched its first collaborative robot (cobot) solution, the GRIT™ cobot. Developed by aeronautics and composite experts, GRIT dramatically improves productivity, reduces health risks, and solves labor shortages for aerospace maintenance, repair, and overhaul (MRO) companies and other types of manufacturers. This reconfigurable cobot comes in three sizes and works alongside humans to perform labor-intensive sanding, grinding, and polishing for materials removal within any size and type of manufacturer. Average ROI is 6 months.
Learn more.
Watch a video of how it works.
---
Food-grade, long-reach stainless steel delta robot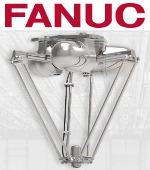 FANUC America's DR-3iB/6 STAINLESS delta robot sets a new benchmark for robotic food handling. Designed for picking and packing primary food products, it has a 1,200-mm reach and a powerful four-axis design that allows it to handle 6-kg payloads at high speeds. Rated IP69K, the robot meets USDA and FDA food safety standards. It is also very fast.
Learn more.
---
What motor torque constant to use for drive type: Theory and application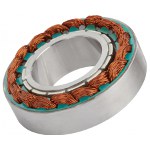 Calculating motor torque from available drive current can be confusing due to many different drive types and the multiple ways current is specified. This informative online paper from Celera Motion provides the key formulas for torque constant and motor current from the fundamental principles of three-phase motor theory. It also walks through the many ways torque can be calculated. This information applies to a brushless motor (BLAC or permanent magnet synchronous machines) configuration.
Read the full article.
---
OnRobot Palletizer: Complete, configurable, and easy-to-use modular solution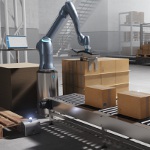 OnRobot has launched OnRobot Palletizer, a complete collaborative palletizing solution designed to take the physical and financial pain out of palletizing processes. It includes four new hardware and software products to make affordable collaborative automation available to companies of all sizes and technology skill levels.
Read the full article.
---
Great Applications: 50 ways to use a hexapod

Hexapods, six-legged parallel-kinematic machines, can solve many complex positioning and alignment tasks in fields including Optics, Photonics, Precision Automation, Automotive, and Medical Engineering. Features include a programmable pivot point, sub-micron precision, and load capacities from 2 to 2,000 kg.
Learn more from PI.
---
Ultra-small pancake-style gimbal motors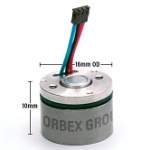 Orbex Group has introduced a line of ultra-compact, high-performance gimbal motors. Featuring a pancake-style form factor, these lightweight motors are wound to operate at low speeds typical for gimbals while exhibiting a high torque constant for fast response when needed. The new gimbal motors are available in two sizes (16 x 10 mm and 26 x 12 mm) and are engineered to minimize cogging torque, ensuring smooth rotation for stable imaging or pointing. Because these brushless motors are electronically commutated, they can change speeds quickly and offer exceptional reliability.
Learn more.
---
World's smallest servo drives introduced by Celera Motion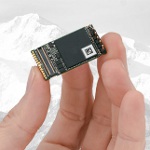 Celera Motion claims its newly launched Denali Series features the world's smallest servo drives. The compact and ultra-fast servo drives are perfect for a variety of service robots, surgical robots, industrial grippers, and lab automation applications.
Read the full article.
---
UR cobots control CNC machining cells at Go Fast Campers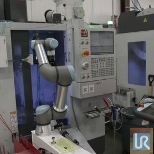 Learn how Go Fast Campers (GFC) has integrated a line of four UR5 cobots from Universal Robots with their Haas CNC machines. GFC manufactures 174 unique parts -- from bolts to connectors to hinges -- for its customized pop-up truck campers. All parts start as raw pieces of aerospace-grade aluminum billet material. The company can run 20 to 25 jobs across the four machining centers each day, with changeovers taking only 10 to 15 minutes. Watch how the cobots' built-in I/Os allow GFC to control all auxiliary systems through the robot program, including part loading, flipping, and unloading with a special extra retractor arm.
View the video.
---
New Twin profile Rail Stage actuator improves accuracy in XYZ motion systems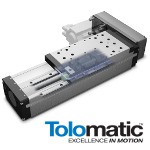 The new Twin profile Rail Stage (TRS) actuator from Tolomatic improves accuracy and increases production uptime on XYZ linear motion systems with two- or three-axis configurations. Applications include machining centers, collaborative robot movement, drilling, cutting, pick-and-place, material handling, and more.
Read the full article.
---
Super cool and versatile palletizing gripper: OnRobot 2FGP20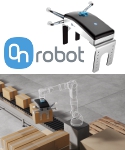 Palletizing just got easier and more affordable with the 2FGP20 from OnRobot, an off-the-shelf electric gripper with a payload of up to 20kg and endless customization possibilities to fit any automation needs. The 2FGP20 is an ideal solution that can be deployed and redeployed for multiple processes and handling different parts.
Learn more about the 2FGP20.
Learn more about palletizing.
---
Cobot packer helps with labor shortages and boasts 1-year ROI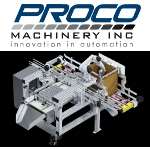 Proco Machinery's new Collaborative Robot Packer, which is designed to work alongside human operators to increase efficiency and performance, promises a one-year payback to customers, making it one of the industry's most effective solutions for reducing labor costs. The easily adaptable new robot packer can perform a range of tasks, from testing containers to packing them into cases. The system includes advanced sensors and software. It is modular and on castors, making it easy to use and flexible in operation.
Learn more.
---
AI flies Lockheed Martin training aircraft for 17 hours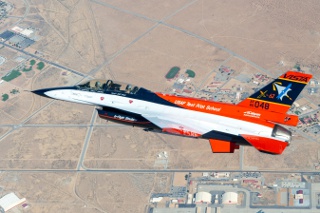 VISTA X-62A training aircraft [Credit: Lockheed Martin]
The Lockheed Martin VISTA X-62A, a one-of-a-kind training aircraft, was flown by an artificial intelligence (AI) agent for more than 17 hours recently, representing the first time AI engaged on a tactical aircraft.
According to Lockheed, VISTA (short for Variable In-flight Simulation Test Aircraft) is changing the face of air power at the U.S. Air Force Test Pilot School (USAF TPS) at Edwards Air Force Base in California.
VISTA is a unique training airplane developed by Lockheed Martin Skunk Works in collaboration with Calspan Corp. for the USAF TPS. Built on open systems architecture, VISTA is fitted with software that allows it to mimic the performance characteristics of other aircraft.
"VISTA will allow us to parallelize the development and test of cutting-edge artificial intelligence techniques with new uncrewed vehicle designs," said Dr. M. Christopher Cotting, director of research, U.S. Air Force Test Pilot School. "This approach, combined with focused testing on new vehicle systems as they are produced, will rapidly mature autonomy for uncrewed platforms and allow us to deliver tactically relevant capability to our warfighter."
Recent upgrades by the U.S. Air Force include an updated VISTA Simulation System (VSS) provided by Calspan, Lockheed Martin's Model Following Algorithm (MFA), and System for Autonomous Control of the Simulation (SACS). The SACS and MFA systems integrated together provide new capabilities to the VISTA so it can be used to conduct the most advanced flight test experiments emphasizing autonomy and AI.
The 17-plus-hour flight by an AI agent took place as part of a series of tests in December 2022.
VISTA is a modified F-16D Block 30 Peace Marble Il aircraft upgraded with Block 40 avionics. Previously designated NF-16D, in June 2021 VISTA was recognized by the U.S. Air Force and deemed a national asset with a formal redesignation to VISTA X-62A.
This new mission system capability with VSS, MFA, and SACS emphasizes advancing autonomous aircraft algorithm development and integration. At the heart of the SACS system is the Skunk Works Enterprise-wide Open Systems Architecture (E-OSA), which powers the Enterprise Mission Computer version 2 (EMC2) or "Einstein Box."
Additional SACS components include integration of advanced sensors, a Multi-Level Security solution, and a set of Getac tablet displays in both cockpits. These components enhance VISTA's capabilities while maintaining its rapid-prototyping advantage, specifically allowing for quick software changes to increase the frequency of flight test flights and accelerating the pace of AI and autonomy development to meet urgent national security needs.
VISTA will continue to serve an integral role in the rapid development of AI and autonomy capabilities for the U.S. Air Force. It is currently undergoing a series of routine inspections. Flights will resume at Edwards Air Force Base throughout 2023.
Source: Lockheed Martin
Published February 2023
Rate this article