Inflatable EMI shielded RF enclosures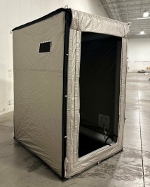 Saelig Company has introduced the Select Fabricators Series 700 EMI Enclosures -- reliable, portable, and lightweight RF and EMI shielding enclosures in standard sizes with a fast-up inflatable frame, ready for operation in less than 60 sec. No more aluminum tents. The Series 700 applies the same level of RF security obtained with previous RF/EMI shielded enclosures but is now made even more portable. Great for military operations, secure communications, mobile testing, emergency response, and more.
Learn more.
---
Haptic feedback prototyping kit from TDK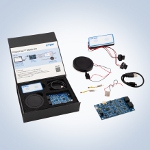 Get your customers to feel the difference your products make. TDK has just released a development starter kit for fast haptics prototyping. It gives mechanical designers and engineers first impressions of the haptic feedback using PowerHap piezo actuators, shows how the mechanical integration works, and provides a reference design. Applications include automotive, displays and tablets, household appliances, vending machines, game controllers, industrial equipment, and medical devices.
Learn more.
---
Position sensor real-world applications: Automotive and mobile equipment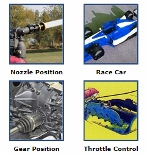 From firetruck nozzle positioning and race car steering to accelerator control and wheel vector sensing, learn how position sensors from Novotechnik are used in real-world applications. Sensor types include non-contacting rotary sensors, angle sensors, and magnetic encoders. We love when manufacturers provide examples of their products in action.
Learn more.
---
Detecting part errors: Automotive resistance welding machines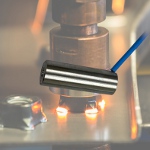 NewTek Sensor Solutions has designed a custom linear variable differential transformer (LVDT) position sensor for resistance spot welding machines used in automotive plants to detect missing or misaligned parts in nut and stud welding. Cars contain hundreds of welded nuts and studs that hold them together. Properly securing the right nut and stud to different car components is critical to safe operations.
Read the full article.
---
Clutches and brakes for electric outdoor mobile equipment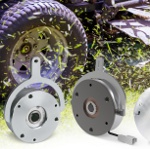 As OEMs and drive train manufacturers work to bring emerging technology to life, they are partnering with Warner Electric engineers and electrification specialists on electromagnetic braking solutions for electric riding mowers, UTVs, ZTRs, and more. Lots of options, including enclosed and low-profile Spring Applied Emergency and Parking Brakes -- some even feature regenerative braking.
Learn more.
---
Potentiometer with extremely low torque requirement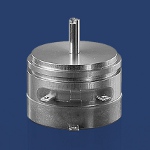 Novotechnik, U.S. has just announced the P2200 potentiometer that operates with an extremely low torque requirement of 0.003 Ncm. This rotary position sensor is well suited for applications where the system to be measured can be affected by the torque requirements of the sensor. It offers a precision conductive plastic potentiometer in a servo size 11 housing with stainless steel bearing and a life of 100 million movements.
Learn more.
---
New 32-bit Arduino Uno development board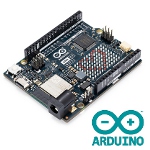 Arduino has just launched its next-gen UNO board, a significant revision of its 8-bit technology. The new UNO R4 preserves the standard form factor, shield compatibility, and 5-V power supply of the popular UNO R3 but adds a 32-bit microcontroller with up to 16x the clock speed, memory, and flash storage with the integration of the RA4M1 processor from Renesas. Comes in two versions: basic UNO R4 Minima and comprehensive UNO R4 Wi-Fi.
Learn more about the UNO R4.
---
Open-access learning center for multiphysics modeling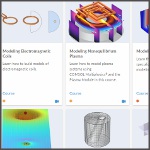 COMSOL, the developer of the COMSOL Multiphysics simulation software, has introduced a new online resource that provides no-cost, open access to modeling and simulation learning material across all areas of physics. Designed with the user in mind, the Learning Center offers a single entry point for users of all skill levels, where courses, articles, and videos present a clear path for learning how to use COMSOL Multiphysics for modeling and simulation.
Check out the COMSOL Learning Center.
---
Universal Latch Sensor for enhanced security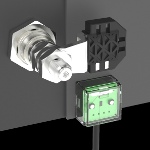 Southco's Universal Latch Sensor (ULS) is a simple magnet that attaches to an existing latch, and a magnetic sensor that attaches to the inside of an existing door frame. When the door is closed and the latch is engaged, the magnet comes into proximity with the sensor, sending an electronic signal to your security system. This lets you know the door is closed and the latch is secure. The signal from the ULS can be used in a variety of ways, from integrating security systems to turning on existing lights inside an enclosure. Southco also offers a sensor with built-in LEDs that automatically illuminate when the latch is opened.
Learn more.
---
End-to-end asset tracking now even more efficient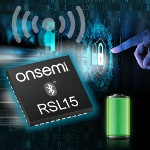 onsemi has launched an end-to-end positioning system that enables the simpler and faster development of more accurate, cost- and power-efficient asset tracking solutions. The system is based on onsemi's RSL15 MCU, the industry's lowest-power Bluetooth 5.2 MCU, and incorporates software algorithms and components provided by Unikie and CoreHW, resulting in a fully integrated solution with components that have been optimized to work together. The new Bluetooth Low Energy solution enables tags to be used for tracking objects or persons with sub-meter accuracy in defined closed spaces. Ideal for various industrial automation applications, including asset tracking, smart retail, and IoT edge nodes.
Learn more.
---
Great Resources: Flexible circuit design guide

Tech-Etch uses advanced techniques to manufacture flex and rigid-flex circuits to exacting customer specifications. Special processes include selective plating a single circuit with two different finishes, contoured circuits with variable metal thickness, semi-additive and subtractive techniques, open window or cantilevered contact leads, plus SMT for component assembly. Tech-Etch specializes in flexible circuits for medical device, medical implant, diagnostic ultrasound, and patient monitoring applications, in addition to telecommunications, aerospace, semiconductor, and other high-reliability electronic applications.
Learn about flex circuits and get the guide (no registration required).
---
Ultrasonic leak detector for energy conservation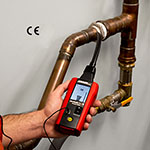 EXAIR's Ultrasonic Leak Detector (ULD), a hand-held instrument engineered to help locate the source of costly leaks in a compressed air system, has received an upgrade in look and function. Up to 30% of the compressed air generated in industrial plants is wasted through leaks that go undetected. The EXAIR ULD can play a major role to identify and pinpoint these costly leaks, allowing quick repair and cost savings. Testing the various unions, pipes, valves and fittings of a complete installation can be done quickly and effectively at distances up to 20 ft (6.1 m) away.
Learn more.
---
What can you do with touchless magnetic angle sensors?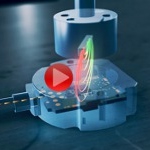 Novotechnik has put together a really informative video highlighting real-world applications for their RFC, RFE, and RSA Series touchless magnetic angle sensors. You may be surprised at the variety of off-highway, marine, material handling, and industrial uses. You'll learn how they work (using a Hall effect microprocessor to detect position) and their key advantages, including eliminated wear and tear on these non-mechanical components. We love when manufacturers provide such useful examples.
View the video.
---
Ultrasonic sensors for packaging and automotive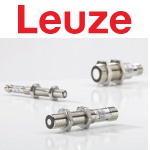 The new, compact ultrasonic sensors of the HTU200 and DMU200 series from Leuze are particularly suitable for applications in the packaging and automotive industries. They reliably perform difficult detection and measuring tasks by themselves, detecting objects regardless of their surface structure using a reflected acoustic pulse -- even glossy, transparent, or dark surfaces, as well as liquids or granular products. Available in a variety of sizes with operating ranges from 0.1 to 6 m; some models have an IO-Link interface. Leuze has an appropriate solution for every requirement.
Learn more.
---
Power inductors sample kit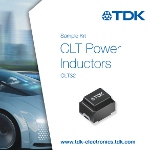 TDK Corporation has a new sample kit available for its extremely compact and reliable CLT32 power inductors for power management of safety-relevant automotive Advanced Driving Assistance Systems/Autonomous Driving (ADAS/AD) applications. Included in the sample kit, part number B82403X1, are inductors with nine different inductance values. These AEC-Q200 certified components are designed with a solid copper coil over-molded with a ferromagnetic plastic compound. The coil ends already function as terminals, which significantly increases reliability.
Learn more.
---
New algorithm can make satellite signals act like GPS -- with super accuracy
Researchers have developed an algorithm that can "eavesdrop" on any signal from a satellite and use it to locate any point on Earth, much like GPS. The study represents the first time an algorithm was able to exploit signals broadcast by multi-constellation low Earth orbit satellite (LEO) satellites, namely Starlink, OneWeb, Orbcomm, and Iridium.
The researchers found that by listening to the signals of eight LEO satellites for about 10 minutes, their algorithm could achieve unprecedented accuracy in locating a stationary receiver on the ground and was able to converge on it with an error of only about 5.8 m.
The research, led by Zak Kassas, a professor of electrical and computer engineering at The Ohio State University and director of the Department of Transportation Center for Automated Vehicles Research with Multimodal AssurEd Navigation (CARMEN), was presented in April at the IEEE/ION Position Location and Navigation Symposium (PLANS) 2023 conference in Monterey, CA. Along with Ohio State PhD students Sharbel Kozhaya and Haitham Kanj, the paper, which demonstrated the first-ever exploitation of unknown OneWeb LEO satellite signals, won the conference's Best Student Paper award.
The researchers did not need assistance from the satellite operators to use the signals, and they emphasized that they had no access to the actual data being sent through the satellites -- only to publicly available information related to the satellites' downlink transmission frequency and a rough estimate of the satellites' location.
From transportation to communication systems to the power grid and emergency services, nearly every aspect of modern society relies on positioning, navigation, and timing data from global navigation satellite systems (GNSS), or GPS, that orbit the Earth. Despite this, because GPS system signals are weak and susceptible to interference, they can often become unreliable in certain places such as indoor environments or in deep urban canyons. In addition, GNSS signals are spoofable, which poses serious security risks in safety-critical applications, such as aviation.
In the long term, such complications could lead to a number of navigational and cybersecurity issues, especially as virtually all of our current systems rely heavily on GPS, Kassas said. Technologies on the rise, such as autonomous vehicles, he noted, are beginning to amplify the limitations of our current GNSS systems.
"It's becoming more pressing to find civilian and military alternatives to GPS, whether as a backup or in the case when GPS isn't there whatsoever," said Kassas.
This study builds on previous research by Kassas' lab that solely used six SpaceX satellite signals to pinpoint a location within 10 m of accuracy, which was recently reduced to 6.5 m.
"The Starlink study scratched the surface of what is possible," said Kassas.
His work suggests utilizing signals from LEO satellites as an alternative for humans' positioning, navigation, and timing needs, as they reside about 20 times closer to Earth compared to GNSS satellites, which reside in medium Earth orbit -- a little more than 20,000 km above the planet. According to Kassas, the technology could potentially usher in a new era of positioning, navigation, and timing.
"We are witnessing a space renaissance. Tens of thousands of LEO satellites will be launched into space over the next decade, leading to what is referred to as mega-constellations," he said. "Signals transmitted by these satellites will revolutionize numerous technologies and benefit scientific inquiry in fields such as remote sensing."
What also makes the study so different from all other attempts at creating an alternative to GPS is, unlike previous studies, this algorithm doesn't reverse engineer the signal, said Kassas.
"Our algorithm is agnostic to the LEO constellation," said Kassas. "Our receiver can listen to virtually any satellite signal, trains on the data it's receiving on-the-fly, then deciphers certain features of the signal in a way where we can reconstruct what they are transmitting into location data." To demonstrate the team's new approach, the team applied the algorithm to four different LEO satellite constellations: Starlink, OneWeb, Orbcomm, and Iridium. The algorithm cracked all these signals, with virtually no prior knowledge about what is being transmitted.
Additionally, their algorithm is so sophisticated that the researchers were also able to estimate where the satellites are in space. In order to use the satellite to position ourselves, we need to know where the satellite is located. "That's a very challenging problem, because LEO satellites don't normally broadcast their location, and our publicly available estimates of where they are is off by a few kilometers," said Kassas.
During a stationary experiment to test how the signals worked as an accurate positioning system, researchers set a ground receiver's initial position estimate to the roof of an engineering parking structure at the University of California, Irvine, a spot more than 2,000 miles away from its actual position: the roof of Ohio State's Electroscience Laboratory (ESL) in Columbus, OH. Using the satellite constellations to guess where exactly in the country the receiver actually was, the algorithm was only off by about 5 m.
In another experiment, the researchers tested how the algorithm would fare on a moving vehicle, and mounted the receiver onto the top of a car. First, they used today's navigation technology, which relies on a GPS receiver coupled with an inertial navigation system (INS). They navigated for about 100 m before cutting GPS off, after which they drove for nearly a kilometer. They found that by relying on today's GPS-INS system, they were said to be located about 500 m away from their true location, but with their algorithm, they were found about 4.4 m away. "Our result showed that our system is getting close to what you can do with GPS today," said Kassas.
Although a patent has been filed on the algorithm, the team does plan to continue evolving all of the algorithm's technical abilities, said Kassas.
"GPS is a very mature system that we trust with our lives," he said. "To be able to trust new types of signals with our lives, there will have to be more studies on their accuracy, integrity, and continuity."
Source: The Ohio State University
Published May 2023
Rate this article