Crab-walking, zero-turn wheel unit tested by Hyundai Mobis on real roads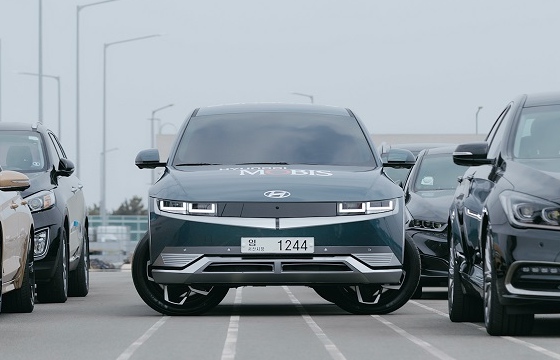 Tricky parking could be made simpler with Hyundai Mobis' all-in-one e-Corner System. [Credit: Hyundai Mobis]
Hyundai's mobility technology development spinoff company called Mobis recently showed off a demo car fitted with the "e-Corner System," which can crab walk and drive sideways to park in tight spaces. An all-electric IONIQ 5 was equipped with the high-maneuvering tech, driving at the Hyundai Mobis Proving Ground in Seosan, South Korea.

VIDEO: e-Corner System debuts on city road. [Credit: Hyundai Mobis]

Among other capabilities, the uniquely outfitted IONIQ demonstrated parallel parking in a tight space just by adjusting the wheel angle and also retreating from a dead end by making a 180-degree turn.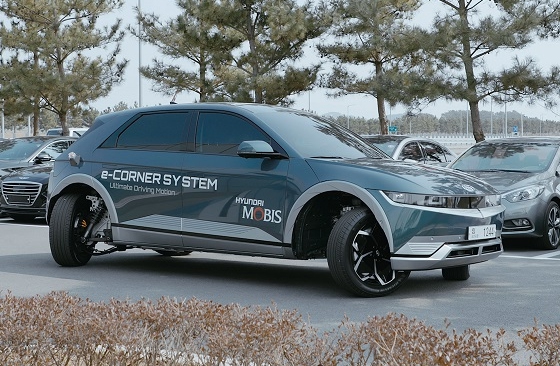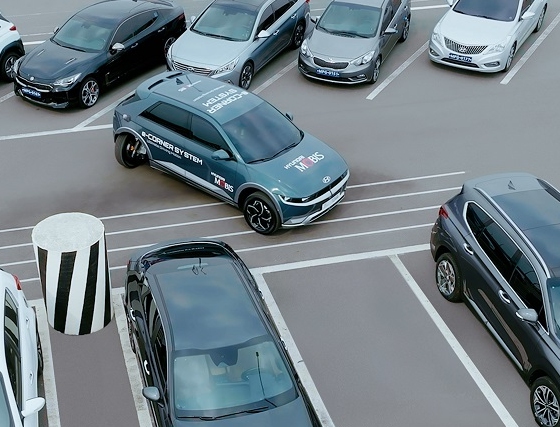 [Credit: Hyundai Mobis]
The e-Corner System, which has been in development for years, is an all-in-one package module of brake by wire, steer by wire, damper, and in-wheel motor that is installed on each wheel. The company says it considers the system, which has never been mass produced, to be a key mobility technology for electrification and autonomous driving. We could imagine applications in small automated robots and vehicles, especially.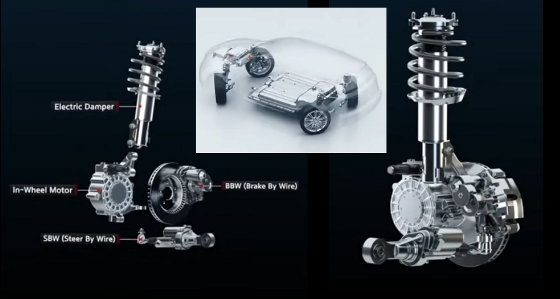 [Credit: Hyundai Mobis]
In a video released by the company, the e-Corner System demo car drove around the proving ground and on a public road showing crab walking, which lets all four wheels turn 90 degrees to perform parallel movement. It enables anyone to parallel park in narrow spaces. The system also featured zero-turn movements, which rotate the front wheels inside while rear wheels turn outside to perform a 360-degree idle turn. This feature allows the driver to easily turn the direction of a vehicle in a limited space with minimum movement.
The video also introduced something called "diagonal driving," which rotates all four wheels to the same direction at 45 degrees, helping to avoid obstacles or vehicles on the road smoothly, and pivot turning, which lets the driver choose any point as a central axis to rotate the vehicle accordingly, like drawing a circle using a compass.


VIDEO: e-Corner in-wheel module. [Credit: Hyundai Mobis]

Although the 90-degree wheel-turn concept is definitely not new (didn't someone invent fifth-wheel parking in the 1930s?), Hyundai Mobis says this all-in-one, in-wheel unit with electric motor is a technology advancement. The company also thinks it has a special edge in innovating similar mobility technologies for EVs of all types in the future, because it already develops a wide array of essential components in house not only for steering and braking, but also connectivity and electrification.
No dedicated production dates or vehicles that will use the e-Corner System were named by Hyundai Mobis for real-world sales in the near future. We'll have to wait and see what's around the corner.
Source: Hyundai Mobis
Published May 2023
Rate this article