Universal Robots debuts world's first cobot spot welder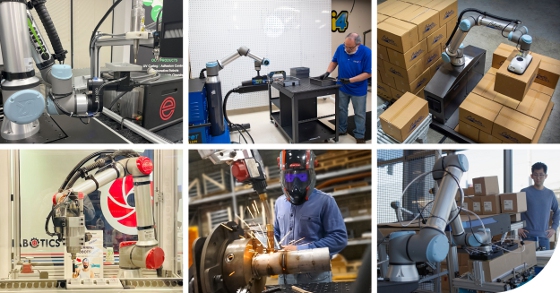 Universal Robots and its development partners will show off a host of exciting new cobot-related technologies at the Automate show in Detroit.
Universal Robots (UR) is not only the most widely used collaborative robot arm in the manufacturing industry, the UR cobots have also become the platform of choice for a fast-growing ecosystem of innovative OEM solutions. Nowhere is that more apparent than this year's Automate trade show, where 60+ UR cobots will be exhibited in more than 30 booths, taking place in Detroit, MI, May 22-25, 2023.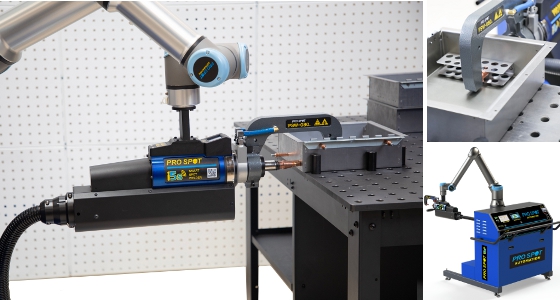 i5s is the world's first cobot spot welder. It was designed and manufactured by Pro Spot International and features a UR cobot.
UR's Automate booth #3623 showcases the latest innovation in a rapidly expanding application field, including the world's first cobot spot welder, designed and manufactured by Pro Spot International. While other welding technologies such as MIG welding have become popular choices for collaborative robots, spot welding has, up until now, been prohibitive for cobots due to the weight of the weld gun and the complexity of the welds. With the new i5s resistance spot welder, Pro Spot has developed a lightweight solution, delivering two to three times more manufacturing capacity than manual spot welding.
"We married our most sophisticated spot welder with Universal Robots' safe, unrivaled technology," says Ron Olsson, president and founder of Pro Spot. "The combined platform is a powerhouse of productivity and throughput, greatly benefiting any manufacturer who joins sheet metal through spot welding."
Another manual welding tool now incorporated in a cobot application is the new rotational positioner from THG Automation, addressing any welder who ever struggled to weld circular or odd-shaped parts.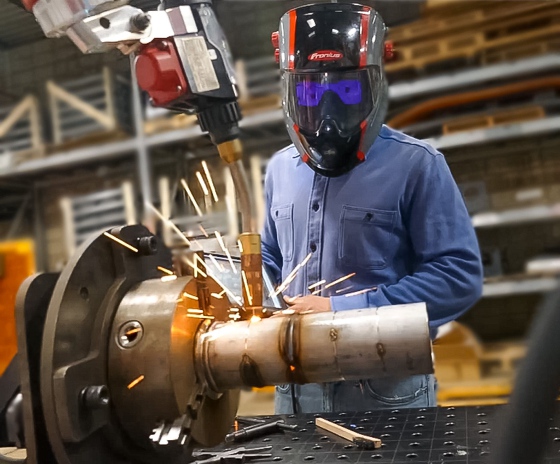 THG Automation's rotational positioner allows weldments to be presented to a robot at an optimal orientation.
"Welders use positioners manually all the time, and it was a natural progression for us to incorporate positioners into our collaborative welding system to allow the weldments to be presented to the robot at a more optimal orientation," says Matt Hendey, CEO of THG Automation, who will be showing the positioner incorporated in his company's Fronius Perfect Welding CMT system powered by the UR10e cobot.
Both welding partners -- along with many other UR integrators, OEM partners, distributors, and customers -- are eagerly looking to incorporate the new UR20 cobot into their applications for added reach and payload capabilities. The award-winning UR20, with 20-kg payload and 1,750-mm reach, starts shipping later this summer and will be showcased at the UR booth in a machine tending application, loading and unloading heavy workpieces into a machine fixture.
New takes on palletizing and case pack
Manufacturers looking to verify whether a UR cobot palletizer will work for their application can now receive a complete project analysis with performance and installation data, delivered on the spot in UR's booth. With MyRobot.cloud, Rocketfarm is launching the first digital twin solution developed for palletizing with UR cobots. The solution is sought after by integrators who can now quickly verify customer projects on-site, and is showcased with partner Columbia/Okura's miniPAL®, a mobile palletizing solution powered by the UR10e cobot arm.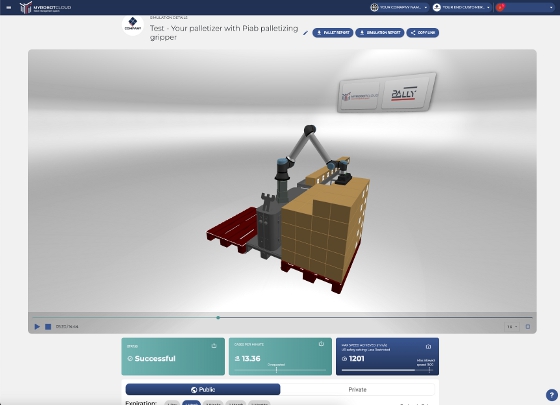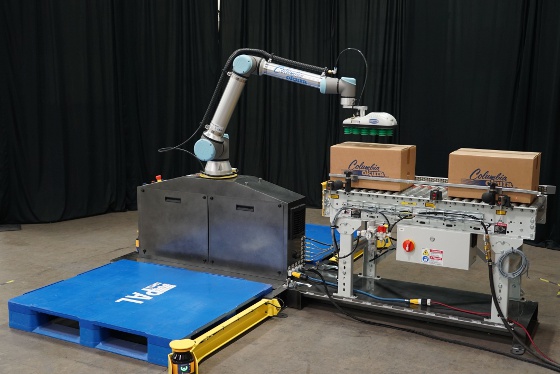 Rocketfarm is launching the first digital twin solution, MyRobot.cloud (shown at top), developed for palletizing with UR cobots. It will be shown at Automate with Columbia/Okura's miniPAL mobile palletizing solution.
The flexible miniPAL, with a total workspace footprint of 11 ft x13 ft, can palletize at two pallet locations for optimized productivity. The latest design includes three area safety scanners that detect human presence in the palletizing work envelope. This ensures safe (collaborative mode) operation in the presence of workers, while allowing the miniPAL to operate at maximum rates while individuals are not within the palletizing work zone. A "big brother," the miniPAL+ featuring the UR20 cobot, will be available for preorders in the booth.
Driven by a shared vision of helping manufacturers deploy cobots at scale, Rapid Robotics' strategic partnership with Universal Robots has supported the company's expanded offerings to include vital end-of-line applications such as box building, packing, and palletizing. At the UR booth, Rapid will be displaying a case-packing operation using a UR5e that is integrated with Rapid's software stack. Attendees can see the pre-trained cobot pick up multiple bottles at once and then pack them neatly into a case, an operation the company has implemented for a major distributor of funeral home supplies.
Rapid Robotics will be displaying a case-packing operation.
Multi-tasking cobots in gasketing station, process automation cells, and new operator interfaces
The versatile nature of UR cobots' ability to handle entire process cycles will be demonstrated by INPRO Technologies' fully integrated gasketing station for instantaneous curing with plasma treating, liquid gasket dispensing, and UV light. The station features a UR cobot arm performing both assembly/disassembly, material handling, and process control tasks, all while serving as the main coordinating PLC.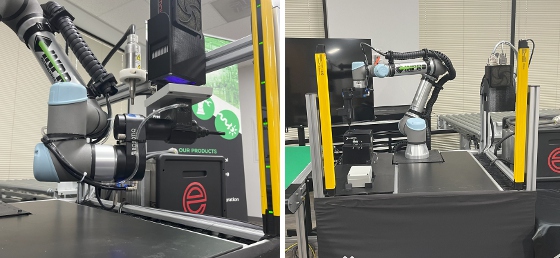 INPRO Technologies will demonstrate a fully integrated gasketing station.
RoboRoom from Reliabotics is a new UR-based 48 in. x 50 in. modular, turnkey, automation work cell designed for a variety of automation applications such as surface deburring and finishing, assembly and test, pick and place, dispensing and bonding, and vision inspection. At Automate, RoboRoom is showcased with an inverted UR5e robot performing metal parts deburring using ATI tools and its own proprietary, recycled CO2 surface-cleaning technology.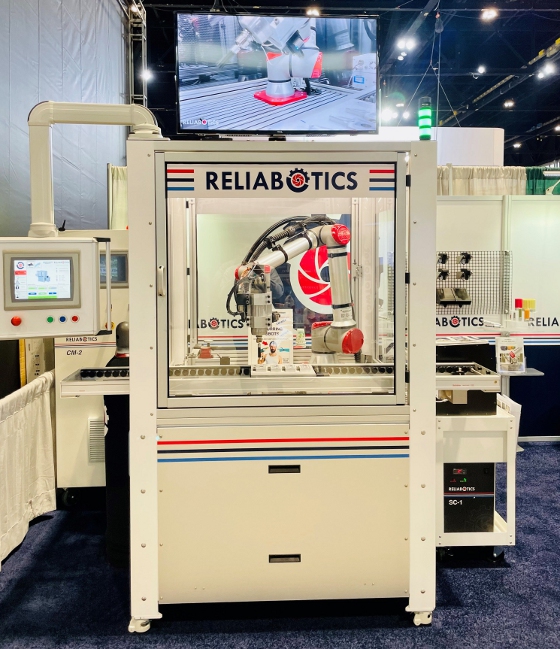 Reliabotics' RoboRoom is a modular, turnkey automation work cell.
The new Operator Interface from Robot27 allows operators to easily access and run pre-programmed robot programs and functions without touching the UR teach pendant. Machine operators can execute these tasks with just a few clicks and with no possibility of altering any programming.
"Attendees visiting our Automate booth will quickly realize how our ecosystem continues to innovate on our platform," says Joe Campbell, senior manager of applications development at Universal Robots. "We're constantly collaborating with partners on addressing new automation frontiers, with Automate being the perfect discovery pad for our rapidly expanding solution portfolio."
UR's Roberta Nelson Shea to receive Engelberger Robotics Award
The ecosystem expansion is enabled by the open platform design originally developed by the company's co-founder and then CTO Esben Ostergaard, who received the Engelberger Robotics Award in 2018 for his pioneering role in the cobot industry. He is now joined by Roberta Nelson Shea, UR's global technical compliance officer since 2016, who at Automate 2023 receives this prestigious award dubbed "The Nobel Prize of Robotics" for her outstanding work over the course of her career in global robotics safety.
For over 45 years, Nelson Shea has been one of the central figures in the development of industrial robot safety standards in North America and around the world. As the convenor of the ISO committee, she led the introduction of ISO/TS 15066, which is the first document that defines standardized safety requirements within human-robot collaboration.
Source: Universal Robots
Published May 2023
Rate this article