New Standard Parts Handbook from JW Winco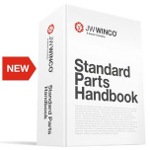 JW Winco's printed Standard Parts Handbook is a comprehensive 2,184-page reference that supports designers and engineers with the largest selection of standard parts categorized into three main groups: operating, clamping, and machine parts. More than 75,000 standard parts can be found in this valuable resource, including toggle clamps, shaft collars, concealed multiple-joint hinges, and hygienically designed components.
Get your Standard Parts Handbook today.
---
PBC linear shafts, bearings, and shaft supports from AutomationDirect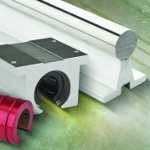 Automation-Direct has added PBC linear shafts, bearings, and shaft supports to their power transmission product category. PBC linear shafts are precision ground to provide an optimized surface for plain and ball bearings and are ideal for high-precision linear motion applications where tight tolerances are needed. Shafts are available in carbon or stainless steel with round and fully supported models in diameters from 1/4" to 1-1/4" and lengths from 6" to 36". Maintenance-free plain bearings or ball bearings available.
Learn more.
---
Great Resources: ABCs of gears and more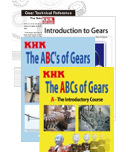 KHK USA takes you on a journey through the history and applications of gears in two information-packed, no-cost volumes called "The ABCs of Gears." Part A is aimed at beginners, while part B moves on to intermediate fare, such as types of gears and tooth forms, heat treatment, surface treatment, production methods, etc. Another mid-level text called "Introduction to Gears" and an in-depth "Gear Technical Reference" are also available. No registration required.
Click here to learn more.
---
New adhesive for automotive lighting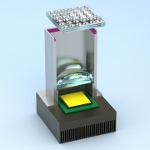 DELO has developed PHOTOBOND OB4189, a new adhesive for automotive lighting applications. It is extremely resistant to yellowing and, with its high aspect ratio, is particularly suitable for bonding microlens arrays, such as those found in headlights and projection systems. The adhesive also retains its shape after dispensing and does not flow, which is important for bonding microlens arrays.
Learn more.
---
Which parts should be 3D printed? AI combs through CAD files to find out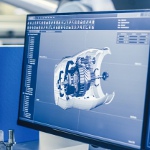 One of the biggest challenges in transitioning to additive manufacturing (AM) is the ability to identify which parts are best suited for the process quickly and easily. Learn how Danfoss, Stanley Engineered Fastening, and even the U.S. military have utilized advanced additive manufacturing software to automate the process, reducing material waste and energy costs, improving part reliability, decreasing lead times, as well as now having the ability to identify part consolidation opportunities through intelligent AM decision-making.
Read the full article.
---
9 key design tips for injection molding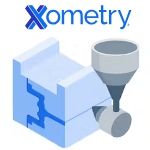 Keep costs down and quality up all while optimizing your injection molded designs with these helpful tips from Xometry. Learn how to build better injection molded parts and products -- using draft angles, ribs and gussets, radii, fillets, and more -- and set expectations for the injection molding process. Good info here.
View the video.
---
Metal additive manufacturing: Rocket turbopump design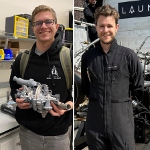 Mixing undergraduate curiosity and real-world engagement, two students from Colorado University Boulder Aerospace Engineering Sciences program, Zachary Lesan and Patrick Watson, started an independent effort on turbopump design and manufacture that is a lesson in determination and industry collaboration. With lots of supplies and advice from industry heavy hitters including Velo3D, CFturbo, SpaceX, and many more, their project has reinforced significant points being made about next-generation rocketry.
Read the full article.
---
Easy-to-detect plastic parts: Food processing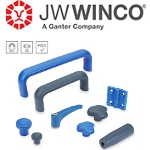 Foreign materials have no place in food, and yet undesired contamination makes its way into production processes time and time again. JW Winco has established a new line of standard parts made of plastic that are easy to detect -- visually and with metallic sensors -- even in pasty and opaque media. The visually detectable (VD) knobs, cabinet U-handles, hinges, hand levers, and three-lobe knobs are made of solid-colored blue plastic. The metal detectable (MD) standard parts are also made of blue plastic but contain additional additives with iron oxide. These parts can be used in both the food and pharmaceutical industries without reservation.
Learn more.
---
VariBlast air gun for safe and efficient blowoff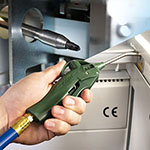 Safety and efficiency are coupled with ergonomic design and engineered air nozzle technology to produce the VariBlast Precision Safety Air Gun -- an essential tool for processes needing a handheld and effective blowoff solution. The lightweight unit with variable flow trigger from EXAIR provides a focused blast of air capable of handling tough jobs with remarkable ease.
Learn more.
---
Linear bushings with 70% longer service life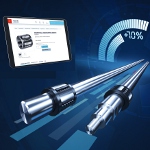 Bosch Rexroth's segmental linear bushings with plastic cage are used in a wide variety of industries to achieve a load capacity that is up to 20% higher and a service life that is up to 70% longer. They are part of a Rexroth round guide with a matching shaft. The particularly light and short linear bushings allow long working spaces and offer additional sealing options. They are also available as linear sets. Use the Linear Motion Designer (LMD) calculation program to select the right linear bushing for your needs.
Learn more.
---
Robotic machining just got a whole lot better! All-electric force compensator for robotic sanding, grinding, and deburring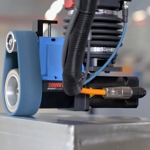 SUHNER's new end-of-arm EFC-02 active compliance system combines over a century of abrasives and material removal expertise with smart automation to deliver precise, constant force for robotic sanding, grinding, and deburring processes. The result is superior, consistent surface quality. EFC-02 is used for material removal or surface finishing -- even in tight or narrow spaces. It features simple robot programming for complex processes, Industry 4.0 functionality, and is fully compatible with angle grinders, orbital sanders, angle polishers, and straight grinders. Optional automatic changers for abrasives or belts are available.
Learn more and see how this new SUHNER innovation works.
---
Ultimate guide to metal 3D printing with binder jetting technology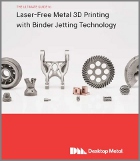 Desktop Metal has published its ultra-informative "Metal Binder Jetting Guide," a 40-page resource that will help interested parties explore binder jetting technology, which does not use a laser, and how it compares to other metal 3D-printing processes. Take a deep dive into what makes binder jetting a standout technology, and learn how it works, its many benefits, and real-world case studies of successful adopters.
Learn more.
---
New clamping innovation for precise 5-axis machining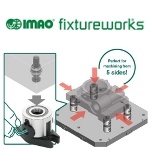 The versatile Modular Pull Clamping System from Fixtureworks is ideal for machining from five sides with no tool interference and no need for additional machining setup. This innovative solution with a compact cylindrical design helps users achieve secure, precise workholding quickly and easily. It can be used as a mechanical zero-point clamping system for quick fixture change with 0.005-mm accuracy.
Learn more.
---
Real-world applications: Replacing hydrodynamic fluid film bearings with modern rolling element bearings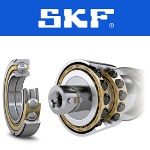 SKF's Evolution magazine has an informative article about the benefits of replacing hydrodynamic fluid film bearings with modern rolling element bearings. Real-world applications cited include turbochargers and crankshafts, screw expanders that drive electricity generators in a geothermal power plant, and industrial chillers and heat pumps. Very interesting with technical info.
Read the full SKF article.
---
New HUCO nylon sleeve gear couplings catalog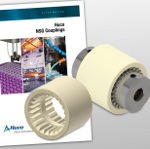 The new and downloadable HUCO NSG Couplings Catalog features flexible molded nylon sleeve couplings with a double crowned tooth design that provide free axial movement, low friction, no heat buildup, and minimal stress during misalignment. Designs are available with up to 9.5-mm axial travel. With this no-maintenance design, the load is distributed near the center of the tooth for maximum strength.
Get all the specs.
---
Unlikely plan is helping the U.S. fast-track hypersonic conventional weapons
An experimental way of doing business could reshape how industry works with a national lab.
Hypersonic weapons have been a top priority for modernizing the armed forces, with ultrafast, long-range, and maneuverable munitions being touted as a revolutionary advance in modern warfare. The U.S. has fast-tracked their development and announced plans to field the first conventional hypersonic missile battery this year. To meet this deadline, some contributing organizations have partnered in unprecedented ways.
Scott Nance, a manager at Sandia National Laboratories, is at the forefront of one such collaboration. He and his team piloted a new way to transfer Sandia's technical designs to defense contractors for the common hypersonic glide body, which detaches from a rocket and soars at speeds above Mach 5.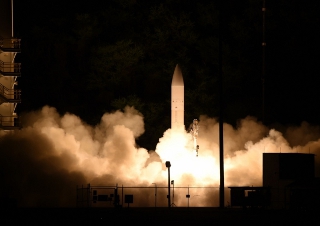 A March 2020 test of a U.S. hypersonic missile used the common hypersonic glide body designed and built at Sandia National Laboratories. Sandia has partnered with industry to accelerate manufacturing of glide bodies for future deployment. [Credit: Photo courtesy of U.S. Navy]
The program is now earning recognition and could change how Sandia partners with industry in the future.
"Sandia National Labs' successful teaming with the Army, Navy, and industry has been crucial to keeping the services on the path to our nation's first operational hypersonic capability," said Lt. Gen. Robert Rasch Jr., Director, Army's Rapid Capabilities and Critical Technologies Office.
This year, the Federal Laboratory Consortium for Technology Transfer awarded Sandia a national Interagency Partnership Award for its successful transition of hypersonic technology to industry partners.
The plan, Nance said, initially alarmed some people when he proposed it.
"We got a lot of wide eyes to: 'Can we do this?'" Nance said.
New program answers call of a tight timeline
Nance manages a team of experts in transferring technical designs from Sandia to industry. He said that for similar projects, moving plans out of the lab and into manufacturing is a slow and meticulous process of documentation, training, and testing, especially for projects where the designs are very complicated and margins for error are slim.
"We were given three years to take our design, redesign it to meet the Department of Defense's weapon system requirements, make it more producible, get it into production, and get it fielded," Nance said. "It's a time scale that was very hard to meet."
The only way to get the job done, Nance thought, was to bring in outsiders, lots of them, which seemed to break every rule of a national security lab.
One does not simply walk into a national security lab
As a research and engineering lab born with the atomic bomb, Sandia prioritizes security. Its researchers work on a wide range of sensitive national security projects, including nuclear weapons modernization, critical infrastructure protection, and homeland security. Sandia is primarily located on Kirtland Air Force Base. Information is carefully protected, and access is controlled.
Sandia commonly grants access to subcontractors who pass a vetting process to assist with these projects, but Nance proposed something new. He wanted to bring in dozens of the Army's contractors, who had no agreement with Sandia, and provide them with access to Sandia equipment and resources so they could build the advanced flight systems side by side with Sandia subject matter experts.
Nance said he is unaware of any program that has brought in so many uncontracted visitors to work at Sandia. Though the idea surprised many of his colleagues, Nance and his team developed a plan that satisfied management and security specialists at the labs.
Companies and individuals would need to sign safety and security agreements. Guests would complete the same training as regular employees, from counterintelligence awareness to safety and ethics. Department of Defense security clearances would be verified.
Sandia's Heather Sandoval, an information management professional on Nance's team who helped hatch the plan, hosted on-site onboarding for classification briefings and facility tours after partners completed online training.
In 2019, the first class of 14 industry partners reported to Sandia for training. Within six months, the total number grew to 138.
"The second wave was more manageable with the new onboarding process, even though the class size increased dramatically," Sandoval said.
A new path forward for partnering with industry
At its height, Sandia had trained a total of around 200 partners and was hosting workers from seven companies, including Dynetics, the Army's lead manufacturing contractor for the common hypersonic glide body. As many as 50 partners were on site at a given time.
Alex Roesler, a Sandia senior manager involved in hypersonic weapon development, said, "Sandia's facilities team was instrumental in helping us quickly get space configured -- lab and office space -- to support the work and provide places for these partners to work."
The payoff was visible as visitors and staff formed a powerful camaraderie.
"What was most memorable to me was seeing all these companies coming together in one space sharing their expertise," Sandoval said. She was amazed at the mix of managers, technologists, administrators, engineers, and others from different companies who filled their daily 8 a.m. team meetings.
"They built Sandia flight hardware side by side with us, learning our culture, learning our language, learning our design and our drawings, and then they were able to take the information back to their companies," Nance said.
By the end of 2022, Sandia's industry partners had produced its first flight system. Collaboration at Sandia is ongoing, but components for hypersonic glide bodies are now being produced at facilities around the country.
"We have the knowledge and the expertise. Now it's our turn to pass the baton to another company for production," Sandoval said.
The success of the program could change how Sandia approaches technology transfer projects in the future. Sandoval said she has been contacted by other programs that want to learn how her team used industry partners, and Nance said he and his management are evaluating how to adapt the pilot to other programs.
"I absolutely think this is the model for future programs," Nance said.
Source: Sandia National Laboratories
Published May 2023
Rate this article