You need motion control components? HIWIN has them in stock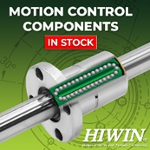 Many models of ballsplines, rolled ballscrews PLUS supports, linear guideways, crossed roller bearings and stages are in stock at our Chicago factory, where HIWIN can cut and machine to our spec or yours. Fast shipment to meet applications in machine tool, medical, lab, packaging, metal fab, semicon and advanced high-precision automation equipment.
Learn more.
---
Application: Cylinders for hydraulic presses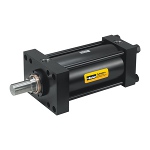 According to Parker Hannifin, "The cylinders in your hydraulic press not only control the force being produced but also the speed at which the press can move and the overall efficiency of the machine." Explore the application of cylinders for hydraulic presses in this insightful blog post, and learn about cylinder types, installation considerations, interfaces, and materials.
Read this informative Parker blog.
---
FANUC America demonstrates automated welding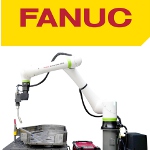 FANUC's easy-to-use CRX-25iA welding cobot, which now offers a 30-kg payload and 1,889-mm reach, will demonstrate welding joints on a mower deck at FABTECH this week. Attendees can teach the system using hand guidance or the Tablet TP interface with drag-and-drop icons. See FANUC at Booth B-27015. Automated coating solutions will also be on display.
Learn more -- especially if you cannot attend FABTECH.
---
Robotics brings peak precision to metal fabrication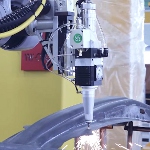 Stäubli Robotics designs solutions for real-world pain points, and metal fabrication shops and manufacturers have their share: labor shortages, higher material costs due to supply chain issues, and the need for higher output and shorter cycle times. Learn about Stäubli Robotics' latest offerings at FABTECH in booth B15021, including meticulous 3D laser cutting using the TX2-160L HDP (high dynamic precision) robot, a gamechanger in automotive, metal, and other manufacturing plants tasked with laser cutting of complex parts.
Learn more.
---
UR20 cobot makes its welding debut at FABTECH -- plasma cutting and weld grinding demos too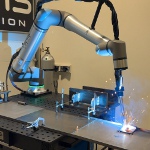 Universal Robots' larger, much-anticipated new UR20 cobot is ready to generate sparks at FABTECH this week, North America's biggest metal forming, fabricating, welding, and finishing event, taking place Sept. 11-14 in Chicago. UR and its partners will demonstrate the UR20 Cobot Welder along with a rotary welding positioner, AI that recommends welding and cutting parameters, CNC parts feeders, and more.
Read the full article.
---
200,000 roboticists trained and counting: Universal Robots Academy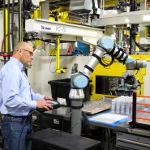 Universal Robots, the leading collaborative robot (cobot) company, has offered robotics training to customers and others with an interest in collaborative robots. After having grown increasingly popular in the past years and with 119 onsite training centers across the globe, more than 200,000 robotics enthusiasts have joined the Universal Robots Academy.
Read the full article.
---
Replace hydraulics with heavy-duty electric actuators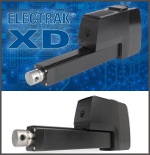 Thomson has introduced a high-capacity, high-performance electric linear actuator that gives motion system designers more cost-effective options to replace hydraulic cylinders. Among the many new features of the Thomson Electrak XD linear actuator is load handling up to 25,000 N (5,000 lb), depending on configuration, for a combined power output of more than 450 W. The Electrak XD can also achieve operating speeds up to 75 mm/sec (3 in./sec) and duty cycles up to 100%.
Learn more.
---
See NORD's innovative and reliable packaging solutions at PACK EXPO 2023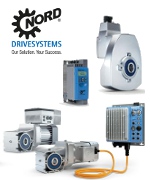 NORD provides complete drive solutions for the entire packaging process from filling and sealing machines to palletizing and wrapping systems in end-of-the-line packaging. See what NORD has to offer at PACK EXPO in Las Vegas Sept. 11-13, 2023, including: IE5+ Permanent Magnet Synchronous Motors, DuoDrive Integrated Gear Unit and Motor, NORDAC ON/ON+ Variable Frequency Drives, Condition Monitoring for Predictive Maintenance, a Sealed Surface Conversion System, and much more.
Learn more.
---
Mini motors and drive systems on-demand webinars: Chock full of informative details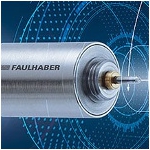 Faulhaber has made available a comprehensive library of on-demand webinars all about its miniature motors and drive systems. Each presentation is full of product details, technology overviews, selection help, design tips and tricks, and application examples. Topics include: stepper motors, brushless motors, DC motors, linear motors, encoders, gearheads, motion controllers, and more. Filled with useful information.
View the Faulhaber webinar library page.
---
Clutches and brakes for electric outdoor mobile equipment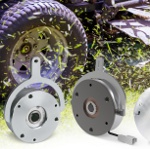 As OEMs and drive train manufacturers work to bring emerging technology to life, they are partnering with Warner Electric engineers and electrification specialists on electromagnetic braking solutions for electric riding mowers, UTVs, ZTRs, and more. Lots of options, including enclosed and low-profile Spring Applied Emergency and Parking Brakes -- some even feature regenerative braking.
Learn more.
---
Ball screws or belt-driven actuators? How to choose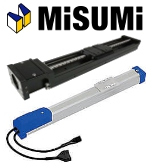 Two of the most common components for a linear actuator are ball screw systems and belt and pulley assemblies. There are benefits and limitations to these components, so choosing the right component comes down to the specifications needed for the application. Carlicia Layosa, Marketing Automation Manager at MISUMI, runs through some benefits and drawbacks of each technology.
Read this informative MISUMI blog.
---
Telescoping linear actuators for space-constrained applications
Rollon's new TLS Series of telescoping linear actuators enable long stroke lengths with minimal closed lengths, which is especially good for applications with minimal vertical clearance, such as between the machine and ceiling or horizontally between machines. These actuators integrate seamlessly into multi-axis systems and are available in two- or three-stage versions. Equipped with a built-in automated lubrication system, the TLS Series features a synchronized drive system, requiring only a single motor to achieve motion. Four sizes (100, 230, 280, and 360) with up to 3,000-mm stroke length.
Learn more.
---
New machine tending tech launched by Mitsubishi Electric Automation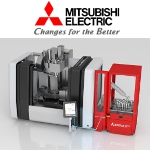 Designed for easy setup and use, Mitsubishi Electric's LoadMate Plus machine tending solutions provide manufacturers with an answer to labor shortage challenges while improving productivity and lowering operating costs.
Read the full article.
---
Potentiometer with extremely low torque requirement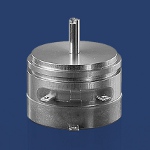 Novotechnik, U.S. has just announced the P2200 potentiometer that operates with an extremely low torque requirement of 0.003 Ncm. This rotary position sensor is well suited for applications where the system to be measured can be affected by the torque requirements of the sensor. It offers a precision conductive plastic potentiometer in a servo size 11 housing with stainless steel bearing and a life of 100 million movements.
Learn more.
---
Mitsubishi to debut new 3D bin-picking robots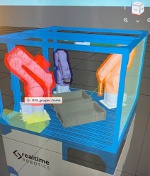 Join Mitsubishi Electric Automation at PACK EXPO 2023 in the Las Vegas Convention Center Sept. 11-13 for a first look at a new 3D Bin-Picking robot demo, perfect for automating packaging processes. Also learn how the combination of 3D vision for robotic guidance, dynamic path planning, and collision avoidance can work together to increase throughput and reduce the footprint needed to deploy Mitsubishi Electric robots. Lots more to see and discover.
Learn more.
---
National laboratories team with Idaho Power to evaluate hydrogen generation integrated with hydropower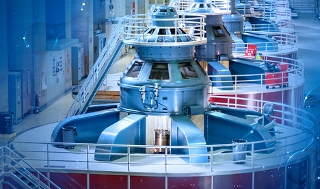 [Credit: Idaho National Laboratory]
Idaho National Laboratory (INL) and Pacific Northwest National Laboratory (PNNL) have partnered with Idaho Power to evaluate the feasibility and advantages of making hydrogen at existing hydropower plants.
Integrating hydrogen production with hydropower can enhance grid stability through energy storage, reoxygenate water for downstream environmental improvements, and support decarbonizing energy production in Idaho. The data, models, and analyses developed through this partnership will help determine the viability of hydropower and hydrogen integration, both for Idaho and facilities across the U.S.
"INL and PNNL will evaluate the coupling of electrolytic hydrogen production technologies with hydropower plants to identify scenarios that could help Idaho Power achieve its goal of providing 100% clean energy by 2045," said Brett Dumas, Idaho Power's director of environmental affairs. This approach will help maximize use of the clean energy produced by Idaho Power's 17 hydroelectric power plants.
The benefits
Most renewable energy generation technologies face the challenge of varying power output. Hydropower generates more consistently than other renewable energy sources, and adding hydrogen production can increase flexibility by helping balance wind and solar generation. This is especially important during hours of peak electricity use.
Additionally, hydrogen produced using excess electricity from hydropower can be easily converted back into electricity when needed. This option would be especially useful during peak hours when electricity from hydropower may not be readily available, helping to meet energy demand and reduce reliance on nonrenewable power generation. This approach levels the energy supply over time, lessening the need for supplemental power generation from outside the hydropower plant.
"By capturing the off-peak energy production as hydrogen, the hydrogen can be re-electrified during peak energy demand," said INL's Daniel Wendt, principal investigator and researcher on the project. Storing hydrogen as a fuel could help stabilize the grid and offer a cleaner alternative to fossil-fuel back-up power generation. This approach could give electrical system operators greater flexibility to ensure reliable and economical service.
The excess oxygen produced as a byproduct of hydrogen generation could also address water quality issues in the rivers. Reservoirs behind dams may have low levels of dissolved oxygen, particularly during summer and early fall. Dissolved oxygen in a river is necessary for fish and other aquatic species.
INL and PNNL researchers will evaluate the potential of using excess oxygen generated by the hydrogen generation process to reoxygenate water in rivers with hydropower plants. "Idaho Power is already seeing positive results from adding oxygen into the water flowing out of Brownlee Dam in Hells Canyon," Dumas said.
Making it a reality
INL, PNNL, and Idaho Power are taking the first step toward realizing these benefits by analyzing the economic and environmental impacts of integrating hydrogen production with hydropower. The project team will develop advanced modeling and analytical methods to explore various deployment scenarios and maximize the benefits associated with hydropower-based hydrogen production.
"To effectively schedule hydrogen production, advanced modeling and optimization techniques are required to account for both energy-shifting opportunities and oxygen needs subject to both system- and component-level constraints," said Di Wu, a chief research engineer and the technical lead at PNNL.
Researchers at INL will use a Department of Energy software tool proven to be effective for techno-economic evaluation of other hydrogen production and usage applications. The tool, Hydrogen Analysis (H2A), can perform screening studies of the most promising electrolysis technologies and hydrogen use cases. H2A allows the user to access all calculations as well as check intermediate results.
PNNL researchers will build on the results of the screening study to model and optimize the hydrogen production system. Through the Hydrogen Energy Storage Evaluation Tool and data analysis, INL and PNNL researchers will determine how to implement the right set of technologies to achieve the best performance.
"While hydropower and hydrogen both offer immense economic and environmental benefits on their own, combining their use in one application offers new opportunities for enhancing grid stability, improving environmental outcomes, and creating a cleaner energy economy," Wendt said.
Source: Idaho National Laboratory
Published May 2023
Rate this article