Cadillac Escalade IQ: All-electric with 450-mile range
Cadillac's 2025 model-year lineup will include the all-new, all-electric Escalade IQ, a super-luxe ride with an estimated 450-mile range on a full charge. The dual-motor full-size SUV sports some slick aero restyling and a full suite of nifty tech, including Adaptive Air Ride Suspension, Four-Wheel Steer that can move the vehicle diagonally, Low Ride Mode, a 55-in. LED display, and a lush interior.
Not all of the details are available yet, but here is what else we know so far.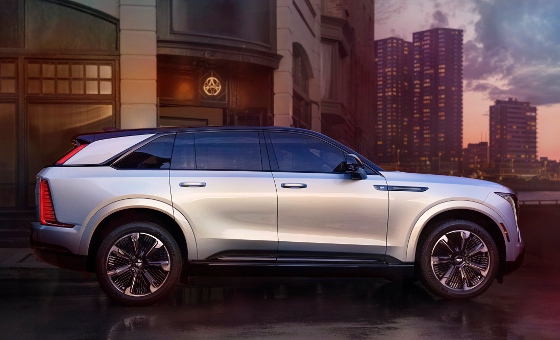 The seven-passenger Escalade IQ is the first full-size SUV from Cadillac built on GM's innovative and modular EV propulsion architecture, the Ultium Platform, and incorporates GM's Ultifi software platform to support and deliver ongoing software updates to its expansive technologies.
Two trims will be available: Luxury and Sport. Each offers distinctive appearances, including brushed aluminum metallic finishes on areas such as the wheels and exterior moldings on Luxury, and a darkened metal finish on Sport. Customers can also select a dramatic two-tone appearance by selecting the available black-painted roof, providing a marked visual contrast to the six body colors in addition to black.
IQ uses its 200-kWh, 24-module Ultium battery pack as part of its fundamental body structure. This allows the battery pack to provide the vehicle's impressive, Cadillac-estimated 450 miles of range while also protecting the battery in the event of a crash and adding overall strength and rigidity to the vehicle. The propulsion system includes a two-motor eAWD setup (one motor in the front and one in the rear) that offers great power on demand and surprising performance. It provides up to 750 hp and up to 785 lb-ft of torque using the driver-selectable Velocity Max feature. IQ can do 0 to 60 mph in less than 5 sec with Velocity Max selected. Without Velocity Max, IQ pumps out 680 hp and 615 lb-ft of torque.
Escalade IQ also employs a flexible, high-voltage architecture that enables 800-V DC fast charging, the quickest form of charging currently available, providing up to 100 miles of range in 10 minutes of charge time.
The electric architecture enables a sleeker profile, but one with a silhouette that remains instantly recognizable as an Escalade. It also enables a lower, flatter interior floor that contributes to Escalade IQ's exceptional spaciousness.
The new design has pushed the wheels farther to the corners for a more powerful-looking and planted stance. The proportions speak to its presence and scale. Starting with a long, dynamic hood and ending with a faster-sloping roofline at the rear, all of which contributes to a sportier aesthetic. Escalade IQ's side profile features flush side glass and a large glass roof that gives the appearance of seamless body lines. It also wears a strong vertical light signature for both day and night, with tall front daytime running light blades and vertically oriented high/low beams.
The panoramic fixed glass roof spans the first and second rows of seating, creating an immersive experience and spectacular view for every passenger. The roof glass is tinted and treated with a UV-filtering film that ensures the cabin stays comfortable.
An available power open-and-close exterior door entry system can operate all four doors simultaneously at the touch of a button, and if activated, the driver's door will automatically open as the driver approaches with the key fob. The motorized vehicle charge port door also opens automatically with a touch. Up front, the large eTrunk compartment under the hood sports 12 cubic ft of storage.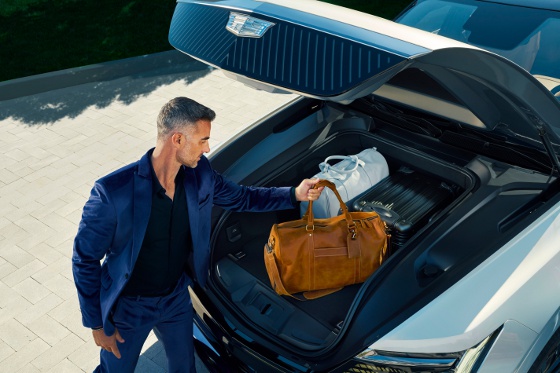 Escalade IQ features independent front and rear suspension, with power transferred to 24-in. wheels with 35-in. tires via front- and rear-drive motors that work in conjunction as the eAWD system.
A suite of fully integrated advanced technologies including Magnetic Ride Control 4.0 and Adaptive Air Ride Suspension isolate passengers from undesirable road surfaces while providing precise steering and feel.
The Adaptive Air Ride Suspension system enables the vehicle to be lowered up to 2 in. and raised 1 in., while additional features such as the standard Four-Wheel Steer, available Cadillac Arrival Mode, and Low Ride Mode enhance the vehicle's capabilities and presence.
Four-Wheel Steer reduces the turning diameter to only 39.4 ft at lower speeds and reduces the turning diameter by more than 6.5 ft for greater maneuverability in parking lots and tighter overall turning radius. It also enhances handling and stability at higher speed, particularly when trailering. Cadillac estimates IQ will have a final towing capacity of 8,000 lb.
Cadillac Arrival Mode is a unique Four-Wheel Steer feature that allows the Escalade IQ to move diagonally, making it easier when pulling into or out of tight spaces. It will garner some attention too.
Low Ride Mode enables the Escalade IQ to be driven at low speeds with the suspension fully lowered.
Additionally, Escalade IQ offers One-Pedal Driving and Variable Regen on Demand. Ultium Energy Recovery, an innovative heat pump thermal system, allows for energy to transfer between the battery/power electronics and the cabin, using every watt possible to optimize range and minimizing the power from the high-voltage battery used for five-zone climate control.
On the safety front, Escalade IQ is loaded with features, including: Blind Zone Steering Assist, Intersection Automatic Emergency Braking, HD Surround Vision, Enhanced Automatic Parking Assist (can automatically steer, brake, and shift gears to park the vehicle into a dedicated parallel or perpendicular parking space and can help unpark the vehicle), and Front Pedestrian and Bicyclist Braking.
Inside the Escalade IQ is pure luxury. "You have never seen an Escalade quite like this," said Craig Sass, design manager, Cadillac Interiors. Inspired by the worlds of architecture, upscale furnishings, and fashion, Escalade IQ is open, airy, and spacious, and it incorporates advanced technologies introduced on the ultra-luxury Cadillac CELESTIQ.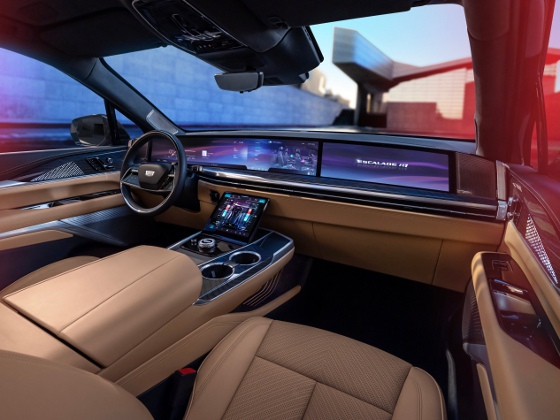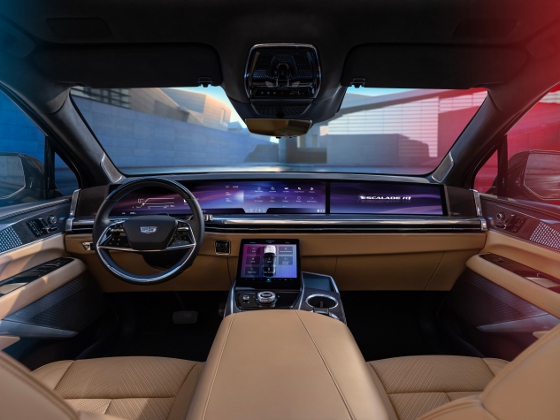 Highlights include a can't-miss-it curved pillar-to-pillar, 55-in.-total-diagonal LED display that stretches almost the full width of the front dash. This is the latest trend in vehicle displays -- long, wide, and with information spaces shared with the front passenger.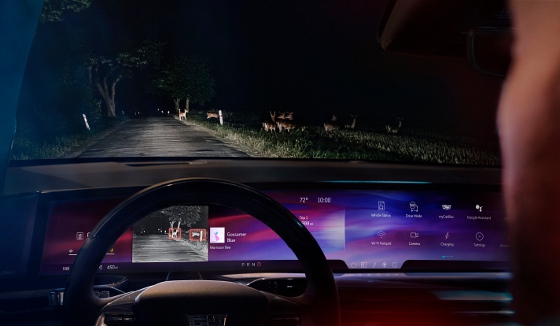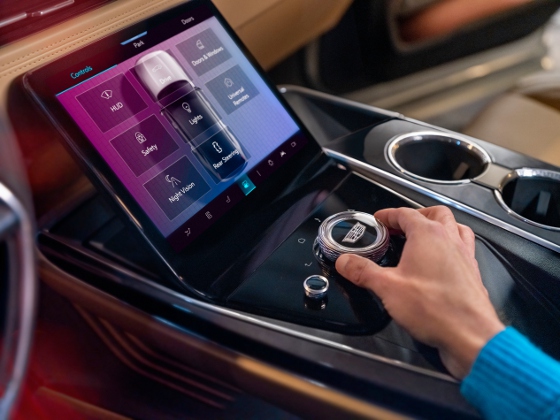 IQ also has an available Executive Second-Row Seating package with 12.6-in.-diagonal personal screens, a power folding third row that folds totally flat, dramatic interior lighting that includes customizable ambient lighting with 126 color choices, and an immersive, 360-degree audio experience with available 40-speaker AKG Studio Reference audio system.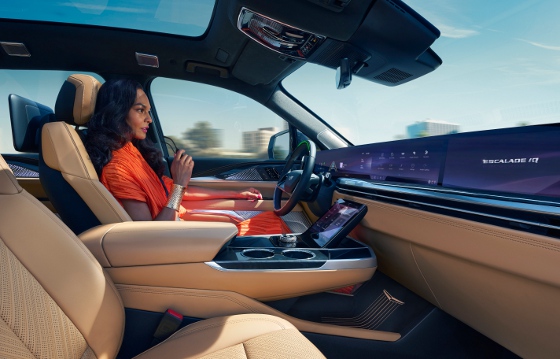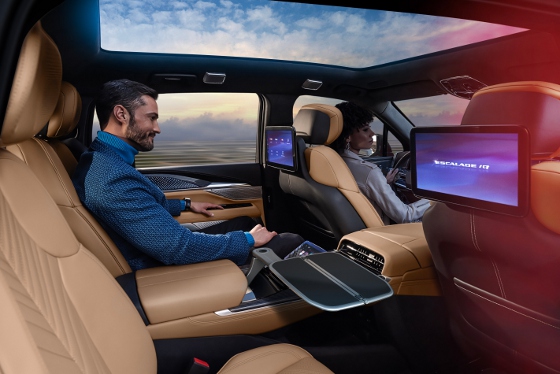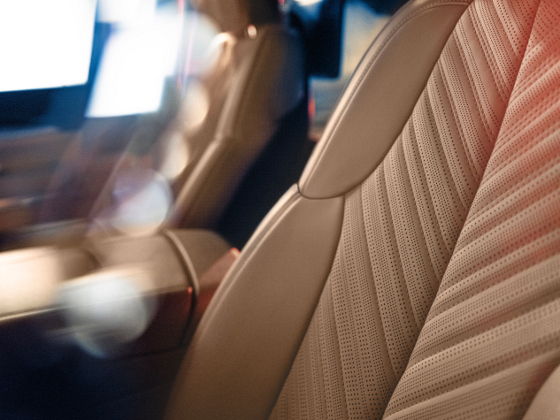 The interior trim features delicate detailing in the daylight, with laser-etched patterns accenting the wood panels. They light up at night for a unique look.
Production of the Escalade IQ begins next summer at GM's Factory ZERO Detroit-Hamtramck Assembly Center in Michigan. Pricing starts around $130,000.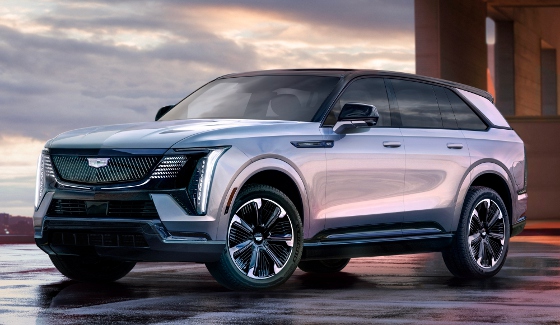 Learn more at cadillac.com/upcoming-vehicles/Escalade-iq.
Source: Cadillac
Published September 2023
Rate this article