UR20 cobot makes its welding debut at FABTECH
-- plasma cutting and weld grinding demos too
Universal Robots' larger, much-anticipated new UR20 cobot is ready to generate sparks at FABTECH this week, North America's biggest metal forming, fabricating, welding, and finishing event, taking place Sept. 11-14 in Chicago.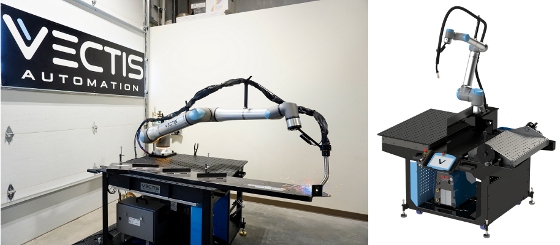 The new cobot, that brings 18 in. of additional reach radius (36-in. diameter increase), greatly broadens the range of weldments that will be achievable in a given fixture setup, says Josh Pawley, co-founder of Universal Robots (UR) partner, Vectis Automation.
"Vectis Automation is ecstatic to offer the long-reach UR20 arm onto our integrated cobot welding and cutting tools," Pawley says, emphasizing the cobot's next-gen design enhancements, including 50% fewer parts in the axis drivetrains. "This cobot will have a huge impact on the market, improving on UR's already robust and high-performance cobot products."

VIDEO: Welding robot: How to automate small batch welding. [Credit: Universal Robots]
Vectis Automation will showcase its UR20 Cobot Welder in Universal Robots' FABTECH booth B17063 integrated onto a rigid 48-in. x 48-in. XL Cart with a heavy-duty water-cooled package. The UR20 will also be showcased in cobot welding systems in booths by partners Hirebotics and Melton Machine & Control Company in addition to a press brake tending application by Cincinnati Inc.
Coordinated motion for increased productivity
Will Healy, Global Segment Manager for Welding at Universal Robots, looks forward to the UR20's welding and bending debut. "We redefined the cobot, completely re-engineering it from the ground up," Healy says, adding how UR will also debut a new coordinated motion feature to launch through partners as part of UR's PolyScope software.
With coordinated motion, the cobot and external axis -- such as a rotary positioner or a linear rail -- move in sync. "Coordinated motion enables fabricators to weld larger or more complex parts without having to manually reposition the work piece or welding robot," explains Healy. "This means UR cobots can weld more parts per run for increased efficiency and are capable of welding bigger and more complex parts."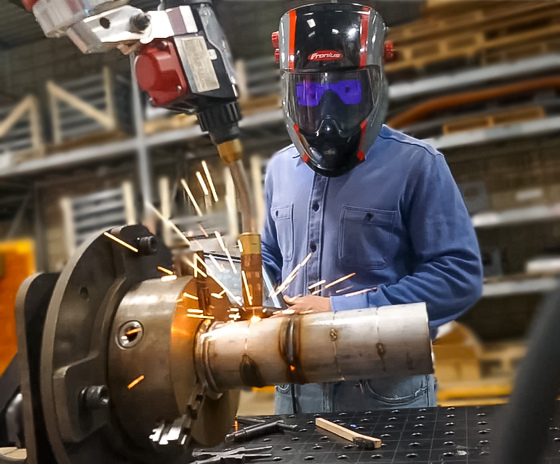 The new coordinated motion feature will be showcased at UR's own FABTECH booth in addition to the partner booths of THG Automation and Vention.
AI-generated weld and cutting parameters
Since the first UR cobot-powered welder made its debut in North America at FABTECH 2017, a wealth of OEM partners now standardize weld solutions on the UR platform, constantly innovating their offerings.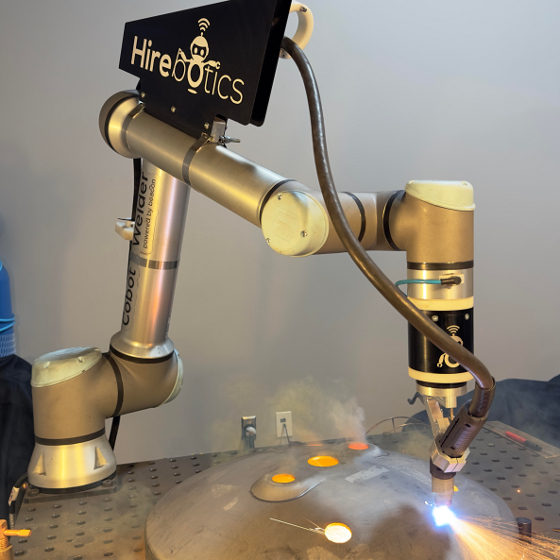 At this year's show, UR partner Hirebotics will launch Beacon Recommendations, a new feature using AI to recommend welding and cutting parameters when setting up a part, helping manufacturers save time and improve the quality of their welds and cuts. Hirebotics is also launching the Cobot Cutter, its first UR cobot-powered system for plasma cutting.
First cobot-automated weld-grinding solution
After a weld process is completed, fabricators often have to perform the hazardous chore of manual grinding and finishing. Equipped with the precision of a UR10e cobot and FerRobotics' ACF-K end-of-arm grinding tool, the new GRIT™ solution from UR partner Kane Robotics liberates workers from this tedious task, grinding welds at twice the speed of human technicians while improving material removal productivity by as much as 50 to 80%.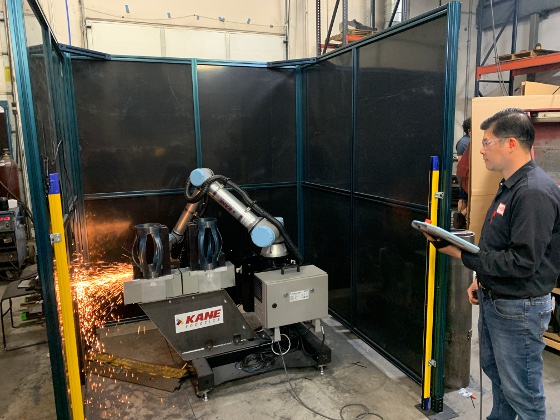 New chip mitigation system for cleaning jaws
Another material removal update launching at UR's FABTECH booth comes from UR partner VersaBuilt, now showcasing its cobot-powered Mill Automation System with VersaWash. VersaWash increases reliability and efficiency by deep cleaning jaws and parts to clear chips while the CNC machine is running. The popular Mill Automation System now also features MultiGrip Pallets, available for applications where customers prefer to fixture a single or multiple parts to a pallet and process multiple pallets automatically.
Deeper CNC integration
Manufacturers visiting UR's booth looking to optimize parts feeding will be intrigued by UR partner PBC Linear demonstrating its Applied Cobotics Cobot Feeder, a CNC machine-feeding application kit that delivers and stages parts to be placed into welding and fabricating equipment as well as CNCs, grinders, vertical mills, and other machine tools and processes.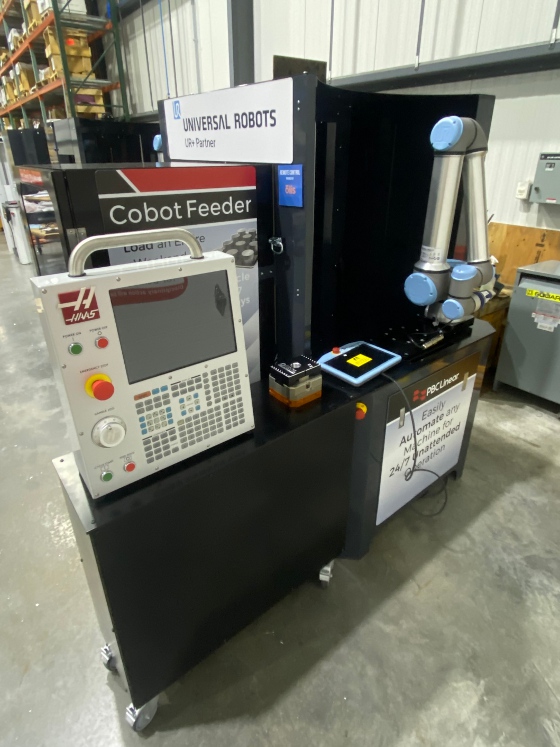 The Cobot Feeder demonstration combines a UR10e cobot and the Flexxbotics FlexxCNC™ to control the process of loading and unloading trays into a pneumatic vise. The modular and easily re-taskable Cobot Feeder empowers one machinist to do the work of up to eight machinists while increasing the amount of raw materials available to cobot machines tending work cells.
Source: Universal Robots
Published September 2023
Rate this article