Standard parts with signal feedback included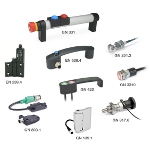 JW Winco standard parts are becoming even more functional -- multifunctional, to be precise. From smart stop bolts that report whether workpieces are precisely positioned in the machining process to cabinet handles with signal lights and fluid level indicators with electronic REED contact signals, intelligent standard parts from JW Winco ensure greater safety, higher efficiency, and increased stability. Many more very useful options available for a wide range of applications.
Learn more.
---
Create smarter control systems with relays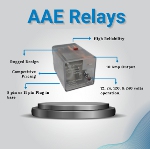 Control relays play a pivotal role in the world of automation and control systems. These versatile devices are designed to help you manage electrical circuits, making them indispensable for a wide range of applications. Learn the distinctive benefits of relays, including reliability and durability, versatility, ease of use, and costs. Check out the relays AA Electric has in stock too.
Learn more.
---
COMSOL Multiphysics Version 6.2 is here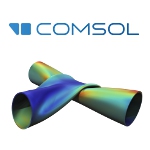 COMSOL Multiphysics Version 6.2 introduces faster solvers for turbulent fluid flow, electric motors, and room acoustics. It also brings data-driven surrogate model functionality for creating multiphysics-based digital twins and building fast and accurate standalone simulation apps. Get the full details of what's new in the latest version.
Learn more.
---
17 ways SOLIDWORKS 2024 helps you work faster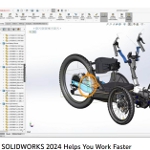 SOLIDWORKS 2024 helps designers and engineers work faster than ever. Learn all about improvements to core 3D CAD modeling features, new 3D modeling techniques, and graphical and software performance boosts that will help you get your parts made and your products developed in record time.
View the video.
---
6 tips to streamline workflow in Mastercam 2024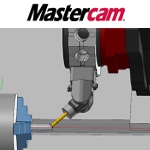 Mastercam 2024 CAD/CAM software has been intentionally upgraded to make programming fast and easy. It prioritizes streamlining workflow so that the entire machining process -- from design to QC -- is as efficient as possible. Learn how to maximize the benefits of Mastercam 2024, including special toolpaths, easier hole-making operations, wireframe shortcuts, and more.
Read this informative Mastercam blog.
---
Leak detection sensor for multiple HVAC refrigerants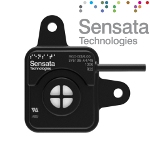 Sensata Technologies has launched the Sensata Resonix RGD sensor, the first leak detection sensor with UL certification for multiple A2L refrigerant gases used in heating, ventilation, and air conditioning (HVAC) equipment. It supports HVAC manufacturers' transition to refrigerants with a lower global warming impact. Typically mounted near the evaporator coil, the new sensor measures the acoustic resonance of the surrounding air in real time and can trigger mitigation, such as a fan, when A2L gas is detected.
Learn more.
---
New electro-pneumatic vacuum regulator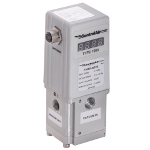 The Type 1005V Electronic Vacuum Regulator is the first electronic vacuum regulator offered by ControlAir. It is used in various industrial and automation applications to precisely control and regulate the flow of air or gases in a system. It has two solenoid valves, a pressure sensor, and an electronic board for precise control to ensure that the vacuum pressure remains steady.
Learn more.
---
Real-world applications: FUTEK 100 sensor examples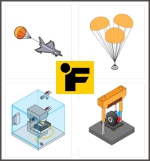 Get inspired. FUTEK has more than 100 real-world application examples for their load cells, force transducers, torque sensors, pressure sensors, and multi-axis sensors. From a cryogenic load cell on the Mars Curiosity rover to fly-by-wire multi-axis force and torque sensors for aircraft, learn about sensor systems, their specs, and design. Automotive, manufacturing, medical, robotics, and automation are covered too. Fascinating and highly practical.
Learn more.
---
Filter fans for enclosures: 70 models in new series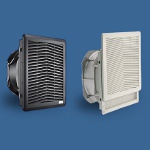 The new 4000 Series from Seifert Systems covers 70 UL-listed filter fan models designed for enclosure applications. They snap in place once a cutout is made in the enclosure. Mounting screws are available with EMC models or as an option. Filter media snaps in place and easily slides out for replacement. When used with a Seifert thermostat, 4000 Series filter fans can be turned on only when needed. Air flow ranges from 7 to 483 cfm.
Learn more.
---
What is 3D-MID? Molded parts with integrated electronics from HARTING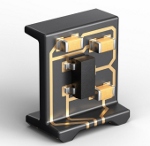 3D-MID (three-dimensional mechatronic integrated devices) tech combines electronic and mechanical functionalities into a single, 3D component. It replaces the traditional printed circuit board and opens up many new opportunities. It takes injection-molded parts and uses laser-direct structuring to etch areas of conductor structures, which are filled with a copper plating process to create very precise electronic circuits. HARTING, the technology's developer, says it's "Like a PCB, but 3D." Tons of possibilities.
View the video.
---
Need help with electronics connection design and manufacturing?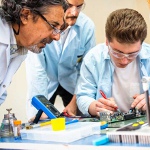 Conta-Clip combines electronics hardware and software development and production under one roof. Their comprehensive services range from simple-but-effective interface converters to complex control systems with touch displays and Ethernet connections. The company develops competitive connection solutions (including account costing) and closely cooperates with customers from needs analysis to prototype development, functional testing, series production, and even certification.
Learn more.
---
Rugged sensor measures surface temperatures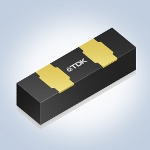 TDK's tiny new T850 SMT NTC sensor measures surface temperatures for applications such as heat sinks of power modules and monitoring of industrial processes. It combines high humidity resistance with fast response time due to excellent thermal coupling to the target. The sensor is suitable for harsh environments with temps from -40 C to 150 C and is waterproof to 500 hrs.
Learn more.
---
Inflatable EMI shielded RF enclosures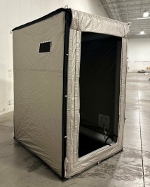 Saelig Company has introduced the Select Fabricators Series 700 EMI Enclosures -- reliable, portable, and lightweight RF and EMI shielding enclosures in standard sizes with a fast-up inflatable frame, ready for operation in less than 60 sec. No more aluminum tents. The Series 700 applies the same level of RF security obtained with previous RF/EMI shielded enclosures but is now made even more portable. Great for military operations, secure communications, mobile testing, emergency response, and more.
Learn more.
---
Haptic feedback prototyping kit from TDK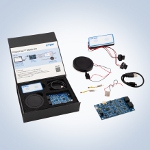 Get your customers to feel the difference your products make. TDK has just released a development starter kit for fast haptics prototyping. It gives mechanical designers and engineers first impressions of the haptic feedback using PowerHap piezo actuators, shows how the mechanical integration works, and provides a reference design. Applications include automotive, displays and tablets, household appliances, vending machines, game controllers, industrial equipment, and medical devices.
Learn more.
---
Position sensor real-world applications: Automotive and mobile equipment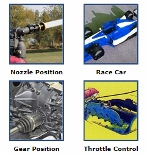 From firetruck nozzle positioning and race car steering to accelerator control and wheel vector sensing, learn how position sensors from Novotechnik are used in real-world applications. Sensor types include non-contacting rotary sensors, angle sensors, and magnetic encoders. We love when manufacturers provide examples of their products in action.
Learn more.
---
50 TB: Fujifilm and IBM create world's highest data storage tape capacity
Despite solid-state storage capabilities always growing, some organizations still prefer tape. To fulfill that need, Fujifilm and IBM have developed a 50-TB native tape storage system that features the world's highest native data tape cartridge capacity. The system provides 2.5 times the capacity of the previous highest-capacity tape cartridges.
Fujifilm has commenced production of a high-density tape cartridge for use with IBM's newest enterprise tape drive, the TS1170. The sixth-generation IBM 3592 JF tape cartridge incorporates a newly developed technology featuring fine hybrid magnetic particles to enable higher data storage capacity.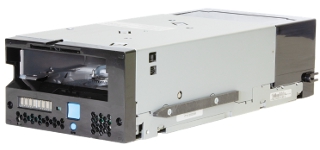 Credit: IBM
Fujifilm has succeeded in achieving this innovative cartridge capacity by evolving the technologies developed in previous tape generations. This involved enhancing both the areal recording density (the amount of data that can be recorded per square inch) and the overall recording area (the surface area capable of recording data).
Using nanoparticle design technology, fine hybrid magnetic particles have been newly developed by combining the technologies used in the next-generation Strontium Ferrite (SrFe) magnetic particles and the Barium Ferrite (BaFe) particles that are currently used in high-capacity data storage tapes. Reduction in the size of the magnetic particles and enhancement in their magnetic properties has improved the areal recording density significantly.
Other developments include high-dispersion technology for magnetic particles that prevents the aggregation of individual ultrafine magnetic particles and allows for a more even dispersion of the particles, and an improved thin-layer coating technology that achieves a more uniform and smoother tape surface, resulting in improved signal-to-noise ratio.
The new tape system includes a 15% longer tape per data cartridge compared to the previous fifth-generation version, which has been realized by using a thinner and stronger base film as the support for the magnetic layer.
IBM says AI-enhanced analytics are helping organizations derive value from exponentially increasing volumes of "big data" and prompting the need for "long-term, cost-effective, high-capacity data storage." With the TS1170 drive and 3592 JF tape cartridge, data-intensive organizations including growing cloud service providers can take advantage of the increased capacity of 3592 JF for long-term retention and security of these massive data sets.
IBM also says, "The innovation of the IBM 3592 JF tape cartridge, only available on the new IBM TS1170 Tape Drive, provides the ability to store up to 150TB of data on a single tape cartridge with a 3:1 compression ratio, enabling clients to achieve ultra-high data storage on the TS1170."
Source: IBM
Published September 2023
Rate this article