Suppliers race to offer 'perfect' e-motor
Top-tier German automotive suppliers MAHLE and ZF are each on their own quest to develop the "perfect" magnet-free electric motor that provides high peak power, wear-free power transmission, and maximum efficiency. New motor offerings from the companies may have gotten them a step closer to their goals.
MAHLE's latest offering
MAHLE has developed a new technology kit for electric motors that combines the advantages of its benchmark SCT and MCT electric motors. This "perfect motor" recipe (named so by the company) combines permanently high peak power; contactless, wear-free power transmission; the absence of rare earths; and maximum efficiency.
"With this unique technology toolbox for electric motors, we can offer our customers customized electrification solutions for any vehicle class, application, or even brand philosophy," says Arnd Franz, chairman of the MAHLE Group Management Board and CEO.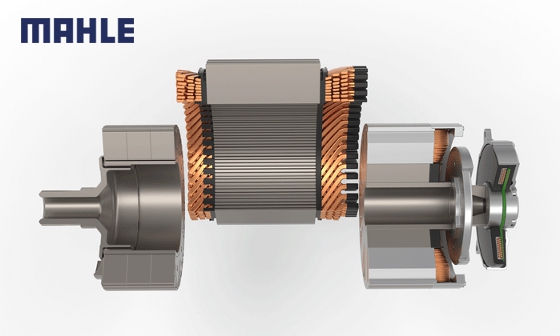 The MCT (Magnet-free Contactless Transmitter) and the endurance champion SCT (Superior Continuous Torque) electric motor, which operate contactlessly and without rare earths, are among the latest innovations from the Stuttgart-based automotive supplier in the field of electric drives. Dispensing with rare earths in MCT technology not only makes production more environmentally friendly, but also brings advantages in terms of costs and raw material security. This combination makes the motor particularly efficient at almost all operating points. The MCT electric motor shows its efficiency advantages to the full, especially in those areas that are frequently used in real-world road traffic.
The MCT electric motor is characterized by high durability, because the necessary transmission of electric currents between the rotating and stationary parts inside the motor is contactless and thus wear-free. Therefore, the motor is maintenance-free and suitable for a wide range of applications.
With the SCT electric motor, MAHLE currently has the most enduring electric motor in its range. This traction motor can operate at high power for an unlimited period of time. This technological leap was made possible by a new cooling concept -- an innovative integrated oil cooling system that not only makes the e-motor robust, but at the same time also allows the waste heat generated to be used in the vehicle's overall system. According to the company, the new e-motor "is unrivaled in its small size, light weight, and efficiency." The extremely compact design also results in a material cost and weight advantage -- a lighter motor requires less material in production and at the same time increases the possible payload in commercial vehicles.
The MCT electric motor shows high efficiency over a wide speed/torque range. The SCT electric motor, on the other hand, is designed to achieve the highest efficiencies at the optimized main operating points. Another strength of the SCT electric motor is its high continuous output. This is, despite the very compact and lightweight design, 93 to 100% of its peak power, as measurement results prove. This unprecedentedly high ratio, which is unique on the market, enables it to be used in electric vehicles of all kinds, even under very demanding conditions. Classic examples include driving an e-truck over mountain passes or repeated acceleration of a battery-electric passenger car. These scenarios are only covered to a limited extent by e-motors available to date.
ZF's latest offering
ZF has also developed an electric motor that does not require magnets. In contrast to the magnet-free concepts of so-called separately excited synchronous motors (SESM) already available today, ZF's I2SM (In-Rotor Inductive-Excited Synchronous Motor) transmits the energy for the magnetic field via an inductive exciter inside the rotor shaft. This makes the motor uniquely compact with maximum power and torque density.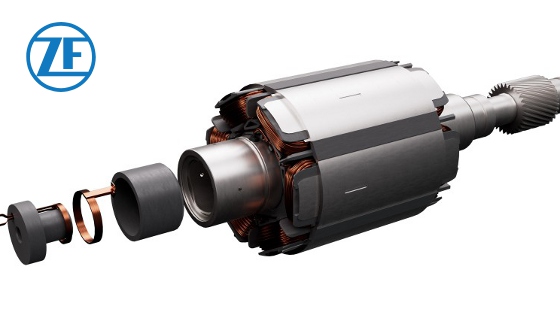 This advanced variant of a separately excited synchronous motor is an alternative to permanent-magnet synchronous machines (PSM). PSMs are currently the motors most frequently used in electric vehicles, but they are based on magnets that require rare earth materials for their production. With the I2SM, ZF says it is setting a new standard for making e-motors both extremely sustainable in production and highly powerful and efficient in operation.
Compared to common SESM systems, the inductive exciter can reduce losses for the energy transmission into the rotor by 15%, according to the company. In addition, the CO2 footprint in production, which arises with PSM e-motors in particular due to magnets including rare earth materials, can be reduced by up to 50%.
"This uniquely compact electric motor without magnets is impressive evidence of our strategy to make e-drives more resource efficient and sustainable, primarily through efficiency improvements," says Stephan von Schuckmann, member of the Board of Management of the ZF Group.
In addition to the benefits of eliminating rare earth materials in a compact and powerful package, the I2SM eliminates the drag losses created in traditional PSM e-motors. This enables better efficiency at certain operating points such as long highway trips at high speed.
To ensure that the magnetic field in the rotor is built up by current instead of magnets, the conventional SESM concepts currently still require sliding or brush elements in most cases, which can force compromises: A dry installation space (i.e., not accessible for oil cooling and with additional seals) is necessary. As a result, conventional SESMs take up around 90 mm more space axially. As a result, manufacturers generally cannot flexibly vary between PSM and SESM variants in their model planning without additional effort.
In order to offer the advantages of separately excited synchronous machines competitively, ZF has succeeded in compensating for the design-related disadvantages of common separately excited synchronous machines. In particular, the torque density has been significantly increased compared to the state of the art thanks to an innovative rotor design. The space-neutral integration of the exciter into the rotor means that there are no axial space disadvantages. In addition, an increase in power density in the rotor leads to an improvement in performance.
The technological prerequisite for the ZF innovation is that energy is transferred inductively (i.e., without mechanical contact) into the rotor, generating a magnetic field by means of coils. Thus, the I2SM does not require any brush elements or slip rings. Furthermore, there is no longer any need to keep this area dry by means of seals. As with a permanently magnetized synchronous motor, the rotor is efficiently cooled by circulating oil. Compared to a common separately excited synchronous motor, the ZF innovation requires up to 90 mm less axial installation space. In terms of power and torque density, however, the ZF innovation operates at the level of a PSM.
ZF plans to develop the I2SM technology to production maturity and offer it as an option within its own e-drive platform. Customers from the passenger car and commercial vehicle segments can then choose between a variant with 400-V architecture or with 800-V architecture for their respective applications. The latter relies on silicon carbide chips in the power electronics.
Neither company has released any other operating results for their new e-motors.
Sources: MAHLE, ZF
Published September 2023
Rate this article