Standard parts with signal feedback included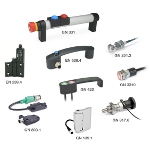 JW Winco standard parts are becoming even more functional -- multifunctional, to be precise. From smart stop bolts that report whether workpieces are precisely positioned in the machining process to cabinet handles with signal lights and fluid level indicators with electronic REED contact signals, intelligent standard parts from JW Winco ensure greater safety, higher efficiency, and increased stability. Many more very useful options available for a wide range of applications.
Learn more.
---
Particle foam perfectly distributed thanks to simulation with Ultrasim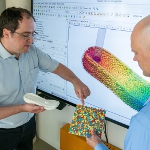 BASF's Ultrasim simulation solution now includes Infinergy, an expanded thermoplastic polyurethane (E-TPU) that is used in a wide range of applications to make components with particle foam -- from bicycle tires to the soles on shoes. Identify and solve problems related to pneumatic filling when distributing particle foams in molds, even taking gravity and mold closing into consideration. Avoid those pesky air pockets.
Learn more.
---
Best practices for making technical drawings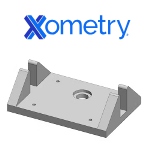 Ambiguities in technical drawings can cost extra money when a part must be redone or reworked, leading to unexpected project delays. It is essential to create clear technical drawings the first time around. Did you remember to include an isometric view if possible? Did you limit the number of hidden lines? Xometry lays out 14 tips that to help engineers create clear and professional manufacturing drawings. A solid review.
Read the full Xometry article.
---
NEW! Semi-automatic pin installation technology from SPIROL -- Better, faster fastening

SPIROL's new video showcases their updated Model PR and Model CR Semi-Automatic Installation Machines for Pins, Alignment Dowels, and Bushings. The video demonstrates how to operate the machine, details standard features, and optional quality and error-proofing enhancements. More than 80% of the components in this installation equipment are standard, pretested, production-proven, off-the-shelf parts. This translates into faster delivery, greater reliability, and lowest cost for equipment of comparable quality.
View the video.
---
Are fasteners over-torqued in your assemblies?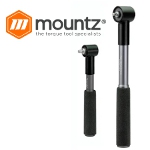 According to Mountz, if you currently use a click wrench for your bolting application, you should proceed cautiously because click wrenches are easily misused, which leads to over-torque events. Replacing a click-wrench with a Mountz FGC cam-over wrench helps prevent operator anomalies and over-torque occurrences, because a cam-over mechanism physically prevents the operator from over-torquing fasteners.
Learn more.
---
Tools for robotic metal weld grinding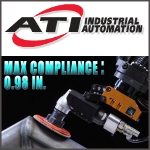 There are many ways to automate grinding processes, but according to ATI Industrial Automation, "Compliance is the key to successful robotic grinding applications." Learn about the pneumatic compliance built into ATI's tools -- the CGV Compliant Angle Grinder and the PCFC Passive Compliant Force Control device -- that exerts a constant force and compensates for surface irregularities to ensure consistent results and facilitate easier robot programming.
Learn more.
---
How BMW Group uses ExOne binder jetting tech to make parts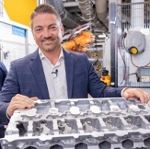 3D-printer maker ExOne and BMW have worked together for more than two decades on additive manufacturing projects. This video showcases how the premium automaker uses ExOne binder jet sand 3D-printing technology to manufacture water jacket cores in serial production. Binder jetting is one of the fastest 3D-printing methods for producing high-quality and complex precision parts in high volume.
View the video.
---
NEW: Build parts together with Teamspace from Xometry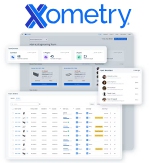 Xometry's Digital Manufacturing Marketplace has just launched Teamspace, a new product feature that makes it easy for you and your team to build big ideas together. Teamspace is a collaborative workspace within your Xometry account that gives you and members of your team quick and easy access to quotes, order placement, part status, tracking info, and more. Turbocharge the way you make custom parts using additive manufacturing, CNC machining, sheet and tube fabrication, plastics, metals, and more.
Learn more.
---
Clean in Place Latches save time and money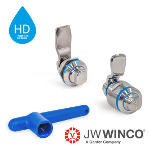 Spend less time and money on cleaning and cleaning media with two new standard parts from JW Winco. The new GN 1150 latches are designed to repel dirt and can be cleaned in place. The Hygienic Design latches support the machine and system cleaning concept known as clean in place, or CIP for short. Two versions available: front hygiene (FH) for applications such as switch cabinets that must comply with hygiene requirements only on the outside, and full hygiene (VH) with additional seals for HD quality, even on the latch arm side.
Learn more.
---
Flex Locators for quick changeover of small and large fixtures
Flex Locators from Fixtureworks are designed for quick changeover of small and large fixtures, automation components, and more. They are ideal for applications that require frequent disassembly, providing excellent repeatability for locating and clamping in a single operation. Manual and pneumatic versions are available. Just turn the handle, knob, or screw!
View the video.
---
Injection-molded heavy-duty plain bearings for high mechanical loads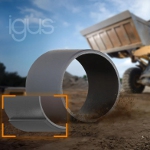 igus has introduced a new two-component plain bearing for high mechanical loads called the iglide Q3E series. With this new, greaseless offering, igus has, for the first time, found a way to manufacture heavy-duty bearings made of two layers of high-performance plastic using the cost-effective injection molding process. Applications include the construction and agricultural machinery industries.
Learn more.
---
Premium polymer DLP printer is half the price of its predecessor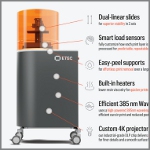 Desktop Metal has just launched the ETEC Pro XL -- a premium polymer digital light processing (DLP) printer that enters the market at less than half the price as its predecessor. DLP is regarded by many as a superior polymer 3D-printing technology for speed, surface finish, and accuracy. Ideal for automotive and machine parts, aerospace components, housings, connectors, jigs and fixtures, short-run molds, and more.
Read the full article.
---
Photo etching ramps up heat exchanger design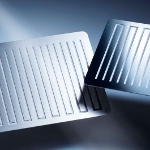 Photo-chemical etching is a powerful technique for manufacturing heat exchangers that offers numerous advantages over traditional methods and addresses key challenges -- all while paving the way for innovative designs in various industrial applications from power generation and automotive systems to HVAC systems and aerospace technology.
Read the full article.
---
Replace traditional fasteners: Retaining ring applications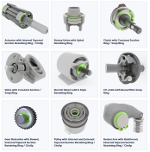 Using a Rotor Clip Retaining Ring to fasten your assembly instead of a traditional fastener not only reduces your costs, but it also saves the environment. Fewer parts and less material means cost savings for you and less waste for the planet. This quality part offers lot traceability. Want to know what you can do with a Rotor Clip Retaining Ring?
View application examples.
---
New EXAIR catalog: Solutions for manufacturing problems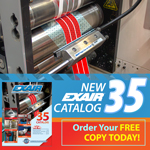 EXAIR's new Catalog 35 is a full-color technical guide offering innovative solutions to common industrial conveying, cooling, cleaning, blowoff, drying, coating, and static electricity problems. The expanded Catalog 35 features new products, guides, research, certifications, and many other helpful tools to assist customers in getting the most out of their manufacturing processes.
Get your EXAIR Catalog 35.
---
New bio-based glues grow stronger in water
Patent-pending adhesive formulations developed at Purdue University from fully sustainable, bio-based components establish bonds that grow stronger when under water or exposed to wet conditions.
Gudrun Schmidt, an associate professor of practice in Purdue's Department of Chemistry, and a team of researchers developed the formulations from zein, a protein found in corn, and tannic acid. A paper about the team's research was published in the peer-reviewed journal ACS Applied Materials & Interfaces.
The adhesive formulations could be further developed and used in the restoration of coral reefs and have applications in the construction, manufacturing, biomedical, dental, food, and cosmetic industries.
Stronger in water
Schmidt and her colleagues conducted underwater adhesive experiments on their formulations using different surfaces and different waters, including seawater, saline solution, tap water, and deionized water.
"Interestingly, the water type does not influence performance a great deal, but the substrate type does," Schmidt said. "An additional unexpected result was bond strengths increasing over time when exposed to water, contradicting general experiments of working with traditional, petroleum-based glues. Initial adhesion underwater was stronger compared to benchtop adhesion, suggesting that water helps to make the glue stick underwater."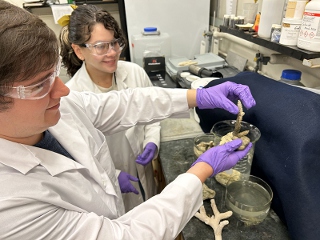 Aaron Mena (left) and Jennifer Garcia Rodriguez, graduate students in Purdue University's Department of Chemistry, affix corals using adhesive formulations developed from fully sustainable, bio-based components. [Credit: Purdue University photo/Gudrun Schmidt]
A protective skin formed on the surface of the adhesives when placed under water, which kept water from entering the rest of the material immediately. "But once the skin was in place, it could be broken to induce faster bond formation," Schmidt said.
The experiments also indicated maximum bonding at about 30 degrees C, then another increase at higher temperatures.
Schmidt said the process to make the adhesive formulations is a short one.
"We can use inexpensive, sustainably sourced, plant-based materials to make gallons of glue within hours," Schmidt said. "The adhesives are very simple to make in the lab or outdoors, everywhere on the planet."
The demand for nontoxic formulations
Schmidt said other researchers are formulating adhesives that mimic the glues used by mussels, barnacles, oysters, and sandcastle worms to adhere to the seafloor and other wet surfaces. Those best-performing formulations, however, are fully synthetic.
"Lengthy syntheses with the use of harsh chemicals may hold back their future development," Schmidt said. "Nontoxicity, sustainably sourced materials, and minimal environmental impact are increasingly in demand. Consequently, several groups have turned to developing new and remaking old adhesive systems using bioinspired or bio-based chemistry."
The increased demand of nontoxic materials has led to creating adhesives for biomedical applications. The resulting glues have properties similar to soft tissue. Schmidt said that bio-based adhesives have further applications.
"Once the in-vivo and biomedical realm is left behind, there is an entire world of other applications requiring metals, plastics, wood, and inorganic substrates that need adhesives to work in the presence of water," Schmidt said. "Food, oral, and cosmetic applications are less restrictive when it comes to purity of starting materials. Food-grade polymers can often be used for making wet adhesives. We also are working on dental applications, trying to make bonds in this wet and challenging environment."
Coral reef restoration
Schmidt said another particularly intriguing application for the patent-pending Purdue-developed adhesive formulations is the restoration of coral reefs.
"There are several major efforts, worldwide, planting young corals to replace those structures that are already dead," Schmidt said. "A major hindrance to these efforts is lack of suitable underwater adhesives that work well for this application."
Schmidt and her research team are working with the Coral Restoration Foundation, sending various formulations to be tested.
"We recently visited the Florida Keys to test a few formulations in bucketsful of ocean water," Schmidt said. "It is great to see our work outside of the research lab and in the real, wet world."
Schmidt disclosed the adhesive formulations to the Purdue Innovates Office of Technology Commercialization, which has applied for a patent to protect the intellectual property.
Source: Purdue University
Published September 2023
Rate this article