Wheels:
World's fastest hybrid semi truck just got a little faster
The Volvo Mean Green hybrid truck established two new world speed records on April 27 at Utah's historic Wendover Airfield, eclipsing its previous record-setting marks in the standing kilometer (two-thirds of a mile) and flying kilometer.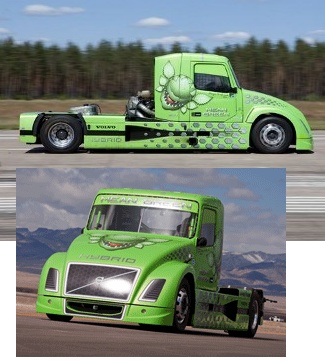 Mean Green achieved the following world record speeds:
Flying Kilometer: 236.577 km/h (147.002 mph)
Standing Kilometer: 153.252 km/h (95.245 mph)
Mean Green eclipsed its previous records of 218.780 km/h (135.943 mph) in the flying kilometer and 152.253 km/h (94.605 mph) in the standing kilometer, which were established June 2011 at the Hultsfred Airport in Sweden.
In building the Mean Green, Volvo's team of hybrid technology experts adapted Volvo's hybrid driveline to the chassis requirements of a world-class truck built for speed. Engineers then outfitted Mean Green with a highly tuned Volvo D16 engine and a modified version of Volvo's automated I-Shift gearbox, which interacts with the hybrid's electric motor.
"The result is a lightning-speed boost from start-off without any of the customary diesel-engine delay," said Boije Ovebrink, Mean Green's owner and driver. "It's like a champagne cork, but without the sound effects. For the first couple of seconds the truck just makes a slight whistle until the diesel engine, which runs on renewable liquid rosin diesel, starts delivering with explosive force."
Though Mean Green's modified aerodynamic body design bears little resemblance to a freight-hauling tractor, the finely tuned speed machine is comprised almost entirely of production components from Volvo family vehicles, including a North American Volvo VN cab and frame.
"Our engineers developed the world's fastest hybrid truck utilizing the same Volvo hybrid drive system powering hundreds of Volvo buses throughout the world, including London's double-decker buses," said Ron Huibers, president, Volvo Trucks North American Sales & Marketing.
The combination of an electric motor and Volvo D16 diesel engine delivers 2,100 hp and nearly 5,000 lb-ft of torque, of which 200 hp and 885 lb-ft of torque come from the electric motor.
Mean Green features modified versions of the following Volvo production components:
Volvo hybrid motor;
Volvo hybrid battery;
Volvo D16 diesel engine;
Volvo I-Shift automated manual transmission;
Volvo VN cab and frame;
Rear axle with 1.85:1 ratio.
"We are very pleased with Mean Green's performance, especially at such a high altitude," said Ovebrink. "We knew Wendover would present challenges, because it's more than 4,200 feet (1,280 meters) above sea level. To compensate for the thinner air and help prevent overheating, we reduced the truck's power by nearly 20 percent. Even with the reduction in total output potential, Mean Green had ample power to surpass the previous records."
The speed record attempts were sanctioned by the United States Auto Club, an extension of the Federation Internationale de l'Automobile (FIA), motoring's international governing body. The new world records are subject to FIA recognition, which will occur in about 30 to 60 days.
Source: Compiled from Volvo Trucks' latest reports
Published May 2012
Rate this article