'Skycam' rigging for kite surfers proves formidable challenge for design newbie
Stephane Cros has no fear when it comes to learning new skills. He took up kite surfing, a high-speed watersport, in 2003 before many of the innovations that have made it the safer, more mainstream activity it is today. When he decided to produce specialized equipment for photographing the sport, he took the same fearless approach to learning 3D computer-aided design (CAD) for the development of his products.
Kite surfing is a photogenic activity. Kite surfers are towed by a large inflated kite at the end of 27-m control lines. Their feet are strapped to a modified surfboard and skid across the water's surface, catching air as they soar off the tops of waves. Being a professional 3D animator for films, Cros quickly recognized the value of capturing such an active sport on camera.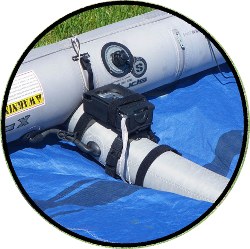 "Waterproof digital cameras were ideal for the task," says Cros. "The challenge was securely positioning the camera to capture the action, particularly looking down from the point of view of the kite itself." In early experiments, Cros bought and modified fabric camera pouches, cutting holes for the camera lens and using Velcro straps to mount the pouch and camera to the kite. Other surfers saw the potential of his creation, and he quickly found himself in small-scale production, selling the mounting system over the Internet and modifying his creations to fit different cameras as they appeared on the market.
"Each year there were new cameras, and adapting the pouches to fit them became increasingly complicated," says Cros. "I realized that I needed a universal system that could fit a variety of cameras and kites. I knew that if I were serious, I would have to make it out of injection-molded plastic. I bought a CAD software and thought that with my background in 3D graphics and animation, it would be easy to learn. It turned out to be very different from what I do. There was definitely a learning curve, but for the first time I was creating something physical -- and that was exciting."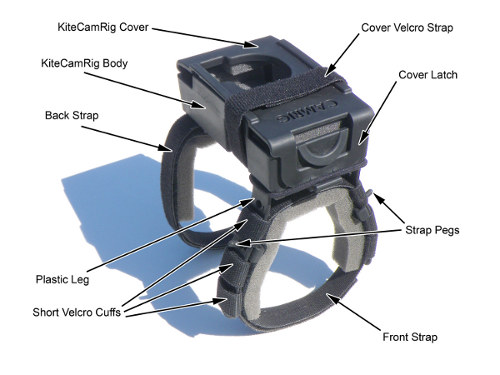 Looking for suppliers that could produce his CAMRIG design, Cros found most too expensive, until he discovered Proto Labs. "I was impressed by their website and the tools they made available to designers," he says. "It let me upload 3D CAD files and get back quotes, along with rotatable on-screen images of my part with color-coded suggestions for improved moldability. It was my first part, a complicated design with moving parts and a lot of angles. I think I uploaded about 10 different versions over a period of two months, and a lot of the corrections had to do with draft."
The molded components of the system include a camera compartment with a latching cover and two adjustable legs for attachment to the strut of a kite. "The final design works with about 90 percent of small waterproof cameras, including the GoPro video camera, and 90 percent of inflatable kites," says Cros. "The cover moves on a 'living hinge' and closes with a built-in latch. Both have to be very precise and very durable because they move every time a camera is inserted or removed from the case. Proto Labs sent me a sample design cube, which demonstrates many of the features I've used. To control cost, I eliminated features that would require side actions.
"I knew the choice of resin would be crucial. I first narrowed my choices using the information on Proto Labs' website and did further research on resin-specific sites on the Internet. Proto Labs sent samples of the resins I was interested in, so I could get a feel for the materials, and then I was finally ready to place an initial order.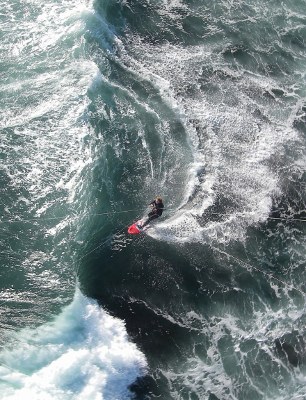 "I had intentionally used a flexible resin, but my first batch of parts flexed enough to unhook the latch on the compartment door. I had to go back to the CAD software and add material to make the part more rigid. Fortunately, you can add plastic to a part by removing material from an existing mold, so Proto Labs was able to make my new parts without having to mill a new mold from scratch, which kept the cost of revision down. The two plastic legs were identical and could be made in a single mold, which also cut my cost.
"Proto Labs was very helpful at every step of the process. They helped me resolve design problems, helped me find the right resin for my needs, and showed me how to modify my design so they could modify the mold instead of making a new one. Since I've gone into production, they've made between 1,000 and 1,500 sets of parts for me, in modest batches so I don't have to keep a large inventory, and at moderate prices. I will definitely keep using their services as I modify and expand my offerings."
Want more information? Click below.
Published December 2012
Rate this article