How slip clutches can help maximize your designs

The way they see it over at Polyclutch, there aren't a whole lot of problems you can't solve with a slip clutch. Way beyond using them for overload protection, there are a surprising number of other applications for these versatile and valuable components. From increasing machine speeds and applying constant tension on wire to indexing a conveyor and automatic screw assembly, slip clutches just may provide the design leverage you've been seeking.
Read the full article.
---
New high-performance metals for 3D printing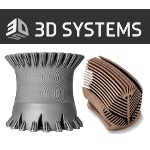 3D Systems has added two new materials to its materials portfolio. Certified HX is a high-performance nickel alloy that contains a higher percentage of molybdenum (up to 9.5%) vs. other nickel alloys, which enhances strength and resistance to corrosion, creep deformation, cracking, and oxidation in hot-zone environments. Certified CuCr2.4 is a high-strength, corrosion-resistant copper alloy that is significantly stronger than pure copper and easier to process. Both materials are certified for use with the company's DMP Flex 350 and DMP Factory 350 3D printers. Applications include industrial gas turbines, consumer goods, aerospace and defense, and automotive.
Learn more.
---
COMSOL Multiphysics Version 6.1 is here!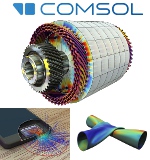 COMSOL has released the latest version of its modeling and simulation software. COMSOL Multiphysics version 6.1 is full of feature additions and workflow enhancements. "This version provides our users with powerful multiphysics simulation tools in areas of highly competitive R&D, like audio technology and vehicle electrification," says Bjorn Sjodin, VP of product management at COMSOL. "We have also strengthened the software's foundation with new capabilities for optimization and the modeling of turbulent flow and mechanical contact."
Learn more.
---
How to design a 10-in. cast-iron skillet in SOLIDWORKS in 10 min.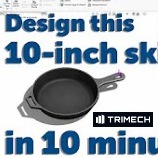 The engineers over at TriMech are always providing new tips, tricks, and tutorials. This time around, they have put together a 10-min. SOLIDWORKS demo on how to design a cast-iron skillet. The video covers sketch relations and dimensions to fully define the geometry and applying three-dimensional features. From beginner to advanced user, TriMech provides excellent training support.
View the video.
---
ClampDisk micro fastener is new alternative for automotive and consumer electronics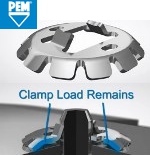 Designed as a unique alternative in assemblies for the automotive and consumer electronics markets, the ClampDisk Press-on Fastener is a new offering from PennEngineering that delivers a fast, simple way to achieve sheet-to-sheet clamped fastening while replacing the use of standard screws, nuts, and adhesives. The most common challenges that can be eliminated or reduced by using ClampDisk include over installation, cross threading, stripped screw heads, broken screws, and damaged product. This fastener can be removed easily with a sharp-edged tool.
Learn more and see how ClampDisk works.
---
Design Tips: Build strength into parts with insert molding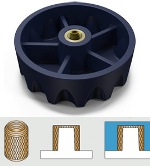 Plastic injection-molded parts are tough and strong, able to withstand heavy loads, moderately high temperatures, and the corrosive effects of acids and alkalis. In some cases, plastic even competes with metal, and is lighter and usually less expensive to boot. But once in a while plastic needs a little help, like when the bore in an all-plastic pulley quickly wears out or tapped holes in molded handles and knobs get prone to stripping. In these cases, say hello to insert molding.
Read the full Protolabs article.
---
New flame-retardant resin for 3D printing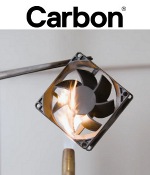 3D-printing tech company Carbon has introduced an all-new photopolymer resin called EPX 86FR that the company says offers an unmatched combination of flame retardance, functional toughness, high strength, and long-term stability for end-use parts, functional prototypes, and tools in the automotive and industrial sectors.
Learn more.
---
New TurboBlast Safety Air Gun for heavy-duty jobs requiring powerful blowoff
EXAIR's new TurboBlast Safety Air Gun is the latest addition to the EXAIR line of Safety Air Guns. This dynamic air gun is capable of producing up to 23 lb of force with a simple press of a button trigger and is the ideal solution for blowoff applications requiring maximum force such as removing stubborn or heavy debris like slag and flash, part drying, or cooling from a distance, as well as heavy-duty cleanup in busy facilities. Available in different flow rates and extensions up to 6 ft long.
Learn more.
---
Guide to vibration-proof fasteners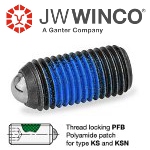 How do you ensure the fasteners you're using won't loosen in an application that is prone to vibration? Engineers frequently debate that question. The experts at JW Winco run through the common solutions, including threadlockers, pre-installed nylon patches, and more.
Read this short, informative engineering tip.
---
Cool Tools: Easy-setup orbital sander/polisher for cobots by OnRobot
The Sander package from OnRobot includes everything customers need to get their robotic sanding application started quickly, including plug-and-play sanding tool, pads, easy-to-use programming software, an optional force/torque sensor, and a Grit Changer. All of the advanced features are supported on Universal Robots cobots, but the tool is easily integrated with any major robot brand. Polishing and deburring can be accomplished too.
Read the full article.
---
Pro Tips: Post processing in PBF 3D printing -- the key to viable production outcomes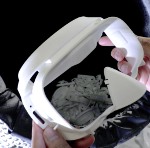 Focusing purely on the 3D-printing build process means that a crucial part of the production process chain is overlooked: the post-processing steps once the parts are removed from the 3D-printing machine. Nick Allen from 3DPRINTUK gives an insightful overview of post-processing options available for polymer powder bed fusion (PBF) parts and the design considerations that must be taken into account from the start.
Read the full article.
---
Automotive milling innovation: Sandvik CoroMill MF80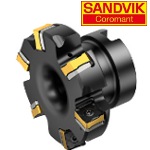 Sandvik Coromant has expanded its milling offering with the new CoroMill MF80 for automotive milling applications in ISO K and ISO P materials in close to 90-degree operations with fixture constraints. Based on a tech platform similar to the existing CoroMill 345, this new milling concept offers a 40% lighter cutter body with shim protection and a high number of inserts for secure and stable machining, even in vibration-prone overhang applications. Testing has shown a 67% increase in tool life, which boosted overall productivity by 60%.
Learn more.
---
SOLIDWORKS: What's new for 2023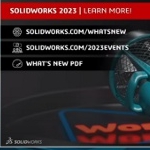 In 2023, SOLIDWORKS will help you break down barriers, so you can work from anywhere and be even more productive. Expand your horizons beyond the desktop and connect everyone to best-in-class tools using the cloud. 3DEXPERIENCE Works helps you move beyond parts, assemblies, and drawings. New capabilities will help you optimize your workflows for design, simulation, data management, documentation, and so much more. This is the long version of the presentation filled with interviews and examples, so skip around if you are short on time.
View the video.
---
3D-printed parts are resistant to chemicals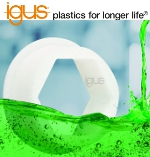 igus has expanded the scope of its 3D-printing service to include chemical-resistant, self-lubricating, tribo-polymer components, thanks to its new printing filament for selective laser sintering (SLS) printers called iglide i10. The new material is resistant to acids, bases, alcohols, and greases, making it suitable for use in industries such as electroplating and food processing. It is characterized by its high ductility and low moisture absorption, and is ideal for weight-saving industrial functional components with elastic properties.
Learn more.
---
Verisurf: Automate measurement and inspection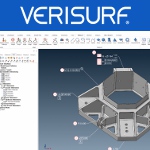 Verisurf software, the only inspection and measurement software built on a full-featured 3D CAD platform, provides measurement and inspection workflows with inspection plans that can be created once and used across the manufacturing enterprise on any portable or fixed coordinate measuring machine (CMM). Embedded Verisurf productivity tools enhance and automate workflows, which shorten inspection and reporting time, help reduce errors, support workforce development, and ensure continuity for repeatable process control during inspection, reverse engineering, and tool-building applications.
See what's new in Verisurf.
---
Ford and U-M researchers team up to fight microbes in new cars and trucks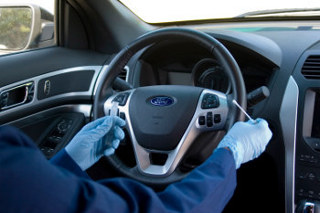 We can't see them, but we are surrounded by tiny microorganisms that can have undesirable effects on the surfaces around us. In cars and trucks, these microscopic organisms, including mold and mildew, can quickly take hold and spread over a variety of surfaces leading to discoloration, and even unpleasant odors.
"Vehicle cabins are exposed to a wide variety of environmental conditions that can make them microbial breeding grounds," says Cindy Peters, Ford Motor Company technical expert. "Based on growing consumer desire for health and wellness solutions, we decided to take a look at the interiors in Ford vehicles with the goal of creating a cleaner, more aesthetically pleasing environment for our customers."
Market research firm Mintel reports Americans spend approximately $2.3 billion annually on air fresheners, including aerosols, plug-ins, slow-release, and hanger products found dangling from car mirrors.
Many consumers are sensitive to chemicals or simply don't like the artificial scents of many air fresheners, so a solution that proactively reduces the source of odors for the life of the vehicle might be appreciated.
Engineers from the Ford Research and Innovation Center in Dearborn have been collaborating with a team from the University of Michigan (U-M) led by microbial ecologist Dr. Blaise Boles to evaluate the concentration and growth of microbes in vehicles.
Peters and her colleagues collected samples from a variety of company- and employee-owned vehicles. The samples were then cultured and analyzed at a U-M laboratory in Ann Arbor, MI.
The team took swabs from 10 locations in the vehicle interior, including the steering wheel, radio buttons, door handles, window switches, and gear shift knobs. The U-M researchers found significant bacteria growth at most of the test locations, with the highest concentrations on the steering wheel and the area around the cupholders.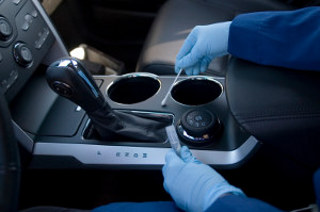 "Our findings suggest car interiors are complex ecosystems that house trillions of diverse microorganisms interacting with each other, with humans, and with their environment," says Boles, assistant professor in the U-M Department of Molecular, Cellular, and Developmental Biology. "The long-term goal is to define the microbial ecology of the car interior and to optimize the design of car interiors to promote comfort and environmental sustainability."
"We weren't surprised to find microbial hot spots on the steering wheel, since that is where a driver's hands are most of the time," says Peters. "The console area near the cupholders is a common location for spilled drinks, so it provides an ideal feeding ground for microbes."
Americans also spend more than $1 billion annually on a variety of products, including lotions, wipes, and sprays, to fight microbial growth. Having identified the source of the microbes in the vehicle cabin, Peters and technical leader Mark Nichols went to work with interior coatings supplier Red Spot Paint and additive supplier Sciessent LLC to develop and test coating formulations that could resist and potentially even reverse microbial growth.
The team focused their attention on three commonly used and EPA-approved antimicrobial additives, including silver-ion, ammonium salt, and polyolefin wax with a nano-silver coating. Panels painted with four different formulations were then evaluated back at the U-M lab to assess the growth rates of microorganisms.
The silver-ion additive, sold under the trade name Agion, was easily the most effective. Parts coated with the Agion-infused paint showed clear efficacy compared to the control parts with the current production paint. Agion, based on elemental ions, works by starving, sterilizing, and suffocating the microbes to prevent them from growing and reproducing.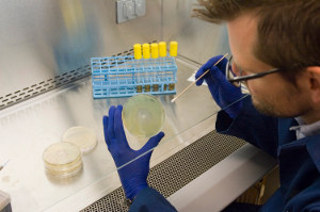 Cars and trucks generally have a much longer life span than most antimicrobial-treated products, and they operate in a wider range of environmental conditions. Drivers expect features to continue working and surfaces to remain intact even after the vehicle has been on the road for many years. Peters and Nichols subjected the specially coated test panels to an accelerated aging process to evaluate their microbe-controlling properties after the equivalent of years of exposure to sun and heat.
Even after simulating many years of use, the Agion-infused coating was still nearly as effective as it was when brand new. The additive also had little impact on the gloss and color change of the surfaces over the test period. Parts with the antimicrobial-treated coating are now undergoing real-world testing in a number of Ford development vehicles, and the coating is being evaluated for potential use in future Ford vehicle programs.
"We can't control everything that contributes to stains and odors in our cars and trucks," says Peters. "But we're doing our part to maintain a pleasant cabin environment for our customers over the long haul."
For more information, contact: Alan Hall ahall32@ford.com.
Source: Ford Motor Co.
Published December 2012
Rate this article