Fans are out:
Piezoelectric cooling jets let ultra-thin tablets and laptops take the heat
Tired of your laptop or tablet getting too hot? Fear not. GE has a new solution at hand for future mobile designs.
Adapted from technology that GE researchers originally developed for commercial jet engines, the company's new credit-card-size Dual Piezoelectric Cooling Jets (DCJ) are super-clever micro-fluidic bellows that provide high-velocity jets of air to cool electronic components. DCJ aims to keep the next generation of thinner, quieter and more powerful tablets, laptops, and other electronic devices on the cool side.

GE's patented Dual Piezoelectric Cooling Jets (DCJ) technology is an advanced electronic bellows cooling solution that will enable ultra-thin tablets and laptops.
GE says that the turbulent air flow of the DCJ increases the heat transfer rate to more than 10 times that of natural convection.
"DCJ was developed as an innovative way to dramatically reduce the amount of pressure losses and loading characteristics in aircraft engines, and power generation in gas and wind turbines," says Peter de Bock, lead electronics cooling researcher at GE Global Research. "Over the past 18 months, we have addressed many challenges adapting this technology in areas of acoustics, vibration, and power consumption such that the DCJ can now be considered as an optimal cooling solution for ultra-thin consumer electronics products."

Video Caption: See how the DCJ technology works and the history behind its development.
Compared to conventional cooling assemblies used in electronic devices today, GE's DCJ technology enables cooling solutions that are only 4 mm tall, representing a more than 50 percent decrease in height. In addition, the DCJ is a real power miser, consuming less than half the power of a comparable fan. GE also says that the product's simple construction will deliver higher reliability, which could lead to millions of dollars in repair cost savings for OEMs.
DCJ is also touted to increase device battery life.
Who doesn't like all of that?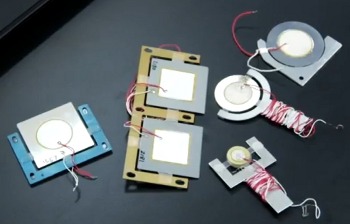 GE's patented Dual Piezoelectric Cooling Jets (DCJ) can be manufactured in a variety of shapes and sizes.
"With new tablet and netbook roadmaps moving to platforms measuring less than six millimeters high, it is clear that consumers are demanding thinner and more powerful electronic devices," says Chris Giovanniello, VP Microelectronics & Thermal Business Development at GE Licensing. "GE's patented DCJ technology not only frees up precious space for system designers, but it consumes significantly less power, allowing as much as 30 minutes of extra battery life. Best of all, DCJ can be made so quiet that users won't even know it's running. Thermal management is becoming a big problem for many companies trying to miniaturize their electronics, and as a result we are getting strong demand to evaluate the DCJ technology in many markets, from consumer electronics, to automotive, to telecom and industrial sectors."
GE is currently providing demonstration kits for OEMs who want to evaluate the DCJ technology for their next-gen products. In addition, GE has licensed the DCJ technology to Fujikura LTD (www.fujikura.co.jp), a world leader in thermal management solutions known for its reliable and innovative products serving the telecom, automotive, energy, and electronics markets.
Source: GE
For more information on GE Licensing, visit www.gelicensing.com.
Published March 2013
Rate this article