Convert any CAD format file into any other CAD system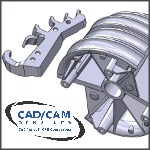 CAD/CAM Services is well known for its CAD Perfect conversions, and its engineers are capable of converting any CAD format file into any other CAD system. Its highly experienced CAD engineers can also convert hardcopy documents into any 3D CAD program such as Revit, SolidWorks, CATIA, and other 3D software. Consider CAD/CAM Services to be an extension of your in-house team. They have no restrictions on the size or quantity of drawings for their 3D CAD outsourcing services.
Learn more.
---
MathWorks releases MATLAB and Simulink 2021a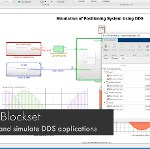 Release 2021a offers hundreds of new and updated features and functions in MATLAB and Simulink, along with three new products and 12 major updates. New capabilities in MATLAB include dynamic controls in live scripts as well as a new task for adding plots to live scripts without writing any code. Simulink updates enable users to import C code as reusable Simulink libraries and to speed up simulations. R2021a also introduces new products in the areas of satellite communications, radar, and DDS applications.
Learn more.
---
Mastercam 2022 Public Beta released for global testing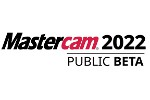 If you are a currently maintained Mastercam customer, you can now participate in the Public Beta Program for Mastercam 2022. Manufacturers all over the world, from small job shops to Fortune 100 companies, get a chance to test drive Mastercam 2022 before it is released and provide valuable feedback to help shape the final product. Participants in the Public Beta Program get an early look at dozens of powerful new tools for simple to complex jobs, including faster and more flexible multi-axis programming, modeling advances, and enhanced intelligence and automation.
Learn more.
---
Is Excel hindering your engineering projects?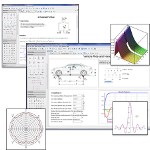 While Excel is a great tool for performing quick calculations, it cannot handle the scope of mathematical computation required for advanced engineering projects. Discover why engineers from around the world reap the benefits from the move to robust, interactive mathematical systems such as Maple. Learn how, with the right tools, you can arrive at the right solution faster, while minimizing errors, delays, and rising costs.
Learn more.
---
ESPRIT CNC programming Learning Center online
The ESPRIT Learning Center is a new online training platform with on-demand, self-paced training courses created specifically for ESPRIT CAM programmers. ESPRIT's top engineers and instructors have poured a huge amount of effort and energy into creating these courses. The first learning path to be released is New User Milling, with New User Turning and New User Mill-Turn to follow. Each learning path includes five to seven training courses that guide users through several different machine models and part models to introduce different machining processes in ESPRIT. These are paid courses.
Learn more.
---
COMSOL Version 5.6 is here!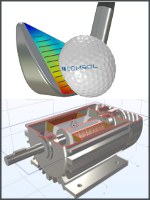 COMSOL has released version 5.6 of its COMSOL Multiphysics software. The new version features faster and more memory-lean solvers for multicore and cluster computations, more efficient CAD assembly handling, and application layout templates. New graphics features -- including clip planes, realistic material rendering, and partial transparency -- offer enhanced visualization for simulation results. In addition, four new products expand the capabilities of COMSOL Multiphysics for modeling fuel cells and electrolyzers, polymer flow, control systems, and high-accuracy fluid models.
Learn more.
---
Reverse engineering with Geomagic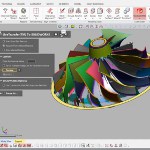 See how 3D Systems' Geomagic Design X software can break down a typical reverse engineering job. Geomagic Design X makes it easy to create CAD models from 3D scans faster, more accurately, and more reliably. It handles large scan data sets and makes complex 3D models with hybrid modeling for solid, surface, and mesh. Users can convert physical parts into CAD for new product designs or make existing parts fit with new parts. This short presentation is a helpful way to view the tool capabilities and functionality using real-world examples.
View the video.
---
Be a better machine designer: SOLIDWORKS Sheet Metal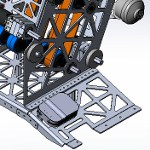 Robbie Hoyler, technical solutions manager, TPM, Inc., takes a look at how SOLIDWORKS Sheet Metal tools can handle some of the most common issues and productivity sinks when manufacturing sheet metal parts. Hoyler addresses wrong and inconsistent flats, part alignment, complex cornering, and exporting to CNC using DXFs.
Read this informative SOLIDWORKS blog.
---
Sharpen your CAD/CAM skills: Mastercam training is on the house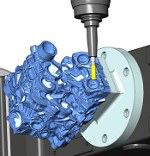 Mastercam University offers 24/7 access to fully online training, and the courses are designed to be self-paced. Each lesson contains a set of learning objectives, assessment questions, and challenges to be completed. Users will earn a certificate for each course that is completed. Learn Principles of Machining, 2D Mill, 3D Mill, Mastercam Lathe, and more.
Read this informative Mastercam blog for more details.
---
Maple training for engineers and researchers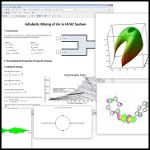 Maple is used by mathematicians, educators, students, engineers, and scientists to analyze, explore, visualize, and solve math problems. The new release, Maple 2020, offers a vast collection of enhancements. This webinar offers a quick and easy way to learn some of the fundamental concepts for using Maple. Learn about composing, plotting, and solving a variety of mathematical problems; handling units in your calculations; creating and sharing documents and applications; and more.
View the video.
---
Mastercam software retains top ranking worldwide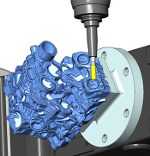 More shops and schools invest in Mastercam than any other CAD/CAM software package in the world. According to CIMdata, an independent research firm specializing in the NC industry, Mastercam is the No. 1 CAM software used worldwide for 26 years in a row. In the latest report, Mastercam retained the top spot for CAM software in three categories: industry, education, and support network. For the educational and industrial categories, Mastercam had nearly twice as many installed seats as the nearest competitor.
Learn what's new in Mastercam 2021.
---
MathWorks introduces Motor Control Blockset for algorithm development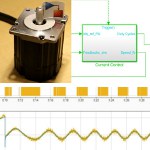 MathWorks has just released Motor Control Blockset, an add-on product for Simulink for designing and implementing motor control algorithms. Now, motor control engineers can use reference examples and Simulink blocks for developing field-oriented control algorithms to spin brushless motors. The blockset extends the set of Simulink products for motor control design, enabling engineers to test algorithms with each design change, generate fast and compact ANSI/ISO C code, and use simulation to validate software, which can reduce certification testing cycles.
Learn more.
---
Cool Tools: CadMouse Pro Wireless Left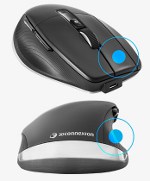 Attention all southpaws. 3Dconnexion's latest CadMouse product, the CadMouse Pro Wireless Left, provides excellent ergonomics and heavy-use CAD comfort for left-handers. This mouse's angled shape creates natural hand placement and increased comfort. The middle mouse button is CAD user-specific. Other features include an intelligent scroll wheel, high-resolution optical sensor, QuickZoom, easy access to programmable radial menus, and durability rated to over 50 million clicks. This model can also benefit right-handers requiring a left-side transition to reduce Chronic Repetitive Strain Injury (RSI).
Learn more.
---
Get instant Xometry build quotes while designing in SOLIDWORKS and CATIA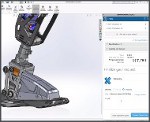 Engineers can now get their designs made faster with instant access to Xometry part manufacturing price quotes without leaving SOLIDWORKS and CATIA design environments. A new partnership between Xometry and Dassault Systemes makes it possible. This means sourcing manufacturing price quotes can become a one-click experience directly integrated into the design software. Engineers can view Xometry price quotes on their screen in the context of their design and click to have it manufactured. Xometry custom manufacturing services include 3D printing, CNC machining, injection molding, and sheet metal fabrication.
Learn more.
---
Reverse engineering software with never-before-seen features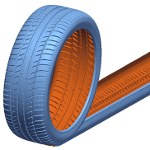 3D Systems' Geomagic Design X 2020 combines robust 3D scan processing and complete CAD design functionality to enable faster, more accurate, and reliable reverse engineering. Using the software's newest features, engineers will benefit from streamlined modeling workflows as well as expanded modeling pathways for complex, revolved parts. The newest Geomagic Design X release includes an Unroll/Reroll function that enables an engineer to unroll the mesh to automatically extract a 2D sketch, make the modifications needed, and then re-roll the sketch for additional engineering. Wait, what? Wow. The software also includes a new Selective Surfacing feature that combines very fast organic surfacing with high-precision feature modeling methods.
Learn more.
---
Outstanding patent recognized: Chrysler powertrain engineer wins company technology award for second time
Chrysler Powertrain Synthesis Manager Mark J. Duty was named the winner of the Walter P. Chrysler Technology Award on February 27, given to holders of Chrysler Group's most outstanding patents.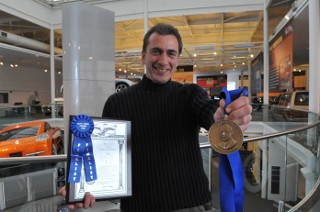 Mark J. Duty wins Walter P. Chrysler Technology Award for developing powertrain analysis tool.
Duty, a 47-year-old engineer who joined the company in 1996, earned the prize (his second) for work on the Powertrain Matching Analysis Toolset. Known within Chrysler Group as PMAT, it helps identify engine-transmission pairings that afford the most bang for the customer's buck.
The award presentation also marked the first time since 2008 that the Walter P. Chrysler Technology Award has been bestowed.
Duty, a graduate of Lake Superior State University, already has his name etched on the Walter P. Chrysler Technology Award's distinctive trophy. He shared the prize in 2007 for his work on Chrysler Group's Fuel-Saver cylinder-deactivation technology.
His latest work, PMAT, reduces the need for physical testing by employing a reverse tractive, multi-state dynamic optimization process to deliver objective performance assessments. The simulation tool also automatically optimizes powertrain and vehicle combinations.
Benefits include critical time and cost savings, key criteria considered by judges. Other criteria range from a patent's uniqueness to its impact on the customer.
PMAT helped prove Chrysler Group's ground-breaking 8-speed automatic transmission was a natural mate for the award-winning 3.6-liter Pentastar V-6. The combination helps Chrysler Group deliver best-in-class fuel economy in key segments, such as full-size pickups (Ram 1500) and full-size sedans (Chrysler 300 and Dodge Charger).
Judging for the Walter P. Chrysler Technology Award (first bestowed in 1994) is performed by a panel of more than 80 Chrysler Group subject experts, along with previous award winners. The panel reviews every Chrysler Group patent approved during the previous year and identifies a group of finalists. Senior management selects a winner.
This year, the judges reached back more than three years to pick four finalists from among 244 U.S. patents approved between 2007 and 2012. The other finalists were:
Stephen J. Buckley and Michael Bassier for their work on collision-avoidance technology that led to the introduction of Chrysler Group's breakthrough Rear Cross Path detection system. It warns drivers of laterally approaching vehicles, a common scenario in parking lots.
Liam J. McGuirk, Paul D. Lopez, and Arif Abbasi for their work on a cargo-management system that led to the development of the popular RamBox feature: weatherproof, lockable, drainable, illuminated storage bins located inside the walls of a pickup bed.
Zhijian J. Wu, Michel Trumbo, Yijun Tu, and Min Han for their work on a process that predicts battery temperature while reducing system cost and complexity.
Chrysler Group gives an honorarium to all employees whose patents are approved by the U.S. Patent Office. They also receive a commemorative plaque from the company.
Winners of the Walter P. Chrysler Technology Award receive a commemorative medallion and have ribbons affixed to their plaques. Their names also are etched on a trophy displayed at Chrysler Group headquarters.
Source: Chrysler
Published March 2013
Rate this article