Standard parts with signal feedback included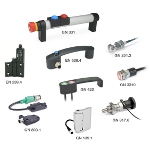 JW Winco standard parts are becoming even more functional -- multifunctional, to be precise. From smart stop bolts that report whether workpieces are precisely positioned in the machining process to cabinet handles with signal lights and fluid level indicators with electronic REED contact signals, intelligent standard parts from JW Winco ensure greater safety, higher efficiency, and increased stability. Many more very useful options available for a wide range of applications.
Learn more.
---
Create smarter control systems with relays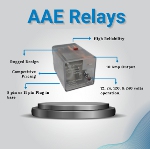 Control relays play a pivotal role in the world of automation and control systems. These versatile devices are designed to help you manage electrical circuits, making them indispensable for a wide range of applications. Learn the distinctive benefits of relays, including reliability and durability, versatility, ease of use, and costs. Check out the relays AA Electric has in stock too.
Learn more.
---
COMSOL Multiphysics Version 6.2 is here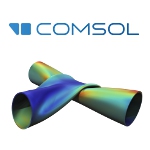 COMSOL Multiphysics Version 6.2 introduces faster solvers for turbulent fluid flow, electric motors, and room acoustics. It also brings data-driven surrogate model functionality for creating multiphysics-based digital twins and building fast and accurate standalone simulation apps. Get the full details of what's new in the latest version.
Learn more.
---
17 ways SOLIDWORKS 2024 helps you work faster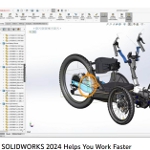 SOLIDWORKS 2024 helps designers and engineers work faster than ever. Learn all about improvements to core 3D CAD modeling features, new 3D modeling techniques, and graphical and software performance boosts that will help you get your parts made and your products developed in record time.
View the video.
---
6 tips to streamline workflow in Mastercam 2024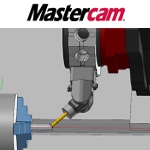 Mastercam 2024 CAD/CAM software has been intentionally upgraded to make programming fast and easy. It prioritizes streamlining workflow so that the entire machining process -- from design to QC -- is as efficient as possible. Learn how to maximize the benefits of Mastercam 2024, including special toolpaths, easier hole-making operations, wireframe shortcuts, and more.
Read this informative Mastercam blog.
---
Leak detection sensor for multiple HVAC refrigerants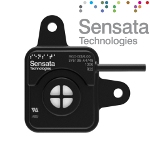 Sensata Technologies has launched the Sensata Resonix RGD sensor, the first leak detection sensor with UL certification for multiple A2L refrigerant gases used in heating, ventilation, and air conditioning (HVAC) equipment. It supports HVAC manufacturers' transition to refrigerants with a lower global warming impact. Typically mounted near the evaporator coil, the new sensor measures the acoustic resonance of the surrounding air in real time and can trigger mitigation, such as a fan, when A2L gas is detected.
Learn more.
---
New electro-pneumatic vacuum regulator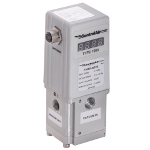 The Type 1005V Electronic Vacuum Regulator is the first electronic vacuum regulator offered by ControlAir. It is used in various industrial and automation applications to precisely control and regulate the flow of air or gases in a system. It has two solenoid valves, a pressure sensor, and an electronic board for precise control to ensure that the vacuum pressure remains steady.
Learn more.
---
Real-world applications: FUTEK 100 sensor examples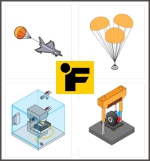 Get inspired. FUTEK has more than 100 real-world application examples for their load cells, force transducers, torque sensors, pressure sensors, and multi-axis sensors. From a cryogenic load cell on the Mars Curiosity rover to fly-by-wire multi-axis force and torque sensors for aircraft, learn about sensor systems, their specs, and design. Automotive, manufacturing, medical, robotics, and automation are covered too. Fascinating and highly practical.
Learn more.
---
Filter fans for enclosures: 70 models in new series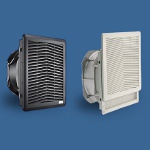 The new 4000 Series from Seifert Systems covers 70 UL-listed filter fan models designed for enclosure applications. They snap in place once a cutout is made in the enclosure. Mounting screws are available with EMC models or as an option. Filter media snaps in place and easily slides out for replacement. When used with a Seifert thermostat, 4000 Series filter fans can be turned on only when needed. Air flow ranges from 7 to 483 cfm.
Learn more.
---
What is 3D-MID? Molded parts with integrated electronics from HARTING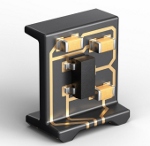 3D-MID (three-dimensional mechatronic integrated devices) tech combines electronic and mechanical functionalities into a single, 3D component. It replaces the traditional printed circuit board and opens up many new opportunities. It takes injection-molded parts and uses laser-direct structuring to etch areas of conductor structures, which are filled with a copper plating process to create very precise electronic circuits. HARTING, the technology's developer, says it's "Like a PCB, but 3D." Tons of possibilities.
View the video.
---
Need help with electronics connection design and manufacturing?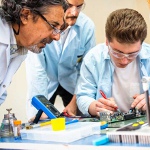 Conta-Clip combines electronics hardware and software development and production under one roof. Their comprehensive services range from simple-but-effective interface converters to complex control systems with touch displays and Ethernet connections. The company develops competitive connection solutions (including account costing) and closely cooperates with customers from needs analysis to prototype development, functional testing, series production, and even certification.
Learn more.
---
Rugged sensor measures surface temperatures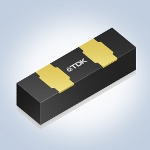 TDK's tiny new T850 SMT NTC sensor measures surface temperatures for applications such as heat sinks of power modules and monitoring of industrial processes. It combines high humidity resistance with fast response time due to excellent thermal coupling to the target. The sensor is suitable for harsh environments with temps from -40 C to 150 C and is waterproof to 500 hrs.
Learn more.
---
Inflatable EMI shielded RF enclosures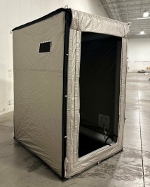 Saelig Company has introduced the Select Fabricators Series 700 EMI Enclosures -- reliable, portable, and lightweight RF and EMI shielding enclosures in standard sizes with a fast-up inflatable frame, ready for operation in less than 60 sec. No more aluminum tents. The Series 700 applies the same level of RF security obtained with previous RF/EMI shielded enclosures but is now made even more portable. Great for military operations, secure communications, mobile testing, emergency response, and more.
Learn more.
---
Haptic feedback prototyping kit from TDK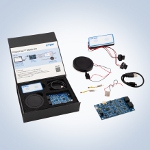 Get your customers to feel the difference your products make. TDK has just released a development starter kit for fast haptics prototyping. It gives mechanical designers and engineers first impressions of the haptic feedback using PowerHap piezo actuators, shows how the mechanical integration works, and provides a reference design. Applications include automotive, displays and tablets, household appliances, vending machines, game controllers, industrial equipment, and medical devices.
Learn more.
---
Position sensor real-world applications: Automotive and mobile equipment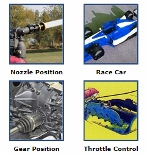 From firetruck nozzle positioning and race car steering to accelerator control and wheel vector sensing, learn how position sensors from Novotechnik are used in real-world applications. Sensor types include non-contacting rotary sensors, angle sensors, and magnetic encoders. We love when manufacturers provide examples of their products in action.
Learn more.
---
Better than diamond: NRL researchers discover novel material for cooling electronic devices
A team of theoretical physicists at the U.S. Naval Research Laboratory (NRL) and Boston College has identified cubic boron arsenide as a material with an extraordinarily high thermal conductivity and the potential to transfer heat more effectively from electronic devices than diamond, the best-known thermal conductor to date.
As microelectronic devices become smaller, faster, and more powerful, thermal management is becoming a critical challenge. This work provides new insight into the nature of thermal transport at a quantitative level and predicts a new material, with ultra-high thermal conductivity, of potential interest for passive cooling applications.

Schematic of thermal management in electronics: Local temperature increases occur as a result of current flow in active regions of devices and can lead to degradation of device performance. Materials with high thermal conductivities are used in heat spreading and sinking to conduct heat from the hot regions. [Photo: U.S. Naval Research Laboratory]
Calculating the thermal conductivity of cubic III-V boron compounds using a predictive first principles approach, the team has found boron arsenide (BAs) to have a remarkable room temperature thermal conductivity, greater than 2,000 Watts per meter per degree Kelvin (>2000 Wm-1K-1). This is comparable to those in diamond and graphite, which are the highest bulk values known.
Unlike metals, where the electrons carry the heat, diamond and boron arsenide are electrical insulators. For the latter type of materials, heat is carried by vibrational waves (phonons) of the constituent atoms, and intrinsic resistance to heat flow results from these waves scattering from one another. Diamond is of interest for cooling applications, but it is scarce and its synthetic fabrication suffers from slow growth rates, high costs, and low quality. However, little progress has been made to date in identifying new high thermally conductive materials.
Historically, fully microscopic, parameter-free computational materials techniques have been more advanced for electronic properties than for thermal transport.
"In the last few years with contributions from the NRL team, 'ab initio' quantitative techniques have been developed for thermal transport," said Dr. Thomas L. Reinecke, physicist, Electronics Science and Technology Division. "These techniques open the way to a fuller understanding of the key physical features in thermal transport and to the ability to predict accurately the thermal conductivity of new materials."
These surprising findings for boron arsenide result from an unusual interplay of certain of its vibrational properties that lie outside of the guidelines commonly used to estimate the thermal conductivity of electrical insulators. These features cause scatterings between vibrational waves to be far less likely than is typical in a certain range of frequencies, which in turn allows large amounts of heat to be conducted in this frequency range.
"If these exciting results are verified by experiment, it will open new opportunities for passive cooling applications with boron arsenide, and it would demonstrate the important role that such theoretical work can play in providing guidance to identify new high thermal conductivity materials," Reinecke says.
Thermal conductivity calculations from this group are in good agreement with available experimental results for a wide range of materials. The team consisted of Drs. Lucas Lindsay and Tom Reinecke at NRL and Dr. David Broido at Boston College.
This research, supported in part by the Office of Naval Research (ONR) and the Defense Advanced Research Projects Agency (DARPA), gives important new insight into the physics of thermal transport in materials, and it illustrates the power of modern computational techniques in making quantitative predictions for materials whose properties have yet to be measured.
Source: ONR
Published August 2013
Rate this article