Wheels:
Johnson Controls has simple 'aha' moment
in seat-adjustment design
When engineers at Johnson Controls decided to try to simplify seat adjustment in small and compact vehicles, they didn't look at adding an extra dial, a new button, or even a better lever. They looked at how drivers of different heights adjusted their seats, and that put them on the right track -- literally.
Their solution, which also had a marked impact on lightweighting, focused on simplifying the adjustment of the length, height, and tilt of the seat in just one movement, and that involved some innovative kinematics. This combined movement is made possible through the use of a newly developed curved seat track.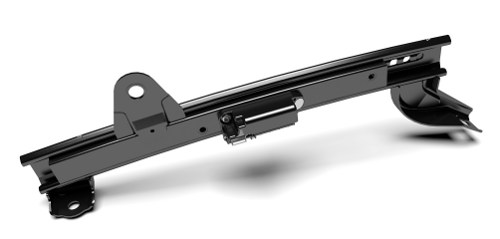 Johnson Controls' curved track for small and compact vehicles combines the three basic adjustment options of length, height, and tilt.
"The ever-present need to develop new solutions to reduce weight in vehicles has given us the incentive to consider innovative ways of downsizing car seats as well," says Heinz Voss, vice president Engineering, Product Group Metals & Mechanisms for Johnson Controls Automotive Seating.
"The development is based on a combination of statistical and empirical data. While tall people adjust their seat far back from the steering wheel to a low position and increase the tilt, shorter vehicle occupants tend to do exactly the opposite," explains Voss.
This led the design team to develop kinematics that bring the seat from a maximum seat height and minimum tilt on the foremost track position into the opposite position in a curved movement. Thanks to the curved, high-grade-steel seat track, the three adjustment options can be combined, making this new seat structure up to 2.5 kg lighter per seat than similar standard structures.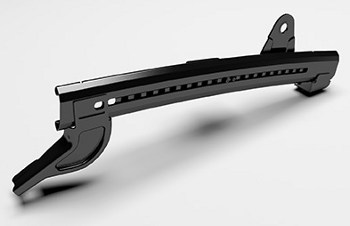 "We see these curved seat tracks being used in small and compact cars. As a weight-optimized solution for the front-seat passenger, it is also perfect for use in medium-segment vehicles with electric or hybrid drives," says Voss.
Further customization options are possible, such as the electrification of manual adjustment options or additional simplification by omitting functions.
While Johnson Controls let attendees give the new curved-track seating a "test drive" at the International Motor Show (IAA) 2013 in Frankfurt, Germany, this past September, Recaro Automotive Seating (a business unit of Johnson Controls) presented a tweaked version integrated into its "Pure Seating" concept at the show. Recaro is betting that sports and racing vehicles can also benefit from simple curved-track adjustment.
Source: Johnson Controls
Published November 2013
Rate this article