New cast urethane materials and finishes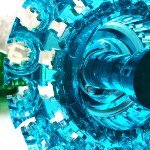 Xometry has added new urethane resins and finishes as options for quick and affordable low- to mid-volume production. Urethane casting is used to make end-use, highly durable parts with robust mechanical properties. It is considered a "soft-tooled" process, where a silicone mold is formed around a master pattern -- usually 3D printed. Xometry has materials in two main durometer classes, rigid (Shore D) and rubber-like (Shore A). Finishes include matte/frosted, semi-gloss, high-gloss, and custom.
Read this informative Xometry blog.
Get the Xometry Urethane Casting Design Guide.
---
3D Printing: Desktop Metal qualifies 316L stainless steel for high-volume manufacturing -- thousands of parts per week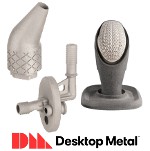 3D-printer machine maker Desktop Metal has qualified the use of 316L stainless steel for its additive manufacturing platform called the Production System, which provides some of the fastest build speeds in the market for mass production and can make thousands of parts per week. This article includes very useful cost-per-part and time-to-manufacture information using five different application examples.
Read the full article.
---
New metal 3D-printing materials include Inconel, titanium, and maraging steel at Xometry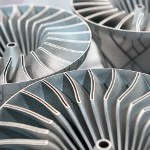 Xometry has added four new 3D-printed metals to its on-demand manufacturing services: maraging steel, Inconel 625, Inconel 718, and titanium. These premium alloys complement the already available stainless steel and aluminum metal 3D printing. Metal parts in these alloys are produced using direct metal laser sintering (DMLS), which fuses powdered metal with a high-powered laser to build parts layer by layer.
Learn all about these materials in this Xometry blog.
---
Ultramid Advanced grades now available with carbon-fiber reinforcement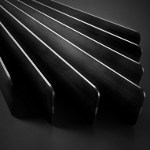 BASF has expanded its polyphthal-amide (PPA) portfolio of Ultramid Advanced with carbon-fiber reinforced grades. With fillings of 20%, 30%, and 40% carbon fiber, these new materials make extremely lightweight parts, safely replace aluminum and magnesium without loss in stiffness and strength, and are electrically conductive. They can be used to manufacture automotive structural parts for body, chassis, and powertrain; for pumps, fans, gears, and compressors in industrial applications; and as stable and ultra-lightweight components in consumer electronics.
Learn more.
---
High-flow plastics for medical and healthcare markets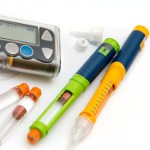 The Polyplastics Group has expanded its DURACON polyoxy-methylene (POM) PM series portfolio with the development of a new high-flow grade for drug contact and delivery applications for the medical and healthcare market. The new grade, DURACON PM27S01N, offers reduced wall thickness, miniaturization, and lower weight for various medical devices that are becoming increasingly complicated and highly functional. This product delivers global medical and food regulatory compliance.
Learn more.
---
Discover the design and functional advantages of copper foam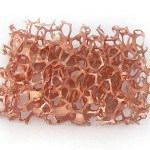 Copper foam from Goodfellow combines the outstanding thermal conductivity of copper with the structural benefits of a metal foam. These features are of particular interest to design engineers working in the fields of medical products and devices, defense systems and manned flight, power generation, and the manufacture of semiconductor devices. This product has a true skeletal structure with no voids, inclusions, or entrapments. A perennial favorite of Designfax readers.
Learn more.
---
PBT and PPS plastics for driver-assist automotive applications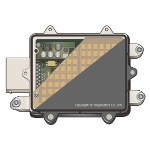 The growing trend toward electric vehicles is spurring material suppliers like Polyplastics Co. to position its innovative resin products for use in Advanced Driver-Assistance Systems (ADAS) parts that enable autonomous driving. The company's DURANEX PBT and DURAFIDE PPS materials -- targeted for sensors in radar and camera bracket systems -- show great promise in delivering low warpage, dimensional stability, and a low dielectric constant.
Learn more.
---
Customized ABS with metallic effect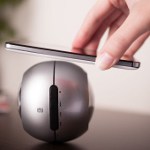 Avient Corp. has just added a new customized ABS formulation that features a metallic effect to its Artisan pre-colored thermoplastic series. The material was developed to help electronics manufacturers eliminate the painting process while achieving scratch and chemical resistance and sustainability goals. By using Artisan pre-colored ABS thermoplastics, molders are able to produce parts with a brilliant, high-gloss metallic effect without any secondary processing.
Learn more.
---
World's tallest production metal-powder 3D printer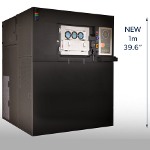 VELO3D's next-gen Sapphire metal 3D printer with cylindrical 315-mm diameter build chamber is now available in 400-mm and 1,000-mm configurations. That means users can create SupportFree parts that are up to 1 m tall with the biggest machine -- with no tradeoff in part quality. Sapphire features dual 1-kW lasers and in-situ metrology sensors that enable visibility into the quality of every layer of the build. This system is compatible with nickel-based alloys.
Learn more.
---
Graphite fire-retardant additive for plastics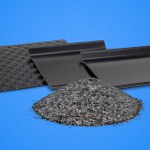 NeoGraf Solutions has just announced the addition of GrafGuard 280-50N to its lineup of expandable graphite flake, non-halogenated, non-flammable, fire-retardant additives. This product is specifically targeted toward the thermoplastics industry, especially polymers with high processing temps including composites and multi-functional systems with high melting points for both injection-molded and thermoformed applications. It offers a much wider range of polymer systems -- such as polypropylene, polystyrene, PET, nylon, and ABS -- than the company's previous products. The graphite expansion, initiated by a fire, can be more than 100 times its original thickness, resulting in a non-burnable, insulating layer.
Learn more.
---
Zirconia: Toughest of technical ceramics also allows very fine features
Zirconia partially stabilized with yttria (PSZ) features a self-healing effect that fights micro cracks and therefore makes this material tough against impact. The extremely fine available grain size is also recommended where fabrication of very fine features and thin edges is required to hold up well in applications that include medical, aerospace, semiconductor, instrumentation, and industrial.
Learn more and view an informative video from Insaco.
---
Add conductive performance to thermoset and thermoplastic composites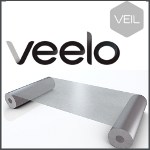 VeeloVEIL from Veelo Technologies is an extremely light and conductive metallized nonwoven material engineered to add conductive performance to thermoset and thermoplastic composites. It is used by the aerospace industry to protect composite aerostructures from environmental and man-made hazards, and improve survivability. Available in 12- and 36-in.-wide roll stock, VeeloVEIL is electrically uniform and conforms to complex curves. This specialty material is used for lightning strike protection and electromagnetic effects protection, including EMI shielding, asset hardening, and repairing electrical networks on composite-skinned air vehicles.
Learn more.
---
Design Tip: Thermoplastic vs. thermoset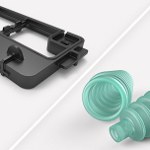 Two broad categories of plastic materials exist: thermoplastics and thermosets, which are differentiated based on their behaviors in the presence of heat. This informative design tip from Protolabs offers a few considerations to keep in mind when using these materials. Includes guidelines for using thermoplastics and considerations for thermosets.
Read the Protolabs design tip.
---
PAEK polymer made specifically for 3D printing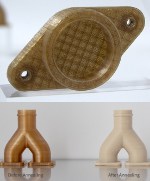 VICTREX AM 200 filament has been specifically developed and optimized for additive manufacturing. The excellent mechanical properties of PAEK are in demand for high-performance parts. However, until now they were difficult to be fully realized in 3D-printed parts with existing choices such as PEEK and PEKK. For example, repurposing injection molding PEEK into filament fusion AM typically results in weak parts because of poor interlayer bonding. This new material is designed to address this weakness in printing PEEK. It has a higher Z-axis strength and is stronger in the XY direction, with a better fused filament forming (FFF) printing adaptability than the existing PAEK materials.
Learn more.
---
Engineering plastic with optimized sliding friction properties for automotive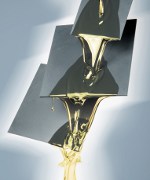 BASF has just launched an engineering plastic that is particularly suited for automotive parts that come into contact with hot oil. The new polyethersulfone (PESU) Ultrason E0510 C2TR shows very good tribological properties, high oil resistance, and excellent dimensional stability. The injection-molding grade with a 10 percent carbon-fiber reinforcement can be used within a wide temperature range between -30 and 180 C. It is easy to process because of its low viscosity and very good flow properties.
Learn more.
---
MIT researchers make surfaces that are easier to cool under extreme heat
By Nancy W. Stauffer, MITEI
When an earthquake and tsunami struck Japan's Fukushima nuclear power plant in 2011, knocking out emergency power supplies, crews sprayed seawater on the reactors to cool them -- to no avail.
One possible reason: Droplets can't land on surfaces that hot. Instead, they instantly begin to evaporate, forming a thin layer of vapor and then bouncing along it -- just as they would in a hot cooking pan.
Now, MIT researchers have come up with a way to cool hot surfaces more effectively by keeping droplets from bouncing. Their solution: Decorate the surface with tiny structures and then coat it with particles about 100 times smaller. Using that approach, they produced textured surfaces that could be heated to temperatures at least 100 deg C higher than smooth ones before droplets bounced. The findings are reported this week in the journal Applied Physics Letters.
"Our new understanding of the physics involved can help people design textured surfaces for enhanced cooling in many types of systems, improving both safety and performance," says Kripa Varanasi, the Doherty Associate Professor of Ocean Utilization in MIT's Department of Mechanical Engineering and the lead author of the study.
The goal for Varanasi and his co-authors, recent MIT PhD recipient Hyuk-Min Kwon and former MIT postdoc J.C. Bird, was to find a way to increase the temperature at which water droplets start bouncing. Past research indicated that rough materials would add more surface area to hold onto the droplets, making it harder for them to bounce. But the research team discovered that not just any rough surface will do.
Through systematic studies using well-defined surfaces, they found that installing microscale silicon posts on a silicon surface raised the temperature at which droplets transitioned from landing to bouncing. But it worked best when the posts were relatively diffuse. As the posts got closer together, the transition temperature gradually dropped until it was no higher than that of a smooth surface.
"That result was surprising," says Bird, who is now an assistant professor of mechanical engineering at Boston University. "Common knowledge suggests that the closely spaced posts would provide greater surface area, so would hold onto the droplets to a higher temperature."
By analyzing the physics involved, the researchers concluded that closely spaced posts do provide more surface area to anchor the droplets, but they also keep the vapor that forms from flowing. Trapped by adjacent posts, the accumulating vapor layer under a droplet builds up pressure, pushing the droplet off. When the force of the vapor exceeds the attractive force of the surface, the droplet starts to float.
"Bringing the posts closer together increases surface interactions, but it also increases resistance to the vapor leaving," Varanasi says.
To decouple those two effects, the researchers coated the surface featuring spaced-out microscale posts with nanoscale particles. This "micro-nano" surface texture provides both the extensive surface area of the tiny particles and the wide spacing of the posts to let the vapor flow.
Experiments confirmed their approach. When they sprayed water on their micro-nano surfaces at 400 deg C -- the highest temperature their experimental setup could provide -- the droplets quickly wet the surfaces and boiled. Interestingly, under the same conditions, the droplets did not wet the surfaces of samples with either the microscale posts or the nanoscale texture, but did wet the surfaces of samples with both.
In addition to nuclear safety systems, this work has important implications for systems such as steam generators, industrial boilers, fire suppression, and fuel-injected engines, as well as for processes such as spray cooling of hot metal. One application now being considered by Varanasi and his colleagues is electronics cooling. "The heat fluxes in electronics cooling are skyrocketing," Varanasi says. It might be a job for efficient spray cooling -- "if we can figure out how to fit a system into the small space inside electronic devices."
The research was supported by a Young Faculty Award from the Defense Advanced Research Projects Agency, the MIT Energy Initiative, and the MIT-Deshpande Center.
Published November 2013
Rate this article