Critical medical applications demand top-quality motion
Surgical robotics systems offer an overwhelming advantage over traditional methods: improved precision and speed, faster patient healing, and a reduced margin of error. For minimally invasive procedures requiring this level of precision, performance, and reliability, the engineers of surgical robotics systems depend on FAULHABER motion systems.
Read the full article.
---
Pick, measure, and sort small parts with one robotic workstation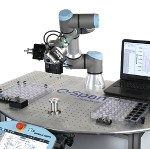 New Scale Robotics has introduced its Q-Span Automated Small-Part Measurement Systems for quality control (QC) teams in high-mix, small-batch manufacturing environments. Q-Span Systems combine robotic pick-and-place with automated measurement of small parts. They easily integrate into existing workflows in the QC lab or on the production floor, and automate the tedious manual process of measuring parts with digital calipers.
Learn more.
---
Universal Robots develops interface for Siemens engineering portal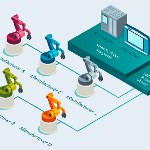 Integrating Universal Robots' collaborative robots into complex machines and manufacturing environments will soon be a process machine builders and systems integrators can handle seamlessly through one of the world's leading automation platforms: Siemens' TIA (Totally Integrated Automation) portal.
Read the full article.
---
Voice coil stages and actuators for precise motion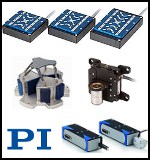 Because of their small dimensions, voice coil motors are often integrated in compact stages, actuators, and fast tip/tilt mirror platforms. These devices are driven by an electromagnetic motor consisting of a moving coil winding and a fixed magnet (the opposite is also possible). By precisely controlling the electric current in the coil, the magnetic force (Lorenz force) -- and thus, acceleration, velocity, and position -- can be varied very accurately.
Learn all about voice coil stages and actuators from PI.
---
Compact, low-noise gearboxes for high loads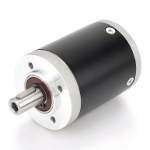 With the GP56-N series, the Nanotec product line now also includes low-noise planetary gearboxes for brushless DC motors and stepper motors with flange size 56 and 60 mm. They are ideally suited for applications in medical devices and building automation. The helical toothing allows the teeth to mesh gradually, which results in a smoother transmission of forces so that vibrations and noise are reduced. Planetary gears and the ring gear consist of a high-quality, low-wear plastic, making the new gearboxes quieter than conventional, straight-geared metal gearboxes. Available in one- and two-stage versions in nine different reductions and varying output torques.
Learn more.
---
Gearless speed reducers with traction drive tech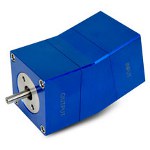 Stock Drive Products / Sterling Instrument (SDP/SI) has introduced new speed reducers with traction drive technology. Featuring a gearless drive, these speed reducers are highly efficient and feature only six moving parts. They use engineered traction fluid to cool and lubricate, and they generate less heat than conventional drives. Years of development and testing have been invested in this new technology, resulting in a product featuring infinite ratios up to a ratio of 5:1, dramatic reduction of motor torque ripple, low vibration and noise level, and significantly less maintenance than a conventional gearbox.
Learn more.
---
Exploring Mars with miniature motors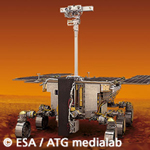 When developing the high-resolution Panoramic Camera on the ExoMars Rover, engineers looked for motors that were extremely compact and could also deliver reliable and precise positioning for the camera-focusing mechanism. FAULHABER Stepper motors were selected for the job, as they precisely position objects with a resolution of 1280 steps per revolution without the need for a separate feedback system, and are more rugged and sturdy than conventional servo motors.
Read the full article.
---
MAHLE developing highly efficient magnet-free motor for electric vehicles

German automotive industry supplier MAHLE is currently developing a new, highly efficient magnet-free electric motor that does not require rare-earth elements and costs less to produce. The company says the motor's efficiency level has only been achieved by Formula E racing cars so far.
Read the full article.
---
Distributed drive system designed for conveyor applications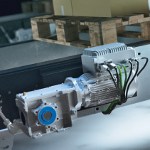 With its new Sinamics G115D, Siemens is introducing a compact and powerful drive system specifically designed for horizontal conveyor applications. The IP-rated system comprises the motor, drive, and gearbox in one unit and is offered in two versions: wall mounted and motor mounted. It is suitable for applications in intra-logistics and airports, as well as in the automotive and food and beverage industries.
Learn more.
---
FANUC tabletop robot now in 10 model variations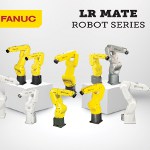 FANUC America has just introduced the LR Mate 200iD/14L, the 10th model variation of its popular LR Mate series of tabletop industrial robots. Since the LR Mate series was launched nearly 30 years ago, it has become one of FANUC's biggest sellers, with over 70,000 units installed across the globe. The LR Mate 200iD/14L allows the highest payload of the LR Mate series, handling parts weighing up to 14 kg in the automotive, e-commerce and warehousing, food and beverage, medical device, pharmaceutical, and many other industries.
Find the right LR Mate for your application.
---
Boost productivity with OnRobot's all-electric VGC10 vacuum gripper

OnRobot's versatile VGC10 vacuum gripper enabled Sydney, Australia-based injection molding experts Designed Mouldings to boost productivity and reduce cycle times through automation of key assembly processes. The low-cost, all-electric VGC10 easily completes 20,000 product runs in 24 hours -- three times faster than manual labor -- freeing workers to focus on higher value tasks. And with no external air supply to worry about, the VGC10 supported easy deployment with excellent results.
Learn how.
---
Neat. Guide any major industrial robot easily with Robeye visual guidance system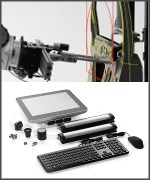 Recognition Robotics offers its complete Robeye visual guidance system that includes all the components needed to guide any major industrial robot. This industry-proven technology with potential for hundreds of applications is currently running production in multiple automotive OEMs. Benefits include quick-and-easy setup, simplified line feeding (for things like pre-centering tooling, conveyors, high-precision racks and rack stands), reduced production time, increased flexibility, and no CAD data or calibration required for new tasks. Just connect, teach, and recognize -- all in less than five minutes. The Robeye Espresso Starter Kit includes everything you need to get underway.
Learn more about the system.
Learn about Robeye in De-racking Applications.
---
Mini brushless DC motor with integrated driver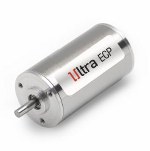 Portescap's new 22ECP miniature brushless DC motor includes an integrated driver to optimize motor performance and simplify installation. The 22-mm-diameter motor is just 35 mm in length and delivers 50% more continuous torque than comparable brushless slotless mini motors -- without compromising smoothness of operation or motor lifespan. It's a high-performance, economic two-pole motor designed to deliver a balance between speed and torque. Applications include respiratory and ventilation devices, infusion pumps, mini industrial pumps, medical hand tools, clinical diagnostics, and valve actuation.
Learn more.
---
New Cobot Welder is programmable with smartphone app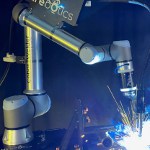 The new Cobot Welder from Hirebotics is a major leap forward in easy-to-use welding automation that combines industrial-grade robot welding functionality with consumer-level ease-of-use and a phenomenal price point -- especially for small and medium-size businesses. The Cobot Welder's app programmability decreases the time required to teach a new part by 60%. A Hirebotics/Universal Robots launch event will be held April 28.
Read the full article.
---
Improved low-backlash Slip-Ease clutches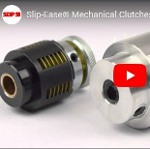 SDP/SI offers a new, low-backlash variant of its existing line of multi-plate in-line slip clutches. Both versions feature an all-mechanical design, which makes them considerably cheaper than electromechanical alternatives. These clutches are commonly used for overload protection to prevent injury and machine failure, but have a wide variety of other applications such as tension control and positioning retention hinges like the ones in reclining chairs. The slip plates are layered with friction pads in between, and an adjusting nut sets the slip torque by squeezing the plates together. The outer plates are tabbed to fit into the output housing and the inner plates are connected to the input hub, so the two ends disengage from one another upon slipping.
View the video.
---
UW: Crashing rockets could lead to novel sample-return technology
During spring break the last five years, a University of Washington class has headed to the Nevada desert to launch rockets and learn more about the science and engineering involved. Sometimes, the launch would fail and a rocket smacked hard into the ground.
This year, the session included launches from a balloon that were deliberately directed into a dry lakebed. Far from being failures, these were early tests of a concept that in the future could be used to collect and return samples from forbidding environments -- an erupting volcano, a melting nuclear reactor, or even an asteroid in space.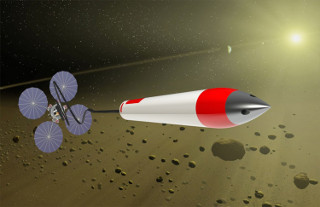 An artist's conception shows a sampling rocket, with a tether linking a return capsule inside the rocket to a recovery craft. [Illustration: Chad Truitt/UW]
"We're trying to figure out what the maximum speed is that a rocket can survive a hard impact," said Robert Winglee, a UW professor of Earth and space sciences, who heads that department and leads the annual trek to the desert.
The idea for a project called "Sample Return Systems for Extreme Environments" is that the rocket will hit the surface and, as it burrows in a short distance, ports on either side of the nose will collect a sample and funnel it to an interior capsule. That capsule will be attached by tether to a balloon or a spacecraft, which would immediately reel in the capsule to recover the sample.
"The novel thing about this is that it developed out of our student rocket class. It's been a successful class, but there were a significant number of rockets that went ballistically into the ground. We learned a lot of physics from those crashes," Winglee said.
The technology, which recently received $500,000 over two years from NASA Innovative Advanced Concepts, could have a number of applications, he said.
On Earth, it would allow scientists a relatively safe way of recovering samples in areas of high contamination, such as Japan's Fukushima Daichi nuclear power plant and the Chernobyl nuclear power facility in Ukraine, both of which suffered catastrophic failures. Or it could collect samples from an erupting volcano to give Earth scientists a better understanding of the processes at work during one of nature's most violent shows. In either case, the tethered sample-return capsule could be hauled in by a balloon or a plane.
In space, the system could collect samples from a single asteroid or a series of them, with a "mothership" recovering the tethered capsules and returning them to Earth.
"It would be like taking a core sample before you go mining," Winglee said.
He noted that there has been growing interest in possibly mining asteroids, both for finding substances that are in increasingly short supply on Earth, and potentially to find the natural resources to create fuel for long-term space missions.
For this project, Winglee is working with Robert Hoyt of Tethers Unlimited Inc. of Bothell, WA, which has developed tether technology for use in space, on Earth, and in the oceans.
In the first phase of testing earlier this year in Black Rock Desert, about 100 miles north of Reno, NV, rockets were fired from an altitude of 3,000 ft. It turned out that wasn't high enough for proper performance testing, Winglee said, but even then components of the system survived supersonic impact under rocket power.
The second phase of testing could take place in California next summer, with follow-up tests a year later. Rockets would be fired from a higher altitude in an attempt to achieve twice the speed of sound, or about 1,520 mph.
"And survive -- that's the tricky part," Winglee said.
Source: University of Washington
Published November 2013
Rate this article