Particle foam perfectly distributed thanks to simulation with Ultrasim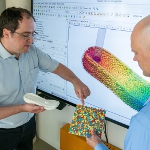 BASF's Ultrasim simulation solution now includes Infinergy, an expanded thermoplastic polyurethane (E-TPU) that is used in a wide range of applications to make components with particle foam -- from bicycle tires to the soles on shoes. Identify and solve problems related to pneumatic filling when distributing particle foams in molds, even taking gravity and mold closing into consideration. Avoid those pesky air pockets.
Learn more.
---
Premium polymer DLP printer is half the price of its predecessor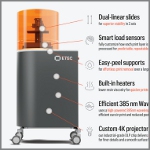 Desktop Metal has just launched the ETEC Pro XL -- a premium polymer digital light processing (DLP) printer that enters the market at less than half the price as its predecessor. DLP is regarded by many as a superior polymer 3D-printing technology for speed, surface finish, and accuracy. Ideal for automotive and machine parts, aerospace components, housings, connectors, jigs and fixtures, short-run molds, and more.
Read the full article.
---
CNC machining case study: One-of-a-kind computer chassis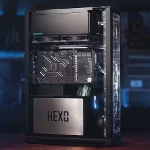 Learn how Josh Sniffen, the YouTuber behind the popular PC-building channel "Not From Concentrate," trusted Xometry to provide a wide range of manufacturing options, personalized Design for Manufacturing (DFM) feedback, and order management support for his latest creation: the HEXO ATX computer chassis. All in all, Sniffen procured parts using Xometry's CNC machining service, selective laser sintering 3D-printing service, and sheet metal cutting and fabrication services. A neat insider look at the process.
Read this Xometry case study.
---
Which parts should be 3D printed? AI combs through CAD files to find out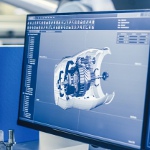 One of the biggest challenges in transitioning to additive manufacturing (AM) is the ability to identify which parts are best suited for the process quickly and easily. Learn how Danfoss, Stanley Engineered Fastening, and even the U.S. military have utilized advanced additive manufacturing software to automate the process, reducing material waste and energy costs, improving part reliability, decreasing lead times, as well as now having the ability to identify part consolidation opportunities through intelligent AM decision-making.
Read the full article.
---
9 key design tips for injection molding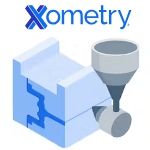 Keep costs down and quality up all while optimizing your injection molded designs with these helpful tips from Xometry. Learn how to build better injection molded parts and products -- using draft angles, ribs and gussets, radii, fillets, and more -- and set expectations for the injection molding process. Good info here.
View the video.
---
Metal additive manufacturing: Rocket turbopump design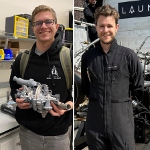 Mixing undergraduate curiosity and real-world engagement, two students from Colorado University Boulder Aerospace Engineering Sciences program, Zachary Lesan and Patrick Watson, started an independent effort on turbopump design and manufacture that is a lesson in determination and industry collaboration. With lots of supplies and advice from industry heavy hitters including Velo3D, CFturbo, SpaceX, and many more, their project has reinforced significant points being made about next-generation rocketry.
Read the full article.
---
Transparent ceramics for extreme optics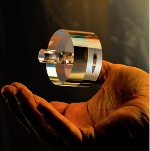 Sapphire is an inherently transparent ceramic material that is resistant to extremes of temperature and environment. Sapphire can be processed to unique and precise shape/form by diamond grinding and polishing to allow full transparency. INSACO is a global leader in this capability -- and working with ultra-hard materials in general.
Learn more.
---
When metals can't survive: Machined ceramics as an alternative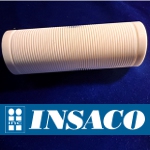 Technical Ceramics are so hard and wear resistant that they cannot be machined with conventional tools -- but they can outlast and outperform other materials in demanding or harsh applications. Insaco's proprietary diamond grinding process and specialized techniques developed over many decades allow the company to produce and document parts to exacting specifications consistently. Learn all about the alternatives you have when metals just can't take it.
Read this informative Insaco article.
---
5 biggest 3D-printing misconceptions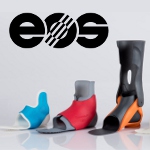 3D printing first made its debut in manufacturing over 35 years ago, but there is still a lot to learn about this quickly evolving technology. The engineers at EOS are often met with 3D-printing misconceptions or myths when educating the market about their technology. What can 3D printing do, and what can't it? What do you have to know about CAD files and their prep and conversion? What about equipment and production costs?
Learn all this and more in this informative EOS blog.
---
Uniquely durable and repeatable salt fog silver coating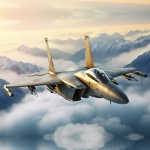 Zygo Corp. has developed a salt fog silver coating that can be applied to silver reflector optics used either in harsh marine salt spray environments or for optics exposed to extreme temperatures. Salt fog silver is a silver mirror coating that offers high reflectivity from visible through to infrared wavelengths. A protective layer of salt fog silver is added to standard metallic silver coatings, ensuring that optics are better able to resist corrosion and mechanically induced damage. This product has been meticulously tested.
Learn more details.
---
Get full-spectrum 3D printing: Xometry PolyJet printing service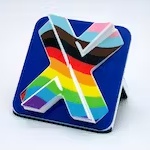 Xometry now offers full-spectrum 3D printing with their PolyJet printing service, thanks to the latest generation of PolyJet equipment from Stratasys. PolyJet technology is known for its high detail, smooth surface finish, and ability to simulate various material properties, such as rigidness or flexibility, in a single part. With over 600,000 available colors, Xometry can print full-color files submitted in 3MF format.
Learn more.
---
Did you know you can 3D print rubber?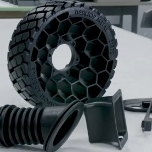 3D-printing materials just keep getting better -- and now there are more choices than ever. Watch as Walter Voit, SVP Polymer Materials, Desktop Metal, describes the 3D printing of DuraChain Elastic ToughRubber photopolymers, which produce tough and resilient end-use parts while eliminating the need for a two-part resin. DuraChain photopolymers also demonstrate a long pot life of roughly one year, depending on environmental conditions, making them more suitable for volume production and reducing waste from spoiled, unused material. These materials are offered exclusively on the ETEC Xtreme 8K top-down DLP systems. ETEC is a wholly-owned subsidiary of Desktop Metal.
View the video.
---
New high-performance metals for 3D printing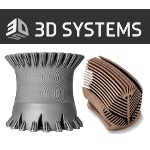 3D Systems has added two new materials to its materials portfolio. Certified HX is a high-performance nickel alloy that contains a higher percentage of molybdenum (up to 9.5%) vs. other nickel alloys, which enhances strength and resistance to corrosion, creep deformation, cracking, and oxidation in hot-zone environments. Certified CuCr2.4 is a high-strength, corrosion-resistant copper alloy that is significantly stronger than pure copper and easier to process. Both materials are certified for use with the company's DMP Flex 350 and DMP Factory 350 3D printers. Applications include industrial gas turbines, consumer goods, aerospace and defense, and automotive.
Learn more.
---
Tips for improving mechanical motion control systems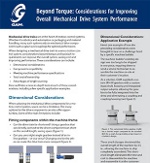 Learn the important considerations beyond torque and backlash requirements that can improve the design of mechanical drive trains in servo motion control systems with this new guide from GAM. The tips in "Beyond Torque: Considerations for Improving Overall Mechanical Drive System Performance" are targeted at saving costs and improving performance.
Get the GAM guide.
---
Cryogenic deflashing improves molding projects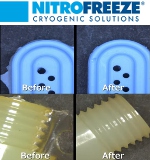 Nitrofreeze® Cryogenic Solutions is providing molders and OEM manufacturers that make injection molded, extrusion molded, and compression molded parts with a rapid, consistent, and cost-effective alternative to hand trimming molding flash. Nitrofreeze cryogenic deflashing is an automated, computer-controlled batch process that removes flash from tens to thousands of molded parts all at the same time. This patented process will not change part tolerances or surface finish, is more consistent than hand trimming, and is safe for medical plastics and medical silicones.
Learn more.
---
Latest color trends for plastic products named in new Plastics Color Corp. report
Oceanana (indigo like) and Copperico (copper like) have emerged as the leading color choices for the design of plastic products for the consumer and industrial markets, according to Plastics Color Corp.'s First Annual Color Report released Feb. 11 at the 2014 Medical Design and Manufacturing (MD&M) West exhibition in Anaheim, CA. PCC, a leading supplier of color concentrates and additive masterbatches for the plastics industry, has issued the annual color report to give customers a competitive edge in identifying current color trends and ultimately facilitate the product development cycle.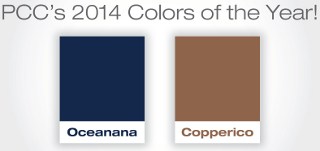 "Our goal with the Color Report is to help designers in the initial concept stage so they can develop the right product in the right color and get it to the shelf faster," said Tim Workman, PCC vice president of business development. "This is a value-driven effort that helps our customers shorten the product development process."
As a leading plastics color specialist, PCC's primary business focus is the manufacturing of colors that fit into its customers' market spaces. The color information aims to give customers an advantage over the competition by identifying the best color options that will impact the market and spur increased demand for new products in the industrial and consumer space, said Workman. Color selection is an important and often lengthy process for manufacturers, and PCC seeks to simplify the process and arm customers with the most up-to-date market information.
Colors were chosen from market research and data presented at PCC's Color Marketing Group Summit in 2013. The market research data includes trending analysis, company sales information, and industry data from a broad range of markets in which PCC serves. The ongoing color evaluation -- now formalized in an annual report -- identified a palette of 12 high-profile colors pared down to two.
Oceanana can be found from the deepest of oceans to the dark blue skies at dusk and dawn, and its deep color is both calming and grounding, according to the report. It is plant-derived and offers a connection with the natural world. "Oceanana (indigo like) is making a resurgence in housewares, clothing, and textiles, becoming not only a bold neutral color but also a focus color," said Sara Martin, PCC's strategic sales representative.
Meanwhile, Copperico stands for the old and the new and the connection between these two worlds, says the report. It offers a sense of home with its warm color and use in many everyday items. "Copperico (copper like) is surpassing the popularity of the grays of silver and the yellows of gold; the warm tones of this precious metal are slowly penetrating our daily lives," explained Martin.
Source: Plastics Color Corp.
Published February 2014
Rate this article