DENSO reduces component sim time by 80% using Simcenter 3D and NX integrated process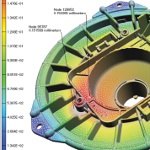 DENSO Corp., the second-largest automotive parts and systems provider in terms of sales in the world, is developing its "NX CAD and Simcenter 3D integrated process" from Siemens that allows analysts to understand the simulation processes, which are repeatable for certain types of components. The DENSO team captures modeling and process best practices and packages these up into simulation templates that are leveraged by designers using NX. This process has led to increased quality, because design problems are identified earlier and can be corrected before the project advances. DENSO estimates the average time for analysis was reduced up to 80% using this integrated process.
Read the Siemens case study.
---
3D Printing: Learn all about GrabCAD Print -- best slicing software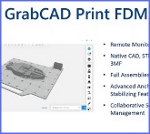 The engineers at TriMech are full of incredibly useful tips when it comes to 3D printing. Learn all about GrabCAD Print, which TriMech calls "one of the most powerful 3D-printing prep tools on the market." Better yet, it's a no-cost resource. Learn about file types and updated capabilities like advanced anchoring and stabilizing, remote monitoring, and even building in collaborative schedule management. You always learn something new from TriMech.
View the video.
---
Amazon delivers on massive CAD conversion project for its industrial customers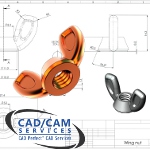 Recently, Amazon's industrial products division decided to undertake what some are calling the largest CAD conversion project in history. The daunting task of converting millions of 2D drawings and legacy CAD files into modern 3D CAD systems has had its upsides, though, leading to new opportunities and improved processes thanks to capable CAD outsourcing services such as CAD/CAM Services.
Read the full article.
---
What's new in ABAQUS 2023?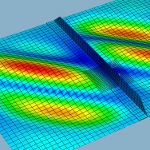 The Abaqus Unified FEA product suite offers powerful and complete solutions for both routine and sophisticated engineering problems. Best-in-class companies are taking advantage of these complete solutions for realistic simulation to consolidate their processes and tools, reduce costs and inefficiencies, and gain a competitive advantage. From new techniques in analysis, modeling, and visualization to special features for structural mechanics and linear dynamics, learn what's new in Abaqus 2023.
Learn more.
---
hyperMILL 2023 CAD/CAM Software Suite: New capabilities for higher productivity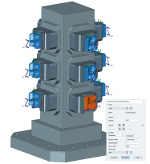 OPEN MIND Technologies has introduced its latest hyperMILL 2023 CAD/CAM software suite, offering users new and enhanced features for even more powerful and simplified NC programming in applications ranging from 2.5D machining to 5-axis milling. CAM capabilities include a new General Transformation Pattern feature (highly useful when there are multiple components), a new 2.5D Back Boring machining strategy, and an enhanced milling surface extension. New mill-turn capabilities include a Smooth Overlap feature for optimizing finishing paths in turning. Many more updates.
Learn more.
---
Top 10 Onshape features of 2022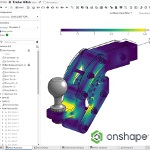 Product developers at Onshape have compiled their list of Top 10 releases of 2022 for the powerful and versatile cloud-native product development platform, which was no easy task given that possibilities run the gamut from CAD and Control to Collaboration and PDM. See their top picks, including simulation, PCB design, and special surfacing features. Onshape delivers full-featured CAD, integrated PDM, and enterprise analytics -- all in a single system.
Read the Onshape blog.
---
COMSOL Multiphysics Version 6.1 is here!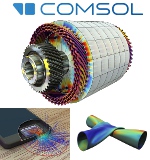 COMSOL has released the latest version of its modeling and simulation software. COMSOL Multiphysics version 6.1 is full of feature additions and workflow enhancements. "This version provides our users with powerful multiphysics simulation tools in areas of highly competitive R&D, like audio technology and vehicle electrification," says Bjorn Sjodin, VP of product management at COMSOL. "We have also strengthened the software's foundation with new capabilities for optimization and the modeling of turbulent flow and mechanical contact."
Learn more.
---
How to design a 10-in. cast-iron skillet in SOLIDWORKS in 10 min.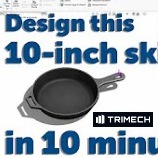 The engineers over at TriMech are always providing new tips, tricks, and tutorials. This time around, they have put together a 10-min. SOLIDWORKS demo on how to design a cast-iron skillet. The video covers sketch relations and dimensions to fully define the geometry and applying three-dimensional features. From beginner to advanced user, TriMech provides excellent training support.
View the video.
---
SOLIDWORKS: What's new for 2023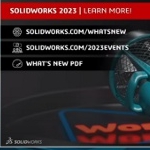 In 2023, SOLIDWORKS will help you break down barriers, so you can work from anywhere and be even more productive. Expand your horizons beyond the desktop and connect everyone to best-in-class tools using the cloud. 3DEXPERIENCE Works helps you move beyond parts, assemblies, and drawings. New capabilities will help you optimize your workflows for design, simulation, data management, documentation, and so much more. This is the long version of the presentation filled with interviews and examples, so skip around if you are short on time.
View the video.
---
Verisurf: Automate measurement and inspection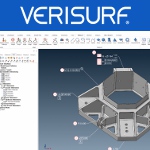 Verisurf software, the only inspection and measurement software built on a full-featured 3D CAD platform, provides measurement and inspection workflows with inspection plans that can be created once and used across the manufacturing enterprise on any portable or fixed coordinate measuring machine (CMM). Embedded Verisurf productivity tools enhance and automate workflows, which shorten inspection and reporting time, help reduce errors, support workforce development, and ensure continuity for repeatable process control during inspection, reverse engineering, and tool-building applications.
See what's new in Verisurf.
---
How Onshape is helping RoboGym build a better BattleBot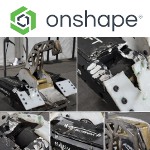 Learn how team RoboGym, five engineering graduates from the University of Illinois Urbana-Champaign, uses cloud-native CAD and collaboration tools to design their 250-lb "killer" BattleBots. After struggling using SOLIDWORKS and Autodesk Inventor between team members, they switched to Onshape and are all on the same design page now, whether creating an updated flamethrower or a better Deadlift bot. [Photo credit: RoboGym]
Read this informative Onshape blog.
---
MapleSim 2022 offers simpler, more efficient way to create models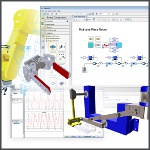 MapleSim 2022, an advanced modeling and simulation tool, makes it even easier for engineers to improve the design of machines that incorporate elements from multiple engineering domains. It features a flexible modeling environment, built-in analysis tools, and connectivity to automation systems. The new MapleSim release adds to the range of components, apps, and settings to expand the modeling scope, and makes it faster for engineers to build models and produce more effective machines.
Learn about all the new features.
---
SOLIDWORKS Tech Tips: Resolving mesh failures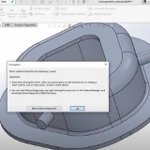 The SOLIDWORKS experts over at TriMech are full of useful information. This tech tip video focuses on what to do if you receive a "mesh terminated" or "failure to create a mesh" error message when working with assemblies or complex parts in SOLIDWORKS Simulation. TriMech takes a look at why this happens and what can be done to remedy the situation. Be sure to check out TriMech's YouTube channel for other helpful tips.
View the video.
---
Xometry's CAD add-ins make ordering parts a snap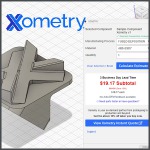 The Xometry Instant Quoting Engine can be integrated into your SOLID-WORKS, Autodesk Inventor, and Autodesk Fusion 360 platforms with a simple add-in. You can use it to order parts from various manufacturing processes including 3D printing, CNC machining, sheet metal, and urethane casting. While each of the CAD add-ins has unique features depending on the platform, they all have the same powerful quoting capability.
Learn more.
---
COMSOL Version 6.0 is here -- includes Model Manager and Uncertainty Quantification Module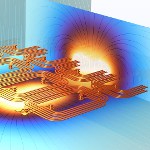 Version 6.0 of COMSOL Multiphysics software has been released. It introduces the Model Manager, a new workspace that enables efficient simulation data management and collaboration. Also new is the Uncertainty Quantification Module, an add-on product that uses probabilistic design methods to quantify uncertainty in analyses and predetermined safety margins. Version 6.0 also brings major improvements to the solvers with performance speedup by a factor of 10 in engineering areas such as heat radiation and models subjected to nonlinear structural material behavior.
Learn more.
---
Eight top CAD trends named in new worldwide survey
IT, software, and telecom industry research specialist Business Advantage Group recently announced that it has completed its 2014 Worldwide CAD Trends Survey.
The survey covers trends from 3D modeling and Building Information Modeling (BIM) to Cloud-Based CAD, from Simulation to 3D Printing, and Open Source CAD to Big Data Applications. These and more are ranked by awareness, importance, and current and intended adoption to reveal trends and growth potential. Intriguing insights include:
AEC ((Architecture Engineering and Construction) no longer lags manufacturing in 3D Modeling use;
Twenty-eight percent of those interviewed now use Simulation, with the highest use in Germany (47 percent) and the USA (35 percent);
BIM will enjoy higher than average future growth, with the main benefits seen as design improvement (59 percent), savings on design time (54 percent), and cost (35 percent).
Concurrent Engineering is rated above average importance and above average future growth;
Mobile Access to CAD is growing, with above average importance and usage, and has above-average future growth prospects, especially in Asia Pacific;
3D Printing: Higher usage so far in Americas (26 percent) than EMEA (12 percent) and Asia Pacific (11 percent);
Cloud-Based CAD currently has low average importance and below average usage, though strong future growth intent;
Big Data is not yet "big" in CAD; very low awareness at only 1 in 10 CAD users.
The report also sheds light on some additional, commonly shared software questions and experiences, such as:
Are annual software upgrades worth the investment?
What hardware is in use now for CAD, and what will be used next?
To what extent are CAD models downloaded?
How do customers prefer to keep up to date with industry developments, etc.?
The survey is not sponsored by any particular CAD software vendor. The report can be downloaded here.
Source: Business Advantage Group
Published March 2014
Rate this article