Army researchers develop hybrid cold-spray system, transition to industry
By Joyce M. Conant, ARL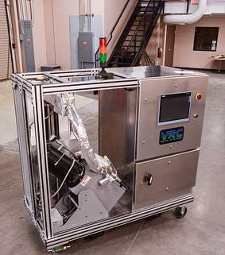 Portable VRC Gen III cold-spray system (Image courtesy: South Dakota School of Mines]
The U.S. Army Research Laboratory (ARL) has developed a novel, hybrid cold-spray system in collaboration with the South Dakota School of Mines (SDSM) that is being transitioned throughout the Department of Defense and is anticipated to save millions of dollars in sustainment costs.
Cold-spray technology is being used to repair expensive and hard-to-acquire components on military aircraft, vehicles, and even submarines, which would otherwise be scrapped. Some of these parts cost hundreds of thousands of dollars each and/or are difficult to procure because of long lead times or obsolescence.
The cold-spray process uses mixtures of metallic and nonmetallic particulates in powder form that are accelerated at supersonic velocities onto the surface of a worn or damaged part to restore it back to its original dimensions.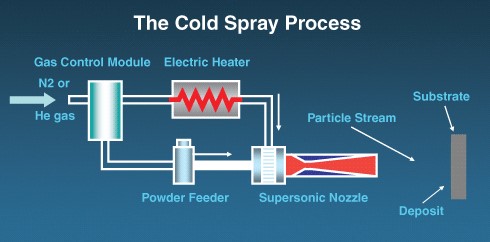 The cold-spray process.

Part before and after cold-spray application.
A joint ownership agreement has been established by ARL and SDSM that has resulted in the commercialization of the hybrid system, called the "VRC Gen III." In this case, "hybrid" means handheld or robotically controlled system operation. The system includes a patent-pending handheld high-pressure spray capability that is currently being licensed and commercialized by VRC Metal Systems in Rapid City, SD.
"The VRC Gen III represents the world's most versatile, high-temperature and high-pressure cold-spray system that meets the requirements of the DOD and its contractors," said Victor Champagne from ARL's Weapons and Materials Research Directorate. "It only takes up a small, three-foot by five-foot area and is on wheels for easy mobility for use in production, repair facilities, or in the field. It can be operated by hand or by a robot, which is another unique feature that makes it the system of choice for the military."
"Cold spray ... is real combat capability right here. And, it really matters to what we're doing overseas," said Col. Kevin Kennedy, commander of the 28th Bomb Wing on Ellsworth Air Force Base in South Dakota.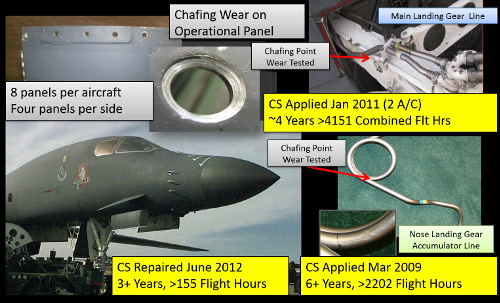 Cold-spray application examples used in the military.
Cold-spray repair/preventative maintenance processes, on hydraulic tubing and skin panels, were developed for the B-1 aircraft as part of the Air Force-funded aircraft repair feasibility study and have been in operational flight for over six years, Champagne said.
"Chafed hydraulic lines are the No. 1 maintenance man-hour driver and No. 1 non-mission capability rate driver on the B-1, accumulating over 5,000 maintenance man-hours per year," Champagne said. "Cold-spray coatings were deposited on hydraulic lines to test the viability of providing a sacrificial wear surface to reduce the incidence of chafed hydraulic lines. The coating was developed and tested by ARL."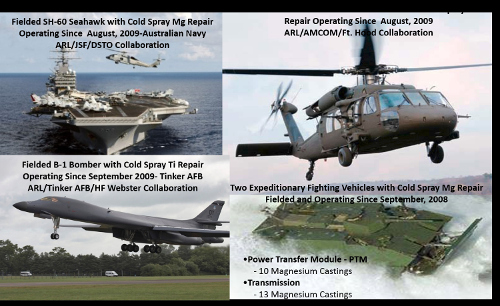 More cold-spray application examples used in the military.
Champagne explained that the first operational test was on a chafed-nose landing gear accumulator hydraulic line installed in March 2009 (six years, ~3,000 flight hours). In January 2011, additional cold-spray-coated hydro tubes were installed on the wing spoiler actuator and two sets of main landing gear lines (four years, >4,000 combined flight hours).
He went on to say that in June 2012, a forward equipment bay panel was repaired using cold spray.
Some benefits of cold-spray applications.
"These components were chosen because they represented some of the most demanding applications with the highest projected benefits in aircraft availability and/or cost savings. The cost savings associated with the FEB panel repair alone exceeded $220,000," Champagne said. "If implemented across the fleet, savings would likely be two orders of magnitude higher. All of these components are still flying today, are inspected periodically, and are performing as intended with no adverse effects."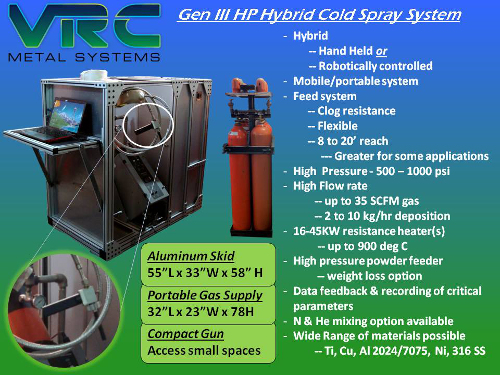 VRC Gen III cold-spray system breakdown. [Image courtesy: VRC Metal Systems]
Champagne said the success of these tests and the need to improve aircraft availability for the warfighter has inspired Air Combat Command leadership to support the implementation of cold spray at Ellsworth Air Force Base, SD, and Dyess Air Force Base, TX.
Published June 2015
Rate this article