Army works on embedding force sensors in 3D metal parts
By Audra Calloway, Picatinny Arsenal, Morris County, NJ
In an effort to better monitor the structural health of military equipment, Picatinny Arsenal and engineers from the Naval Air Warfare Center Aircraft Division (NAWCAD) Lakehurst recently teamed up to embed 3D-printed metal parts with internal sensors.
"Currently, the Navy's structural health monitoring is limited to external sensors," explained Denise Orthner, Sensor Embedding for Additive Manufacturing (SEAM) Team lead from NAWCAD Lakehurst.
Additive manufacturing is another term for 3D printing.
"But, because the external sensors operate outside the component, they do not always provide an accurate representation of internal damage," Orthner said.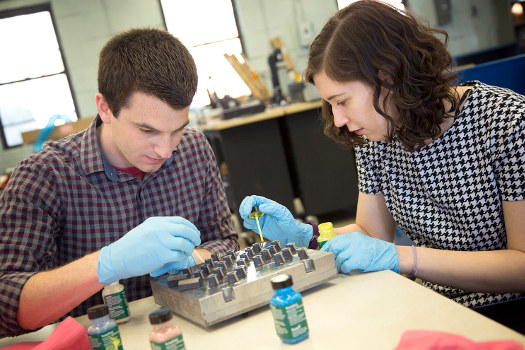 Nick Cavaliere and Denise Orthner, engineers at the Naval Air Warfare Center Aircraft Division in Lakehurst, paint 3D-printed samples with thermal-history paint to better determine the thermal gradient experienced during printing. Army and Navy personnel have teamed up to use 3D printing to help test the structural integrity of military equipment. [Photo by Erin Usawicz]
In addition, external sensors are not always possible for components with complex geometries or parts that must operate in harsh environments, such as aircraft engines.
Because of the Armament Research, Development and Engineering Center's expertise in metals additive manufacturing and embedded sensing, the Navy approached the Materials, Manufacturing, and Prototype Technology Division at ARDEC to assist with manufacturing the test specimens, said Jim Zunino, ARDEC materials engineer.
"We're embedding force sensors in 3D metal parts, which has never been able to be done before," said Matt Clemente, mechanical engineer with ARDEC at Picatinny Arsenal.
"We're trying to get more precise data and reduce noise by being closer. Internal sensors could measure the pressure [on] a particular section of the part and tell you whether it's bending."
If successful, sensors could potentially be embedded into aircraft or other technology, regardless of operating environment or how intricate a part is to make.
"You could potentially put them in a wing spar of an aircraft, right behind the hot jet blast of an engine, so that you can tell exactly how much pressure is on a plate or how much load or thrust you're getting from the engine," said Nick Cavaliere, SEAM Team member and prototype engineer at Lakehurst.
"The most challenging aspect of the project for the Navy has been finding a sensor that can withstand the additive manufacturing process and still detect strain while embedded in a 3D-printed part," Clemente said.
"This is a trial to see what the impact is to the 3D-printed part's structure, and to see if we are weakening it," Clemente said. "A lot will depend on how the 3D-printed material performs and whether the sensor can survive the 3D print process."
The parts that ARDEC engineers printed for the testing are called tensile specimens, which are designed by NAWCAD engineers with internal cavities to house the sensors.
Lakehurst does not currently have metal additive manufacturing capabilities, thus the opportunity for collaboration. Picatinny is printing the tensile specimens using 4340 steel powder.
The 4340 steel powder is a high-strength, low-alloy steel. The steel powder parameters were developed by ARDEC engineer Elias Jelis during research for his Ph.D., as well as an ongoing ManTech program.
As the engineers 3D print, or build, the part, they insert the sensor in the cavity halfway through the printing process.
The 3D-printed parts will also include traditional external sensors. As part of the testing phase, the engineers will pull the part to failure to make sure that the embedded sensors are providing accurate readings.
The engineers hope to have results in an about a month, said Zunino, adding that this is an example of how collaborating with other services can lead to greater success for each service.
The six-month project resulted from the Naval Air Systems Command (NAVAIR) Innovation Challenge Program, which asked NAVAIR employees to devise unique solutions to Naval technical challenges.
The Lakehurst team was one of five winners out of 44 submissions across NAVAIR.
The proposal was submitted by Orthner, Materials Engineering, along with Kamal Bhakta, Electrical Engineering, Nick Cavaliere, Mechanical Engineering, Ian Gallagher, Electrical Engineering, and Steven Orciuolo, Electrical Engineering.
Published September 2015
Rate this article