Automating the armory: New weapons tracker successfully tested by U.S. Naval Forces
A new, advanced weapons maintenance system developed by Lockheed Martin and a company called Visible Assets could potentially save the U.S. Navy millions by automating the time-consuming process of weapons tracking and use.
One part of the system, the RuBee Weapon Shot Counter, addresses the challenge of tracking sensitive munitions remotely. Traditional radio frequency identification (RFID) tags can't always be read or accessed through metals, liquids, and other materials; they're also subject to eavesdropping by those wanting access to information about munition supply. In contrast, RuBee operates on the electromagnetic spectrum, rather than the RF spectrum, and is not subject to these deficiencies.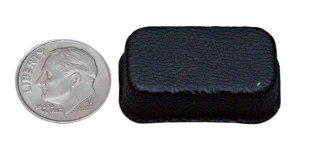 A RuBee tag.
Before the creation of RuBee, munitions at armories had to be tracked manually in a labor-intensive process. Early findings from a recent pilot program testing the system with U.S. Navy expeditionary forces found that the system could potentially save a single armory millions of dollars in labor charges annually though automation.
"Most processes for tracking ammunition and scheduling maintenance for weapons are time consuming and manually intensive," says Dr. Rob Smith, vice president of C4ISR for Lockheed Martin. "We worked with select Navy expeditionary forces to demonstrate that the RuBee system could not only increase the accuracy of their inventories, but also reduce costs, improve safety, and maximize asset security."
During the multiphased pilot program, RuBee tags were embedded in select Naval assets to track weapon performance and diagnostic data. The system operated as designed for the duration of the pilot. RuBee successfully provided maintenance and diagnostic data, such as number of rounds fired, rate of fire, and calculated barrel temperature. The diminutive sensors also detected performance anomalies, such as gas port erosion and cracked bolts, before they led to potential weapon failure.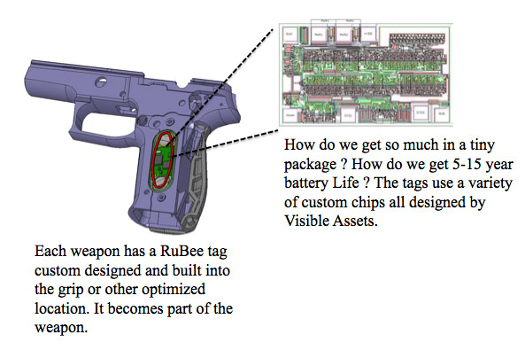 This image from the Visible Assets website shows the weapon installation of an "Allegro" Rubee tag used for shot counting and other trackable functions. Learn more about the shot-counting capability here. [Image credit: Visible Assets]
RuBee-enabled weapons can also be automatically located and identified as they enter or exit a defined perimeter or armory. RuBee's magnetic signal can be read through and around metal and other materials, thus eliminating the need for hands-on inventory scans and allowing the armorer to remotely audit armory. Lockheed Martin is now working to expand this effort from a pilot to a full program that generates cost savings and increases confidence in weapon safety.
Based on the international wireless protocol standard (IEEE 1902.1), RuBee can also be used to identify and track a variety of sensitive items including fused ordnances, firearms, night vision goggles, and flak jackets. Each item is outfitted with a wireless visibility tag, which can be read and located anytime from the RuBee network.
One example of this application is the Lockheed Martin Armory, where all tagged items are networked and housed on "smart racks." The smart rack allows users to physically audit all items several times each day without any human help or intervention.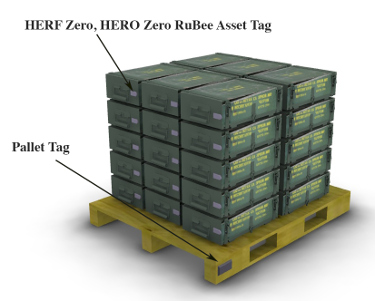 Because RuBee tags operate on electromagnetic, rather than radio frequency wavelengths, solutions based on this technology offer extremely high levels of security. Data passed through these channels operate more like secure peer-to-peer networks, and are less prone to outsider attempts to access information. RuBee visibility solutions are currently used in many high-security U.S. government and international facilities.
Independent tests carried out by the U.S. Navy concluded that RuBee tags, readers, and base stations pose no risk to munitions and have no negative effects on military fuel. These tests marked the first time the U.S. Navy found no required safe separation distance for wireless technology under the Hazards of Electromagnetic Radiation to Ordnance (HERO); other technologies require separation from munitions ranging from 3 to 12 ft to prevent inadvertent activation or disablement.
"Obtaining a zero safe-separation distance under the HERO military standard for fused ordnance was a landmark event and means that RuBee can safely provide real-time audits, accountability, pedigree, diagnostics, and security to a wide variety of explosive devices, ordnance, and munitions stored in the many thousands of sensitive item stores and facilities around the world," says CEO and Chairman John Stevens, Visible Assets.
Read about the genesis of the Rubee tag here.
Source: Lockheed Martin
Published October 2015
Rate this article