Stratasys 3D-printing solutions vital to launch lightweight solar-powered electric scooter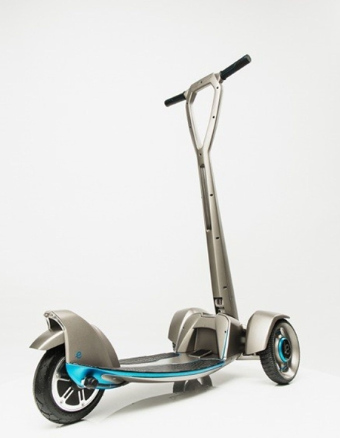 The 26-lb e-floater scooter from Floatility features a 250-W motor and a range of just over 9 miles (2+-hr charge time). It is designed for short-distance "last-mile" commuting (rental) in urban environments (like subway to office). Plastics and composites make up more than 80 percent of the build, so prototyping in near-final versions of these materials was critical.
When German start-up company Floatility GmbH began developing a first-of-its-kind, lightweight, solar-powered electric scooter, its engineers turned to using both Stratasys PolyJet and FDM 3D-printing technology to get the job done.
With the objective to "redefine the modern way of travelling in cities worldwide," the e-floater scooter houses an electric motor and drives on three wheels, enabling users to stand upright and ride freely without physical exertion. As an "intelligent" vehicle, the e-floater is also able to communicate to its owner in real time where it is located and the condition it is in.
In order meet the product's launch date of November 2015, Floatility utilized both Stratasys FDM and PolyJet 3D-printing technologies throughout the product development phase to create a working prototype. An additional benefit was that the overall design was achieved significantly more cost effectively than using traditional methods.
"The need to build prototypes that exactly resembled the final product and that would enable us to test everything thoroughly was vital to the successful launch of this product," says Oliver Risse, Floatility's founder. "3D printing was essential in this regard, as it allowed the team to physically test the design and concept of e-floater as if it were the final product. This not only sped up the product development cycle, but dramatically reduced our product development costs. We would have not been able to take this product from concept to launch without using Stratasys 3D-printing solutions to develop a working prototype -- it's as simple as that."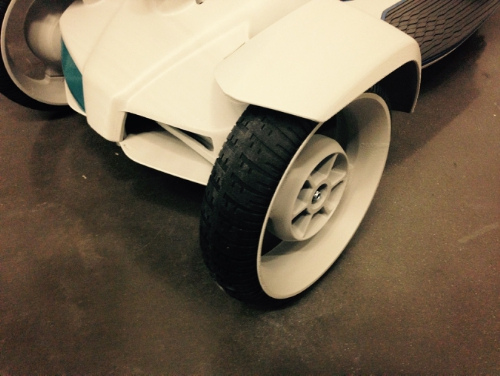 Stratasys PolyJet multi-material 3D printing proved crucial to developing the soft, rubber-like material for e-floater's wheels.
Narrowing the gap between prototype and final product
As well as improved time and cost efficiencies, the decision to use multiple Stratasys 3D-printing technologies was also based on the capability to combine different materials in one print, which enabled the prototype versions to comprise both soft and hard materials.
This saw the team produce soft components such as the tail lights and front lights, wheels, and grips on the PolyJet-based Objet500 Connex3 Color Multi-material 3D Printer, while the super-tough components were 3D printed using the mechanically strong and UV stable, FDM-based ASA material on the Stratasys Fortus 450 3D Production System.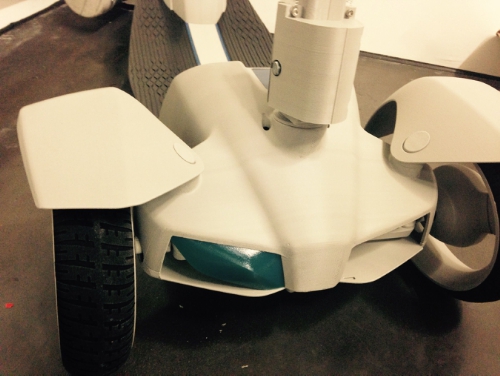 Stratasys' FDM-based ASA 3D-printing material was used for the harder components of the e-floater's main body because of its superior toughness and high UV stability.
According to Risse, the less-favorable alternative would have been to use silicon molding to create the prototype.
"This was not ideal for a number of reasons," he says. "Not only would it have entailed an assembly of up to 20 parts, but the costs would have been significantly higher, and the production time would have been double to that achievable with 3D printing."
"The e-floater is a perfect example of how 3D printing enables designers and inventors to turn their concepts into fully operational products quickly and cost effectively," says Andy Middleton, President, Stratasys, EMEA. "In this case, the blend of both our core 3D-printing technologies proved instrumental in bringing another exciting and innovative product to market."
The final production plastics for the scooter were made by BASF. Various grades of glass fiber-reinforced Ultramid (Polyamide) were used for most of the e-floater's structure. While the mineral-filled Ultramid B3M6 is used for the parts where low warpage is crucial, the impact-modified Ultramid B3ZG8 combines toughness and stiffness in a way that is favorable for structural parts that have to resist crash loads. The surface-improved Ultramid B3G10 SI offers high surface quality to the parts despite its high fiber content. The reinforcement for front body and deck were made with the new Ultracom composite materials (continuous fiber-reinforced semi-finished products) to ensure stability.
Source: Stratasys
Published January 2016
Rate this article