New nickel-based superalloy for 3D printing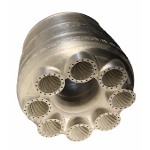 Velo3D has qualified the nickel-based superalloy powder Amperprint 0233 Haynes 282 for use in its Sapphire family of printers. The material is designed for high creep strength, thermal stability, weldability, and fabricability not commonly found in other alloys. This superalloy is ideal for high-temperature structural applications like energy generation, gas turbines, and space launch vehicles to build parts like heat exchangers, combustors, nozzles, combustion liners, rocket engines, and shrouded impellers. Shown left is a combustor liner made with the new superalloy. It features 23,000 unique holes for optimized air-to-fuel ratios and internal channels for regenerative cooling. The part is shown as printed, with no supports.
Learn more.
---
Roller-type LM guide for ultra-heavy loads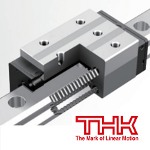 THK's model HRX is the company's roller-type linear motion (LM) guide. It features ultra-high rigidity in addition to the ability to handle ultra-heavy loads. On the HRX, each row of rollers is arranged at an angle of 45 degrees. This ensures the LM block receives an equal load rating (high rigidity) in all directions. Made for the development of high-precision, energy-saving, high-speed machines with long service lives.
Learn more.
---
Live tooling for popular turning center lines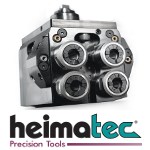 Heimatec, a world leader in live tools and multi-spindle drill heads, announces the immediate availability of live tooling for all popular models in the Hyundai, Miyano, and Nakamura turning center lines. According to Preben Hansen, president of Platinum Tooling Technologies and master North American importer for Heimatec, "We're carrying a substantial inventory of live tools for our customers' machines now, and it represents a substantial financial and warehouse-space commitment we've made to support them in the North American market."
Learn more.
---
MW Components launches eCommerce experience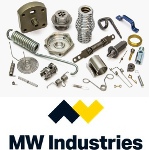 MW OnDemand combines over 1 million parts from well-known brands such as Century Spring, Accurate Screw Machine, RAF Electronic Hardware, Servometer, and Maudlin into a single location. Customers can select and purchase products from across the MW Components portfolio, simplifying the entire component sourcing process. Customers can shop tens of thousands of stock spring designs along with fasteners, shims, electrical contacts, metal stampings, tubing products, bellows, and more.
Learn more.
---
Desktop Metal qualifies 420 stainless steel for high-volume additive manufacturing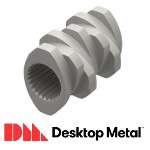 Desktop Metal recently announced the qualification of Grade 420 stainless steel (420 SS) for use on its Production System platform, which leverages patent-pending Single Pass Jetting (SPJ) technology designed to achieve the fastest build speeds in the metal additive manufacturing industry. Manufacturers can now leverage SPJ technology for the mass production of high-strength, end-use parts in 420 SS for demanding applications in industries such as medical, aerospace, defense, and consumer products.
Learn more.
---
Engineer's Toolbox:
How to select the proper pin for your application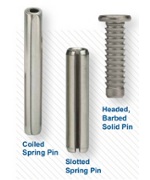 Fasteners are some of the most important parts of an assembly. In this technical article, Jeff Greenwood from SPIROL focuses on how to select the proper pin for your application, including pins used as hinges, hub and shaft fixtures, alignment, movement stops, and joining. Press fit pins are discussed here, as they are the most common type of pins used in modern manufacturing. Lots of good info and examples in this one.
Read the full article.
---
New PETs for automotive exterior components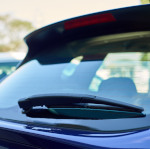 Polyplastics Group has introduced two new RENATUS polyethylene terephthalate (PET) grades that deliver superior mechanical properties, appearance, and weather resistance for automotive exterior components. RH030 (30% glass filled) and RH045 (45% glass filled) maintain their jet blackness and reduce whitening on the surface of molded articles in outdoor environments, making them ideally suited for applications such as automotive side mirrors and rear wiper arms/blades. Since PET parts are not painted, weathering degradation can occur over time when the glass filler starts to float and the jet blackness decreases. Accelerated weather resistance testing demonstrates that Polyplastics' new PET materials maintain lower index values than competing products, indicating that whitening is being reduced.
Learn more.
---
Quick release couplings with safety lock
To reduce the time involved in setting up equipment and production lines, JW Winco has incorporated a new coupling in its product portfolio. With the GN 1050 quick release coupling, components can be quickly and securely connected to a machine or device with just a click. A safety locking button protects the coupling from being accidentally opened.
Read the full article.
---
Wheel nut can't loosen by itself -- even in extreme applications

Designed for flat-faced steel rims, the Nord-Lock wheel nut safely secures wheels on on-road and off-road heavy vehicles by maintaining high clamping force even under extreme operating conditions. When assembled correctly, the Nord-Lock wheel nut cannot loosen by itself. It's a simple and cost-effective way to make wheels safe and secure for more productive and efficient operations.
See how Nord-Lock wheel nuts work.
---
Join carbon materials and more with innovative C-Solder

C-Solder tin-based soldering alloys from Goodfellow enable the joining of carbon materials as well as carbon to metals (copper, aluminum) and aluminum to aluminum. The resulting bond is mechanically strong and electrically conductive. C-Solder is both flux-free and lead-free, has a melting point of 232 degrees C (solidus temperature), has excellent flow, does not leave a residue, and is not affected by cleaning solvents.
View the 1-minute video.
Learn more from Goodfellow.
---
Tiny crossed roller bearings boast big capabilities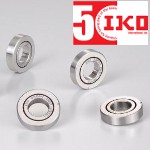 IKO International has unveiled its newest crossed roller bearing, the CRBT105A. This ultra-small, ultra-thin unit is designed to provide exceptional rigidity for space-constrained automated machine applications such as robots with articulating arms and compact surveillance cameras. The CRBT105A features a 10-mm bore diameter, 21-mm outside diameter, and a narrow width of 5 mm. Despite its compact size, this bearing offers rigidity up to four times greater than double-row angular contact ball-type bearings.
Learn more.
---
Steel disc couplings with updated design offer backlash-free operation in drive applications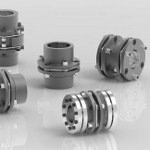 RINGFEDER has released an updated version of its proven TND Series of steel disc couplings, which feature backlash-free torque transmission and excellent positioning accuracy in machines that involve synchronous operation, frequent starts and stops, or reversing operations. Typical drive applications include printing and packaging machines, compressors, pumps, and variable speed drives. Two coupling types are available: High Deflection (HD), which offers excellent shaft misalignment compensation, and High Torque (HT), which incorporates a higher power density. TND Series couplings achieve superior concentricity, maximum operational reliability, smooth operation, and low vibration levels.
Learn more.
---
Custom modifications for material handling rollers and bumpers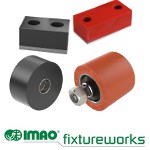 Imao-Fixtureworks offers custom modifications for its standard material handling rollers and bumpers. By modifying off-the-shelf products, a significant amount of time and money is saved. The products can be custom modified in various dimensions, shapes, and sizes to meet specific application requirements. For example, the outside diameter (O.D.) of a roller could be turned down, or a bumper of a certain width could be produced. These modifications eliminate the typical design and production time necessary for a custom roller or bumper to be tooled up and molded.
Learn more.
---
Optimal damping: Continental develops special bearings and other elements for EVs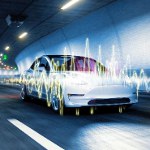 Continental has developed special elastomer compounds for electric vehicles. They absorb the vibrations in the high-frequency range and are also lightweight. The company is also adapting other bearing elements such as battery mounts for buses or air press bearings in truck driver cabs to the requirements of e-mobility.
Read the full article.
---
Advanced graphenes for composites and thermoplastic applications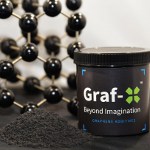 NeoGraf Solutions has extended its range of next-gen graphite materials with the launch of Graf-X graphene nanoplatelets (GNP) and graphene precursors (GP). Both high-performance additive materials deliver enhanced strength, performance, and reliability in a broad range of thermoset and thermoplastic applications. The new graphene materials can increase the toughness of plastics by up to 2.5 times without a significant weight increase. They can also double thermal conductivity and push the electrical conductivity of plastics into the anti-static and static-dissipative ranges.
Learn more.
---
Study finds metal foam can handle heat better than steel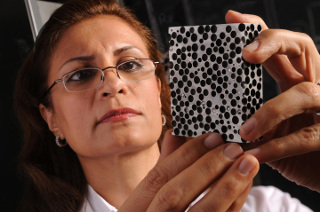 Professor Afsaneh Rabiei examines a sample of metal foam. [Photo: North Carolina State University]
Research from a new North Carolina State University study finds that novel lightweight composite metal foams (CMFs) are significantly more effective at insulating against high heat than the conventional base metals and alloys that they're made of, such as steel. The finding means the CMF is especially promising for use in storing and transporting nuclear material, hazardous materials, explosives, and other heat-sensitive materials, as well as for space exploration.
"The presence of air pockets inside CMF make it so effective at blocking heat, mainly because heat travels more slowly through air than through metal," says Afsaneh Rabiei, a professor of mechanical and aerospace engineering at NC State and corresponding author of a paper on the work. The composite metal foam consists of metallic hollow spheres -- made of materials such as carbon steel, stainless steel, or titanium -- embedded in a metallic matrix made of steel, aluminum, or metallic alloys.
"We have developed two technologies for manufacturing CMFs," Rabiei says. "One is based on casting a low-melting-point matrix material, such as aluminum, around hollow spheres made of a material with a higher melting point, such as steel. This creates aluminum-steel CMFs, for example. The other technique is based on sintering, or baking, the matrix powder around prefabricated hollow spheres. This creates CMFs such as steel-steel, which consist of steel hollow spheres in a steel matrix."
In one test, researchers exposed samples of 2.5-in. by 2.5 in. steel-steel CMF that were 0.75 in. thick to a fire with an average flame temperature of 800 C for a period of 30 min. on one side, and monitored the material to see how long it would take for the heat to reach the opposite side of the sample. For a piece of bulk stainless steel with the same dimensions as the CMF sample, it took only 4 min. to reach 800 C through the entire thickness of the sample. But it took 8 min. for the steel-steel CMF to reach the same temperature.
"We already knew the CMFs are lightweight materials with outstanding high-velocity impact resistance, and effective radiation shielding. Now we know that it can withstand high heat," Rabiei says. "This difference in thermal conductivity means that the use of composite metal foams could help avoid circumstances where accidents can lead to explosions."
The researchers also found that the composite metal foam made entirely of stainless steel expands 80 percent less than bulk stainless steel at 200 C -- and the differential increases at higher temperatures. Another noteworthy advantage is that the composite metal foam expands at a fairly constant rate when exposed to high heat -- whereas conventional bulk metals and alloys such as stainless steel expand more rapidly as temperature increases.
"Our findings suggest that CMF can offer extremely good thermal insulation, superior thermal stability, and excellent flame-retardant performances as compared to commercially available materials such as stainless steel," Rabiei says.
Source: North Carolina State University
Published May 2016
Rate this article