Pro Tip: What is the clearance/thrust relationship in induction motors?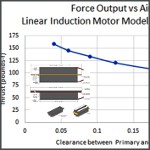 A linear induction motor has a primary or coil assembly and a secondary or reaction plate. In this pro tip, engineers from H2W Technologies explain why machine and systems designers should pay particular attention to the clearance gap between these two components -- especially since an epoxy, varnish, or case enclosure may be involved.
Read the full article.
---
Stepping motor driver with resistorless current sensing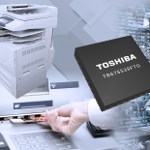 Toshiba Electronic Devices & Storage Corp. has added the TB67S539FTG to its lineup of stepping motor driver IC series that support constant current control for office automation, commercial, and industrial equipment. The driver incorporates Toshiba's latest DMOSFET device, which allows it to realize a motor output voltage rating of 40 V and a motor output current rating of 2.0 A. The use of a current detector for constant current motor control eliminates the need for an external current sense resistor.
Learn more.
---
Engineer's Toolbox: All about smart hybrid actuators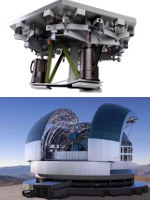 Hybrid drives present a practical solution when a position needs to be detected with high precision and moved repeatedly over long travel ranges, or when a target position needs to be reached with nanometer precision. PI gives in-depth illustrations of the different drive concepts in action using incredible motion tech being built into the world's largest terrestrial telescope on a 3,000-m-high mountain in Chile.
Read the full article.
---
Boost productivity with OnRobot's all-electric VGC10 vacuum gripper

OnRobot's versatile VGC10 vacuum gripper enabled Sydney, Australia-based injection molding experts Designed Mouldings to boost productivity and reduce cycle times through automation of key assembly processes. The low-cost, all-electric VGC10 easily completes 20,000 product runs in 24 hours -- three times faster than manual labor -- freeing workers to focus on higher-value tasks. And with no external air supply to worry about, the VGC10 supported easy deployment with excellent results.
Learn how.
---
Roller-type LM guide for ultra-heavy loads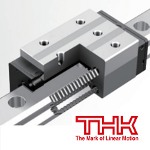 THK's model HRX is the company's roller-type linear motion (LM) guide. It features ultra-high rigidity in addition to the ability to handle ultra-heavy loads. On the HRX, each row of rollers is arranged at an angle of 45 degrees. This ensures the LM block receives an equal load rating (high rigidity) in all directions. Made for the development of high-precision, energy-saving, high-speed machines with long service lives.
Learn more.
---
New GSL strain wave robotic gearboxes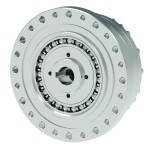 GAM has released the new GSL series of strain wave gearboxes, which provide zero backlash and high torque in a small gearbox for robotic and motion control applications. The GSL gearbox uses harmonic gearing for a very compact design that easily integrates into applications requiring high ratios and high precision in a small form factor. The GSL series is available in frame sizes 14 to 40 and reduction ratios 50:1 to 160:1.
Learn more.
---
App Note: Mini linear actuator with Linfinity nut
When a customer was trying to fit a motorized linear actuator that needed to move a couple pounds into a small space that could not accommodate a conventional off-the-shelf-type solution, Lin Engineering's team got to work. The novel solution included an actuator system using a 106 motor, a lead screw, a self-lubricating LinFinity nut to remove backlash and provide maintenance-free performance, and a right-size encoder to provide the feedback the system needed.
Read the Lin Engineering application story.
---
New servo drive for high-power robotic applications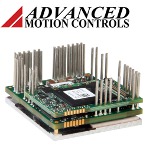 The mini-sized FE100-50-RM FlexPro RS485/RS232 servo drive from ADVANCED Motion Controls is capable of outputting 50 A continuous current rms and 100 A peak current, providing the torque necessary to drive motors in larger mobile robots. The servo drive has a wide input voltage range of 20-90 DC, allowing it to power mobile robots all day -- even as the battery levels drop. Despite the drive's small size, it can outperform larger-sized digital servo drives and still be integrated into tight spaces. While slightly larger than the micro-sized models, two mini-sized FlexPro drives can still fit on a standard business card.
Learn more.
---
Drop-in motor solutions for robotics, automation, medical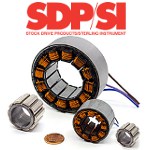 SDP/SI now offers the NH1-D Frameless Brushless Motor series for smaller machines that require precision and high efficiency. Rated for continuous operation, they are an ideal solution for many applications including the replacement of heavier, traditional motors by eliminating components, reducing torsional losses, decreasing weight, system inertia, and size envelope, while providing maximum speed control.
Learn more.
---
Cobots hit the classrooms with federal, state, industry recognition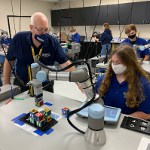 Two major recognitions of Universal Robots' education programs from the U.S. federal Advanced Robotics for Manufacturing Institute and the State of Ohio's Department of Education pave the way for schools and industry to further leverage cobots, offering employability in robotics careers while upskilling the existing workforce.
Read the full article.
---
SCHUNK ADHESO gripper wins New Product of the Year Award at 2021 ASSEMBLY Show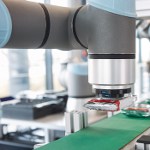 The ADHESO gripper from SCHUNK uses no external power supply to activate its grabbing force. It is not a traditional vacuum system and does not use magnets. It just "sticks" by pressing to the piece. What makes this gripper -- which has no "fingers" that users can see -- look like it's performing magic?
Read the full article.
---
Is this the world's most precise small six-axis robot?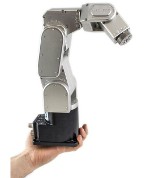 Mecademic, a Canadian robotics manufacturer, says it builds the world's smallest, most precise, and easy-to-use industrial robotic arm -- the Meca500. This six-axis robot can handle payloads up to 500 g with an unmatched accuracy of 0.005 mm. It excels in the precise and repetitive manipulation of small parts and tools in a variety of industries. It's a plug-and-work automation component that integrates with any PC or PLC, doesn't require a proprietary language to learn, and is affordable and easy to use. Plus, it features a unique integrated controller in its base.
Learn more.
---
Autonomous mobile robots do heavier lifting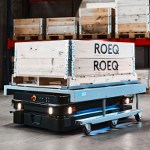 ROEQ has launched two new top modules and accompanying accessories designed to boost the payload and lifting capabilities of autonomous mobile robots (AMRs) from industry leader Mobile Industrial Robots (MiR). Capable of handling total payloads of up to 1,500 kg (3,307 lb), the new ROEQ top module TMS-C1500 combined with the new S-Cart1500W shelf cart greatly increases the payload capabilities of MiR's MiR500, MiR600, MiR1000, and MiR1350 AMRs. Eliminating the need for a docking station, the TMS-C1500 can pick up and drop off the shelf cart in free space and with precision. The AMR is never left idling, and it can simply drop off the cart and immediately go and pick up a new one. ROEQ has also launched the top module TML200 with a stroke of 40 mm that can lift and transport crates, pallets, racks, and ROEQ shelf carts.
Learn more and see these units work.
---
Inductive vs. optical vs. magnetic encoders: How to choose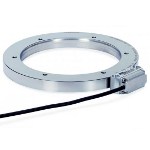 It makes sense that when there isn't a need to spend on a high-end optical encoder, the most common thought is to look directly to magnetic encoders. According to HEIDENHAIN, sometimes that's the right move, but when using an inductive encoder is an available option, your search shouldn't be limited to magnetic or optical. Confused? You won't be after reading this informative HEIDENHAIN blog.
Read the full article.
---
How to avoid premature linear screw actuator failure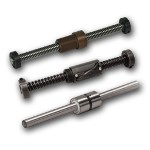 At their core, electric linear screw actuators deploy mechanical technology such as ball bearings, ball screws, and roller screws that have a finite life. These components do not last forever -- even though that is the expectation of some customers. But how long will an actuator really last? Tolomatic engineers provide a way to calculate, estimate, and size the electric linear screw actuator to achieve the desired life for your application.
Read this informative Tolomatic blog.
---
New, fast solar wind propulsion system is aim of NASA, UAH study
By Jim Steele, University of Alabama in Huntsville
Scientists at The University of Alabama in Huntsville (UAH) are set to use computer models to investigate the results of experimental testing at NASA'S Marshall Space Flight Center (MSFC) in Huntsville to develop an engineering tool to design missions using a new type of long-distance space propulsion.
The Heliopause Electrostatic Rapid Transit System Electric Sail (HERTS E-Sail) is entering basic research testing at Marshall. The propulsion system, which uses no propellant, would harness the solar wind to travel into interstellar space. It could send spacecraft to the edge of our solar system, the heliopause, faster than ever before.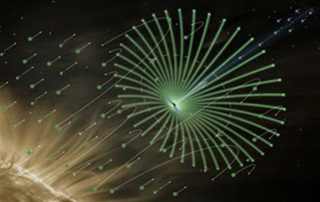 Heliopause Electrostatic Rapid Transit System (HERTS). [Image Credit: Alexandre Szames, Antigravite, Paris, France]
Some of the missions contemplated are very long-distance voyages, says Dr. Gary Zank, director of UAH's Center for Space Plasma and Aeronomic Research (CSPAR) and chair of the university's Department of Space Science, who points out that the distance to the heliopause and interstellar medium is three times the distance from Earth to Pluto. Scientists hope the new propulsion system can halve the time it takes for missions to enter interstellar space.
"The interstellar medium is currently the region that the Voyager spacecraft are exploring. This could be a breakthrough propulsion technology for these kinds of very ambitious missions," says Dr. Zank, who in an earlier phase of the project helped design a spacecraft payload for an extended HERTS mission.
The HERTS E-Sail propulsion system has exposed wires (or tethers) extending from the spacecraft through which an electrical current is passed, Dr. Zank says.
"This generates a magnetic field that couples to the solar wind and leads to charged particles in the solar wind exerting a force on the spacecraft system," he says.
The sun releases protons and electrons into the solar wind at very high speeds.
"Because the solar wind is a supersonic flow, the kinetic pressure exerted by the solar wind is converted by the HERTS system to spacecraft motion," Dr. Zank says. "The solar wind flows at typical speeds of 300 to 500 kilometers per second, so coupling the spacecraft to the solar wind can yield quite a substantial force on a small spacecraft. It does, however, require very long wires or tethers, a kilometer long or even more, which makes their thickness, weight, and deployment characteristics challenging."
Currently, Dr. Zank and UAH post-doctoral student Xiaocan Li are developing a theoretical model using sophisticated kinetic simulations to investigate the results of the NASA experiment and the extension of that laboratory simulation to conditions appropriate to the solar wind.
"The simulations will use one of the most advanced kinetic codes yet developed," says Dr. Zank. "It was developed at the Los Alamos National Laboratory, where Xiaocan Li did much of his doctoral thesis work."
Computer modeling at UAH will be a three-step process, according to UAH research scientist Dr. Kenneth Wright, who is leading the testing at Marshall's High Intensity Solar Environment Test system, a chamber that will simulate the plasma environment of space. Dr. Wright is funded through a sub-contract with the Jacobs Engineering and Science Services and Skills Augmentation (ESSSA) Group at Marshall.
The first phase will model the data from the chamber experiment. A second phase will use the model with actual plasma properties present in the solar wind. Then a third phase will transform the model into an engineering tool.
"We want to parameterize it enough to get a realistic, simple tool that we can use in mission design," Dr. Wright says.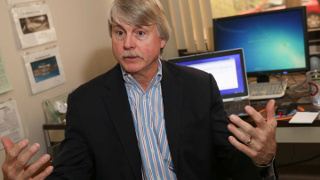 Dr. Kenneth Wright, CSPAR research scientist, is leading the E-Sail wire testing in MSFC's High Intensity Solar Environment Test system. [Photo: Michael Mercier. UAH]
"The space plasma physics interaction with many multiple-kilometer-length bare, positively charged wires is very complex and has not been adequately modeled," says Bruce M. Wiegmann, the Marshall principal investigator for the HERTS study. "This E-Sail engineering model development is one of the key products for Phase II of this study. The engineering model being developed at UAH relies heavily upon the data being collected from testing at one of Marshall's plasma chambers, and this experimental test data will be used to adequately benchmark the codes being developed."
During the tests, which are expected to be conducted for two or three months, scientists and engineers from UAH and Marshall will examine the proton and electron interaction with a positively charged 1-mm stainless steel tube that will represent a wire of the E-Sail.
Optimizing spacecraft mass means that the flight system will probably utilize aluminum wires, Dr. Wright says. However, the laboratory experiment will use stainless steel since the mass of the test object is not a primary concern.
The experiments focus on measuring what is happening within a "sheath" created when the positively charged wire interacts with negative electrons and deflected protons. The interactions inside the sheath are what create the propulsive force, as the repelled protons prompt an opposite reaction to push a spacecraft away from the sun and toward the heliopause.
"Right now, we're just trying to understand ion deflection in the region surrounding the positively biased wire," says Dr. Wright.
The electron interaction information will be used to develop specifications for an electron emitter that must be part of the spacecraft in order to return the collected electrons by the positive wires to space.
The HERTS study, funded in 2015 by NASA's Space Technology Mission Directorate (STMD), was one of seven down-selected Phase II NASA Innovative Advanced Concepts (NIAC) projects.
"When NASA HQ reviewed the various Phase II submissions, and selected the HERTS proposal for further investments, they clearly stated that a merit of the study was in the development of a spacecraft engineering model, which would quantify how much thrust could be produced in varying E-Sail systems," Wiegmann says.
Published May 2016
Rate this article