You need motion control components? HIWIN has them in stock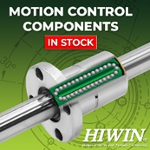 Many models of ballsplines, rolled ballscrews PLUS supports, linear guideways, crossed roller bearings and stages are in stock at our Chicago factory, where HIWIN can cut and machine to our spec or yours. Fast shipment to meet applications in machine tool, medical, lab, packaging, metal fab, semicon and advanced high-precision automation equipment.
Learn more.
---
Application: Cylinders for hydraulic presses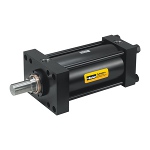 According to Parker Hannifin, "The cylinders in your hydraulic press not only control the force being produced but also the speed at which the press can move and the overall efficiency of the machine." Explore the application of cylinders for hydraulic presses in this insightful blog post, and learn about cylinder types, installation considerations, interfaces, and materials.
Read this informative Parker blog.
---
FANUC America demonstrates automated welding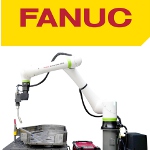 FANUC's easy-to-use CRX-25iA welding cobot, which now offers a 30-kg payload and 1,889-mm reach, will demonstrate welding joints on a mower deck at FABTECH this week. Attendees can teach the system using hand guidance or the Tablet TP interface with drag-and-drop icons. See FANUC at Booth B-27015. Automated coating solutions will also be on display.
Learn more -- especially if you cannot attend FABTECH.
---
Robotics brings peak precision to metal fabrication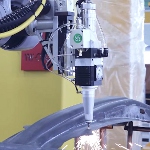 Stäubli Robotics designs solutions for real-world pain points, and metal fabrication shops and manufacturers have their share: labor shortages, higher material costs due to supply chain issues, and the need for higher output and shorter cycle times. Learn about Stäubli Robotics' latest offerings at FABTECH in booth B15021, including meticulous 3D laser cutting using the TX2-160L HDP (high dynamic precision) robot, a gamechanger in automotive, metal, and other manufacturing plants tasked with laser cutting of complex parts.
Learn more.
---
UR20 cobot makes its welding debut at FABTECH -- plasma cutting and weld grinding demos too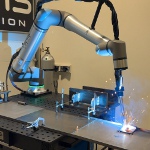 Universal Robots' larger, much-anticipated new UR20 cobot is ready to generate sparks at FABTECH this week, North America's biggest metal forming, fabricating, welding, and finishing event, taking place Sept. 11-14 in Chicago. UR and its partners will demonstrate the UR20 Cobot Welder along with a rotary welding positioner, AI that recommends welding and cutting parameters, CNC parts feeders, and more.
Read the full article.
---
200,000 roboticists trained and counting: Universal Robots Academy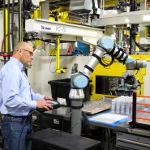 Universal Robots, the leading collaborative robot (cobot) company, has offered robotics training to customers and others with an interest in collaborative robots. After having grown increasingly popular in the past years and with 119 onsite training centers across the globe, more than 200,000 robotics enthusiasts have joined the Universal Robots Academy.
Read the full article.
---
Replace hydraulics with heavy-duty electric actuators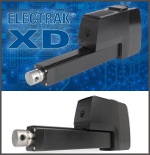 Thomson has introduced a high-capacity, high-performance electric linear actuator that gives motion system designers more cost-effective options to replace hydraulic cylinders. Among the many new features of the Thomson Electrak XD linear actuator is load handling up to 25,000 N (5,000 lb), depending on configuration, for a combined power output of more than 450 W. The Electrak XD can also achieve operating speeds up to 75 mm/sec (3 in./sec) and duty cycles up to 100%.
Learn more.
---
See NORD's innovative and reliable packaging solutions at PACK EXPO 2023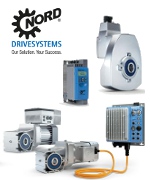 NORD provides complete drive solutions for the entire packaging process from filling and sealing machines to palletizing and wrapping systems in end-of-the-line packaging. See what NORD has to offer at PACK EXPO in Las Vegas Sept. 11-13, 2023, including: IE5+ Permanent Magnet Synchronous Motors, DuoDrive Integrated Gear Unit and Motor, NORDAC ON/ON+ Variable Frequency Drives, Condition Monitoring for Predictive Maintenance, a Sealed Surface Conversion System, and much more.
Learn more.
---
Mini motors and drive systems on-demand webinars: Chock full of informative details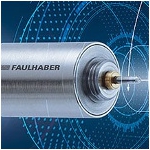 Faulhaber has made available a comprehensive library of on-demand webinars all about its miniature motors and drive systems. Each presentation is full of product details, technology overviews, selection help, design tips and tricks, and application examples. Topics include: stepper motors, brushless motors, DC motors, linear motors, encoders, gearheads, motion controllers, and more. Filled with useful information.
View the Faulhaber webinar library page.
---
Clutches and brakes for electric outdoor mobile equipment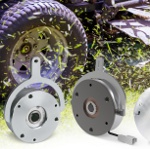 As OEMs and drive train manufacturers work to bring emerging technology to life, they are partnering with Warner Electric engineers and electrification specialists on electromagnetic braking solutions for electric riding mowers, UTVs, ZTRs, and more. Lots of options, including enclosed and low-profile Spring Applied Emergency and Parking Brakes -- some even feature regenerative braking.
Learn more.
---
Ball screws or belt-driven actuators? How to choose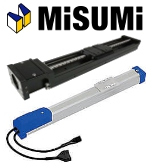 Two of the most common components for a linear actuator are ball screw systems and belt and pulley assemblies. There are benefits and limitations to these components, so choosing the right component comes down to the specifications needed for the application. Carlicia Layosa, Marketing Automation Manager at MISUMI, runs through some benefits and drawbacks of each technology.
Read this informative MISUMI blog.
---
Telescoping linear actuators for space-constrained applications
Rollon's new TLS Series of telescoping linear actuators enable long stroke lengths with minimal closed lengths, which is especially good for applications with minimal vertical clearance, such as between the machine and ceiling or horizontally between machines. These actuators integrate seamlessly into multi-axis systems and are available in two- or three-stage versions. Equipped with a built-in automated lubrication system, the TLS Series features a synchronized drive system, requiring only a single motor to achieve motion. Four sizes (100, 230, 280, and 360) with up to 3,000-mm stroke length.
Learn more.
---
New machine tending tech launched by Mitsubishi Electric Automation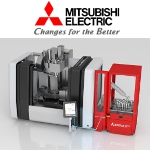 Designed for easy setup and use, Mitsubishi Electric's LoadMate Plus machine tending solutions provide manufacturers with an answer to labor shortage challenges while improving productivity and lowering operating costs.
Read the full article.
---
Potentiometer with extremely low torque requirement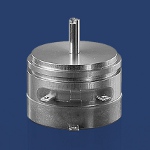 Novotechnik, U.S. has just announced the P2200 potentiometer that operates with an extremely low torque requirement of 0.003 Ncm. This rotary position sensor is well suited for applications where the system to be measured can be affected by the torque requirements of the sensor. It offers a precision conductive plastic potentiometer in a servo size 11 housing with stainless steel bearing and a life of 100 million movements.
Learn more.
---
Mitsubishi to debut new 3D bin-picking robots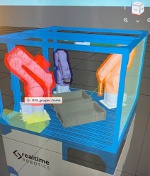 Join Mitsubishi Electric Automation at PACK EXPO 2023 in the Las Vegas Convention Center Sept. 11-13 for a first look at a new 3D Bin-Picking robot demo, perfect for automating packaging processes. Also learn how the combination of 3D vision for robotic guidance, dynamic path planning, and collision avoidance can work together to increase throughput and reduce the footprint needed to deploy Mitsubishi Electric robots. Lots more to see and discover.
Learn more.
---
Argonne diamond-like coating shows surprising potential to improve actuator, bearing, and gear reliability in wind power
By Scott Jones, Argonne National Laboratory
Despite the rigors of scientific inquiry and the methodical approaches of the world's most talented researchers, sometimes science has a surprise in store.
Such was the case when a group of researchers from the U.S. Department of Energy's (DOE's) Argonne National Laboratory and the University of Akron discovered that a particular form of carbon coating not necessarily designed for wind turbines may indeed prove a boon to the wind industry -- a serendipitous finding that was recently highlighted in the journal Tribology International.
Prolonging the life of these components could greatly reduce the cost of wind power, the fastest growing source of energy in the world, thereby making it an even more attractive energy source.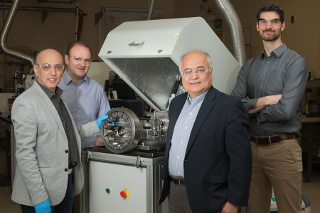 Researchers from Argonne's Surface and Lubrication Interaction, Discovery and Engineering initiative developed a novel "diamond-like" coating that could prove of great benefit when used to coat equipment for wind turbines, like the bearing in this photo. Pictured from left: Levent Eryilmaz, Giovanni Ramirez, Ali Erdemir, and Aaron Greco.
Due to the strenuous environment inherent in wind turbine drivetrains, key components such as actuators, bearings, and gears are prone to failure, meaning turbines require regular maintenance that helps drive up the price of wind energy. Prolonging the life of these components could greatly reduce the cost of wind power, the fastest growing source of energy in the world, thereby making it an even more attractive energy source.
These failures are often due to a phenomenon known as micropitting in which the repeated rolling and sliding cycles in the gears and bearings of turbines lead to cracks on the surface of drivetrain components. Further contact only exacerbates the cracking once it begins, chipping away at the metal and increasing the severity of the existing cracks until costly maintenance is necessary or, even worse, the drivetrain fails.
Enter Argonne's Tribology and Thermal-Mechanics Section and its Surface and Lubrication Interaction, Discovery and Engineering (SLIDE) initiative, which investigates how lubricants and materials interact and develops novel lubrication and coating concepts that reduce friction, and therefore micropitting, prolonging component life across a range of energy technologies.
And sometimes they get a little lucky. Such was the case when SLIDE researchers applied this "diamond-like" (some of the carbon-to-carbon bonding in the coating is similar to that of diamonds) coating to wind turbine components, which was not the intended use.
"We felt that if it was working under other sliding conditions, it might work in wind turbine drivetrains as well," said SLIDE's Ali Erdemir, an Argonne Distinguished Fellow. "Initially, our expectations were low, as we thought the coating would wear out due to the high stresses inherent in wind turbines, but that didn't happen."
So far the coating, named N3FC, has proven its worth through more than 100 million testing cycles with no appreciable micropitting. Erdemir admits that they don't know exactly how far it could go, as it has surpassed the time limit of SLIDE's benchtop micropitting test rig. If the coating performs similarly under real-world conditions, it could mean huge savings in terms of maintenance and prevention of failure in wind turbines nationwide -- to the tune of millions of dollars, said Erdemir.
But first, he added, they need to learn exactly why it works.
"We don't yet understand the exact mechanism," said Erdemir. "The general belief is that component wear life extension requires a much harder coating, as more hardness reduces wear. But in this case the coating has less hardness than the base steel, so conventional thought doesn't apply."
The team is now eager to work with companies and see how N3FC performs in the field. Until then, they will stay busy trying to discover the mechanism behind this surprising scientific development. "We would love to get to the bottom of this and design even better coatings," said Erdemir.
The team is also testing the coating in sealing applications for compressors. As a low-friction surface coating, it may also prove beneficial in natural gas and hydrogen environments. "It appears to have multiple capabilities in terms of performance," said Erdemir.
While much of the work was done in Argonne's tribology laboratory, Raman spectroscopy (which uses monochromatic light, usually from a laser) was performed at the laboratory's Center for Nanoscale Materials, a DOE Office of Science User Facility.
The research was funded by DOE's Office of Energy Efficiency & Renewable Energy (Vehicles Technologies Office and Wind and Hydropower Technologies Office).
Team members include Argonne researchers Giovanni Ramirez, Osman Eryilmaz, and Aaron Greco, as well as Gary Doll of the University of Akron and Harpal Singh of both Argonne and the University of Akron.
Published May 2016
Rate this article