Pro Tip: What is the clearance/thrust relationship in induction motors?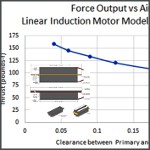 A linear induction motor has a primary or coil assembly and a secondary or reaction plate. In this pro tip, engineers from H2W Technologies explain why machine and systems designers should pay particular attention to the clearance gap between these two components -- especially since an epoxy, varnish, or case enclosure may be involved.
Read the full article.
---
Stepping motor driver with resistorless current sensing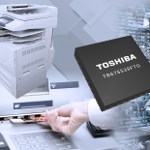 Toshiba Electronic Devices & Storage Corp. has added the TB67S539FTG to its lineup of stepping motor driver IC series that support constant current control for office automation, commercial, and industrial equipment. The driver incorporates Toshiba's latest DMOSFET device, which allows it to realize a motor output voltage rating of 40 V and a motor output current rating of 2.0 A. The use of a current detector for constant current motor control eliminates the need for an external current sense resistor.
Learn more.
---
Engineer's Toolbox: All about smart hybrid actuators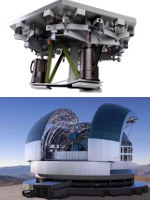 Hybrid drives present a practical solution when a position needs to be detected with high precision and moved repeatedly over long travel ranges, or when a target position needs to be reached with nanometer precision. PI gives in-depth illustrations of the different drive concepts in action using incredible motion tech being built into the world's largest terrestrial telescope on a 3,000-m-high mountain in Chile.
Read the full article.
---
Boost productivity with OnRobot's all-electric VGC10 vacuum gripper

OnRobot's versatile VGC10 vacuum gripper enabled Sydney, Australia-based injection molding experts Designed Mouldings to boost productivity and reduce cycle times through automation of key assembly processes. The low-cost, all-electric VGC10 easily completes 20,000 product runs in 24 hours -- three times faster than manual labor -- freeing workers to focus on higher-value tasks. And with no external air supply to worry about, the VGC10 supported easy deployment with excellent results.
Learn how.
---
Roller-type LM guide for ultra-heavy loads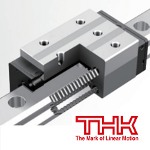 THK's model HRX is the company's roller-type linear motion (LM) guide. It features ultra-high rigidity in addition to the ability to handle ultra-heavy loads. On the HRX, each row of rollers is arranged at an angle of 45 degrees. This ensures the LM block receives an equal load rating (high rigidity) in all directions. Made for the development of high-precision, energy-saving, high-speed machines with long service lives.
Learn more.
---
New GSL strain wave robotic gearboxes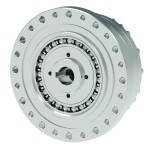 GAM has released the new GSL series of strain wave gearboxes, which provide zero backlash and high torque in a small gearbox for robotic and motion control applications. The GSL gearbox uses harmonic gearing for a very compact design that easily integrates into applications requiring high ratios and high precision in a small form factor. The GSL series is available in frame sizes 14 to 40 and reduction ratios 50:1 to 160:1.
Learn more.
---
App Note: Mini linear actuator with Linfinity nut
When a customer was trying to fit a motorized linear actuator that needed to move a couple pounds into a small space that could not accommodate a conventional off-the-shelf-type solution, Lin Engineering's team got to work. The novel solution included an actuator system using a 106 motor, a lead screw, a self-lubricating LinFinity nut to remove backlash and provide maintenance-free performance, and a right-size encoder to provide the feedback the system needed.
Read the Lin Engineering application story.
---
New servo drive for high-power robotic applications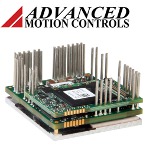 The mini-sized FE100-50-RM FlexPro RS485/RS232 servo drive from ADVANCED Motion Controls is capable of outputting 50 A continuous current rms and 100 A peak current, providing the torque necessary to drive motors in larger mobile robots. The servo drive has a wide input voltage range of 20-90 DC, allowing it to power mobile robots all day -- even as the battery levels drop. Despite the drive's small size, it can outperform larger-sized digital servo drives and still be integrated into tight spaces. While slightly larger than the micro-sized models, two mini-sized FlexPro drives can still fit on a standard business card.
Learn more.
---
Drop-in motor solutions for robotics, automation, medical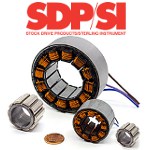 SDP/SI now offers the NH1-D Frameless Brushless Motor series for smaller machines that require precision and high efficiency. Rated for continuous operation, they are an ideal solution for many applications including the replacement of heavier, traditional motors by eliminating components, reducing torsional losses, decreasing weight, system inertia, and size envelope, while providing maximum speed control.
Learn more.
---
Cobots hit the classrooms with federal, state, industry recognition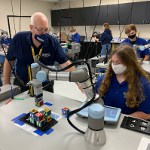 Two major recognitions of Universal Robots' education programs from the U.S. federal Advanced Robotics for Manufacturing Institute and the State of Ohio's Department of Education pave the way for schools and industry to further leverage cobots, offering employability in robotics careers while upskilling the existing workforce.
Read the full article.
---
SCHUNK ADHESO gripper wins New Product of the Year Award at 2021 ASSEMBLY Show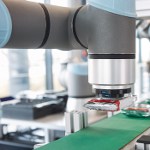 The ADHESO gripper from SCHUNK uses no external power supply to activate its grabbing force. It is not a traditional vacuum system and does not use magnets. It just "sticks" by pressing to the piece. What makes this gripper -- which has no "fingers" that users can see -- look like it's performing magic?
Read the full article.
---
Is this the world's most precise small six-axis robot?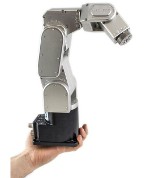 Mecademic, a Canadian robotics manufacturer, says it builds the world's smallest, most precise, and easy-to-use industrial robotic arm -- the Meca500. This six-axis robot can handle payloads up to 500 g with an unmatched accuracy of 0.005 mm. It excels in the precise and repetitive manipulation of small parts and tools in a variety of industries. It's a plug-and-work automation component that integrates with any PC or PLC, doesn't require a proprietary language to learn, and is affordable and easy to use. Plus, it features a unique integrated controller in its base.
Learn more.
---
Autonomous mobile robots do heavier lifting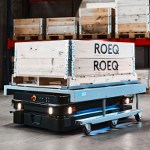 ROEQ has launched two new top modules and accompanying accessories designed to boost the payload and lifting capabilities of autonomous mobile robots (AMRs) from industry leader Mobile Industrial Robots (MiR). Capable of handling total payloads of up to 1,500 kg (3,307 lb), the new ROEQ top module TMS-C1500 combined with the new S-Cart1500W shelf cart greatly increases the payload capabilities of MiR's MiR500, MiR600, MiR1000, and MiR1350 AMRs. Eliminating the need for a docking station, the TMS-C1500 can pick up and drop off the shelf cart in free space and with precision. The AMR is never left idling, and it can simply drop off the cart and immediately go and pick up a new one. ROEQ has also launched the top module TML200 with a stroke of 40 mm that can lift and transport crates, pallets, racks, and ROEQ shelf carts.
Learn more and see these units work.
---
Inductive vs. optical vs. magnetic encoders: How to choose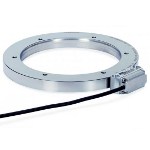 It makes sense that when there isn't a need to spend on a high-end optical encoder, the most common thought is to look directly to magnetic encoders. According to HEIDENHAIN, sometimes that's the right move, but when using an inductive encoder is an available option, your search shouldn't be limited to magnetic or optical. Confused? You won't be after reading this informative HEIDENHAIN blog.
Read the full article.
---
How to avoid premature linear screw actuator failure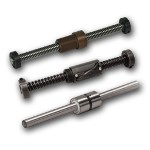 At their core, electric linear screw actuators deploy mechanical technology such as ball bearings, ball screws, and roller screws that have a finite life. These components do not last forever -- even though that is the expectation of some customers. But how long will an actuator really last? Tolomatic engineers provide a way to calculate, estimate, and size the electric linear screw actuator to achieve the desired life for your application.
Read this informative Tolomatic blog.
---
Researchers find vulnerabilities in cars connected to smartphones
Many of today's automobiles leave the factory with secret passengers: prototype software features that are disabled but that can be unlocked by clever drivers.
In what is believed to be the first comprehensive security analysis of its kind, Damon McCoy, an assistant professor of computer science and engineering at the NYU Tandon School of Engineering, and a group of students at George Mason University found vulnerabilities in MirrorLink, a system of rules that allows vehicles to communicate with smartphones.
MirrorLink, created by the Connected Car Consortium, which represents 80 percent of the world's automakers, is the first and leading industry standard for connecting smartphones to in-vehicle infotainment (IVI) systems. However, some automakers disable it because they chose a different smartphone-to-IVI standard, or because the version of MirrorLink in their vehicles is a prototype that can be activated later.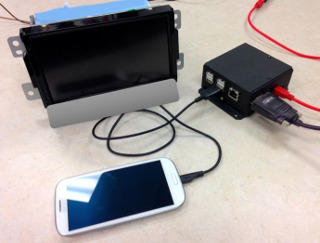 Hardware setup in which an Android phone is integrated with the head unit of a 2015 model vehicle (upper left). MirrorLink is the connection protocol and allows the driver or passenger to control phone apps via the car's dash and steering wheel controls.
McCoy and his colleagues found that MirrorLink is relatively easy to enable, and when unlocked can allow hackers to use a linked smartphone as a stepping stone to control safety-critical components, such as the vehicle's anti-lock braking system. McCoy explained that "tuners" -- people or companies who customize automobiles -- might unwittingly enable hackers by unlocking insecure features.
"Tuners will root around for these kinds of prototypes, and if these systems are easy to unlock they will do it," he says. "And there are publicly available instructions describing how to unlock MirrorLink. Just one of several instructional videos on YouTube has gotten over 60,000 views."
The researchers used such publicly available instructions to unlock MirrorLink on the in-vehicle infotainment system in a 2015 vehicle they purchased from eBay for their experiments.
The automaker and supplier declined to release a security patch -- reflecting the fact that they never enabled MirrorLink. McCoy pointed out that this could leave drivers who enable MirrorLink out on a limb.
The authors hope their research, presented at the 10th USENIX Workshop on Offensive Technologies (WOOT '16) in Austin, TX, this past August, will raise the issue of drivers unlocking potentially insecure features before IVI protocols such as MirrorLink are even more widely deployed. Their paper is, "A Security Analysis of an In-Vehicle Infotainment and App Platform," by lead co-authors Sahar Mazloom and Mohammad Rezaeirad along with Aaron Hunter and McCoy. General Motors, the National Science Foundation, and the Department of Homeland Security provided funding.
Source: NYU Tandon School of Engineering
Published September 2016
Rate this article