Wheels:
10 great Chevrolet racing engines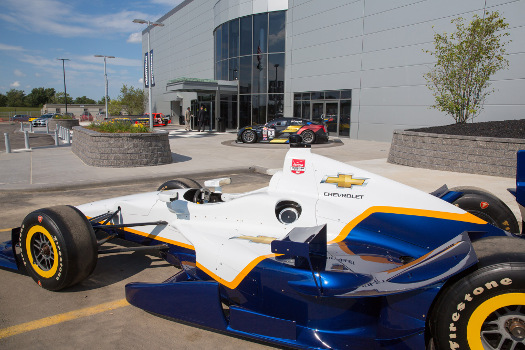 Lobby interior vehicle on special display outside the new GM Performance and Racing Center in Pontiac, MI. [All images courtesy: Chevrolet]
Earlier this year, Chevrolet began consolidating its racing engine programs under one roof at its all-new Powertrain Performance and Racing Center in Pontiac, MI. This state-of-the-art facility is designed to enhance the development processes for the company's diverse racing engine programs.
The 111,420-sq-ft complex is connected to GM's Global Powertrain Engineering Center and is part of a $200-million investment at the Pontiac, MI, campus. It relocates the racing center from Wixom, MI, to the Pontiac Powertrain Campus, bringing together under one roof an additional team of nearly 100 engine builders, engineers, and other support staff. The Performance and Racing team is responsible for developing engines for NASCAR, NHRA, IndyCar, IMSA, and other racing series.
It also leverages the resources at the Global Powertrain Engineering Center, enabling faster and more integrated technology transfer between GM's racing experience and production-vehicle powertrains. Capabilities include: design release, full CNC machining, engine build, electronics and telematics, dyno validation, and calibration.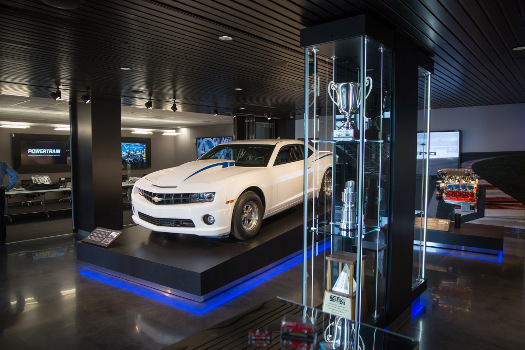 The new center will be responsible for:
NASCAR "R07": a unique 358-cubic-inch V-8 engine designed and developed exclusively for NASCAR Sprint Cup racing.
IndyCar 2.2L Twin-Turbo V-6: a technical marvel that uses a pair of high-boost-producing turbochargers to help extract about 700 horsepower from the small-displacement, direct-injected V-6.
NHRA COPO Camaro V-8 engines: racers competing with a new 2016 COPO Camaro in NHRA's Stock and Super Stock eliminator classes can select from supercharged and naturally aspirated LS- and LT-family engines.
Corvette Racing 5.5L V-8: Based on the production LT engine family, the naturally aspirated and all-aluminum 5.5L V-8 engine is used by the Corvette Racing C7.R team.
Cadillac ATSV.R Twin Turbo: A racing engine based on the production model's 3.6L twin-turbo engine.
The high-performance crate engines and crate powertrain systems offered by Chevrolet Performance are also developed at the new facility.
A clean-sheet design of the new facility incorporates the latest engine-assembly, engine-testing, and calibration equipment. The connected layouts of the engine assembly and testing areas are designed to enhance workflow, making it easier for the eight dedicated performance and racing engine builders to retrieve parts, build engines, and move them to the dyno cells.
What's inside the new center?
Engine assembly: There are 10 all-new engine build bays -- eight in the engine build room and two in the prep area to facilitate quicker transfer to dyno testing and other validation areas. Each 120-sq-ft bay has an air drop for powered tools and access to an overhead crane for easy loading on the build stands. Builders also use specialized tools such as programmable torque wrenches to help ensure consistency with the engines. Additional specialty tools include a Cam Doctor for precise camshaft evaluations and a ROMER Arm coordinate measuring machine.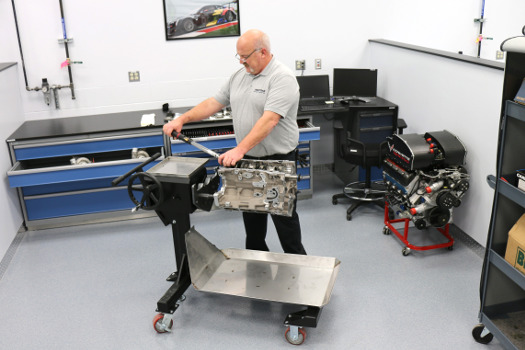 The race engine build bay a the Performance and Racing Center.
Machining: Engineers and builders also have access to over 30 machining tools, offering complete machining capability for cylinder blocks, cylinder heads, fuel rails, and engine components, comparable to the racing industry's best racing shops. The equipment roster includes nine CNC machines that can transform designs right into new components, including a new Hurco five-axis machine. The staff also has access to a 3D printer for constructing new or modified components, as well as laser scanners to help ensure the powertrain parts meet the high degree of dimensional accuracy demanded by racing.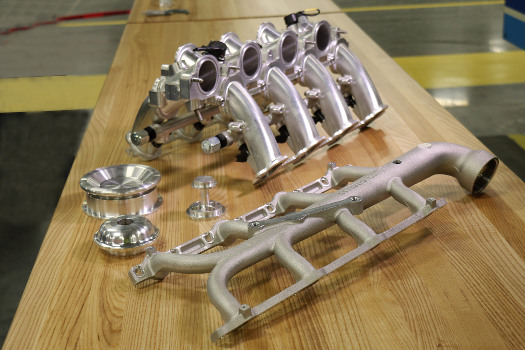 Machined parts, including C7R intake.
Engine testing: There are four state-of-the-art AVL engine dynamometer cells dedicated to the Performance and Racing Center: two gas-powered engine dynos, a gas-powered driveline dyno, and a new electric driveline dyno.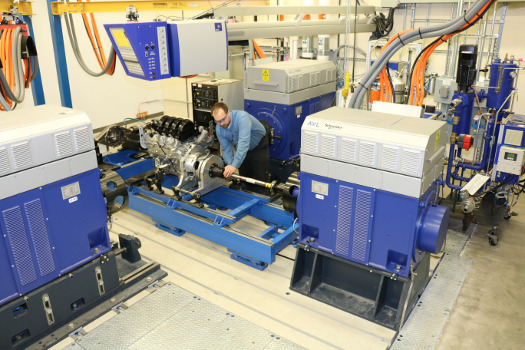 Electric driveline dyno at the Performance and Racing Center.
The engine dynos are similar to those used to develop GM's production engines, but rated for the high output of racing engines. The gas and electric driveline dynos are firsts for GM Powertrain's campus and are used to test axle differentials for NASCAR and IndyCar. The drive input capability for each is more than 1,000 hp and approximately 560 lb-ft of torque, while the drive output capability is approximately 885 hp and 2,500 lb-ft of torque.
Calibration: An electronics lab is used for the design, assembly, and calibration of custom control systems that drive most of the racing and performance engines. Engineers are also able to make calibration changes in the dyno cells. In fact, the dynos can use telemetry data from the race cars' control systems to replay an engine's entire race, which can help with development of new engines and calibration changes for existing ones.
Interactive lobby and meeting space: The new Performance and Racing Center also features an airy, modern, and connected lobby that celebrates GM's motorsports legacy, as well as a conference center that accommodates up to 125 people. It can be reserved by racing teams, component suppliers, and even enthusiast clubs and organizations seeking a meeting location under the checkered flags of GM's racing programs.
How Chevrolet's racing program got this far
From NHRA and NASCAR's early days to today's global series, Chevy power has proven to be a winner time and again throughout the years. Now's a good time to look back at 10 engines that helped establish and sustain Chevrolet's winning legacy:
409 V-8: The forerunner of the famous Chevy Big Block engine family, the 409 engine debuted in the 1961 Chevrolet lineup and quickly found favor with racers for its strong torque and high horsepower capability. The factory rating reached 425 horsepower, making it a powerhouse in NHRA's popular Stock and Super Stock drag racing classes. The 409 was instantly recognizable by its W-shaped rocker covers.




427 "Mystery" engine: In 1963, NASCAR racer Junior Johnson raised eyebrows with a blistering performance at a Daytona 500 qualifying race. The 427-cubic-inch engine -- dubbed the "Mystery V-8" in a magazine story-- powering his race car was specially developed by Chevrolet and included design elements that would evolve into the Big Block family. There were big plans for officially named "Mark II" V-8, but a corporate edict pulling GM brands from organized racing limited its potential.



302 Small Block: SCCA's Trans-Am road racing series mushroomed in popularity by the late 1960s, and Chevrolet's new Camaro would offer great competition among the "pony car" competitors. Problem was, there wasn't a suitable production engine in the lineup that met the series' displacement limit. Leveraging the wide range of Small Block choices, engineers used the 4.00-inch bores of the 327 engine with the same 3.00-inch stroke of a 283 engine to arrive at 302 cubic inch To homologate it for series eligibility, Chevrolet installed it in a special Camaro model ordered with the option code Z28 -- and a legend was born.




427 ZL1 Big-Block: Originally developed for the Can-Am racing series, the 427-cubic-inch ZL1 engine was pushed into a second life when enterprising Chevrolet Dealer Fred Gibb used Chevy's special ordering system known as COPO to build 50 1969 Camaro models with the specialized, all-aluminum racing engine. Other dealers got wind of it and ordered their own, for a total of 69 ZL1-powered Camaros. The engine lived on in road racing, too, offering all the thundering power of a Big Block, but weighing more than 100 lb less, thanks to its lightweight cylinder block and heads.




SB2 "Small Block Second Generation" NASCAR engine: Representing the first time Chevrolet had ever developed an engine package exclusively for NASCAR racing, the 1998 debut of the SB2 was a watershed moment in the brand's motorsports legacy. It was based on the architecture of the classic Small Block, but used unique cylinder heads with a specific valve arrangement to enable greater high-rpm performance and durability than conventional, production-based cylinder heads. Jeff Gordon drove an SB2-powered Chevrolet Monte Carlo to the series championship that year.




R07 NASCAR engine: Building off the success of the SB2 engine program, Chevrolet introduced the totally unique R07 racing engine in 2007. Using state-of-the-art computational fluid dynamics to help optimize high-rpm airflow, the R07 was designed strictly for NASCAR racing, sharing nothing with previous Small Block or Big Block engine designs -- although its "mirror port" cylinder heads are similar to those used in GM's LS-family engines. The engine continues to power NASCAR Sprint Cup racers, who recorded 15 wins in 2015 and claimed a record 13th consecutive manufacturer title.




7.0L Corvette C6.R: From the drop of the very first green flag, the era of the Corvette Racing C6.R would be marked by spectacular achievements, including 39 wins in the GT1 class, championships from 2005-2008, 12 straight wins from 2005 to 2006, and 25 consecutive wins from 2007-2009. All those wins were backed by the power of a production-based 7.0L (427 cubic-inch) racing engine. With deep-breathing cylinder heads leveraging a long legacy of Small Block development, the 7.0L engine proved powerful and durable.




Chevrolet/Ilmor 2.65L Turbo V-8: A special chapter in Chevrolet's racing legacy started with the 1986 CART Champ Car series, when the brand partnered with England's Ilmor Engineering -- at the behest of Roger Penske -- on a small-displacement, 2.65L turbo V-8 engine that would soon become racers' preferred power plant. Its domination through 1992 was unequivocal, capturing 64 of 78 races, including six consecutive Indianapolis 500 wins.




Chevrolet/Ilmor 2.2L Twin-Turbo V-6: Chevrolet's return to IndyCar racing in 2012 introduced an all-new 2.2L twin-turbo V-6 that, like the dominant Chevrolet engine of the late-1980s and early-1990s, was developed in partnership with Ilmor Engineering. The direct-injected, small-displacement engine produces approximately 700 hp and powered Chevrolet drivers to 10 wins out of 16 races in 2015 -- including Juan Pablo Montoya's Indy 500 win.



1.6L Turbocharged I-4: Chevy Cruze has helped make Chevrolet's motorsports legacy a global one. Thanks to a durable 1.6L turbo engine, it has become the dominant car in the World Touring Car Championship (WTCC) series, chalking up more wins than any other manufacturer -- including four consecutive driver championships (2010-2013) and three consecutive manufacturer titles (2010-2012). The 1.6L turbo is based on a production engine used in Cruze models in many global markets.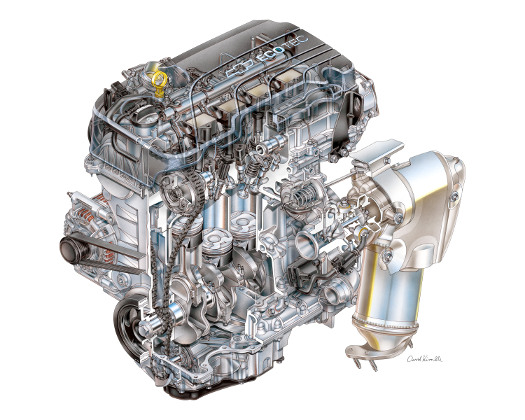 Source: Chevrolet Global Propulsion Systems
Published November 2016
Rate this article