Hybrid actuation system reduces energy consumption, simplifies designs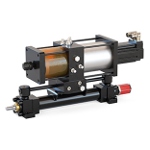 Learn how a leading manufacturer of household cleaning products solved its downtime problems due to an overloaded ball screw in its production-line electromechanical automated plastic cap dumping function. A Hybrid Actuation System (HAS) did the trick, combining the controllability of traditional electromechanical actuators with the power density, longer life, and failsafe conditions commonly found on traditional hydraulic systems.
Read this informative Parker blog.
---
Machine tending solution now compatible with any CNC machine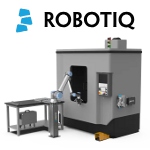 The Robotiq Machine Tending Solution has made automation accessible to businesses of all sizes, overturning the belief that automation is too complicated. The company says their part-feeding solutions can provide up to a 30% production runtime increase -- without communication cards, expensive wiring, custom programming, or permanent modifications.
Learn how to boost your CNC productivity.
---
How to implement redundancy in stepper motors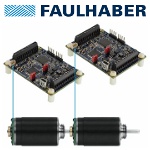 Some of the recent research activities in the area of electric motor drives for safety-critical applications (such as aerospace and nuclear power plants) are focused on looking at various fault-tolerant motor and drive topologies. After discussing different solutions, this article focuses on a miniature permanent magnet (PM) stepper motor design that provides increased redundancy.
Read this informative Faulhaber article.
---
Why choose electric for linear actuators? When precision, multiple positions, repeatability, or position feedback is important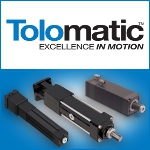 Tolomatic has been delivering a new type of linear motion technology that is giving hydraulics a run for its money. Learn the benefits of electric linear motion systems, the iceberg principle showing total cost of ownership, critical parameters of sizing, and conversion tips.
Read this informative e-book. (No registration required)
---
New mini gearhead for robotics, semiconductor fab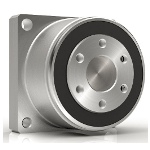 Harmonic Drive is proud to announce the release of its CSF-2XH mini gearhead designed for servo and stepper motors. Available with an output shaft or flange, these gearheads are offered in four sizes with gear ratios of 30:1 to 100:1 and peak torque of .5 to 28 Nm. These mini strain wave gears are ideal for applications such as semiconductor manufacturing and robotics. Available through Electromate.
Learn more.
---
Super cool and versatile palletizing gripper: OnRobot 2FGP20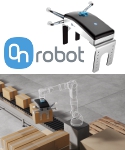 Palletizing just got easier and more affordable with the 2FGP20 from OnRobot, an off-the-shelf electric gripper with a payload of up to 20kg and endless customization possibilities to fit any automation needs. The 2FGP20 is an ideal solution that can be deployed and redeployed for multiple processes and handling different parts.
Learn more about the 2FGP20.
Learn more about palletizing.
---
New linear stages for increased load, speed, stroke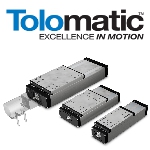 Discover the enhanced possibilities with Tolomatic's new size TRS 225 twin profile rail stage, offering expanded capabilities for precise and powerful linear motion in a closed-package design. This unit is built from the ground up to be highly rigid and accurate and is now available with strokes up to 86.6 in., travel speeds up to 50 in./sec, and load-carrying capacities up to 4,320 lb. Perfect for your heavy-duty needs.
Learn more.
---
Are ball splines right for your application?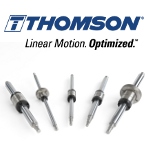 Thomson Industries says ball splines are making a comeback, because more opportunities for automation bring more axes of motion to machinery, and pre-packaged solutions may not have the flexibility you require. But are ball splines the right choice for your design needs? They have the unique capability of integrating rotary and linear motion on a single shaft.
Read the Thomson technical article.
---
New stainless steel AC inverter-duty gearmotors meet IP-69K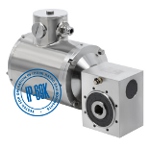 Bodine Electric Co. has introduced six new type 56R1-50JW/H hollow shaft gearmotors that combine a stainless-steel AC inverter-duty, 230/460 VAC motor with a stainless-steel hollow shaft gearhead. When used with an AC inverter (VFD) control, these gearmotors deliver variable speed and maintenance-free operation over a wide speed range. Ideal for equipment subject to intensive cleaning, such as food and beverage, pharmaceuticals, and permanently wet environments.
Learn more.
---
Extend your range of motion: Controllers for mini motors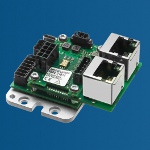 FAULHABER has added another extremely compact Motion Controller without housing to its product range. The new MC3603 controller is ideal for integration in equipment manufacturing and medical tech applications. With 36 V and 3 A (peak current 9 A), it covers the power range up to 100 W and is suitable for DC motors with encoder, brushless drives, or linear motors.
Learn more.
---
Motion systems: Check out THK's new online store!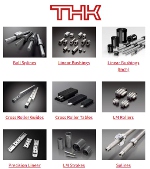 THK has launched a new online store that is chock full of your motion system needs. Check out their latest offerings for Linear Motion Products (guides, actuators, rails, splines, and rollers), Feed Screw Products (ball and lead screws), Rotation Products (cross roller rings and cam and roller followers), Oscillation Products (link balls, rod ends, spherical bearings), and more. Lubrication Products available too.
See the new THK store.
---
Advantages of slotless motors over standard stepper motors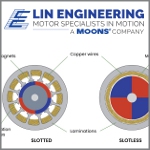 According to Lin Engineering, "Slotless motors have gone through innovations in design as well as manufacturing, making them a good choice for specific applications." This article explores the benefits and drawbacks of slotless motors and provides information that may help you decide when to -- and when not to -- select them as a solution.
Read the full article.
---
Intro to motor constants for fractional horsepower gearmotors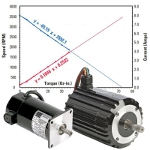 According to motor expert Bodine Electric, "Motor constants are needed to calculate permanent magnet DC (PMDC) or brushless DC (BLDC or EC) motor specifications and ratings, or to match the motor properly to an amplifier." You need the constants to predict the motor's performance with changing variables, such as different input voltages or different loads. This app note explains what the constants are, how they are derived. and how to use them. Very useful.
Read this informative Bodine Electric blog.
---
New wheel hub gearbox for AGVs and AMRs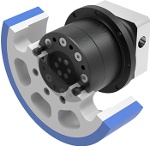 Drive your automated guided vehicles (AGVs) and autonomous mobile robots (AMRs) with the GAM GML Wheel Drive Gearbox. GAM's GML Series Wheel Drive Gear Reducer uses planetary gearing for a coaxial system. The motor mounts directly behind the wheel without axle offset for an inline drive from wheel to motor. Features a compact design with short overall length.
Learn more.
---
New rack-and-pinion LJ linear heads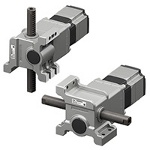 Oriental Motor USA has released the new LJ Linear Heads for its Rack and Pinion system lineup. The LJ Series features a new linear head with a maximum transportation weight of 200 kg. By attaching it to the parallel shaft gearhead and motor, linear motion such as pushing, pulling, lifting, and lowering is possible. Perfect for high-load and long-stroke applications.
Learn more.
---
New spin on old tech: Four-stroke engine cycle produces hydrogen from methane and captures CO2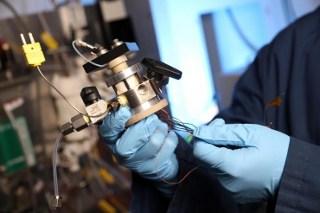 Georgia Tech researchers have demonstrated a CHAMP reactor, which uses the four-stroke engine cycle to create hydrogen while simultaneously capturing carbon dioxide emissions. [Credit: Candler Hobbs, Georgia Tech]
By John Toon, Georgia Tech
When is an internal combustion engine not an internal combustion engine? When it's been transformed into a modular reforming reactor that could make hydrogen available to power fuel cells wherever there's a natural gas supply available.
By adding a catalyst, a hydrogen separating membrane, and carbon dioxide sorbent to the century-old four-stroke engine cycle, researchers have demonstrated a laboratory-scale hydrogen reforming system that produces the green fuel at relatively low temperature in a process that can be scaled up or down to meet specific needs. The process could provide hydrogen at the point of use for residential fuel cells or neighborhood power plants, electricity and power production in natural-gas powered vehicles, fueling of municipal buses or other hydrogen-based vehicles, and supplementing intermittent renewable energy sources such as photovoltaics.
Known as the CO2/H2 Active Membrane Piston (CHAMP) reactor, the device operates at temperatures much lower than conventional steam reforming processes, consumes substantially less water, and could also operate on other fuels such as methanol or bio-derived feedstock. It also captures and concentrates carbon dioxide emissions, a by-product that now lacks a secondary use -- though that could change in the future.
Unlike conventional engines that run at thousands of revolutions per minute, the reactor operates at only a few cycles per minute -- or more slowly -- depending on the reactor scale and required rate of hydrogen production. And there are no spark plugs, because there's no fuel combusted.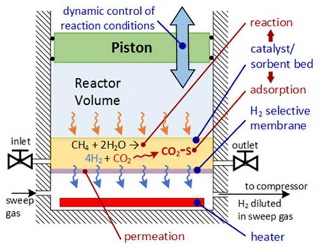 Schematic shows the components of a CHAMP cylinder-piston assembly used to create hydrogen from methane and steam via variable volume catalytic reaction. The process also concentrates carbon dioxide emissions from the process. [Credit: David Anderson, Georgia Tech]
"We already have a nationwide natural gas distribution infrastructure, so it's much better to produce hydrogen at the point of use rather than trying to distribute it," said Andrei Fedorov, a Georgia Institute of Technology professor who's been working on CHAMP since 2008. "Our technology could produce this fuel of choice wherever natural gas is available, which could resolve one of the major challenges with the hydrogen economy."
A paper published February 9 in the journal Industrial & Engineering Chemistry Research describes the operating model of the CHAMP process, including a critical step of internally adsorbing carbon dioxide, a byproduct of the methane reforming process, so it can be concentrated and expelled from the reactor for capture, storage, or utilization.
Other implementations of the system have been reported as thesis work by three Georgia Tech Ph.D. graduates since the project began in 2008. The research was supported by the National Science Foundation, the Department of Defense through NDSEG fellowships, and the U.S. Civilian Research & Development Foundation (CRDF Global).
Key to the reaction process is the variable volume provided by a piston rising and falling in a cylinder. As with a conventional engine, a valve controls the flow of gases into and out of the reactor as the piston moves up and down. The four-stroke system works like this:
Natural gas (methane) and steam are drawn into the reaction cylinder through a valve as the piston inside is lowered. The valve closes once the piston reaches the bottom of the cylinder.
The piston rises into the cylinder, compressing the steam and methane as the reactor is heated. Once it reaches approximately 400 deg C, catalytic reactions take place inside the reactor, forming hydrogen and carbon dioxide. The hydrogen exits through a selective membrane, and the pressurized carbon dioxide is adsorbed by the sorbent material, which is mixed with the catalyst.
Once the hydrogen has exited the reactor and carbon dioxide is tied up in the sorbent, the piston is lowered, reducing the volume (and pressure) in the cylinder. The carbon dioxide is released from the sorbent into the cylinder.
The piston is again moved up into the chamber and the valve opens, expelling the concentrated carbon dioxide and clearing the reactor for the start of a new cycle.
"All of the pieces of the puzzle have come together," said Fedorov, a professor in Georgia Tech's George W. Woodruff School of Mechanical Engineering. "The challenges ahead are primarily economic in nature. Our next step would be to build a pilot-scale CHAMP reactor."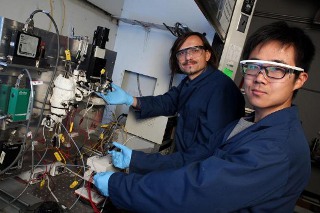 Georgia Tech professor Andrei Fedorov (left) and undergraduate research assistant Yuzhe Peng are shown with the laboratory-scale hydrogen reforming system that produces the green fuel at relatively low temperature in a process that can be scaled up or down to meet specific needs. [Credit: Candler Hobbs, Georgia Tech]
The project was begun to address some of the challenges to the use of hydrogen in fuel cells. Most hydrogen used today is produced in a high-temperature reforming process in which methane is combined with steam at about 900 deg C. The industrial-scale process requires as many as three water molecules for every molecule of hydrogen, and the resulting low-density gas must be transported to where it will be used.
Fedorov's lab first carried out thermodynamic calculations suggesting that the four-stroke process could be modified to produce hydrogen in relatively small amounts where it would be used. The goals of the research were to create a modular reforming process that could operate at between 400 and 500 deg C, use just two molecules of water for every molecule of methane to produce four hydrogen molecules, be able to scale down to meet the specific needs, and capture the resulting carbon dioxide for potential utilization or sequestration.
"We wanted to completely rethink how we designed reactor systems," said Fedorov. "To gain the kind of efficiency we needed, we realized we'd need to dynamically change the volume of the reactor vessel. We looked at existing mechanical systems that could do this, and realized that this capability could be found in a system that has had more than a century of improvements: the internal combustion engine."
The CHAMP system could be scaled up or down to produce the hundreds of kilograms of hydrogen per day required for a typical automotive refueling station -- or a few kilograms for an individual vehicle or residential fuel cell, Fedorov said. The volume and piston speed in the CHAMP reactor can be adjusted to meet hydrogen demands while matching the requirements for the carbon dioxide sorbent regeneration and separation efficiency of the hydrogen membrane. In practical use, multiple reactors would likely be operated together to produce a continuous stream of hydrogen at a desired production level.
"We took the conventional chemical processing plant and created an analog using the magnificent machinery of the internal combustion engine," Fedorov said. "The reactor is scalable and modular, so you could have one module or a hundred modules depending on how much hydrogen you needed. The processes for reforming fuel, purifying hydrogen, and capturing carbon dioxide emission are all combined into one compact system."
CITATION: David M. Anderson, Thomas M. Yun, Peter A. Kottke and Andrei G. Fedorov, "Comprehensive Analysis of Sorption Enhanced Steam Methane Reforming in a Variable Volume Membrane Reactor," (Industrial & Engineering Chemistry Research, 2017). http://dx.doi.org/10.1021/acs.iecr.6b04392
Published March 2017
Rate this article