New 3D-printing resin creates static-dissipative parts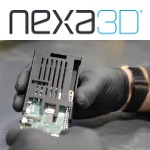 The new xESD resin from Nexa3D, a leading maker of ultrafast professional and industrial polymer 3D printers, is a rigid photoplastic material with a stable carbon nanotube dispersion that delivers optimal static-dissipative performance and isotropic mechanical properties, which are required by the electronics manufacturing industry. The xESD resin allows users to create custom jigs, fixtures, grippers, assembly aides, and enclosures in hours without the risk of ESD damage to high-value electronic components. Available for NXE Pro series printers and the XiP desktop 3D printer.
View the video and learn what else is new from Nexa3D.
---
Test your knowledge: High-temp adhesives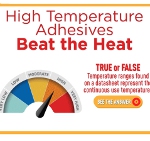 Put your knowledge to the test by trying to answer these key questions on how to choose the right high temperature-resistant adhesive. The technical experts from Master Bond cover critical information necessary for the selection process, including questions on glass transition temperature and service temperature range. Some of the answers may surprise even the savviest of engineers.
Take the quiz.
---
Next-gen controlled pneumatics from Festo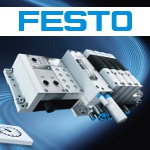 Festo's controlled pneumatics combines proportional technology, sensors, and control algorithms to form a control loop. These are mechatronic pneumatic systems with innovative valve and communication technologies that enable digital influence in conjunction with closed-loop control based on a sensor variable. This creates new areas of application, especially for pressure and flow control. Learn about digitized pneumatics in tire manufacturing and how piezo technology increases valve life in wafer manufacturing.
Read the full Festo applications article.
---
Standard parts in hygienic design from JW Wico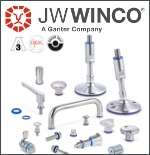 JW Winco has developed a complete product family of special standard parts that combine minimal contamination tendency with optimum cleaning ability to meet the highest sanitary standards. The new GN 6226 spacers, which avoid duplicate mounting surfaces, join the existing range of knobs, U-handles, hand levers, indexing plungers, latches, cover sleeves, leveling feet, and screws. In all cases, stainless steel with vibratory finished or polished surfaces is used as the material.
Learn more.
---
Small valves prevent big blowups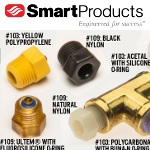 Smart Products USA says their best example of a true relief valve can be found in Models #103 and #109. Available as a 1/8" Male NPT style, these valves are easily placed into plastic, metal, or other materials with absolutely no tubing involved. While the majority of the company's valves function as both a check and pressure-relief flow control option, Models #103 and #109 are more suited to only relieve pressure. When pressure builds to a designated PSI level, this spring-loaded valve responds and allows flow of liquids/gasses slowly to prevent blowups or damage.
Learn more.
---
Great Resources: EXAIR Case Study Library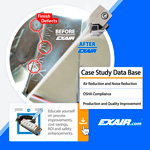 Learn how EXAIR compressed air-operated products improved production rates, lowered defects, increased safety, and provided quick ROI. Each of the more than 40 studies includes an application goal, the process problems before EXAIR, and the final improvements achieved. EXAIR's real-world gains include dollars saved, SCFM saved, decibels lowered, quality improvements, and more.
Check out the case study library.
---
New igus polymer spherical ball strengthens food safety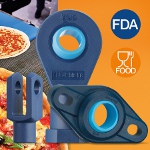 To make food-processing facilities and machinery even safer, igus, the Germany-based manufacturer of motion plastics, has launched a new standard in the form of the high-performance plastic iglide A181 as a spherical ball material for the igubal Food Contact (FC) joint system. Moving on stainless steel shafts, the spherical cap is three times more wear resistant than the previous version made from iglide FC180. It also costs 25% less and is self-lubricating, maintenance-free, and FDA and EU 10/2011 compliant.
Learn more.
---
Photo-chemical etching: What design engineers need to know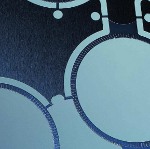 Dr. Angel Lopez, director of Business Development at micrometal GmbH, one of Europe's leading photo-chemical etching providers, discusses what considerations design engineers need to bear in mind when working with this versatile and sophisticated metal machining technology that produces complex and feature-rich metal parts and components that are burr and stress free.
Read the full article.
---
Honing a life-saver for aerospace component maker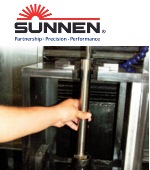 Fuse pins are designed to hold a jet engine on a wing, but to break away in emergency situations, allowing the engine to separate from the wing to prevent catastrophic structural failure and fires. Learn how Sonic Industries relies on Sunnen's SV-1000 honing system to produce the 5- to 7-micron ID tolerance and proprietary finish critical to this part's performance. The CNC-controlled SV-1000 allowed Sonic to meet ramped-up customer demand when it replaced a manual honing system, decreasing cycle times dramatically and increasing part production.
Read the Sunnen case study.
---
Adhesives for titanium: Lap shear strength tests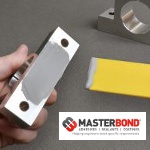 When it comes to bonding titanium to itself or to other substrates, Master Bond has formulated a range of reliable, high-strength adhesives that yielded excellent results when tested for their lap shear strength using titanium substrates. Titanium is known for its high strength, corrosion resistance, and heat transfer properties. See the results of which epoxies performed the best when also considering different processing and operation conditions.
Read the Master Bond results.
---
One Touch Fasteners slash set-up times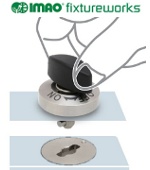 Quick-release One Touch Fasteners from Fixtureworks provide quick and easy locking and unlocking for fixture plates, covers, machine components, and more. These quarter-turn clamping fasteners have clearly visible ON and OFF markings and are ideal for fast-changeover applications and frequent disassembly, providing reliable hold up to 100 lb. Lots of versions available, including standard, retractable, heavy duty, and knob- and button-locking pins.
Learn more and see case study examples.
---
Desktop Metal qualifies nickel alloy Inconel 625 for 3D printing on Studio System 2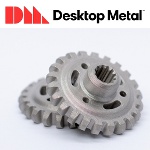 3D-printer maker Desktop Metal has qualified the use of the nickel alloy Inconel 625 (IN625) for its Studio System, an office-friendly metal additive manufacturing system that prints high-performance metal parts in low volumes for pre-production and end-use applications. IN625 is a high-performance alloy known for high levels of strength, temperature resistance, and corrosion resistance.
Read the full article.
---
6 advanced FDM 3D-printing tips when adding metal parts to your build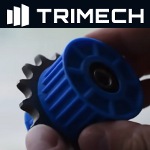 Fused Deposition Modeling (FDM) 3D-printing machines use thermoplastic resins and strong, tough materials for real applications. Learn from the experts at TriMech how to prepare for incorporating metal parts such as bushings, hex nuts, roller chain, and rods into FDM builds to create complicated parts that need to stand up to repeated use.
View the TriMech video.
---
Electromagnetic interference O-rings case study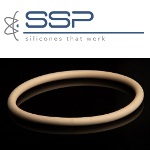 Specialty Silicone Products (SSP) recently supplied hot vulcanized EMI (electromag-netic interference) O-rings to a company that needed to replace EMI gaskets that had failed EMC testing. EMI O-rings made of electrically conductive silicones combine reliable environmental sealing and broad temperature resistance with proven levels of shielding against EMI. Learn how hot vulcanizing with a conductive adhesive, the joining process that SSP uses, eliminates EMI leakage and a "hard spot" where ends are joined using a non-conductive adhesive.
Read this informative SSP case study.
---
5 new manufacturing options from Xometry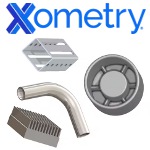 Get the parts you need made fast and at a great price. Xometry has added five new manufacturing options to their quoting engine: Die Casting, Metal Extrusion, Metal Stamping, Laser Tube Cutting, and Tube Bending. Experts will manually quote these options and work closely with you to ensure the best outcome and success. Get your quote today, and get started on your next metal production order.
Learn more.
---
Scientists predict a new superhard material with unique properties
Chemists from Russia and China have predicted a new superhard material that can be used in drilling, machine building, and other fields.
The new tungsten boride they discovered outperforms the widely used "pobedit," a hard tungsten carbide and cobalt composite material with artificial diamond interspersing. The results of their study were published June 2 in The Journal of Physical Chemistry Letters.
Superhard substances have a broad scope of application spanning well drilling, machine building, metalworking, defense industry, surgery, and many other fields. The hardest known material, diamond, is an unaffordable luxury in many applications. Its distant competitor, pobedit, has remained unrivaled for the last 80 years.
Developed in the 1930s, pobedit was used during World War II to make anti-tank shell caps (the word "pobedit" is actually derived from the Russian "pobeda," which means "victory") and has been used for decades to manufacture drill bits for drilling rigs. Harder materials either require higher pressure synthesis or have much lower fracture toughness.
A team of Skoltech (Moscow) scientists led by Professor Artem Oganov used their USPEX evolutionary algorithm to predict a new material, WB5, that can be synthesized at normal pressure and can successfully compete with pobedit in the two most essential parameters -- hardness and fracture toughness -- which are 50 percent higher and 20 percent lower, respectively, for WB5 as compared to pobedit. The new material is a previously unknown compound that can be easily obtained under normal conditions. The Skoltech scientists performed their study within the framework of Gazprom Neft's large-scale project aimed at creating new materials for drilling applications.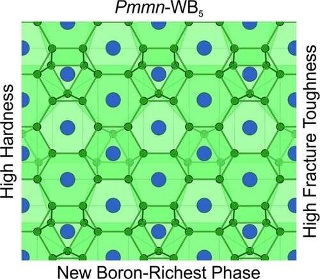 Schematic of the new material's structure. [Credit: Alexander G. Kvashnin et al., The Journal of Physical Chemistry Letters]
"Before we discovered the new material, we had studied a lot of systems on the computer, trying to predict stable chemical compounds and calculate their properties. These were quite interesting substances, although they could hardly compete with pobedit. At some point I thought we would never beat pobedit, which has stood its ground for almost a century -- and for good reason. But suddenly, we saw a glimmer of hope and soon found a unique compound, WB5," says the study lead, Artem Oganov.
"The tungsten-boron system has been the subject of a multitude of experimental and theoretical studies, and it is surprising that this compound has not been discovered until now," says the first author Dr. Alexander Kvashnin.
Source: Moscow Institute of Physics and Technology
Published August 2018
Rate this article