Get your CAD under control before implementing PLM
By Jon Gable, Adaptive Corporation
In the 1980s, computer aided design software (or CAD) started to be widely adopted by companies of all sizes, because for the first time it was possible to run the software on lower cost personal workstations instead of the more expensive mainframes and minicomputers that were previously required. This technology shift accelerated the move from 2D drafting boards and greatly improved designer productivity and the ability for companies to development and launch products in less time than ever before.
However, there was a hidden cost. The adoption of personal workstations also meant that the design data was no longer centrally stored and managed. Designers were able to store their design files directly on personal workstations or shared network drives. This would often result in two issues:
Accessing outdated information due to poor revision/version control of design data, and
Poor reuse of existing designs due to designers not being able to easily search files on a network drive that is disorganized with duplicate files and repetitive directory structures.
For larger companies, addressing these challenges (and others like data security) led to the implementation of "product data management" systems or PDM, which is software to manage the access to CAD drawings through a secure interface (PDM is also often referred to as a "CAD vault" to convey the image of the CAD being tightly controlled). When the PDM system controls the CAD data, it also adds information about it to assist with search. Over time, PDM software led to the introduction of "product lifecycle management" systems or PLM, which have the same capabilities of PDM for CAD vaulting but also add other functionality, such as bill-of-material, project, quality, and requirements management to name just a few.
Despite the widespread adoption of PDM and PLM technology by large companies, the vast majority of companies below 20 designers have yet to implement these solutions and still just use shared drives to store their CAD files from the past 20 to 30 years. Companies know where they need to be regarding their systems and processes, but each year they fail to address these needs -- which just makes the task more daunting. Each year that passes without PDM/PLM is another year of CAD data becoming more disorganized, making it even more difficult to migrate to a new system.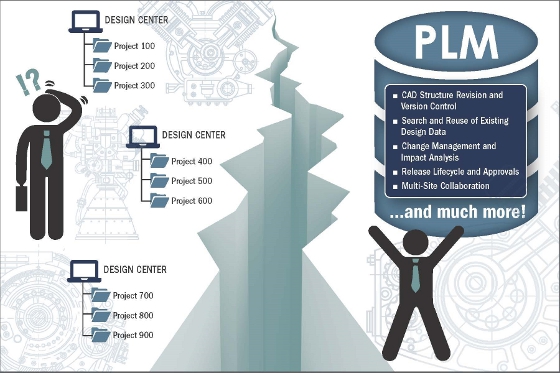 Faced with this dilemma, some companies are turning to CAD geometry indexing and search technologies to better aggregate their existing CAD file shares. This class of solution interrogates CAD geometry and indexes its shape profile and any attribute information contained in the file. Think of it as using the Google search engine for a company's design data.
The use of this technology allows companies to better identify their design file revisions and versions and prepare for the migration. However, the CAD indexing also allows companies to benefit from improved reuse without having to implement PLM just yet. In fact, the search from a CAD geometry index is superior to most PLM systems, which generally rely only on attribute matching.
Engineering and designer productivity savings of 3 to 5 percent have been reported just by improving search. Of course, the real benefit is avoiding introducing a new part unnecessarily, which can cost tens of thousands of dollars apiece (at least) once design, manufacturing, purchasing, and service costs are factored in. From such savings, it is common for the typical CAD indexing plus search implementation to have a payback of less than one year -- and sometimes even within a few months.
However, a CAD-geometry index and PLM most definitely complement one another. Companies can decide to first implement CAD geometry indexing and search, and then that same capability can be included when eventually implementing PLM and realizing its broader set of benefits. Migrating to a leading PLM platform will integrate your CAD data indexing and search tools with more advanced capabilities for specialized job functions (such as design/simulation management, or customer needs management, project management, etc.) and help you master and control to your advantage the product-data explosion every company is experiencing.
Like what you read here? You may also be interested in reading, "Adopting Cloud PLM in the Manufacturing Industry " (also by Adaptive Corporation). Published September 2018
Rate this article