Wheels: Fastest cop car is now an SUV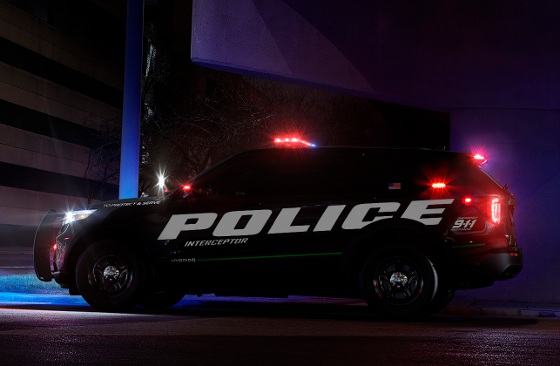 A sport utility from Ford is the best-selling cop car in America, and now it is the best accelerating and fastest police vehicle in the United States, according to preliminary test data from the Michigan State Police. The Ford bested all entries, including V8-equipped sedans, with its EcoBoost-powered all-wheel-drive standard version of the all-new 2020 Police Interceptor Utility -- and it's fuel efficient too.
Ford isn't giving away many details about the new vehicle (or even images!), but they are honking their horn about the performance of its state-of-the-art standard AWD model, which posted the fastest 0-60 mph and 0-100 mph times, as well as fastest lap and fastest average lap during testing.
In addition to turning in the fastest times, the 3.0L V6 EcoBoost Police Interceptor Utility clocked in with the highest top speed -- 150 mph in Michigan State Police evaluations, marking the first time an SUV was the overall quickest and fastest police vehicle.
The 3.3L V6 hybrid version of the 2020 Police Interceptor Utility also beat all competitive SUV entries, including V8-equipped models, with the fastest 0-100 mph, fastest lap, and fastest average lap, which made good on Ford's earlier promise to deliver a hybrid Police Interceptor that outperforms today's 3.7-liter V6 model with all-wheel drive. The hybrid version turned in a top speed of 137 mph.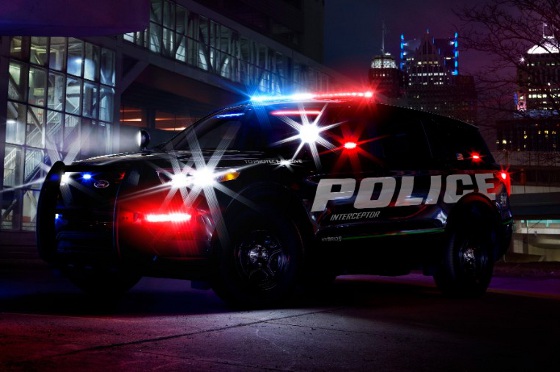 Because law enforcement use entails extensive engine idling to power lighting, radios, computers, and other on-board electrical equipment, a hybrid powertrain is ideal for police departments. The hybrid allows the gas engine to shut off, powering electrical equipment from its lithium-ion battery, with the gas engine running intermittently to charge the battery.
Pitting the standard PI Utility (3.7L AWD) against the all-new hybrid PI Utility (standard HEV AWD), Ford gives the example that for an 8-hr shift with 4.9 hr of idling, the standard PI Utility will use .465 gal of fuel per hr. Multiply that times two shifts a day and times 365 days a year, and you get 1,663 gal used per year. For the new hybrid PI Utility, which uses .204 gal of fuel per hr, you get 730 gal used per year -- a savings of 933 gallons per vehicle per year.
The major upside (or Ford selling point) is that America's law enforcement agencies don't have to choose between fuel efficiency or all-out performance; the new vehicle offers both. There are also no tradeoffs for safety or for passenger or cargo space.
While fuel economy certification isn't complete, the Police Interceptor Utility hybrid is expected to have a projected EPA-estimated combined label of at least 24 mpg -- approximately 40 percent improvement over the current 3.7-liter V6 (actual mileage will vary). Final EPA-estimated ratings are not yet available.
Anticipated fuel economy gains, combined with expected fuel savings from reduced engine idling time, are expected to help save law enforcement customers an estimated $3,500 per vehicle in yearly fuel bills versus the current Police Interceptor Utility.
Ford says if you applied these savings to every Ford Police Interceptor Utility sold in 2017, it would equate to more than $126 million at $2.93 a gallon, or more than 43 million gallons of fuel.
Sales of the Ford Police Interceptor Utility have risen 5 percent in 2018, building on five straight years of sales growth. The Ford Police Interceptor Utility is the No. 1-selling police vehicle in America with 52 percent of all sales to law enforcement in 2017.
The Police Interceptor Utility also adds more than $2,000 in now standard equipment for 2020. This includes a built-in Ford modem with two years of complimentary Ford Telematics service, Bluetooth pass-through voice commands to help officers keep their hands on the wheel and eyes on the road, LED high- and low-beam headlamps with integrated wig-wag capability, four programmable steering wheel switches, Class III trailer-tow bar for up to 5,000 lb of towing capability, and more.
The all-new 2020 Ford Police Interceptor Utility is available to order now, with shipments to customers beginning summer 2019.
Source: Ford Motor Co.
Published October 2018
Rate this article