EVs: Rivian debuts world-first all-electric pickup -- space and power galore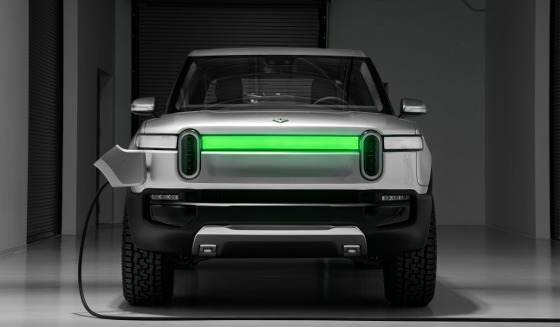 Rivian, a new-kid-on-the-block electric vehicle manufacturer, introduced its R1T, an all-electric, five-passenger pickup at the LA Auto Show at the beginning of this month. Featuring a tailored and restrained design, the truck boasts a range of up to 400+ miles, a wading depth of 1 m, quad-motor AWD that does 0 to 60 mph in 3 sec (wow!), and a totally unique skateboard platform with lots of storage.
Rivian has development centers in Plymouth, MI; San Jose, CA; Irvine, CA; and the UK. The company will produce vehicles at its modern, 2.6-million-sq-ft manufacturing plant in Normal, IL. First delivery target is late 2020.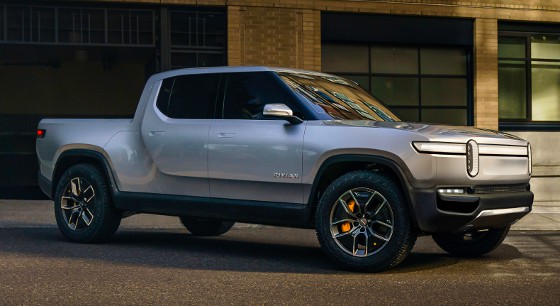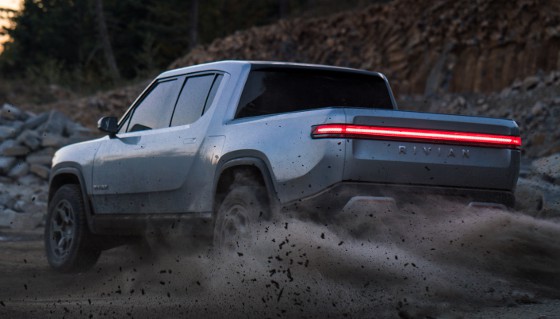 "I started Rivian to deliver products that the world didn't already have -- to redefine expectations through the application of technology and innovation," said RJ Scaringe, Rivian's founder and CEO. "Starting with a clean sheet, we have spent years developing the technology to deliver the ideal vehicle for active customers. This means having great driving dynamics on any surface on- or off-road, providing cargo solutions to easily store any type of gear, whether it's a surf board or a fishing rod and, very importantly, being capable of driving long distances on a single charge. From the inside out, Rivian has developed its vehicles with adventurers at the core of every design and engineering decision."
Unique skateboard platform
The foundation of the R1T (and its future SUV sibling the R1S) is Rivian's skateboard platform, which efficiently packages the battery pack, drive units, suspension, braking, and thermal system all below the height of the wheel, leaving the space above for occupants and their gear.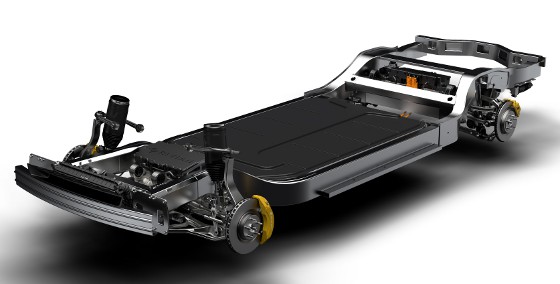 Beyond the packaging benefits, the architecture delivers a low center of gravity that supports the vehicle's agility and stability. Adding to these inertial advantages is a sophisticated suspension architecture with unequal-length double wishbone suspension in the front and a multi-link suspension in the rear. The suspension features dynamic roll control and adaptive dampers along with ride-height adjustable air suspension, which allows the suspension to be adjusted for highway comfort, on-road performance, or off-road capability.
The R1T's designers also say this vehicle architecture delivers more lockable storage than any other pickup in the world. The 330-liter front trunk, for example, is easily accessed for daily use, with the hood fully powered for opening and closing (see what removing the engine can give you?).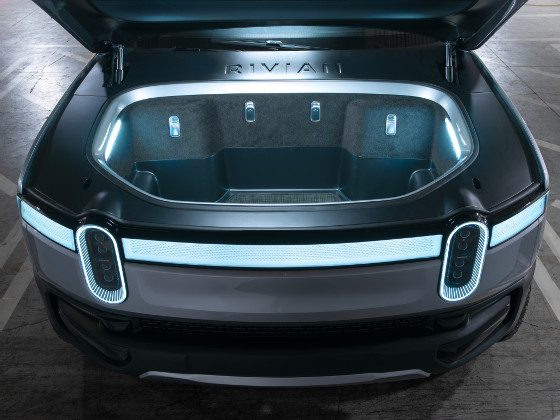 The R1T's lockable Gear Tunnel sits below the cab and extends across the width of the vehicle, providing more than 350 liters of space for hauling oversized gear, such as snowboards, golf bags, or strollers. The Gear Tunnel doors also act as steps for loading items into the bed or onto the roof, as well as a seat and a convenience platform for things like lacing up hiking boots. The R1T bed has a watertight, integrated tonneau cover, and beneath the bed floor is a 200-liter sealed bin that can also be used to store a full-size spare tire. The bed features three 110-V outlets and integrated compressed air.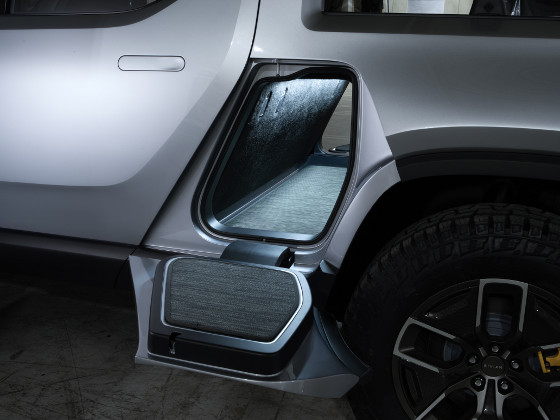 As part of a Gear Guard feature, the bed also has two integrated locking cables to safely secure bicycle frames and other gear to the bed. Any gear stored in the bed is monitored by a bed camera, and the system alerts owners should the bed or contents be tampered with.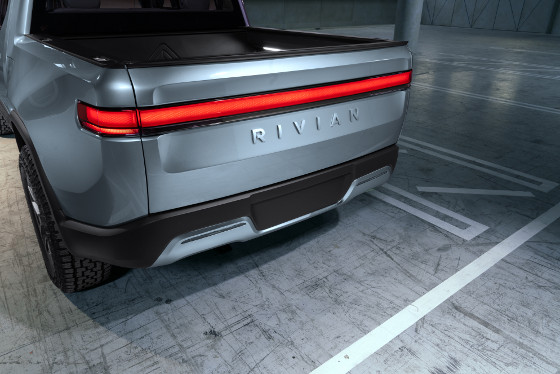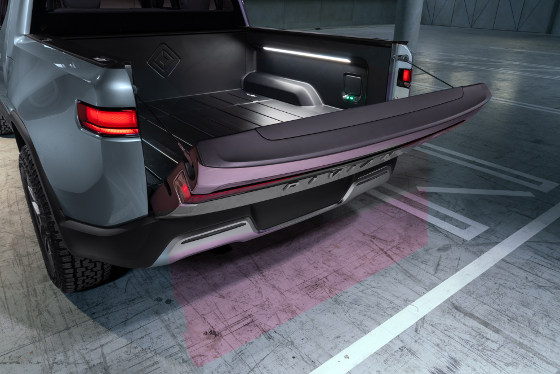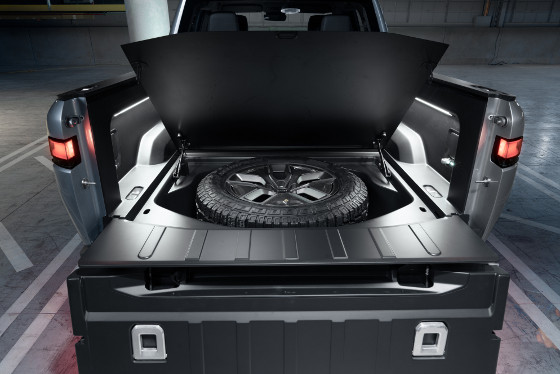 Rivian has also developed a telescoping racking system with easy-to-use mounts that quickly attach to the roof as well as the bed rails and bed floor. The racks integrate with a range of accessories including tents, travel containers, and bike/ski racks. When not in use, the racks can be easily stored in the front trunk.
Super powers
Rivian's trucks also feature a quad-motor system that delivers 147 kW with precise torque control to each wheel, enabling active torque vectoring and maximum performance in every situation, from high-speed cornering to low-speed rock crawling. With 3,500 Nm of grounded torque per wheel (14,000 Nm of torque for the full vehicle), the R1T can reach 60 mph in 3 sec and 100 mph in less than 7 sec.
This powertrain and chassis also enable the R1T's tow rating of 11,000 lb.
"The beauty and elegance of our quad-motor setup isn't just about brute power; this architecture provides instantaneous torque with extremely precise control at each wheel, which is completely game-changing from a dynamics perspective, both on- and off-road," said Mark Vinnels, Rivian's executive director of engineering and programs.
(Um ... we think that if it does 0 to 60 faster than you can count to 10, it is all about brute power. But there are lots of other highlights.)
The energy-dense battery module and pack include tough underbody protection and an advanced cooling system. Adaptive control algorithms learn driver behavior, optimizing user-specific battery management for maximizing battery life, reliability, and second-life reusability. Three battery sizes are planned, with the 180 kWh and 135 kWh available at launch and a 105 kWh being made available within six months.
The battery is designed for fast charging with charging rates of up to 160 kW. This enables approximately 200 miles of range to be added in 30 min. of charging. In addition to DC fast-charging, an 11-kW onboard charger facilitates rapid charging at a Level 2 charger.
The interior is all premium, with an unexpected mix of real wood accents in the design.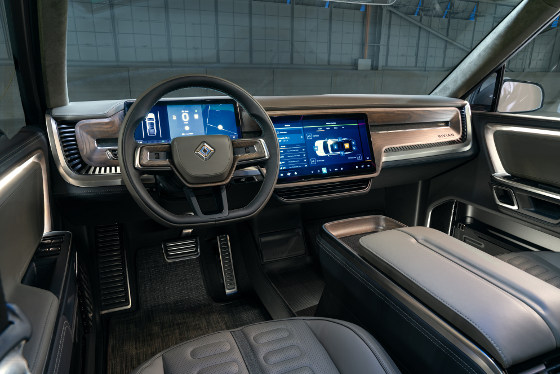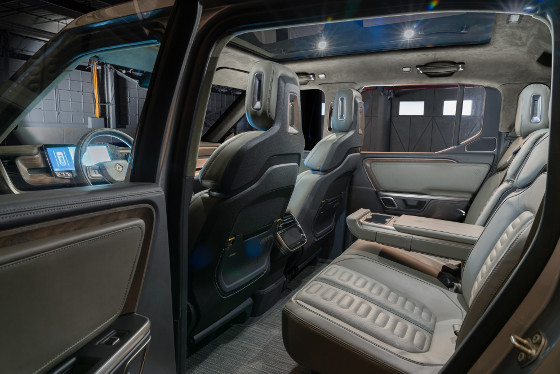 As for connectivity, the truck's system operates on a high-speed Ethernet backbone that enables strong security. This platform supports granular over-the-air updates of vehicle software to enhance functionality and improve performance. All Rivian vehicles connect to a cloud ecosystem for data exchange and processing, enabling machine learning and data services.
The developers say Rivian's safety systems and body-structure design will deliver IIHS Top Safety Pick Plus and NHTSA 5-Star ratings. Safety features include eight airbags for occupant protection and reinforcements of the skateboard platform to protect the battery.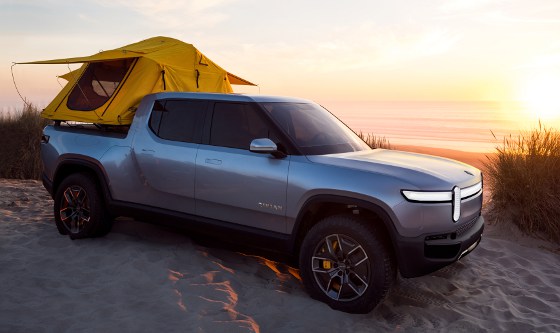 Pricing for the R1T starts at $61,500 after federal tax credit. Deliveries will begin in late 2020. Fully equipped vehicles with the highest performance level and largest battery pack will enter production first, according to Rivian. The 180-kWh pack (400+ miles range) and 135-kWh pack will be available at launch, with the base variant (250+ miles range) to follow within 12 months of the start of production.
Preorders are being accepted for a refundable deposit of $1,000. More information is available at www.rivian.com.
Would you buy an electric pickup?
Source: Rivian
Published December 2018
Rate this article