Boeing gives insider look at new F/A-18 Super Hornet cockpit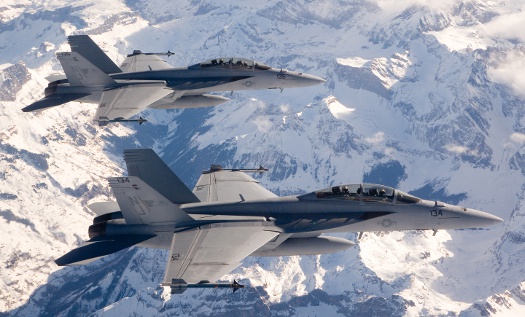 F/A-18E/F Super Hornets. [All images courtesy: Boeing]
Boeing's F/A-18 program recently unveiled its Super Hornet 10-in. x 19-in. large-area touchscreen display, the Advanced Cockpit System, in its Flight Simulation Lab facility in St. Louis. The ACS increases situational awareness for pilots and is a next-generation Block III capability.
The ACS has been installed in the first Super Hornet that will be delivered to Kuwait. It will undergo its first flight this spring.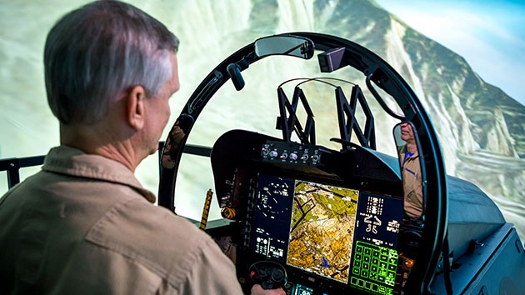 Boeing F/A-18 test pilot Steve "Bull" Schmidt flies the simulator with the new Advanced Cockpit System large area display. [All images courtesy: Boeing]
"This is real hardware with real software installed," said Jennifer Splaingard, F/A-18 development program manager. "All of this is starting to come together for delivery of a first Block III test jet to the Navy at the end of 2019 and the first full-up Block III the year after that."
Watch the video below to learn more about the Block III Super Hornet Advanced Cockpit System.
The F/A-18 Block III Super Hornet is the newest highly capable tactical aircraft in U.S. Navy inventory. The Super Hornet is the backbone of the U.S. Navy carrier air wing now and for decades to come.
The combat-proven Super Hornet delivers cutting-edge, next-generation multi-role strike fighter capability, outdistancing current and emerging threats well into the future. The Super Hornet has the capability, flexibility, and performance necessary to modernize the air or naval aviation forces of any country. Speed is Mach 1.6.
Two versions of the Super Hornet -- the single-seat E model and the two-seat F model -- are able to perform virtually every mission in the tactical spectrum, including air superiority, day/night strike with precision-guided weapons, fighter escort, close air support, suppression of enemy air defenses, maritime strike, reconnaissance, forward air control, and tanker missions.
Find out why F/A-18 pilots and crew on the U.S.S. George H.W. Bush say they're ready for Block III capabilities in this episode of "Super Hornet: Stories from the Deck."
Source: Boeing
Published April 2019
Rate this article