Bottom tapped rails available for quick ship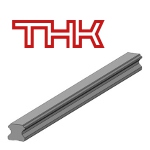 Bottom tapped rails are useful for mounting from the bottom of a base, as well as when contamination protection is required -- eliminating the need for bolt-hole caps. See the available models from THK, including standard and radial LM guides and standard and radial caged ball. All units are available for quick shipping.
Learn more.
---
Hybrid actuation system reduces energy consumption, simplifies designs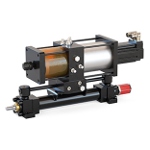 Learn how a leading manufacturer of household cleaning products solved its downtime problems due to an overloaded ball screw in its production-line electromechanical automated plastic cap dumping function. A Hybrid Actuation System (HAS) did the trick, combining the controllability of traditional electromechanical actuators with the power density, longer life, and failsafe conditions commonly found on traditional hydraulic systems.
Read this informative Parker blog.
---
Machine tending solution now compatible with any CNC machine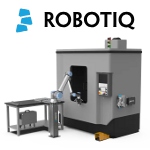 The Robotiq Machine Tending Solution has made automation accessible to businesses of all sizes, overturning the belief that automation is too complicated. The company says their part-feeding solutions can provide up to a 30% production runtime increase -- without communication cards, expensive wiring, custom programming, or permanent modifications.
Learn how to boost your CNC productivity.
---
How to implement redundancy in stepper motors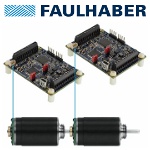 Some of the recent research activities in the area of electric motor drives for safety-critical applications (such as aerospace and nuclear power plants) are focused on looking at various fault-tolerant motor and drive topologies. After discussing different solutions, this article focuses on a miniature permanent magnet (PM) stepper motor design that provides increased redundancy.
Read this informative Faulhaber article.
---
Why choose electric for linear actuators? When precision, multiple positions, repeatability, or position feedback is important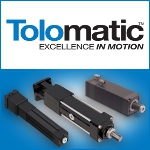 Tolomatic has been delivering a new type of linear motion technology that is giving hydraulics a run for its money. Learn the benefits of electric linear motion systems, the iceberg principle showing total cost of ownership, critical parameters of sizing, and conversion tips.
Read this informative e-book. (No registration required)
---
New mini gearhead for robotics, semiconductor fab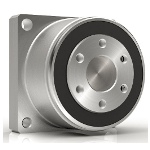 Harmonic Drive is proud to announce the release of its CSF-2XH mini gearhead designed for servo and stepper motors. Available with an output shaft or flange, these gearheads are offered in four sizes with gear ratios of 30:1 to 100:1 and peak torque of .5 to 28 Nm. These mini strain wave gears are ideal for applications such as semiconductor manufacturing and robotics. Available through Electromate.
Learn more.
---
Super cool and versatile palletizing gripper: OnRobot 2FGP20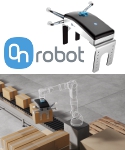 Palletizing just got easier and more affordable with the 2FGP20 from OnRobot, an off-the-shelf electric gripper with a payload of up to 20kg and endless customization possibilities to fit any automation needs. The 2FGP20 is an ideal solution that can be deployed and redeployed for multiple processes and handling different parts.
Learn more about the 2FGP20.
Learn more about palletizing.
---
New linear stages for increased load, speed, stroke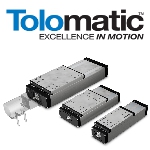 Discover the enhanced possibilities with Tolomatic's new size TRS 225 twin profile rail stage, offering expanded capabilities for precise and powerful linear motion in a closed-package design. This unit is built from the ground up to be highly rigid and accurate and is now available with strokes up to 86.6 in., travel speeds up to 50 in./sec, and load-carrying capacities up to 4,320 lb. Perfect for your heavy-duty needs.
Learn more.
---
Are ball splines right for your application?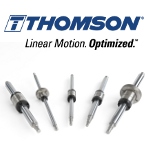 Thomson Industries says ball splines are making a comeback, because more opportunities for automation bring more axes of motion to machinery, and pre-packaged solutions may not have the flexibility you require. But are ball splines the right choice for your design needs? They have the unique capability of integrating rotary and linear motion on a single shaft.
Read the Thomson technical article.
---
New stainless steel AC inverter-duty gearmotors meet IP-69K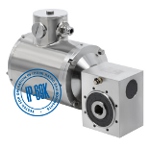 Bodine Electric Co. has introduced six new type 56R1-50JW/H hollow shaft gearmotors that combine a stainless-steel AC inverter-duty, 230/460 VAC motor with a stainless-steel hollow shaft gearhead. When used with an AC inverter (VFD) control, these gearmotors deliver variable speed and maintenance-free operation over a wide speed range. Ideal for equipment subject to intensive cleaning, such as food and beverage, pharmaceuticals, and permanently wet environments.
Learn more.
---
Extend your range of motion: Controllers for mini motors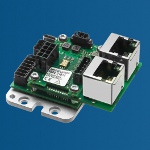 FAULHABER has added another extremely compact Motion Controller without housing to its product range. The new MC3603 controller is ideal for integration in equipment manufacturing and medical tech applications. With 36 V and 3 A (peak current 9 A), it covers the power range up to 100 W and is suitable for DC motors with encoder, brushless drives, or linear motors.
Learn more.
---
Motion systems: Check out THK's new online store!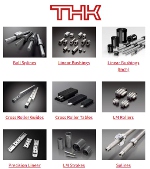 THK has launched a new online store that is chock full of your motion system needs. Check out their latest offerings for Linear Motion Products (guides, actuators, rails, splines, and rollers), Feed Screw Products (ball and lead screws), Rotation Products (cross roller rings and cam and roller followers), Oscillation Products (link balls, rod ends, spherical bearings), and more. Lubrication Products available too.
See the new THK store.
---
Advantages of slotless motors over standard stepper motors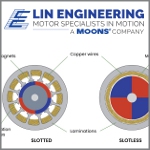 According to Lin Engineering, "Slotless motors have gone through innovations in design as well as manufacturing, making them a good choice for specific applications." This article explores the benefits and drawbacks of slotless motors and provides information that may help you decide when to -- and when not to -- select them as a solution.
Read the full article.
---
Intro to motor constants for fractional horsepower gearmotors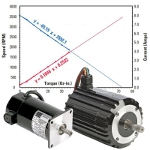 According to motor expert Bodine Electric, "Motor constants are needed to calculate permanent magnet DC (PMDC) or brushless DC (BLDC or EC) motor specifications and ratings, or to match the motor properly to an amplifier." You need the constants to predict the motor's performance with changing variables, such as different input voltages or different loads. This app note explains what the constants are, how they are derived. and how to use them. Very useful.
Read this informative Bodine Electric blog.
---
New wheel hub gearbox for AGVs and AMRs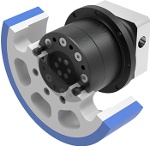 Drive your automated guided vehicles (AGVs) and autonomous mobile robots (AMRs) with the GAM GML Wheel Drive Gearbox. GAM's GML Series Wheel Drive Gear Reducer uses planetary gearing for a coaxial system. The motor mounts directly behind the wheel without axle offset for an inline drive from wheel to motor. Features a compact design with short overall length.
Learn more.
---
Will robots bring a job apocalypse? MIT report examines how to make technology work for society -- big changes ahead
By Peter Dizikes, MIT
Automation is not likely to eliminate millions of jobs any time soon -- but the U.S. still needs vastly improved policies if Americans are to build better careers and share prosperity as technological changes occur, according to a new MIT report about the workplace.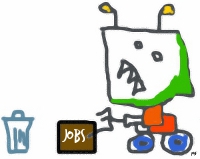 The report, which represents the initial findings of MIT's Task Force on the Work of the Future, punctures some conventional wisdom and builds a nuanced picture of the evolution of technology and jobs, the subject of much fraught public discussion.
The likelihood of robots, automation, and artificial intelligence (AI) wiping out huge sectors of the workforce in the near future is exaggerated, the task force concludes -- but there is reason for concern about the impact of new technology on the labor market. In recent decades, technology has contributed to the polarization of employment, disproportionately helping high-skilled professionals while reducing opportunities for many other workers, and new technologies could exacerbate this trend.
Moreover, the report emphasizes, at a time of historic income inequality, a critical challenge is not necessarily a lack of jobs, but the low quality of many jobs and the resulting lack of viable careers for many people, particularly workers without college degrees. With this in mind, the work of the future can be shaped beneficially by new policies, renewed support for labor, and reformed institutions, not just new technologies. Broadly, the task force concludes, capitalism in the U.S. must address the interests of workers as well as shareholders.
"At MIT, we are inspired by the idea that technology can be a force for good. But if as a nation we want to make sure that today's new technologies evolve in ways that help build a healthier, more equitable society, we need to move quickly to develop and implement strong, enlightened policy responses," says MIT President L. Rafael Reif, who called for the creation of the Task Force on the Work of the Future in 2017.
"Fortunately, the harsh societal consequences that concern us all are not inevitable," Reif adds. "Technologies embody the values of those who make them, and the policies we build around them can profoundly shape their impact. Whether the outcome is inclusive or exclusive, fair or laissez-faire, is therefore up to all of us. I am deeply grateful to the task force members for their latest findings and their ongoing efforts to pave an upward path."
"There is a lot of alarmist rhetoric about how the robots are coming," adds Elisabeth Beck Reynolds, executive director of the task force, as well as executive director of the MIT Industrial Performance Center. "MIT's job is to cut through some of this hype and bring some perspective to this discussion."
Reynolds also calls the task force's interest in new policy directions "classically American in its willingness to consider innovation and experimentation."
Anxiety and inequality
The core of the task force consists of a group of MIT scholars. Its research has drawn upon new data, expert knowledge of many technology sectors, and a close analysis of both technology-centered firms and economic data spanning the postwar era.
The report addresses several workplace complexities. Unemployment in the U.S. is low, yet workers have considerable anxiety, from multiple sources. One is technology: A 2018 survey by the Pew Research Center found that 65 to 90 percent of respondents in industrialized countries think computers and robots will take over many jobs done by humans, while less than a third think better-paying jobs will result from these technologies.
Another concern for workers is income stagnation: Adjusted for inflation, 92 percent of Americans born in 1940 earned more money than their parents, but only about half of people born in 1980 can say that.
"The persistent growth in the quantity of jobs has not been matched by an equivalent growth in job quality," the task force report states.
Applications of technology have fed inequality in recent decades. High-tech innovations have displaced "middle-skilled" workers who perform routine tasks, from office assistants to assembly-line workers, but these innovations have complemented the activities of many white-collar workers in medicine, science and engineering, finance, and other fields. Technology has also not displaced lower-skilled service workers, leading to a polarized workforce. Higher-skill and lower-skill jobs have grown, middle-skill jobs have shrunk, and increased earnings have been concentrated among white-collar workers.
"Technological advances did deliver productivity growth over the last four decades," the report states. "But productivity growth did not translate into shared prosperity."
Indeed, says David Autor, who is the Ford Professor of Economics at MIT, associate head of MIT's Department of Economics, and a co-chair of the task force, "We think people are pessimistic because they're on to something. Although there's no shortage of jobs, the gains have been so unequally distributed that most people have not benefited much. If the next four decades of automation are going to look like the last four decades, people have reason to worry."
Productive innovations versus "so-so technology"
A big question, then, is what the next decades of automation have in store. As the report explains, some technological innovations are broadly productive, while others are merely "so-so technologies" -- a term coined by economists Daron Acemoglu of MIT and Pascual Restrepo of Boston University to describe technologies that replace workers without markedly improving services or increasing productivity.
For instance, electricity and light bulbs were broadly productive, allowing the expansion of other types of work. But automated technology allowing for self-check-out at pharmacies or supermarkets merely replaces workers without notably increasing efficiency for the customer or productivity.
"That's a strong labor-displacing technology, but it has very modest productivity value," Autor says of these automated systems. "That's a 'so-so technology.' The digital era has had fabulous technologies for skill complementarity [for white-collar workers], but so-so technologies for everybody else. Not all innovations that raise productivity displace workers, and not all innovations that displace workers do much for productivity."
Several forces have contributed to this skew, according to the report. "Computers and the internet enabled a digitalization of work that made highly educated workers more productive and made less-educated workers easier to replace with machinery," the authors write.
Given the mixed record of the last four decades, does the advent of robotics and AI herald a brighter future, or a darker one? The task force suggests the answer depends on how humans shape that future. New and emerging technologies will raise aggregate economic output and boost wealth, and offer people the potential for higher living standards, better working conditions, greater economic security, and improved health and longevity. But whether society realizes this potential, the report notes, depends critically on the institutions that transform aggregate wealth into greater shared prosperity instead of rising inequality.
One thing the task force does not foresee is a future where human expertise, judgment, and creativity are less essential than they are today.
"Recent history shows that key advances in workplace robotics -- those that radically increase productivity -- depend on breakthroughs in work design that often take years or even decades to achieve," the report states.
As robots gain flexibility and situational adaptability, they will certainly take over a larger set of tasks in warehouses, hospitals, and retail stores -- such as lifting, stocking, transporting, cleaning, as well as awkward physical tasks that require picking, harvesting, stooping, or crouching.
The task force members believe such advances in robotics will displace relatively low-paid human tasks and boost the productivity of workers, whose attention will be freed to focus on higher value-added work. The pace at which these tasks are delegated to machines will be hastened by slowing growth, tight labor markets, and the rapid aging of workforces in most industrialized countries, including the U.S.
And while machine learning -- image classification, real-time analytics, data forecasting, and more -- has improved, it may just alter jobs, not eliminate them: Radiologists do much more than interpret X-rays, for instance. The task force also observes that developers of autonomous vehicles, another hot media topic, have been "ratcheting back" their timelines and ambitions over the last year.
"The recent reset of expectations on driverless cars is a leading indicator for other types of AI-enabled systems as well," says David A. Mindell, co-chair of the task force, professor of aeronautics and astronautics, and the Dibner Professor of the History of Engineering and Manufacturing at MIT. "These technologies hold great promise, but it takes time to understand the optimal combination of people and machines. And the timing of adoption is crucial for understanding the impact on workers."
Policy proposals for the future
Still, if the worst-case scenario of a "job apocalypse" is unlikely, the continued deployment of so-so technologies could make the future of work worse for many people.
If people are worried that technologies could limit opportunity, social mobility, and shared prosperity, the report states, "Economic history confirms that this sentiment is neither ill-informed nor misguided. There is ample reason for concern about whether technological advances will improve or erode employment and earnings prospects for the bulk of the workforce."
At the same time, the task force report finds reason for "tempered optimism," asserting that better policies can significantly improve tomorrow's work.
"Technology is a human product," Mindell says. "We shape technological change through our choices of investments, incentives, cultural values, and political objectives."
To this end, the task force focuses on a few key policy areas. One is renewed investment in postsecondary workforce education outside of the four-year college system -- and not just in the STEM skills (science, technology, engineering, math) but reading, writing, and the "social skills" of teamwork and judgment.
Community colleges are the biggest training providers in the country, with 12 million for-credit and non-credit students, and are a natural location for bolstering workforce education. A wide range of new models for gaining educational credentials is also emerging, the task force notes. The report also emphasizes the value of multiple types of on-the-job training programs for workers.
However, the report cautions, investments in education may be necessary but not sufficient for workers: "Hoping that 'if we skill them, jobs will come,' is an inadequate foundation for constructing a more productive and economically secure labor market."
More broadly, therefore, the report argues that the interests of capital and labor need to be rebalanced. The U.S., it notes, "is unique among market economies in venerating pure shareholder capitalism," even though workers and communities are business stakeholders too.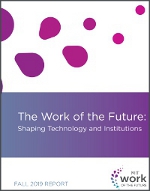 Click on the image above to view the full report.

"Within this paradigm [of pure shareholder capitalism], the personal, social, and public costs of layoffs and plant closings should not play a critical role in firm decision-making," the report states.

The task force recommends greater recognition of workers as stakeholders in corporate decision-making. Redressing the decades-long erosion of worker bargaining power will require new institutions that bend the arc of innovation toward making workers more productive rather than less necessary. The report holds that the adversarial system of collective bargaining, enshrined in U.S. labor law adopted during the Great Depression, is overdue for reform.

The U.S. tax code can be altered to help workers as well. Right now, it favors investments in capital rather than labor -- for instance, capital depreciation can be written off, and R&D investment receives a tax credit, whereas investments in workers produce no such equivalent benefits. The task force recommends new tax policy that would also incentivize investments in human capital, through training programs, for instance.

Additionally, the task force recommends restoring support for R&D to past levels and rebuilding U.S. leadership in the development of new AI-related technologies, "not merely to win but to lead innovation in directions that will benefit the nation: complementing workers, boosting productivity, and strengthening the economic foundation for shared prosperity."

Ultimately, the task force's goal is to encourage investment in technologies that improve productivity, and to ensure that workers share in the prosperity that could result.

"There's no question technological progress that raises productivity creates opportunity," Autor says. "It expands the set of possibilities that you can realize. But it doesn't guarantee that you will make good choices."

Reynolds adds, "The question for firms going forward is: How are they going to improve their productivity in ways that can lead to greater quality and efficiency, and aren't just about cutting costs and bringing in marginally better technology?"

Further research and analyses
In addition to Reynolds, Autor, and Mindell, the central group within MIT's Task Force on the Work of the Future consists of 18 MIT professors representing all five Institute schools. Additionally, the project has a 22-person advisory board drawn from the ranks of industry leaders, former government officials, and academia; a 14-person research board of scholars; and eight graduate students. The task force also counsulted with business executives, labor leaders, and community college leaders, among others.

The task force follows other influential MIT projects such as the Commission on Industrial Productivity, an intensive multiyear study of U.S. industry in the 1980s. That effort resulted in the widely read book, "Made in America," as well as the creation of MIT's Industrial Performance Center.

The current task force taps into MIT's depth of knowledge across a full range of technologies, as well as its strengths in the social sciences.

"MIT is engaged in developing frontier technology," Reynolds says. "Not necessarily what will be introduced tomorrow, but five, 10, or 25 years from now. We do see what's on the horizon, and our researchers want to bring realism and context to the public discourse."

The current report is an interim finding from the task force; the group plans to conduct additional research over the next year, and then will issue a final version of the report.

"What we're trying to do with this work," Reynolds concludes, "is to provide a holistic perspective, which is not just about the labor market and not just about technology, but brings it all together, for a more rational and productive discussion in the public sphere."

Published November 2019
Rate this article