'Basics of Static Electricity' white paper from EXAIR
The "Basics of Static Electricity" white paper presents 20 comprehensive and full-colored pages on the causes of static electricity, how it develops, and solutions for combatting it in manufacturing processes. Static electricity is a product of non-conductive materials coming into contact and separating, or creating friction between them, leading to imbalanced ions. EXAIR Static Eliminators restore this balance and assist in maintaining proper process speeds, preventing product damage and injured employees.
Learn more.
---
Next-gen adaptive resistance welding controller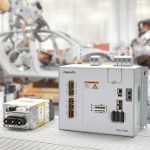 Bosch Rexroth has launched its PRC7000 family of high-speed automated welding controllers, which feature advanced processors and new software to help manufacturers maximize welding throughput and quality. The PRC7000 provides the highest-quality weld control and ultraprecise adjustment of the welding current to eliminate spatter and expensive reworking. Innovative software tools and a modular design enable up to 90% faster commissioning. The PRC7000 can store up to 10,000 welding programs that can be easily built and selected via a drag-and-drop graphical interface.
Learn more.
---
M12 connector simplifies sensor and actuator applications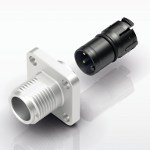 binder USA has announced a new two-piece M12 circular connector that offers versatility with several special features, including a square flange housing for easy assembly and a multi-position, lockable A-coding that supports variable cable installation. The new connectors simplify making secure sensor and actuator connections in applications such as factory automation and robotics.
Learn more.
---
Thin film resistor for consumer and industrial electronics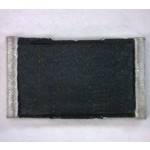 Stackpole Electronics' CSRT2512-UP was developed to provide accurate, high-power current sensing for consumer and industrial electronic devices that exceed the capabilities of most 2512 case sizes available in the industry. The AEC-Q200-compliant CSRT2512-UP has unique thin film material properties and processing to provide higher continuous power ratings and higher pulse power ratings than other thin film chip resistors. Benefits include: high performance, high continuous and pulse power handling, and the known high reliability of thin film technology.
Learn more.
---
Under-$100 Lidar named CES 2022 Innovation Awards Honoree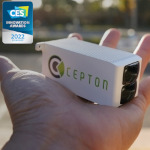 Cepton Technologies has been named a CES 2022 Innovation Awards Honoree in the Vehicle Intelligence & Transportation category for its Nova product, a miniature, wide-field-of-view lidar sensor for near-range applications. Nova is designed to help minimize perception blind spots to enhance advanced driver assistant systems and autonomous driving capabilities in modern vehicles. It enables high-res 3D imaging to accurately detect small children, on-road objects, protrusions, and road edges. The giant CES 2022 consumer electronics and technology trade runs Jan. 5-8, 2022, in Las Vegas.
Learn more.
See all of the CES 2022 Innovation Awards Honorees.
---
Resolve EMI and EMC challenges with Ansys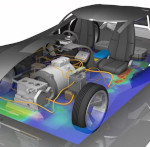 EMA3D Cable solves complex EMI and EMC challenges related to high-intensity radiated fields, lightning strikes, radiated emissions and conducted susceptibility, and other issues. It is being used to build complete models of cars and planes, including every cable. Ansys HFSS is the world's foremost antenna design and modeling tool. Its comprehensive set of solvers allows engineers to address diverse electromagnetic problems ranging in detail and scale from passive integrated circuit components to extremely large-scale EM analyses, such as automotive radar scenes for advanced driver-assistance systems.
Read this informative Ansys blog.
---
Upgraded mechanical pressure switch portfolio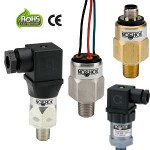 NOSHOK's new mechanical pressure switch program has been engineered to address a wider range of applications and provide a significantly expanded selection of process and electrical connection options. Each of the four new NOSHOK switch series offers vacuum, low-pressure, and high-pressure options; is CE compliant to suppress RFI, EMI, and ESD; and is RoHS compliant. In addition, NOSHOK has improved its production efficiency and expanded its inventory to better accommodate orders and provide faster delivery.
Learn more.
---
Highest-rated current inductors for automotive Power over Coax systems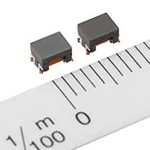 TDK's ADL3225VM inductors are for use in automotive Power over Coax (PoC) systems. Measuring 3.2 x 2.5 x 2.5 mm, they provide a compact solution for designers looking to reduce vehicle weight as manufacturers add more sensors and cameras to accommodate expanding automotive and advanced driver-assistance systems (ADAS) applications. The proprietary structural design and wire winding manufacturing process ensure high impedance over a broad bandpass of 1 MHz up to 1 GHz. The inductors are compliant with AEC-Q200 and achieve the highest-rated current in the industry for the 3225 size.
Learn more.
---
Advanced circulators overcome mmWave design challenges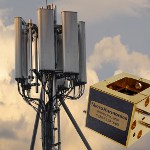 As communica-tions providers race to deliver on the potential of 5G, research and design projects are already looking toward 6G and beyond. However, a major hurdle awaits the impending move up the millimeter wave (mmWave) spectrum: a lack of acceptable mmWave components that can offer a wide bandwidth. Micro Harmonics has an answer.
Read the full article.
---
Antimicrobial switches disinfect themselves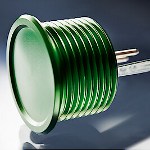 Are switches that disinfect themselves too good to be true? It is possible. Antimicrobial coatings inhibit the growth of microorganisms and even kill them. When applied to switches, this technology is perfectly suited for medical technology, sanitation areas, and the food service industry. All completely sealed switches from SCHURTER (piezoelectric, capacitive, or ToF) are perfectly suited for this coating upgrade, which kills microorganisms effectively by oxidation using photodynamic self-purification technology.
Learn more.
---
Expanded enclosure A/C inventory
Seifert Systems has completed their warehouse expansion, significantly increasing the types and quantity of enclosure air conditioners available. Air conditioners with popular cooling capacities within 1,000 to 21,000 BTU/hr are in stock and ready to ship. Among these are the Progressive, filterless SlimLine, and Compact Series of enclosure air conditioners as well as thermoelectric coolers. Seifert enclosure air conditioners come with a two-year warranty. SlimLine units are only 4.5 in. deep, and many Progressive units share the same size footprint for easier planning when needed for more than one application.
See what Seifert Systems has to offer.
---
Reversible-flow fans: Directional flow and speed control in one unit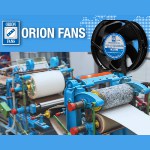 Orion Fans has launched a series of micro-controller-based, up to IP68-rated, reversible-flow fans. By utilizing PWM signals to control fan speed, the fans provide engineers an innovative solution to some of their most challenging cooling requirements: speed and airflow direction controlled by one fan without supplementing excess wires or circuitry. Reversible-flow fans are a specialty design that enables unique applications. You may be surprised at their versatility.
Learn more.
---
Cool Tools: Leica RTC360 3D laser scanner -- LIDAR for big jobs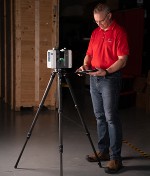 The new Leica RTC360 laser scanner available from Exact Metrology makes 3D reality capture faster than ever before. With a measuring rate of up to 2 million points per sec, colored 3D point clouds can be completed in under 2 min. Automated, targetless field registration and seamless, automated data transfer from site to office reduce time spent in the field. The CAD models are generally used for factory/shop floor layout plans, power plant equipment changeouts, proof dimensioning, and much more. In addition to the 3D model, full spherical HDR imagining is appended directly to the point cloud, giving a photo-realistic effect to the data and allowing for virtual walkthroughs of the areas, shareable markups, geo-referencing, and meta-tagging. So many uses.
Learn more.
---
Eaton developing suite of 48-V technologies to help vehicle manufacturers meet new global emission regulations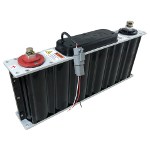 Most vehicles have traditionally operated with a 12-V system, but with tightening fuel economy regulations and new, advanced power-consuming components being added, increasing power needs are driving the move toward 48-V systems.
Read the full article.
---
igus unveils new sensor for smart plastics predictive maintenance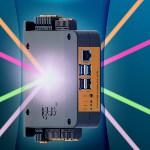 igus has developed a sensor for its smart plastics software that calculates the remaining service life of energy chains, cables, linear guides, and plain bearings during operation. The i.cee:local sensor optimizes the life of the system, detects faults, allows them to be fixed at an early stage, and allows for maintenance to be planned in advance. This sensor can be integrated via the internet or without IoT connectivity via the local network, depending on customer requirements. Smart plastics sensors monitor abrasion, measure the pull/push force, and provide information about an imminent overload.
Learn more.
---
Army researchers use single laser beam to detect all types of airborne particles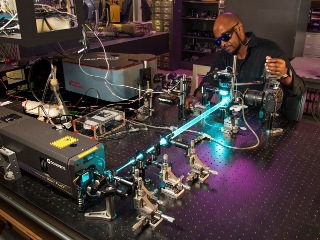 Dr. Aimable Kalume, a researcher at the U.S. Army Combat Capabilities Development Command's Army Research Laboratory, conducts experiments in the lab's aerosol research laboratory. [Photo Credit: U.S. Army photo]
Using a single laser beam, Army researchers recently developed a technique capable of detecting and characterizing any type of airborne particles whether naturally occurring or those harmful and deliberately disseminated.
Scientists from the U.S. Army Combat Capabilities Development Command's Army Research Laboratory (Aberdeen Proving Ground, MD) along with collaborators from the University of Queensland, Australia, conducted the modeling and optical simulations of the design technique.
"We developed an advanced analytical technique that is capable of detecting and characterizing any type of airborne particles; naturally occurring (dust, smoke, pollen, ash, etc.) or those harmful and deliberately disseminated such as chemical and biological warfare agents," said Dr. Yong-le Pan, CCDC ARL researcher. "In this design, a single laser beam is used to capture a single particle and immobilize it -- suspended in air."
The approach provides a contactless particle manipulation and allows a rapid and precise physico-chemical characterization. The innovative aspect in this study is the use of two small parabolic mirrors, or reflectors, to shape up a hollow laser beam and create highly efficient trapping forces -- instead of using expensive microscope objectives and a complex optical setup.
In comparison with current trapping techniques, this method offers several advantages such as low cost, simplicity in design, higher efficiency, and improved robustness, Pan said. As the particle is trapped far away from any optical surface, it minimizes instrument contamination and allows integration with other laser-based analytical techniques such as Raman, fluorescence, etc.

Army researchers demonstrate trapped particles in a laser beam. [Photo Credit: U.S. Army photo]
"The ultimate goal of this study is aligned with Soldier lethality," said Dr. Aimable Kalume, CCDC ARL researcher. "By focusing on the Soldier survivability in presence of aerosol particles, especially chemical and biological warfare agents, we proposed a new technique that can help lower false positives, increase precision, and minimize human exposure and contamination."
The researchers hope to develop an instrument that is able to capture fine airborne particles, rapidly characterize them with high precision, and monitor their temporal evolution in various environmental conditions.
"While this invention can have direct application in various areas (biology, chemistry, pharmaceutical, air monitoring, and atmospheric sciences), the DOD and Department of Homeland Security are specifically interested in early warning and real-time detection and characterization of chemical/biological agents," Kalume said. "The DOD is also interested in monitoring a wide range of aerosol particles affecting the mission (reduced visibility, communication, Soldier's exposure to smoke from burn-pits or diesel exhaust, etc.)."
The proposed approach is based on the interaction with electromagnetic radiation: a single laser beam is used to trap, hold an aerosol particle, and provide information of its chemical and physical properties.
"This study aligns well with the essential research area of discovery by tackling the problem of detecting and characterizing warfare agents from a fundamental physics principle," Pan said. "After our recent successful demonstration in a laboratory setup, the next steps will focus on engineering and developing this technique into a compact and lightweight instrument that can be deployed on the battlefield."
Researchers said earlier studies leading to this improved design were conducted in collaboration with researchers from Mississippi State University, Sandia National Laboratory, and the University of Nebraska Medical Center.
Source: U.S. Army CCDC Army Research Laboratory
Published February 2020
Rate this article