Tiny Osram LED enables ultra-slim headlight designs
Smaller and brighter light sources are leading to more compact and versatile headlamps, and headlight designs can often be key product differentiators or signatures these days -- particularly in the premium segment.
The powerful Osram Oslon Boost HM aims to be a key player in this trend by enabling ultra-slim headlamp designs full of possibilities in next-gen vehicles.
Miniaturization of this component can play an important role. With the Oslon Boost HM, Osram developers have succeeded in achieving an outstanding brightness of 415 lm at 1.5 A with a very small chip area -- just 0.5 mm2.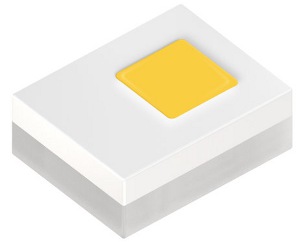 The Oslon Boost HM LED package comes in at just 1.9 mm x 1.5 mm x 0.73 mm -- many times smaller than shown here.
The package of the LED is also impressively compact at just 1.9 mm x 1.5 mm x 0.73 mm, providing a finger-width front headlamp solution that doesn't compromise light output. The luminance of 255 cd/mm2, at 1.5 A is an absolute best-in-class performance value for this type of LED.
Applications are not solely limited to headlamps. The Oslon Boost HM can also be used in combination with other LEDs to provide an additional high beam or a low beam. Thanks to its outstanding luminance, the LED is equally suitable for use in MEMS-based adaptive front (or bending light) lighting systems. Day-time running lights and fog lamps are additional possibilities.
The hardy ceramic package of the Oslon Boost HM allows for easy thermal management within the component thanks to an electrically insulated pad. This means that the heat from the special internal design structures can be easily dissipated from the LED. Furthermore, the LED shines with a particularly low thermal resistance of only 4.62 K/W.
If you are interested in Osram LED lighting like this but need a little design help, Osram has you covered. The company's Premium Application Support Services (PASS) can help with prototyping, system metrology, simulation, lifetime estimation, light series, and more.
Source: Osram
Published February 2020
Rate this article