Shoot around corners? New networked night-vision goggles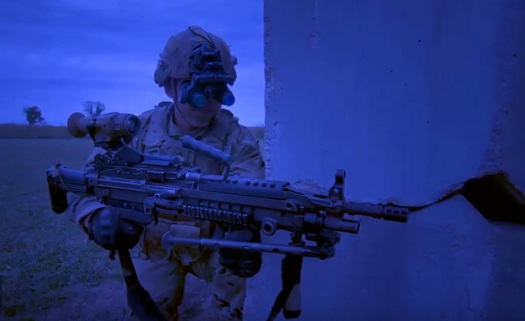 L3Harris Technologies has developed what it says is the most advanced night-vision goggle ever, and it allows soldiers to shoot around corners -- even at night. The Enhanced Night Vision Goggle-Binocular (ENVG-B) head gear, which includes a thermal channel, is wirelessly networked with the rifle scope, so Soldiers can find their targets and take a shot without shouldering the weapon or looking directly through the weapon's scope.
Forty units have been delivered to the U.S. Army so far. L3Harris is working on fulfilling an order for 7,000 more. In total, the company has received orders for more than 10,000 ENVG-B systems for the U.S. military.
The ENVG-B -- which wirelessly transmits a video signal of the weapon site to the heads-up display -- includes a new white phosphor image intensification technology, a separate thermal channel for image fusion and thermal target detection, an embedded Soldier wireless personal area network, rapid target acquisition, and augmented reality algorithms to interface with the U.S. Army's Nett Warrior (a personal network that can also share information with other Soldiers). L3Harris says the complete system interfaces with the Army's family of weapon sights, while enhancing interoperability and data sharing.
The overall aim is for the the technology to enhance the ability to locate and engage threats and access common operating environment imagery -- and to keep Soldiers out of harm's way.
Benefits to the Soldier are many. According to the U.S. Army, "The ENVG-B allows the individual Soldier to see, understand, and act first during limited-visibility conditions. Higher resolution stereoscopic displays allow for faster target acquisition by improving separation of targets from background." Updated capabilities from previous systems include:
A dual-tubed binocular system for improved situational awareness and depth perception.
Higher resolution; white phosphor tubes instead of the traditional green phosphor providing better contrast.
A fused thermal imager for better target recognition in degraded visual environments (dust, smoke, zero illumination, subterranean, etc.).
Inclusion of augmented reality aspects from the Nett Warrior display.
Wireless interconnectivity with the Family of Weapon Sight-Individual (FWS-I), displaying the weapon site reticle in the ENVG-B allowing Soldiers to accurately engage without shouldering the weapon and significantly reducing exposure to enemy fire.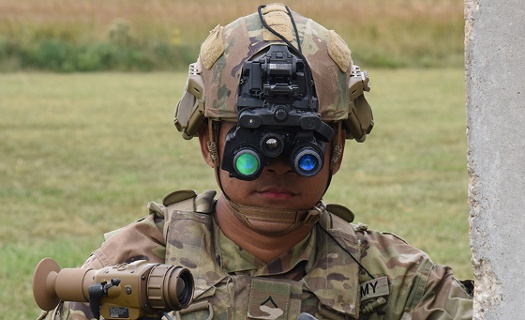 The U.S. Army says that Soldier feedback was critical to the ramped-up development time of this equipment, with 10 Soldier Touchpoints (which included dozens of Soldier testers in each) conducted throughout the two years that the ENVG-B went from concept to fielding.
Sources: L3Harris Technologies, U.S. Army
Published February 2020
Rate this article