4-axis motion controller for highly dynamic applications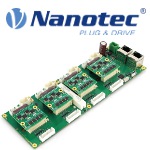 The CM-CPB3-44 EtherCAT controller from Nanotec controls four brushless DC or stepper motors with a rated power of up to 150 W per axis. Feedback on the motor position is provided by Hall sensors or incremental or SSI encoders. Each axis is equipped with four digital inputs, two outputs, one analog input, and one output for a safety brake. Field-oriented torque, speed, and position control, combined with other features such as acceleration feed forward and jerk-limited ramps, ensure optimum dynamic performance and cycle time.
Learn more.
---
Robot-ready frameless servo motors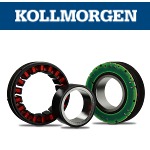 The new TBM2G series of frameless servo motors from Kollmorgen introduce new features that simplify the design of collaborative, surgical, aerospace and defense, and other robots while delivering high-performance torque in a lighter, more compact package. These next-gen motors enable robots with lower joint weight, higher load-carrying capacity, improved energy efficiency, lower thermal rise, and faster, smoother movements. Sized for a perfect fit with readily available strain wave systems.
Learn more.
---
Mini motors and drive systems on-demand webinars: Chock full of informative details!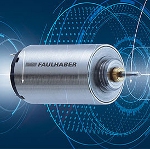 Faulhaber has made available a library of on-demand webinars about its miniature motors and drive systems. Each presentation is full of product details, technology overviews, selection help, design tips and tricks, and application examples. Topics include: stepper motors, brushless motors, DC motors, linear motors, encoders, gearheads, motion controllers, and more. Filled with useful information!
View the Faulhaber webinar library page.
---
High-speed linear VCA with built-in encoder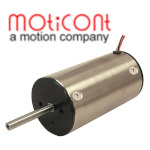 Moticont has added a high-speed, high-acceleration/-deceleration, non-cogging, high-resolution, high force-to-size electric cylinder to its extensive product line of linear voice coil actuators (VCAs). The new SDLM-051-095-01-01 Linear DC Actuator features high repeatability, 1.25-micron resolution, and a continuous force of 33.9 N (7.6 lb). A linear encoder mounted internally provides the feedback for very high accuracy and repeatability.
Learn more.
---
Guide to machine shop automation
We know that collaborative automation starts with your specific needs: your shop, your employees, your products. OnRobot can help you find the easiest and most cost-effective way to get started with automation. Download our free ebook to learn how to transform your machine shop with automation.
1. Download your ebook.
2. Learn how to build your own robotic machine tending application.
---
Mini medical motor with way more torque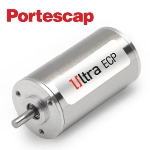 Portescap's 22ECP35-2A brushless motor with integrated driver is the company's latest addition to its Ultra EC mini brushless DC motor line. This compact, 22-mm diameter motor is available in a length of 35 mm and offers almost 50% more continuous torque over similar motors without compromising on smooth operation and long life. The integrated motor drive is a good fit for applications such as respiratory and ventilation devices, infusion pumps, miniature industrial pumps, medical hand tools, and valve actuation.
Learn more.
---
Miniature linear guides simplify mounting in tight spaces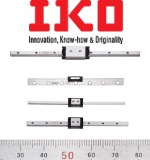 IKO's new LWLF2 linear motion rolling guide addresses the demand for device miniaturization with a compact, lightweight design that makes mounting easy in tight spaces. With an ultra-small 2.5-mm height dimension, it is designed with tapped rails for bottom mounting and stability. The LWLF2 guide is structured with two rows of balls that make contact with the raceway at four points to provide high stability and accuracy -- even in applications with varying load direction or complexity. Applications include robotics and grippers, semiconductor fabrication, life science, and aerospace.
Learn more.
---
Motors for the robotics industry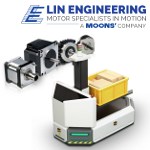 Lin Engineering has been supporting the robotics industry for more than 30 years by designing and manufacturing a wide variety of motion control products that include hybrid step motors, PM steppers, linear actuators, BLDC motors, servo motors, frameless BLDC motors, and slotless BLDC motors. Applications include manufacturing robots, delta robots, collaborative robots, and more.
See all Lin Engineering has to offer.
---
NEMA 24 stepper motor with best-in-class power density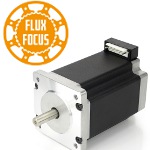 Permanent magnets between the stator teeth make Nanotec's SCB6018 with 60-mm flange a smooth-running -- yet powerful -- stepper. FluxFocus technology guides the entire magnetic flux into the stator teeth. This prevents flux leakage and provides more torque across all speeds. This motor generates a holding torque up to 3.6 Nm. Combined with a closed-loop controller, the SCB6018 is ideal for use in valves and textile or other applications that require rapid acceleration over a short distance.
Learn more.
---
In-wheel motor unit upgraded to carry 500 lb
If you are a developer of mobile robots and the like, it may be worth your while to check out ElectroCraft. The motor and motion solutions provider has expanded its award-winning MobilePower wheel drive family with the MPW86, which features a high-torque-density brushless DC motor with a heavy-duty integrated planetary gearbox mounted inside the hub of a lightweight aluminum wheel with custom tread. The MPW Wheel Drive combines optimum performance with high efficiency, quiet operation, and long life -- and now it can handle heavier loads.
Read the full article.
---
SMART SYSTEM belt-driven linear actuators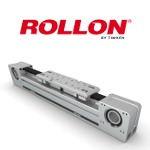 Rollon has updated its SMART SYSTEM lineup of belt-driven linear actuators with a rugged new design that supports heavy loads and ensures low-maintenance operation in automated manufacturing, packaging machines, and food and beverage equipment. The actuators have a self-sustaining anodized aluminum frame and a steel-reinforced driving belt, and they are engineered to provide stiffness for greater load capacity. Symmetrical heads on both ends of the actuators allow users to assemble the gearbox in one of four different positions. The SMART SYSTEM also simplifies creating multi-axis systems.
Learn more.
---
New Twin profile Rail Stage actuator improves accuracy in XYZ motion systems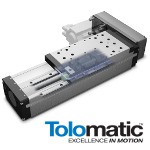 The new Twin profile Rail Stage (TRS) actuator from Tolomatic improves accuracy and increases production uptime on XYZ linear motion systems with two- or three-axis configurations. Applications include machining centers, collaborative robot movement, drilling, cutting, pick-and-place, material handling, and more.
Read the full article.
---
How to specify pneumatic cylinders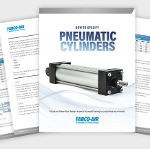 As the number of standard options available on the pneumatic-cylinder market grows, you may feel spoiled for choice due to the array of products that may fit within your specs. But how often is "good enough" actually good enough? How do you specify a pneumatic cylinder without resorting to a custom option? Learn this and more in Fabco-Air's new informative white paper (PDF).
Learn more. No registration required.
---
KUKA cobot: How to build a collaborative robotic cell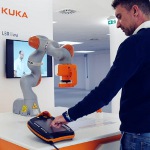 LBR iiwa is KUKA's robot for collaborative applications where people and robots share spaces. See how easy it is to use hands-on training to teach this lightweight little 7-axis robo worker, which features redundant torque sensors in each joint, to carry out assigned tasks safely and effectively.
View the video.
---
Bearing protection standard on Food Safe motors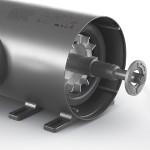 AEGIS Shaft Grounding Rings, which mitigate the effects of bearing currents caused by variable frequency drives, have been made standard equipment on the Baldor-Reliance Food Safe line of motors. The addition of the internal shaft grounding ring provides increased motor reliability and stops early bearing failure from EDM. The Baldor Food Safe line consists of 25 models with horsepower ratings from 1/2 to 30 hp. They are ideal for food processing, high-pressure washdown, sanitary washdown, and outdoor or caustic environment applications. AEGIS Shaft Grounding Rings are also a retrofit option.
Learn more about AEGIS Bearing Protection.
Learn more about Baldor Food Safe motors.
---
Nissan develops twin-motor all-wheel-control technology for electric vehicles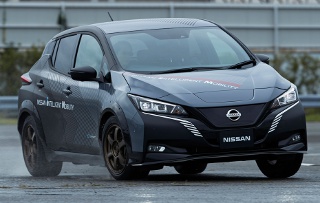 Nissan says it is elevating the performance capability of all-electric vehicles with its new twin-motor all-wheel-control technology called e-4ORCE (pronounced "e-force"), which provides instant torque to all four wheels to deliver balanced, predictable power and handling on par with many premium sports cars.
"The e-4ORCE twin-motor all-wheel control technology offers precise handling and stability, which gives drivers greater confidence and even more excitement than ever before," said Takao Asami, Nissan's senior vice president of research and advanced engineering. "This technology enables excellent cornering performance, traction on slippery surfaces, and a comfortable ride for all passengers."
The technology was born from lessons learned in the development of the Nissan GT-R's ATTESA E-TS torque split system and the Nissan Patrol's intelligent 4X4 system. Engineers developed the e-4ORCE technology to specifically manage electric vehicle power output and braking performance to be smooth and stable.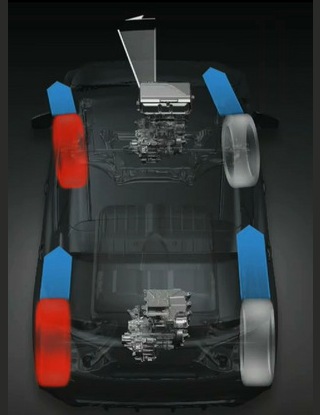 Nissan says unparalleled ride comfort is the result of the e-4ORCE technology's ability to minimize vehicle pitch and dive. This is accomplished by employing regenerative braking from both front and rear motors, making city stop-and-go traffic less jostling. Similarly, on rough, bumpy roads and when accelerating, motor control is optimized to maintain ride comfort by minimizing irregular movement.
e-4ORCE increases driver confidence by faithfully tracing the driver's intended line thanks to ultra-high-precision motor and brake control. With the confidence to handle such a variety of road surfaces, even for novice drivers on slippery surfaces, driving becomes more enjoyable -- or so that is the aim.
Nissan displayed its zero-emission crossover Ariya Concept, which features e-4ORCE technology, at the huge Consumer Electronics Show in January and also showcased the tech on a twin-motor, all-wheel-drive test car in Las Vegas during the event.
Source: Nissan
Published March 2020
Rate this article