Gremlin drones will be launched, retrieved mid-air by U.S. military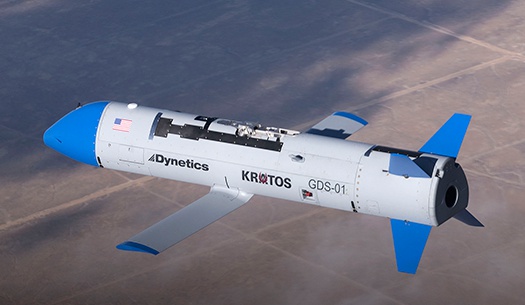 Gremlins air vehicle during a flight test at Dugway Proving Ground, UT, November 2019. [Photo: DARPA]
Last November, the Defense Advanced Research Projects Agency (DARPA) completed the first flight test of its full-scale X-61A vehicle, part of an ambitious program that seeks to launch and recover low-cost, reusable unmanned aerial systems (UASs) -- dubbed "Gremlins" -- mid-air.
The test took place at the U.S. Army's Dugway Proving Ground in Utah. The test vehicle was made by Dynetics. The U.S. Air Force designated the Gremlins air vehicle "X-61A" last August.
What's a Gremlin and why do we need a fleet of them? According to DARPA, U.S. military air operations have relied on increasingly capable multi-function manned aircraft to execute critical combat and non-combat missions for decades. Adversaries' abilities to detect and engage those aircraft from longer ranges have improved over time as well, however, driving up the costs for vehicle design, operation, and replacement.
An ability to send large numbers of small UASs with coordinated, distributed capabilities could provide U.S. forces with improved operational flexibility at much lower cost than is possible with today's expensive, all-in-one platforms -- especially if those unmanned systems could be retrieved for reuse while airborne.
So far, however, the technology to release volleys of low-cost, reusable systems over great distances and retrieve them in mid-air has remained out of reach.
To help make that technology a reality, DARPA has launched the Gremlins program. The program seeks to show the feasibility of conducting safe, reliable operations involving multiple air-launched, air-recoverable unmanned systems. The program also aims to prove that such systems, or Gremlins, could provide significant cost advantages over expendable systems, spreading out payload and airframe costs over multiple uses instead of just one.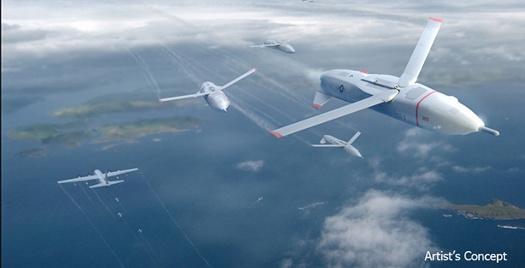 "Our goal is to conduct a compelling proof-of-concept flight demonstration that could employ intelligence, surveillance, and reconnaissance (ISR) and other modular, non-kinetic payloads in a robust, responsive, and affordable manner," said Dan Patt, DARPA program manager, before the test.
The Gremlins program aims to leverage DARPA's prior success in developing automated aerial refueling capabilities, as well the agency's current efforts to create advanced UAS capture systems for ships.
The C-130 military transport aircraft is the demonstration platform for the Gremlins program.
The program envisions launching groups of Gremlins from large aircraft such as bombers or transport aircraft while the planes are out of range of adversary defenses. When the Gremlins complete their mission, a transport aircraft would retrieve them in the air and carry them home, where ground crews would prepare them for their next use within 24 hours.
How will a mid-air catch happen? According to a Jan. 28, 2020, article in Defense News, "During the recovery process, the C-130 will lower a towed capture device that will mate with the Gremlins drone, thus avoiding the turbulence generated by the wake of the larger aircraft," said Tim Keeter, who manages the program for drone-maker Dynetics. "Once the drone is stabilized by the capture device, an engagement arm deploys, docking with the X-61A and bringing it inside the C-130 cargo bay to be stowed."
With an expected lifetime of about 20 uses, Gremlins could fill an advantageous design-and-use space between existing models of missiles and conventional aircraft, Patt said. "We wouldn't be discarding the entire airframe, engine, avionics, and payload with every mission, as is done with missiles, but we also wouldn't have to carry the maintainability and operational cost burdens of today's reusable systems, which are meant to stay in service for decades." Moreover, Gremlin systems could be relatively cost efficient if, as expected, they leverage existing technology and require only modest modifications to current aircraft.
Although the C-130 is being used for program testing, the military services could easily modify the system for another transport aircraft or other major weapons system, said Scott Wierzbanowski, the program manager for Gremlins in DARPA's Tactical Technology Office. Gremlins could also incorporate several types of sensors up to 150 lb and easily integrate technologies to address different types of stakeholders and missions.
The first Gremlin did not survive its November test, though.
The DARPA team met all objectives, including gathering data on operation and performance, air- and ground-based command and control systems, and flight termination. However, "a parachute anomaly occurred in a recovery sequence that was specific to the test series and not part of the operational plan," according to DARPA. The incident resulted in the loss of the test vehicle, one of five in the program. Four vehicles remain operational and available for the test series, which will continue this year.
Better luck next time.
Sources: DARPA, Defense News
Published March 2020
Rate this article