Boeing unveils Army FARA attack copter design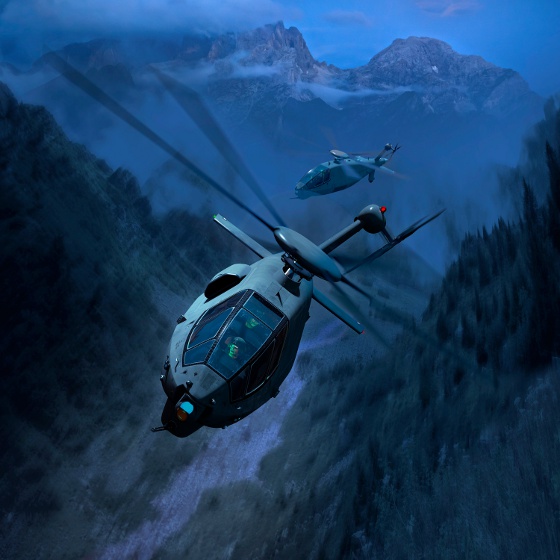 Boeing FARA concept.
Boeing revealed its U.S. Army Future Attack Reconnaissance Aircraft (FARA) design on March 3, the fourth company to put its prototype helicopter plans in the running for a new military contract. Boeing envisions a "thrust compounded single main rotor helicopter" that boasts a six-bladed rotor system, a single engine, tandem seating, and a modular state-of-the-art cockpit. The design also includes a reconfigurable large area display and autonomous capabilities.
Boeing did not introduce a name for its submission.
"We're offering more than a helicopter. We're offering an affordable and fully integrated system for the Army, the mission, and the future," said Mark Cherry, vice president and general manager of Boeing's Phantom Works. "We've blended innovation, ingenuity, and proven rotorcraft experience with extensive testing and advanced analysis to offer a very compelling solution."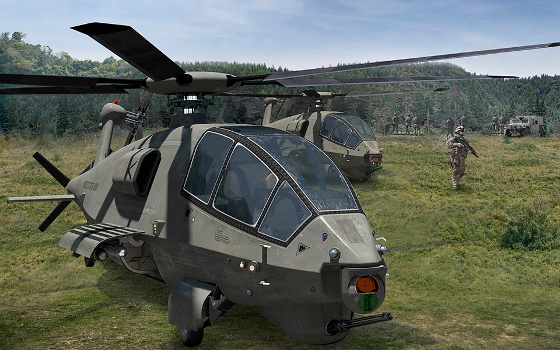 Boeing FARA concept.
The fly-by-wire design leverages more than 65 years of rotorcraft experience, proven advanced and additive manufacturing technology, and product commonality driving down risk and costs. The system aims to provide a "seamless capability within the Army ecosystem to include Long-Range Precision Fires and air-launched effects."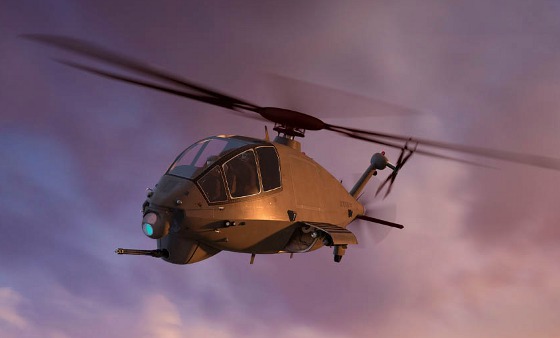 Boeing FARA concept.
A key distinction from other FARA designs is the Boeing copter's unique rear design, which features a tail rotor and a push propeller.
"We listened to the Army, assessed all alternatives, and optimized our design to provide the right aircraft to meet the requirements," said Shane Openshaw, Boeing FARA program manager. "We are offering a very reliable, sustainable, and flexible aircraft with a focus on safety and the future fight."
Boeing said the choice of the tandem seating configuration provides pilots "with needed sight lines and a narrow cross-section, allowing for common pilot interface in either position, improving situational awareness, and battlefield survivability."
The helicopter will also feature a predictive health management system that adapts to degraded conditions using real-time diagnostics, real-time tactical maintenance, and live aircraft interface capabilities.
Additional details about speed, range, and payload were not released by Boeing.
FARA will fill a critical gap in Army aviation for an advanced light attack and reconnaissance capability, previously held by the now-retired Bell OH-58D Kiowa Warrior.
Scheduled for production in 2024, the FARA aircraft will be an advanced, lethal solution with high growth potential. The Army has named the FARA as a top modernization priority supported under the service's new Futures Command structure. One requirement is that the new copter has a cruise speed of at least 180 knots at 4,000 ft.
According to a U.S. Army March 27, 2019, article, "The Army's Future Vertical Lift Cross-Functional Team looks to award two vendors in March 2020."
"The Army has long needed a new reconnaissance aircraft," said Brig. Gen. Walter Rugen, the FVL Cross-Functional Team director, in the article. The article explains, "Back in 2012, the Army reassigned a portion of its AH-64 Apache fleet to support heavy attack reconnaissance squadrons, as a replacement for the OH-58 Kiowa."
According to the article, Rugen said, "This was a suboptimal solution. The Apache is an attack helicopter; it is not an armed reconnaissance helicopter. [At the time,] we did it for budget considerations."
The article also said that "after FARA is fielded, the Army plans to replace about 50 percent of its aging AH-64 fleet."
According to an April 29, 2019, U.S. Army article, "The mandatory requirements [for the FARA CP program] included integration of government-furnished equipment: engine, gun and rocket launcher, a minimum speed, specific target gross weight, a maximum 40-foot diameter rotor, and an affordability goal. Range, endurance, and payload were among the desired requirements that provided industry trade space for their specific design. Apart from those mandates, the timing of the execution plan, funding profile requirements, acceptable risk level, statute requirements and the potential of executing the entire program all the way through field capability by 2028 were also examined."
Other contenders
In January 2020, Bell Textron unveiled its entrant for the U.S. Army's FARA Competitive Prototype program. The new rotorcraft, dubbed the Bell 360 Invictus, "combines proven low-risk technologies with advanced processes to deliver soldiers an affordable, agile, and lethal solution to win on the modern battlefield."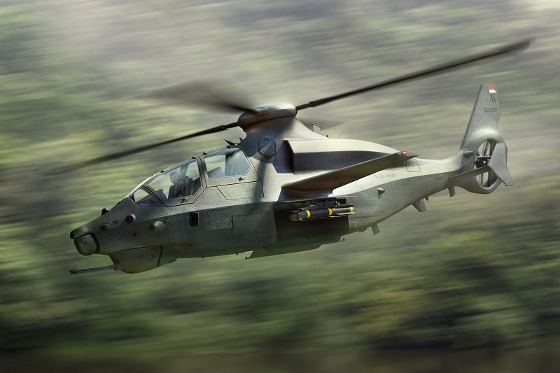 The Bell 360 Invictus FARA helicopter.
The Bell 360 Invictus design emphasizes exceptional performance using proven technologies to fulfill the Army's FARA requirements at an affordable cost and on schedule. One example is the Invictus' rotor system. This design is based on Bell's 525 Relentless rotor system which has been tested and proven at speeds in excess of 200 Knots True Air Speed (KTAS). Read more about it in Designfax here.
Bell's entry follows the debut of a competing FARA technology demonstrator from AVX Aircraft and L3 Technologies. That entry, a compound coaxial helicopter (CCH) design, was announced last April. The novel design includes two ducted fans that provide forward and reverse thrust for both high-speed operation and agility.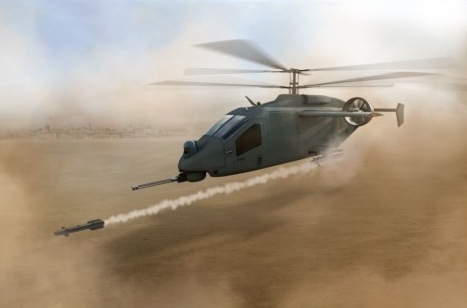 The AVX-L3 compound coaxial helicopter.
Sikorsky debuted its RAIDER X FARA concept copter at the end of 2019. It's a fast-flying, agile, and lethal compound coaxial helicopter that has been specifically designed for securing vertical lift dominance against evolving threats on the future battlefield.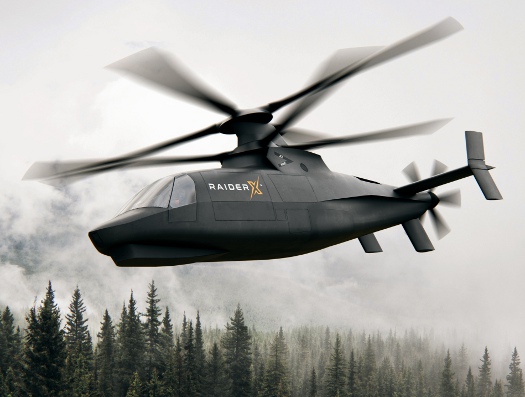 Sikorsky's RAIDER X light-attack copter.
RAIDER X can reach speeds of more than 250 knots (over 280 mph), almost double the speed of a conventional civilian helicopter, and is capable of flying in excess of 9,000 ft in 95 F heat. It can carry six troops and external weapons, and it aims to redefine helicopter flight during the 21st century.
Based on Sikorsky's Collier Award-winning X2 Technology, RAIDER incorporates the latest advances in fly-by-wire, flight controls, vehicle management systems, and systems integration. It also has retractable landing gear, active vibration control, a composite fuselage, active elevator and rudders, split torque transmission, and a rigid co-axial rotor system. These technologies enable the aircraft to operate at high speeds while maintaining the low-speed handling and maneuverability of conventional, single main-rotor helicopters.
Read "Sikorsky unveils RAIDER X light-attack copter" in Designfax Sept. 3, 2019.
Airbus is also rumored to be putting together a FARA concept.
Only two vendors will make it to the next round, once all prototypes are submitted and evaluated.
Sources: Boeing, Bell Textron, Sikorsky, AVX Aircraft, U.S. Army
Published March 2020
Rate this article