Critical medical applications demand top-quality motion
Surgical robotics systems offer an overwhelming advantage over traditional methods: improved precision and speed, faster patient healing, and a reduced margin of error. For minimally invasive procedures requiring this level of precision, performance, and reliability, the engineers of surgical robotics systems depend on FAULHABER motion systems.
Read the full article.
---
Pick, measure, and sort small parts with one robotic workstation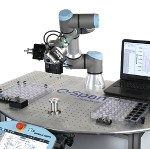 New Scale Robotics has introduced its Q-Span Automated Small-Part Measurement Systems for quality control (QC) teams in high-mix, small-batch manufacturing environments. Q-Span Systems combine robotic pick-and-place with automated measurement of small parts. They easily integrate into existing workflows in the QC lab or on the production floor, and automate the tedious manual process of measuring parts with digital calipers.
Learn more.
---
Universal Robots develops interface for Siemens engineering portal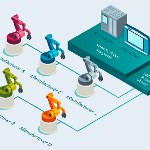 Integrating Universal Robots' collaborative robots into complex machines and manufacturing environments will soon be a process machine builders and systems integrators can handle seamlessly through one of the world's leading automation platforms: Siemens' TIA (Totally Integrated Automation) portal.
Read the full article.
---
Voice coil stages and actuators for precise motion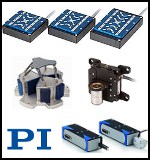 Because of their small dimensions, voice coil motors are often integrated in compact stages, actuators, and fast tip/tilt mirror platforms. These devices are driven by an electromagnetic motor consisting of a moving coil winding and a fixed magnet (the opposite is also possible). By precisely controlling the electric current in the coil, the magnetic force (Lorenz force) -- and thus, acceleration, velocity, and position -- can be varied very accurately.
Learn all about voice coil stages and actuators from PI.
---
Compact, low-noise gearboxes for high loads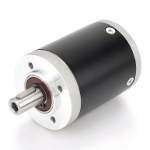 With the GP56-N series, the Nanotec product line now also includes low-noise planetary gearboxes for brushless DC motors and stepper motors with flange size 56 and 60 mm. They are ideally suited for applications in medical devices and building automation. The helical toothing allows the teeth to mesh gradually, which results in a smoother transmission of forces so that vibrations and noise are reduced. Planetary gears and the ring gear consist of a high-quality, low-wear plastic, making the new gearboxes quieter than conventional, straight-geared metal gearboxes. Available in one- and two-stage versions in nine different reductions and varying output torques.
Learn more.
---
Gearless speed reducers with traction drive tech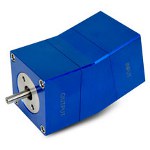 Stock Drive Products / Sterling Instrument (SDP/SI) has introduced new speed reducers with traction drive technology. Featuring a gearless drive, these speed reducers are highly efficient and feature only six moving parts. They use engineered traction fluid to cool and lubricate, and they generate less heat than conventional drives. Years of development and testing have been invested in this new technology, resulting in a product featuring infinite ratios up to a ratio of 5:1, dramatic reduction of motor torque ripple, low vibration and noise level, and significantly less maintenance than a conventional gearbox.
Learn more.
---
Exploring Mars with miniature motors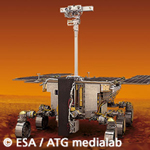 When developing the high-resolution Panoramic Camera on the ExoMars Rover, engineers looked for motors that were extremely compact and could also deliver reliable and precise positioning for the camera-focusing mechanism. FAULHABER Stepper motors were selected for the job, as they precisely position objects with a resolution of 1280 steps per revolution without the need for a separate feedback system, and are more rugged and sturdy than conventional servo motors.
Read the full article.
---
MAHLE developing highly efficient magnet-free motor for electric vehicles

German automotive industry supplier MAHLE is currently developing a new, highly efficient magnet-free electric motor that does not require rare-earth elements and costs less to produce. The company says the motor's efficiency level has only been achieved by Formula E racing cars so far.
Read the full article.
---
Distributed drive system designed for conveyor applications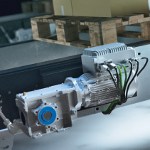 With its new Sinamics G115D, Siemens is introducing a compact and powerful drive system specifically designed for horizontal conveyor applications. The IP-rated system comprises the motor, drive, and gearbox in one unit and is offered in two versions: wall mounted and motor mounted. It is suitable for applications in intra-logistics and airports, as well as in the automotive and food and beverage industries.
Learn more.
---
FANUC tabletop robot now in 10 model variations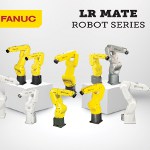 FANUC America has just introduced the LR Mate 200iD/14L, the 10th model variation of its popular LR Mate series of tabletop industrial robots. Since the LR Mate series was launched nearly 30 years ago, it has become one of FANUC's biggest sellers, with over 70,000 units installed across the globe. The LR Mate 200iD/14L allows the highest payload of the LR Mate series, handling parts weighing up to 14 kg in the automotive, e-commerce and warehousing, food and beverage, medical device, pharmaceutical, and many other industries.
Find the right LR Mate for your application.
---
Boost productivity with OnRobot's all-electric VGC10 vacuum gripper

OnRobot's versatile VGC10 vacuum gripper enabled Sydney, Australia-based injection molding experts Designed Mouldings to boost productivity and reduce cycle times through automation of key assembly processes. The low-cost, all-electric VGC10 easily completes 20,000 product runs in 24 hours -- three times faster than manual labor -- freeing workers to focus on higher value tasks. And with no external air supply to worry about, the VGC10 supported easy deployment with excellent results.
Learn how.
---
Neat. Guide any major industrial robot easily with Robeye visual guidance system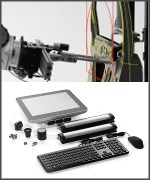 Recognition Robotics offers its complete Robeye visual guidance system that includes all the components needed to guide any major industrial robot. This industry-proven technology with potential for hundreds of applications is currently running production in multiple automotive OEMs. Benefits include quick-and-easy setup, simplified line feeding (for things like pre-centering tooling, conveyors, high-precision racks and rack stands), reduced production time, increased flexibility, and no CAD data or calibration required for new tasks. Just connect, teach, and recognize -- all in less than five minutes. The Robeye Espresso Starter Kit includes everything you need to get underway.
Learn more about the system.
Learn about Robeye in De-racking Applications.
---
Mini brushless DC motor with integrated driver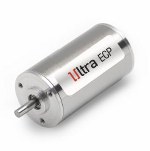 Portescap's new 22ECP miniature brushless DC motor includes an integrated driver to optimize motor performance and simplify installation. The 22-mm-diameter motor is just 35 mm in length and delivers 50% more continuous torque than comparable brushless slotless mini motors -- without compromising smoothness of operation or motor lifespan. It's a high-performance, economic two-pole motor designed to deliver a balance between speed and torque. Applications include respiratory and ventilation devices, infusion pumps, mini industrial pumps, medical hand tools, clinical diagnostics, and valve actuation.
Learn more.
---
New Cobot Welder is programmable with smartphone app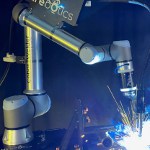 The new Cobot Welder from Hirebotics is a major leap forward in easy-to-use welding automation that combines industrial-grade robot welding functionality with consumer-level ease-of-use and a phenomenal price point -- especially for small and medium-size businesses. The Cobot Welder's app programmability decreases the time required to teach a new part by 60%. A Hirebotics/Universal Robots launch event will be held April 28.
Read the full article.
---
Improved low-backlash Slip-Ease clutches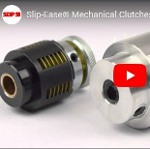 SDP/SI offers a new, low-backlash variant of its existing line of multi-plate in-line slip clutches. Both versions feature an all-mechanical design, which makes them considerably cheaper than electromechanical alternatives. These clutches are commonly used for overload protection to prevent injury and machine failure, but have a wide variety of other applications such as tension control and positioning retention hinges like the ones in reclining chairs. The slip plates are layered with friction pads in between, and an adjusting nut sets the slip torque by squeezing the plates together. The outer plates are tabbed to fit into the output housing and the inner plates are connected to the input hub, so the two ends disengage from one another upon slipping.
View the video.
---
Three national labs achieve record magnetic field for accelerator focusing magnet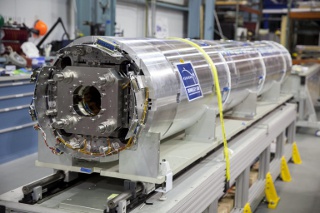 This new magnet -- about as long as a semitruck trailer and weighing 9 tons -- was built by teams at Berkeley Lab, Fermilab, and Brookhaven Lab for the High-Luminosity LHC upgrade project. [Credit: Marilyn Sargent/Berkeley Lab]
In a multiyear effort involving three U.S. national laboratories, researchers have successfully built and tested a powerful new focusing magnet that represents a new use for niobium-tin, a superconducting material.
The 9-ton device, about as long as a semitruck trailer, set a record for the highest field strength ever recorded for an accelerator focusing magnet: 14.1 teslas. It raises the standard for magnets operating in high-energy particle colliders.
The U.S. Department of Energy's Fermi National Accelerator Laboratory, Brookhaven National Laboratory, and Lawrence Berkeley National Laboratory (Berkeley Lab) designed, built, and tested the new magnet.
It is one of 16 they will deliver for operation in the High-Luminosity Large Hadron Collider (HL-LHC) at CERN in Europe, which is an upgrade of the existing LHC -- already the world's most powerful particle accelerator. The 16 magnets, along with another eight produced by CERN, will focus beams of protons to a tiny spot as they approach collision inside two different particle detectors. The U.S.-based team will also deliver four spare magnets.
In all, the upgrade will require 130 new magnets of 11 different types, produced by more than a dozen international partners. The project will replace about three-quarters of a mile of equipment at the LHC.
Niobium-tin is the ingredient that sets these U.S.-produced magnets apart. It is a superconducting material that produces strong magnetic fields. These will be the first niobium-tin quadrupole magnets ever to operate in a particle accelerator.
Superconductivity is a state achieved by extremely cooling the magnets to a temperature hundreds of degrees below freezing. In this state, the magnets can pass electrical current with virtually no electrical resistance in order to maintain a tight focus of the particle beams.
The LHC is already the planet's most powerful particle accelerator, and its high-luminosity successor will smash together beams of protons cruising around the 17-mile ring at close to the speed of light.
The High-Luminosity LHC will pack an additional punch: With its more intense beams, it will provide 10 times the collisions that are possible at the current LHC. With more collisions there are more opportunities to uncover new physics. The new focusing magnets will help it achieve that leap in luminosity delivered to the experiments.
Berkeley Lab's work is focused on winding wires into thin cables, measuring and analyzing those cables to ensure they meet exacting requirements, testing the quality of the magnetic fields generated by the cable-formed magnet coils, assembling the magnets into support structures, and ensuring their proper alignment and uniform compactness.
Giorgio Apollinari, head of the three-lab U.S. LHC Accelerator Upgrade Project and a scientist at Fermilab, said, "We've demonstrated that this first quadrupole magnet behaves successfully and according to design, based on the multiyear development effort made possible by DOE investments in this new technology."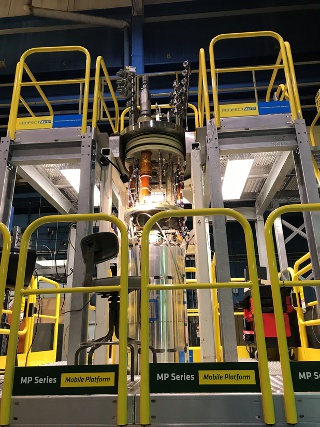 The magnet gets ready for a test at Brookhaven National Lab. [Photo: Brookhaven National Laboratory]
Kathleen Amm, Brookhaven Lab's representative for the Accelerator Upgrade Project, said, "It's a very cutting-edge magnet, really on the edge of magnet technology."
The new magnets, with higher field strength than those of the existing LHC, can bring particle beams to a tighter focus, resulting in more collisions that generate more data.
Focus, magnets, focus
In circular colliders, two beams of particles race around a ring in opposite directions. An instant before they reach the collision point, each beam passes through a series of magnets that focus the particle beams into a tiny spot, much like a magnifying glass focusing light rays to a point. Now packed as tightly as the magnets can get them, the beams collide.
Even with the new magnets, most of the particles won't collide; they continue their paths around the ring until they get another collision opportunity at the next detector. But many particles do smash into each other. That number, and the scientific fruitfulness of that smash-up, depends on how dense the beam is. The more particles that are crowded together at the collision point, the greater the chance of collisions.
You get those tightly packed beams by sharpening the magnet's focus. One way to do that is to widen the lens.
Consider the magnifying glass example: "If you try to focus the light from the sun using a magnifying glass at a small point, you want to have a more 'powerful' magnifying glass," said Ian Pong, a Berkeley Lab scientist who oversees cable fabrication for the U.S. labs' magnet effort. A larger lens has more light-gathering ability and stronger light-ray bending power at its outer rim than a smaller lens.
In this analogy, the size of the lens is like a magnet's aperture -- the opening of the passageway the beam takes as it barrels through the magnet's interior. If the beam is allowed to start wide before being focused, more particles will arrive at the intended focal point -- the center of the particle detector. The U.S. focusing magnet team widened the aperture to 150 mm, more than double the current LHC focusing magnet aperture of 70 mm.
A magnet-testing instrument (center) is prepared for moving through the center of a magnet assembly at Berkeley Lab. [Credit: Marilyn Sargent/Berkeley Lab]
But a wider aperture isn't enough. There must be a strong magnetic field to actually focus the beam.
"The magnet has to squeeze the beam more powerfully than the LHC's present magnets in order to create the luminosity needed for the HL-LHC," Apollinari said.
Niobium-tin for the win
Magnet experts have been experimenting with one of those conductors, niobium-tin, for decades. Electrical current coursing through a niobium-tin superconductor can generate magnetic fields of 12 teslas -- about 250,000 times stronger than the Earth's magnetic field at its surface -- and beyond.
But niobium-tin calls for entirely different magnet construction techniques than the ones used with niobium-titanium, because the heat treatment that makes niobium-tin superconductive also makes it brittle.
"Once they're reacted, it becomes a beautiful superconductor that can carry a lot of current, but then it also becomes brittle," Apollinari said.
"If you bend it too much, even a little bit, once it's a reacted material, it sounds like corn flakes," Amm said. "You actually hear it break." Niobium-titanium was easier to work with because it is pliable.
Over the years, scientists and engineers have figured out how to produce a niobium-tin superconductor in a form that is useful. Guaranteeing that it would hold up as an HL-LHC focusing magnet was another challenge altogether.
To meet the demand, scientists designed and constructed a muscular focusing magnet. They calculated that, at the required aperture for the upgrade project, each focusing magnet would have to generate a field of between 11.4 and 12.4 teslas. This is up more than 50 percent from the 7.5-tesla field generated by the current niobium-titanium-based LHC magnets.
"So what do you do? You need to go to a different conductor," Apollinari said.
It takes state-of-the-art physics and engineering to make the magnets
To produce large, intricate magnets that meet the demands of a collider, the group of three U.S. labs teamed up -- each with its own areas of expertise and specialized facilities -- under Fermilab's leadership.
At Berkeley Lab, the magnet-making process begins by fabricating cable from 40 spools of wire -- a copper matrix that contains niobium and tin. The machine-wound wires are rolled into thin, rectangular cables that must be defect-free and meet specifications within hundredths of a millimeter.
"Making these accelerator magnet cables is like directing 40 ballet dancers doing 5,000 pirouettes nonstop in a synchronized manner, where a single misstep would cost as much as crashing a few Tesla sportscars," Pong said.
Scientists at Fermilab and Brookhaven wind these cables into coils, taking care to avoid excessively deforming them. Then comes a three-stage, week-long heat treatment, causing a chemical reaction that makes the cables superconductive.
The magnet coils must be heated evenly, inside and out. "You have to control the temperature well. Otherwise the reaction will not give us the best performance," Pong said. "It's a bit like cooking. It's not just to achieve the temperature in one part of the coil but in the entire coil, end to end, top to bottom -- the whole thing." Researchers make the coils strong and solid by embedding them in a resin.
It takes several months to yield a coil that is ready for service as one of a focusing magnet's four poles. Together, the coils conduct the electric current that produces the magnetic field.
The magnet coils are assembled within an aluminum and steel support structure at Berkeley Lab to form a single magnet, and researchers test the magnetic fields produced by these coils and ensure that the support structure provides uniform pressure along the length of the coils.
Temporary water-pressurized metal bladders are used to provide tension to the support structure during assembly and alignment. The support structure is designed to withstand more than 20 million lb of force during operation. Researchers use models and instruments to verify that the support structure can withstand the strength of the magnetic field.
"Because these coils are very powerful when they are energized, there is a lot of force trying to push the magnet apart," Pong said. "Even if the magnet is not deforming, at the conductor level there will be a strain, to which niobium-tin performance is very sensitive. The management of the stress is very, very important for these magnets."
Alignment of the four coils within each magnet is also critical to performance. "You need very high field precision, so we have to have very high precision in how they align these to get good magnetic-field uniformity," Amm said.
The full magnet is an eight-ton structure that's about as long as a semitruck trailer. The magnets are shipped to Brookhaven for testing, then to Fermilab for installation in their cryogenic containers, followed by another round of testing before shipment to CERN.
"This will be the first use of niobium-tin in focusing accelerator magnets, so it will be pretty exciting to see such a complex and sophisticated technology get implemented into a real machine," Amm said. "These magnets are currently the highest-field focusing magnets in accelerators as they exist today."
Pong added, "Finally we are coming to it, and we really want to make sure it is a lasting success."
The many moving parts of an accelerator collaboration
Ensuring lasting success has as much to do with the operational choreography as it does with the exquisite engineering. Conducting logistics that span years and a continent requires painstaking coordination.
"For example, transportation communication: We have to make sure that things are well protected," Pong said. "Otherwise, these expensive items can be damaged, so we have to foresee issues and prevent them."
Amm, Apollinari, and Pong acknowledge that the three-lab team has met the challenges capably, operating as a well-oiled machine.
"The technologies developed at Fermilab, Brookhaven, and Berkeley helped make the original LHC a success. And now again, these technologies out of the U.S. are really helping CERN be successful," Amm said. "It's a dream team, and it's an honor to be a part of it."

VIDEO: Highlights of the magnet-making efforts to support the High-Luminosity Large Hadron Collider upgrade at CERN in Europe are shown here. Three U.S. Department of Energy national labs -- Berkeley Lab, Fermilab, and Brookhaven Lab -- are building superconducting magnets that can produce far stronger magnet fields than the magnets now in place at the LHC. This will enable more particle collisions and data to help us learn more about exotic particles and their properties. [Credit: Marilyn Sargent/Berkeley Lab]
The team's achievements are made possible by many years of R&D. The U.S.-based Accelerator Upgrade Project for the HL-LHC, of which the focusing-magnet project is one aspect, began in 2016. It grew out of a 2003 predecessor, the U.S. LHC Accelerator Research Program (LARP), that developed LHC-related accelerator technology. And these efforts drew upon past experience in pushing the frontiers of magnet and materials performance for a variety of applications.
From now until about 2025, the U.S. labs will continue to build the LHC magnets, from fine strands of niobium-tin to the hulking finished products. In 2022 they plan to begin delivering the magnets to CERN. Installation is planned in the following three years.
"People say that 'touch down' is a very beautiful way to describe the landing of an airplane, because you have a huge metal object weighing hundreds of tons, descending from the sky, touching a concrete runway very gently," Pong said. "Our magnets are massive superconducting devices, focusing tiny, invisible particle beams that are flying close to the speed of light through the bore. It's quite magical."
The magic starts in 2027, when the High-Luminosity LHC comes online.
The work, Apollinari said, is "a generational passing of the baton."
"The upgrade project exemplifies what can be achieved through co-operation among the laboratories," said Associate Laboratory Director James Symons. "The U.S. contribution to the luminosity upgrade has been made possible by the very successful LARP collaboration, which developed the design concept over the past decade."
Sources: Fermi Lab, Berkeley Lab
Published March 2020
Rate this article