Brushless slotted flat motor weighs only 15 grams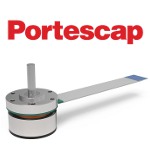 The 20ECF brushless slotted flat motor is the latest motor to join Portescap's flat motor line. The motor's 19-mm rotor diameter is notably smaller than the 20-mm diameter of competitive solutions. At 15 grams, the 20ECF provides a mass savings of at least 30% when compared to competing motion solutions. The motor's design optimization also helps it achieve a 50% improved motor regulation factor relative to standard available solutions. Applications include surgical and service robotics, lab automation, premium tattoo machines, electric grippers, LiDar, and pumps.
Learn more.
---
Efficient, reliable and flexible robot gripper optimizes machine tending operations

To continuously deliver high-quality results to its customers, WEFAG AG not only invested in new CNC machines, but also deployed a collaborative application with the 3FG15 gripper from OnRobot to tend the CNC machines. This makes it possible for the Swiss family-owned company to meet extremely short delivery times and smaller batch sizes confidently, while also reducing the workload of employees, who can now focus on more demanding tasks.
Watch how the 3FG15 delivered an ROI in 2 months.
Learn more: How to automate machine tending.
---
Differences between types of multi-axis positioning stages -- parallel vs. stacked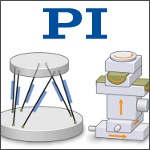 According to the experts at PI (Physik Instrumente), stacking individual motorized stages is a fine approach for assemblies of just a few axes, but as applications become more complex a 6-axis stage design based on parallel kinematics could be the best option. Learn about stiffness, inconsistent dynamics, size and weight fragility, and even cabling considerations for multi-axis applications. Lots of good info here.
Read this informative PI blog.
---
Universal Robots' new UR20 Cobot makes its U.S. debut at IMTS 2022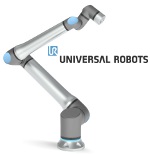 Attendees at North America's leading machine tool show (IMTS) are experiencing how the all-new collaborative, industrial cobot from Universal Robots delivers the longest reach and payload in its class, offering the ability to automate even more hard-to-staff tasks in a market struggling to hire. Also learn about cobot grippers, machine tending, robo welding, and more.
Read the full article.
---
Miniature voice coil servo motor with 1-micron resolution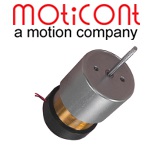 The miniature GVCM-016-019-01M Linear Voice Coil Servo Motor from Moticont is smaller in diameter than a dime and features a high force-to-size ratio of 1.5 N (5.3 oz) continuous force and 4.6 N (16.6 oz) of peak force. These brushless mini linear servo motors are clean, quiet, and feature high acceleration/deceleration, high speed, high reliability, and cog-free linear motion. An ideal choice for haptic feedback, pipetting in medical devices, machining and drilling, scanners, laser beam steering, sorting, assembly, and more. Can also be a low-cost replacement for pneumatic linear actuators.
Learn more.
---
MAHLE claims new EV motor is most durable -- can run indefinitely with high performance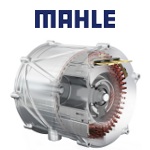 Automotive supplier MAHLE says it has developed "the most durable electric motor available" for electric vehicle (EV) applications. Unique to the market, the traction motor -- with a continuous output of more than 90% of its peak output -- can run indefinitely with high performance thanks to a new cooling concept.
Read the full article.
---
What are Crossed Roller Bearings?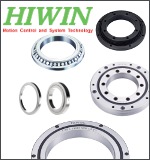 Learn all about HIWIN Crossed Roller Bearings that are three to four times more rigid than standard bearing solutions and are capable of handling loads in the axial, radial, and moment directions. They consist of an outer ring, an inner ring, and a plurality of rollers and spacers. The roller lies between the inner and outer ring with the spacers placed between the rollers to prevent the mutual friction between them, thereby decreasing the torque resistance for rotation. Many options are available depending on the level of rigidity needed.
Learn more.
---
Compact electrically controlled hydraulic actuator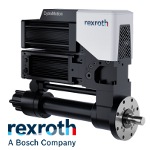 Bosch Rexroth has expanded its range of standardized self-contained actuators by adding the CytroMotion system solution. With the help of the new compact actuator, linear movements involving forces up to 110 kN can be achieved in a range of machines and systems in smaller spaces -- more efficiently and more sustainably. These benefits can be seen over the entire life cycle. Thanks to fully electric control, CytroMotion makes engineering and commissioning easier. The efficient, power-on-demand drive and the maintenance-free, hermetically sealed design also minimize operating costs.
Learn more.
---
Belt-driven actuators for harsh environments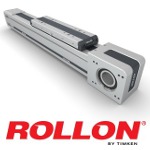 Rollon's newly enhanced Plus System lineup of belt-driven linear actuators can be integrated seamlessly with industrial machines. Combining sturdy construction, protective features (sealed), and high-performance characteristics for load, moment control, speed, and acceleration, the Plus System family features an anodized aluminum structure and steel reinforced driving belt. Three types available: Plus System ELM completely enclosed unit, Plus System ROBOT for multi-axis or SCARA robots, and Plus System SC for vertical motion in gantry applications.
Learn more.
---
Linear positioning and motion systems at IMTS 2022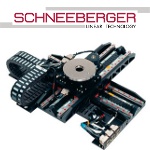 SCHNEE-BERGER Linear Technology will spotlight its precision positioning and motion systems at IMTS 2022 in September. On display will be a fully functioning demo of a complete linear motion technology system featuring the company's leading and most innovative linear motion components. When linear tech components are designed to work together to create the most effective solution for machine movement, OEMs can accelerate design and manufacturing, reduce assembly time and labor, and achieve a lower TCO.
Learn more.
---
Micro-sized FlexPro servo drive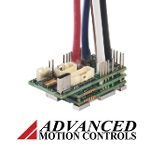 ADVANCED Motion Controls' new 60-A continuous FlexPro servo drive model FM060-60C-RM is the third "machine embedded" version in this power range, adding RS-485/232 communication to the previously released EtherCAT and CANopen versions. This drive can operate at its 60-A peak rating continuously with no need for current foldback -- impressive because the micro-package size means up to four units can fit within the footprint of a business card. Applications include cobots, AMRs, AGVs, portable devices, lab and warehouse automation, military equipment, and more.
Learn more.
---
NSK's new Active Casters help robots move effortlessly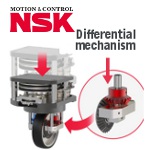 NSK has developed new Active Caster technology for service robots and mobility drive applications. The compact, electric-powered turning unit provides both drive and steering functions based on the difference in rotation between two motors. The developers say it generates less vibration compared to an omnidirectional mobility unit using Mecanum wheels.
Read this informative NSK article.
---
Hybrid stepper motor with 8-pin integrated connector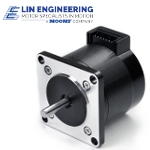 Lin Engineering's NEMA 23 (57-mm) hybrid stepper motor can be ordered with an 8-pin integrated connector that allows for multiple connection options. Standard and customized windings and shaft options are available to match your performance requirements, as well as customizable leads and wire harness. This high-volume-availability motor may be the perfect drop-in replacement for your designs if you are experiencing supply chain issues.
Learn more.
---
IronHorse jet pump and stainless steel motors
Automation-Direct has added the new, economical IronHorse MTRJ series of jet pump motors to their AC motor lineup. They come in a TEFC enclosure with a 56J frame that has a threaded shaft for direct connection to a jet pump, and are available in 120/230 VAC from 1/3 to 2 hp and in 208-230/460 VAC from 1/3 to 3 hp at 3,600 rpm. AutomationDirect has also added the MTS series of IronHorse motors that offer premium efficiency (EISA compliant) and come with an IP69K-rated stainless steel construction that can survive the harshest of environments. They are available in sizes from 1/3 to 20 hp in 208-230/480 VAC 3-phase and in speeds of 1,200, 1,800, and 3,600 rpm.
Learn more.
---
Machine learning eliminates cogging for linear motors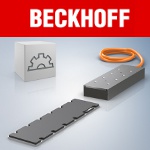 The highly dynamic AL8000 linear motors from Beckhoff now meet even greater requirements for accuracy and synchronization with the new TwinCAT Cogging Compensation software, which compensates for cogging forces. Cogging forces in linear motors are caused by the magnetic attraction between the iron core in the primary part and the permanent magnets in the secondary part. AL8000 linear motors are particularly suitable for high-precision applications such as milling machines or laser cutting machines.
Learn more.
---
DIY medical devices and protective gear fuel battle against COVID-19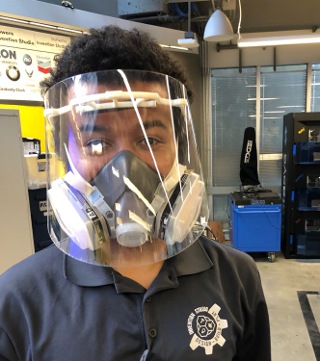 Georgia Tech is helping meet the need for face shields for healthcare workers.
By John Toon, Georgia Tech University
It's a race against time that some participants liken to Apollo 13, the stricken NASA spacecraft for which engineers improvised an air purification system from available parts to get three astronauts back from the moon.
In this case, however, the race is to improvise ventilators, face shields, respirators, surgical gowns, disinfectant wipes, and other healthcare gear to help the hundreds of thousands of people expected to swamp hospitals with waves of critical COVID-19 illness over the next several weeks. The demand for ventilators alone could be four times more than already overwhelmed hospitals can provide.
Using 3D-printed parts, plastic-lined tablecloths intended for birthday parties, laser-cut gears, and similar substitutions, a research team from universities on two continents is racing to develop "do-it-yourself" healthcare gear that can be assembled where it's needed from components available locally. Team members figure they have about two weeks to get the designs right and share them with anyone who can help with the needs.
"We're trying to figure out how to get these things to scale in the time we have," said Shannon Yee, an associate professor in Georgia Tech's George W. Woodruff School of Mechanical Engineering who's working on the ventilator issue with a half-dozen colleagues at Georgia Tech and other universities. "We are looking at producing things very quickly, and this is where having contacts with mature manufacturing sources is going to help."
Georgia Tech has established a Rapid Response website to identify needs for personal protective equipment and potential collaborations.
Supplying face shields to the medical community
The Wallace H. Coulter Department of Biomedical Engineering at Emory and Georgia Tech serves as a bridge between healthcare needs and the broad technical know-how at Georgia Tech, and Georgia Tech researchers are talking regularly with hospital systems to discuss their needs. So far, hand sanitizer, disinfectant wipes, face shields, respirator masks, and ventilators have been identified as critical needs. Using resources of the Flowers Invention Studio -- such as 3D printing -- the group has already produced 1,000 face shields and is preparing to fabricate thousands more in the form of kits that hospitals can assemble.
"With the significant challenges on our supply chain, we need strategies to provide personal protective equipment (PPE) for healthcare staff," said Dr. Charles Brown, CEO of Physician Enterprise at Piedmont Healthcare. "We have mechanisms in place to develop ideas and are working with Georgia Tech and the Global Center for Medical Innovation (GCMI) to advance them to what we can use."
Georgia Tech faculty members, students, and GCMI worked on multiple face shield designs, talking with clinicians at Children's Healthcare of Atlanta, Emory Healthcare, and Piedmont to evaluate and iterate. The result was two different designs intended for specific uses in hospital facilities, where face shields protect clinicians from splashes and help extend the life of soft respirators intended to filter out virus particles.
To scale up fabrication beyond the Georgia Tech campus, the team focused on simple designs that could be shared with and produced by individuals with access to a makerspace -- and major manufacturers with injection molding capabilities. The team plans to make the designs available for anyone with laser cutting or 3D-printing capabilities.
"Initially we were just thinking about meeting the needs of Atlanta, but cities everywhere need them," said Saad Bhamla, an assistant professor in the School of Chemical and Biomolecular Engineering who specializes in "frugal science" -- creating inexpensive lab devices. "We have created great models that can be used to create a pipeline of instructions that others can use. The face shields will set the stage for other device models as they become available."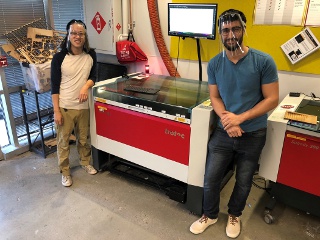 To help meet the need for personal protective equipment (PPE) for health care workers, Georgia Tech has designed and is producing face shields. Shown is a laser cutting machine used to create frames for the shields.
"The Georgia Tech mechanical engineering team is working to modify open source face shield designs so they can be manufactured in high volumes for the rapid response environment that COVID-19 requires," said Christopher Saldana, an associate professor in the Woodruff School. "Our team has modified these designs using a range of product and process optimization methods, including removing certain features and standardizing tool use. By working on cross-functional and cross-disciplinary teams and directly involving healthcare practitioners and high-volume manufacturers, we will be able to respond to this effort at the scale and speed required."
The supply chain challenge
The team's Rapid Response website will both quantify the needs for face shields and solicit supplies of materials. Because the world's supply chains are unable to ship conventional PPE components, they are looking for alternatives that may not now be part of that production.
The challenge is that everyone is scrambling to find equipment and materials in an international supply chain that has already been depleted by months-long demands from countries that dealt with the virus earlier: China, Italy, and South Korea. As the healthcare demands ramp up in the United States, hospitals will have to be more creative in meeting the needs that their traditional sources may not be able to supply.
"If we can't get them from commercial or government sources, we're going to have to make them ourselves," said Michael O'Toole, Executive Director of Quality Improvement at Piedmont and a Georgia Tech engineering graduate.
VIDEO: Faculty and students at Georgia Tech have designed a quick and easy way to manufacture face shields.
With significant efforts going into design of locally sourced equipment, expertise on medical device prototyping and approval is needed. That is coming from a network of alumni and local companies and GCMI, a Georgia Tech-affiliated organization that works with device manufacturers around the world to translate designs into devices that can be manufactured quickly and cost effectively.
"The goal right now is to develop solutions that can be sourced locally and that we can produce now," said Tiffany Wilson, GCMI's CEO. "We are working with Georgia Tech and others on how we can suggest modifying the designs to optimize them for the current environment. We are helping make sure designs are clinically validated with an eye toward scalability."
Research on Possible Solutions for Other Shortages
While the face shield is the most mature project the team is developing, researchers are also looking at other needs of the medical community. Among them are ventilators, disinfecting wipes, and respirators.
An example of an Apollo 13 project may be ventilators that are used to help critically ill patients breathe. Traditional equipment makers are working as fast as they can, but that may not be fast enough. To achieve a globally scalable makeshift ventilator will require minimizing the number of parts and thinking about mechanical simplicity, Yee said.
Leon Williams, head of the Center for Competitive Creative Design at Cranfield University, is working with Georgia Tech researchers to create a makeshift ventilator based on the bag-valve-mask (BVM) -- also known as an Ambu bag -- a hand-held mechanical resuscitation device already available at hospitals.
Through a system of laser-cut gears and other components, the preliminary concept would use a simple 3-V motor to compress the bag and push air into the lungs of a critically ill patient. Among the challenges is extending the lifetime of the bags, which are not designed for long-term use.
As with face shields, the group expects to make its plans widely available for other groups to iterate and produce. "There is a lot of activity here that is going to move this forward," said Devesh Ranjan, associate chair for research in the Woodruff School of Mechanical Engineering, who is coordinating several of the Georgia Tech Rapid-Response projects on campus.
Another identified need is for disinfecting wipes, which seem like a simple enough product: a nonwoven material and a solution based on either alcohol or bleach. The material and solutions seem to be available; the problem is locating the industrial-sized containers to hold them.
"We've been looking for containers for the wipes commercially," said Graham. "What we are finding is that the issue is the containers, but we are looking at other solutions." He's working with David Sholl, chair of the School of Chemical and Biomolecular Engineering, to identify potential suppliers.
Respirators, swabs, and gowns
Protecting healthcare workers from the coronavirus requires a special type of respirator, soft face masks that remove virus particles from the air. Because the virus particles are so small, hundreds of nanometers in diameter, that protection requires high-efficiency filtration materials that, until recently, were mostly manufactured in China.
"The filters are not being produced at the rates that are needed, so we have been thinking about what we can put together that approximates an N95 filter that's needed to protect healthcare workers," said Ryan Lively, an associate professor in the School of Chemical and Biomolecular Engineering. "We need to make something that can be produced out of homemade goods, then verify that it can do the filtering needed."
Lively has been experimenting with alternatives, such as high-efficiency filtration materials manufactured for HVAC systems that could be sewn inside a fabric pouch. "There are journal papers out there showing filtration materials that are not as good as N95 are still effective at increasing rejection of the virus particles," he said.
If these work as needed, Lively could produce limited numbers in his lab. "We have estimated that we can produce 700 masks per week using the pilot line that we have for research and repurposing it for cranking out hydrophobic fiber media," he said. "That won't solve the problem, but it will help meet a very critical need."
The swabs used for COVID-19 testing are also in short supply, as are gowns designed to protect healthcare workers. Carson Meredith, director of the Renewable Bioproducts Institute, is tracking down alternative sources from among the many manufacturers who are members of the Georgia Tech interdisciplinary research institute.
"The idea is to take a basic material intended for a different function and transform it into the products that we need," he said. One example is a material manufactured for party tablecloths -- plastic on one side to prevent spills from going through, and paper on the other for festive designs. "We're looking at whether the machinery that produces those can be rapidly turned into making a temporary gown."
The research team meets by phone daily to update each other on what's been done and to share ideas. They follow international Slack channels to know what other similar groups are doing across the U.S. and the world.
They know their prototype production equipment can't meet the world's needs, so they're sharing plans with others who may have capabilities. Ultimately, major manufacturers will catch up, but that could take months -- perhaps too long for the expected COVID-19 infection curve.
"The best thing we can do is share that information broadly to try to come up with solutions that use parts that can be sourced locally," Yee said, referring to the ventilator project. "Simple solutions using motors that people can get anywhere, structures that can be 3D-printed, and materials that can be hand-cut with saws may get us through this."
Published April 2020
Rate this article