| | |
| --- | --- |
| June 09, 2020 | Volume 16 Issue 22 |
---
---
---

Feature articles

Laser-guided rockets coming to light tactical vehicles
BAE Systems has successfully completed test shots of its APKWS laser-guided rockets from a ground-based weapon system for the first time, bringing the add-on laser-guided missile system used on Black Hawk helicopters and F-16 fighter jets to light tactical vehicles in all four branches of the U.S. military.
Read the full article.

---


Engineered Super Air Nozzles
EXAIR's Air Nozzles reduce noise levels and air costs. Upgrade your blowoff, cooling, and drying operation to our engineered Super Air Nozzles. They provide incredibly strong blowing force, using only a small amount of compressed air. Force available from 2 oz to 23 lbs! Ideal for cleaning, cooling, drying, part ejection and more.
Learn more.


New Porsche 911 Targa: Better with age
It's been 55 years since the Porsche 911 Targa was first introduced as a prototype at the International Motor Show in Frankfurt, Germany, in September 1965. The 2021 380-hp Targa 4 and 444-hp 4S models prove that some things just keep getting better with age -- with a few key tweaks here and there that add to the line's power and refinement. There's also a 911 Targa 4S Heritage Design limited edition in the works, with nods to the brand's racing legacy.
Read the full article.


World's Largest Virtual Collaborative Robot Expo
With Europe's trade fair scene turned upside down, Universal Robots (UR) is breaking new ground. From June 16 to 18, from 10 am to 4 pm CET all three days, the Danish cobot pioneer will host "We Are Cobots," the World's Largest Virtual Collaborative Robot Expo -- a no-cost event. Browse over 30 virtual booths, learn more about the numerous benefits of collaborative automation, and attend any of 50 live keynotes by a wide range of robotics experts. A great event.
Learn more. Online event is June 16-18.


Engineer's Toolbox:
12 key factors in bellows design
What do you need to know to design your own custom bellows? The experts at Servometer have prepared this handy resource for you. Typical bellows applications include: volume compensators, actuators, electrical spring contacts, pressure switches and transducers, flexible shaft couplings, and more.
Read the full article.


Tiniest load cell yet
The LLB130 Miniature Load Button from FUTEK has a capacity range from 1,000 g to 50 lb and is RoHS compliant. This mini load cell features low deflection and fast response time, and it is fully internally temperature compensated. These units achieve great accuracy and stiffness. Can be modified or customized to meet your requirements.
Learn more.


Image sensor for automotive viewing cameras boasts top LED flicker-mitigation performance
OmniVision Technologies recently announced the OX03C10 ASIL-C automotive image sensor -- the world's first for viewing applications that combines a large 3.0-micron pixel size with a high dynamic range (HDR) of 140dB and the best LED flicker-mitigation (LFM) performance for viewing applications with minimized motion artifacts. This is also the first viewing image sensor with HDR and LFM that can deliver 1920 x 1280p resolution at the highest rate of 60 fps, enabling greater design flexibility and faster camera-view switching for drivers.
Learn more.


New from Ruland: Slit couplings
Reliance Precision Limited is now offering its slit couplings through Ruland's eCommerce platform and extensive worldwide distribution network. Slit couplings are zero-backlash and manufactured from a single piece of aluminum with intermittent slit cuts, allowing for high torque and torsional stiffness capabilities, low inertia, and long life. Reliance's design uses a proprietary slit pattern that has radiused as opposed to squared edges, reducing stresses that build up during misalignment conditions and torque loads. Equipment designers in industries such as packaging, scientific, semiconductor, solar, medical, and automation benefit from the wide range of sizes and performance characteristics offered by slit couplings.
Learn more.


Function-integrated machine frames from Rexroth include internal cable guide
Bosch Rexroth's new function-integrated profiles (FIPs) include a completely internal cable guide that allows for the safe and space-saving laying of cables, data lines, and hoses. Thanks to the new profile junctions, they can even be laid through profile connectors. The FIP range comprises four profile cross-sections with a host of accessories to build on the modular system. The entire solution can be combined with the established Rexroth modular profile system and provides an unprecedented level of design flexibility.
Learn more.


Retrofit legacy devices for wireless, off-premise monitoring and control
Layer N from Omega is a simple, smart, and flexible way to monitor a wide range of industrial equipment such as freezers, ovens, and furnaces without requiring users to be on-premise. Temperature, humidity, light, and barometric pressure readings are captured, stored, processed, and transported in real time to the cloud via wireless smart sensors and gateways, allowing reports to be accessed from anywhere at any time. Using Message Queuing Telemetry Transport, one of the most commonly applied protocols for IoT data transport, Layer N products offer a cost-effective and simple way to retrofit and integrate legacy devices into the digital world.
Learn more.


LEGO unveils Lamborghini Sian model
If you're up for a real high-end challenge, LEGO has just released its new 3,696-piece, 1:8-scale Technic Lamborghini Sian FKP 37 model, filled with working parts. The pricey, 23-in.-long lime-green supercar model features flashy gold wheels, scissor doors, a perfectly recreated cockpit, V12 engine, a rear spoiler that pops up like the real thing, front and rear suspension, and a fully functioning 8-speed sequential gearbox triggered by a movable paddle gearshift. Loaded with other intricate details. Available through LEGO now and worldwide starting Aug. 1.
Learn more.
---
Most popular last issue


Paper-thin transistor handles 8,000 V+
A gallium oxide-based transistor under development at the University at Buffalo can handle more than 8,000 volts, an impressive feat considering it's about as thin as a sheet of paper. The device could lead to smaller and more efficient electronic systems that control and convert electric power in electric cars, locomotives, and airplanes.
Read the full article.
---
Videos+: Technologies and inspiration in action
Machine basics: How an electromagnetic clutch works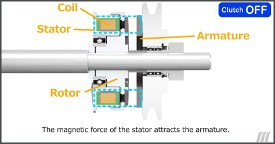 This informative Miki Pulley Co. video shows the operating principles of an electromagnetic clutch used in a basic conveyor system. There's no narration, but this easy-to-understand presentation does a nice job demonstrating the mechanical parts that connect the system, with a clutch that regulates power transmission on and off to the pulley running the conveyor.
View the video.
Reverse engineering made easier with Geomagic Design X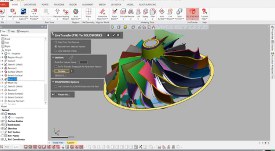 3D Systems' Geomagic Design X makes it easy to extract new value from existing products by creating CAD models from 3D scans faster, more accurately, and more reliably than any other reverse-engineering method. It connects directly to your existing CAD environment and creates native files that accurately represent a scanned object. See how this software tool can break down a typical reverse-engineering job. A scanned impeller is used as an example.
View the video.
---