| | |
| --- | --- |
| June 16, 2020 | Volume 16 Issue 23 |
---



THK World-Class KR Actuators -- Rigid, Accurate and Compact
The LM guide actuator model KR from THK provides high-rigidity, high-precision functionality and space saving. It is achieved by a nut block designed in a structure that integrates an LM rail having a highly rigid U-shaped cross-sectional form with the LM guide section.

The KR features a four-way equal load rating. The LM guide actuator can be operated in any position, which makes it ideal for loading in directions that are not fixed.
Learn more.
---
---
---

Feature articles

Army making 'digital twins' of Black Hawk helicopters

The U.S. Army is turning to "digital-twin" technology to resolve supply-chain and maintenance issues for its enduring fleet of Black Hawk helicopters. The digital twin opens the door to acquire parts that are out of production while building the capacity to use advanced techniques, such as additive manufacturing, to produce components.
Read the full article.

---


The camera that saved Hubble: A look back
In December 1993, NASA held its collective breath as seven astronauts on space shuttle Endeavour caught up with the Hubble Space Telescope 353 miles above Earth. Their mission: Fix a devastating flaw in the telescope's primary mirror. April 2020 marked 30 years since the Hubble Space Telescope's launch -- a project that has produced fantastic highs (thousands upon thousands of incredible images) and deeply wounding lows (an instrument that initially did not work as built).
Read the full article.


Weird, wild, and wonderful: 50 years of Mazda rotary-engine prototypes
Founded in 1920, Mazda is celebrating its 100th anniversary this year. As part of the big celebrations, we take a look back at two of the things the company is well known for: its success with the rotary (Wankel) engine, first introduced in the company's vehicles in 1967, and their sometimes-out-there prototype rotary-engine cars, which range from fancy track racers to everyday commuters.
Read the full article.


Smarter retail logistics with self-driving robot retrieval
Small motors and motion controllers from FAULHABER are what make the TORU picker robot so versatile. With an eye on the relentlessly growing sector of online retail, logistics and material-handling companies are eager for ways to increase efficiency, particularly through automation and digitalization. For the handling operations inside the self-driving logistics robot, TORU relies on FAULHABER motion systems with integrated motion control.
Read the full article.


Limit fire sprinkler damage with low-cost pole drain
A newly patented Fire Sprinkler Drain System design helps limit damage from accidental fire sprinkler activation in plants, offices, and other buildings. These low-cost units are available for ceiling heights up to 24 ft and use drain lines of 50 or 100 ft. No ladder is required. The swivel-design drain tap automatically adjusts to any ceiling angle. The device is compact and lightweight for easy storage and handling. Prices range from $169 to $229 with free shipping. Custom units are available.
Learn more.


Explosion-proof DC brush motors
The Kollmorgen EP series of explosion-proof, SCR-rated, permanent magnet direct current (PMDC) brush motors meets the requirements of Division 1 and 2, Class I (Group C, D), Class II (Groups E, F), and Class III environments. The EP motors are equipped with standard NEMA 56C face mounting with removable base and Class H insulation. They are UL recognized and meet CSA standards. Available in several voltages (12, 24, 90, 180 VDC) and power ranges (1/4 to 3/4 HP) operating at 1,750 rpm.
Learn more.


No Drip Spray Nozzles sanitize, clean, and cool
EXAIR's new 1/2 NPT No Drip External Mix Air Atomizing Spray Nozzles work in the same way the company's standard atomizing nozzles do, but have the added benefit of positively stopping liquid flow when compressed air is shut off. External Mix Air Atomizing Spray Nozzles have the highest flow rates and allow the air and liquid flow to be adjusted independently. They can be used on liquids above 300 centipoise. The patented No Drip design requires no additional air line to control the No Drip feature.
Learn more.


Mastercam 2021 is here
Mastercam 2021 from CNC Software increases machining productivity and reduces overall production costs. It features faster and more flexible multiaxis improvements, advances in speed and safety, improvements in turning and turning-related applications, and much more. New toolpaths include Chamfer Drill, which allows users to machine chamfer holes based on width or depth; Advanced Drill, a customizable multi-segment drill cycle that is useful for spot drilling, deep hole drilling, and back spot facing; and 3+2 Automatic Roughing, which automatically makes multiplane 3-axis toolpaths for roughing.
Learn more.


Carbon composite bellows springs for lightweighting and more
The Carbon Composite Bellows Spring (CCBS) from MW Industries is a system of carbon fiber elements that combine to work as a high-performance, lightweight, and design-flexible compression spring meant to replace conventional coil springs or metallic Belleville disc springs. It offers value through unique dynamic characteristics and unparalleled in-the-field design flexibility. A functional spring is made from several individual elements, paired in sets and joined to make a stack. The spring rate of the stack is determined by the number of elements, the base rate of each element, and their series or parallel orientation in the stack. Applications include motorsports, aerospace, outdoor recreation, general industry, and high-performance activities.
Learn more.
---
Most popular last issue


New Porsche 911 Targa: Better with age
It's been 55 years since the Porsche 911 Targa was first introduced as a prototype at the International Motor Show in Frankfurt, Germany, in September 1965. The 2021 380-hp Targa 4 and 444-hp 4S models prove that some things just keep getting better with age -- with a few key tweaks here and there that add to the line's power and refinement. There's also a 911 Targa 4S Heritage Design limited edition in the works, with nods to the brand's racing legacy.
Read the full article.
---
Videos+: Technologies and inspiration in action
See the PowerTilt bucket coupler at work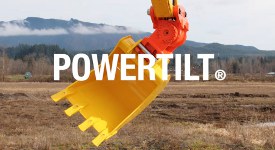 With the Helac PowerTilt tilting quick coupler from Parker, you get to position your bucket instead of moving the entire machine. It gives users the ability to tilt a bucket up to 180 degrees. The PowerTilt tilting coupler for excavators and other equipment is a versatile tool for multiple attachments and can increase productivity more than 50 percent. Available for equipment up to 75,000 lb in eight sizes.
View the video.
What is Onshape? Learn about next-gen CAD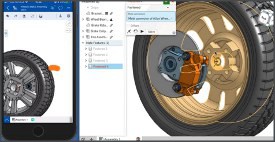 Onshape is the complete all-in-one product development platform -- a modern CAD system that frees engineers to focus on doing their best work. Unlike old CAD systems, Onshape unites modeling tools and design data management in a secure cloud workspace that is accessible on any device, never loses data, and eliminates design gridlock.
Learn more.
---